7 Best Vegan Recipes For New Year's Eve
7 Best Vegan Recipes For New Year's Eve
This year, create these merry and festive vegan New Year's Eve meals to wow your guests and introduce them to plant-based cuisine. The best party ever will be made with our delicious recipes!
Enjoy excellent meals and your favourite people as you enter the new year! With our collection of delectable vegan party recipes, which includes everything from quick vegan appetizers, dips, and drinks to kid-friendly snacks and filling main dishes, this year's party will be a complete success. Here we are introducing our favourite vegan recipes for New Year's.
1. Tofu Benedict Filo Pockets
Want a creative brunch recipe? These sophisticated and tasty Tofu Benedict Filo Pockets are both! A simple vegan Hollandaise sauce accompanies them.
Prep time: 30 mins | Cook time: 30 mins | Total time: 60 minutes | Servings: 4
Ingredients For The Tempeh Ham
Tempeh: 8 oz
Water: ¼ cup
Tamari or soy sauce: 3 tablespoons
Maple syrup: 2 tablespoons
Liquid smoke: 1 tablespoon
Ingredients For The Eggy Tofu
Extra-firm tofu: 8 oz
Nutritional yeast: 2 teaspoons
Black Indian salt: ¼ teaspoon
Coconut oil: ½ tablespoon
Black pepper: 1 pinch
Sea salt: 1 pinch
Ingredients For The Assembly
Filo dough: 6 sheets
Fresh baby spinach: 1 cup
Tomatoes: 4 slices
Olive oil: 1 tablespoon for brushing
Fresh parsley: ½ teaspoon, chopped
Smoked paprika: 1 pinch
Ingredients For The Hollandaise Sauce
Chickpea flour: ¼ cup
Water: 1 cup
Melted vegan butter: ¼ cup
Nutritional yeast: 1 tablespoon
White cooking wine: 1 tablespoon
Lemon juice: 2 teaspoons
Black Indian salt: ¾ teaspoon
Sea salt: ¼ teaspoon
Ground turmeric: 1 pinch
Method
Cut the tempeh in half, then across the grain to make four thin triangles. Mix water, tamari, maple syrup, and liquid smoke in a large, shallow dish or food container. While making the eggy tofu, marinate the tempeh for 30 minutes.
As soon as the tofu is complete cooking, keep the pan warm over medium heat—place slices of tempeh in the pan with marinade on top. Cook uncovered for 3 minutes on each side. Prepare to put the pockets together.
Divide the tofu in half diagonally, then cut one half into four little triangles.(Incorporate any extra tofu into another recipe) Mix the nutritional yeast, salt, pepper, and black Indian salt in a small bowl. Use this mixture to dust the tofu on all sides lightly.
In a big pan over medium heat, warm the coconut oil. When heated, add the tofu triangles and let the two largest surfaces brown for five minutes each. Put the tofu on a platter and reduce the heat to medium-low.
Method To Assemble
Set the oven to 375°F. Using parchment paper or a silicone baking mat, line a baking sheet.
Brush filo sheets lightly with olive oil. Slice the filo sheets in half lengthwise and stack them on top of one another. Four rectangles, each three sheets thick, should be created.
Place a triangle of tempeh in the center of a rectangle, leaving about an inch of filo on three sides of the triangle's perimeter. Add eggy tofu, ¼ cup spinach, and one tomato slice to the top of the tempeh.
Fold over the 1-inch flap at the end after folding the 1-inch border of the long side over the filling. To wrap the triangle of filled filo entirely, fold it over to one side, the next, and so forth.
2. Vegan "Rack Of Lamb"
It is possible to prepare a vegan rack of lamb for New Year. Check out this step-by-step recipe to make a mouthwatering vegan, gluten-free, and cruelty-free lamb rack that resembles the natural thing in appearance and flavour.
Prep time: 20 mins | Cook time: 40 mins | Total time: 60 minutes | Servings: 5
Ingredients For The Vegan Rack Of Lamb
Corn pasta, any kind: 200g
Smoked tofu: 600g
Carob powder: 1 tablespoon
Garlic: 3 cloves, minced
Fresh beetroot juice: 100ml
Psyllium husks: 4 tablespoons
Olive oil for frying: 1 tablespoon
Ingredients For The Spice Blend
Thyme: 1½ teaspoons
Sweet paprika: 3 teaspoons
Black pepper, ground:  ½ teaspoon
Rosemary, ground: 1½ teaspoons
Garlic powder: 3 teaspoons
Sea salt to taste
Ingredients For The Herb Crust
Chives: 3 tablespoons, chopped
Mint: 3 tablespoons, chopped
Fresh thyme: 3 tablespoons, chopped
Breadcrumbs: 4 tablespoons
Olive oil: 2 tablespoons
Ingredients For The Sauce
Natural soy yogurt: 200ml
Green peppercorns: 1 tablespoon
Garlic: 1 clove, minced
Mustard: 1 tablespoon
Ingredients For The "Bones"
Leeks or scallions: 1-2, white part only
Soy sauce: ½ tablespoon
Carob powder: ½ tablespoon
Method
Boil the pasta for 15 minutes. Turn off the heat, and let the contents of the saucepan become mushy and sticky.
Add the cubes of smoked tofu to the bowl. Add the boiling sticky corn spaghetti or pasta of your choice.
Mix the ingredients to make a paste using an immersion blender, carob powder, spice mixture, and minced garlic cloves. By hand, stir everything together thoroughly.
Affix a piece of cling film to a cutting board. The margins should be closed. Give it a cylindrical shape to start. Please watch the above video for more precise instructions.
For at least 30 minutes, put it in the refrigerator.
Trim the herbs. Combine them with breadcrumbs and olive oil in a bowl. Set apart.
Set a big pan with one tablespoon of hot olive oil. Allow it to fry until crispy, about two to three minutes per side. Turn it carefully so that the entire thing becomes nice and crisp. Cut the heat and allow a brief period of cooling.
Line a baking dish with parchment paper and carefully move the "meat" roast from the pan to the baking sheet. Rub the olive oil on the top and sides of it.
Start coating it with the herb mixture using your hands. Lightly press it. It'll stay.
Cut the white portions of various leeks and scallions to create the "bones." Arrange them on a small plate. Sprinkle some carob powder over them, drizzle soy sauce on top, and rub it all in.
Take the vegan lamb rack out of the oven and add the leek "bones" once it has done cooking.
Serve alongside a sauce you produced by combining natural soy yogurt, mustard, a clove of minced garlic, and green peppercorns.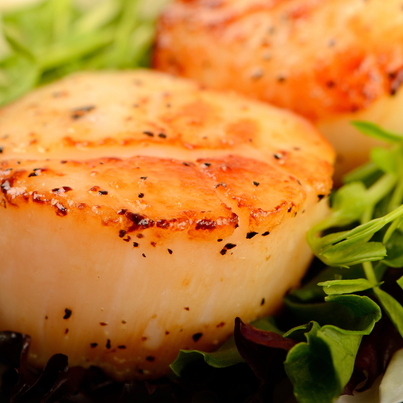 3. Vegan Scallops With Pea Puree And "Bacon" Bits
Here's how to make vegan scallops that taste and look like the genuine thing! This recipe is much simpler to make than it appears and tastes fantastic!
Prep time: 15 mins | Cook time: 40 mins | Total time: 55 minutes | Servings: 4
Ingredients For The Vegan Scallops
King oyster mushrooms: 500g
Nori sheets: 2
Flaxseed oil: 1-2 tablespoons
Salt and pepper to taste
Lemon juice: 1 tablespoon (optional)
Ingredients For The Green Pea Purée
Frozen green peas: 500g
Garlic: 3 cloves, minced
Soy milk: 120ml, unsweetened
Olive oil: 1 tablespoon
Sea salt and pepper to taste
Fresh chives, chopped (optional)
Fresh mint, chopped (optional)
Ingredients For The Vegan Bacon Bits
Smoked tofu slices, cut into tiny bits
Oil for frying.
Method For The Vegan Scallops
Make 2 cm thick cylinders out of the King oyster mushrooms. The caps can be put away for later use as you won't be using them.
On the base of a medium casserole, place a Nori sheet.
Drizzle flaxseed oil over the mushrooms before adding them to the dish. Cover them with the second Nori sheet after seasoning them with salt and pepper. However, you can let them sit this way for just two hours. It's preferable to let these marinade overnight.
The mushrooms should be removed from the dish when done and fried until browned on both sides. Over the pea purée, if desired. On top of the serving, squeeze some lemon juice.
Method For The Green Pea Purée
In a small pot, cook the green peas until they are fork-tender. You may also steam them. Remove from heat when they've softened for about 15 minutes, then mash with an immersion blender while adding soy milk, garlic, olive oil, salt, and pepper.
Alternatively, you may use a food processor or a regular blender. Chop some fresh mint or chives to garnish the dish.
Small pieces of the smoked tofu should be cut into and fried for a few minutes in a nonstick skillet until crispy. On top of the pea puree, remove and place on a paper towel.
4. Vegan Mushroom Ravioli
Have a hankering for handmade pasta? Try this recipe for vegan mushroom ravioli with a creamy white garlic sauce! The ideal comfort food, I tell you! It has never been simpler to prepare vegan ravioli at home!
Prep time: 30 mins | Cook time: 15 mins | Total time: 45 minutes | Servings: 3
Ingredients For The Vegan Ravioli Dough
Flour: 180g
Water: 120ml
Olive oil: 2 tablespoons
Sea salt: ½ teaspoon
Ingredients For The Mushroom Filling
Button mushrooms: 450g
Onion: 1 medium, diced
Oil: 1 tablespoon
Garlic: 3 cloves, minced
Fresh thyme: 4-5 sprigs
Ground nutmeg: ½ teaspoon
Salt and pepper to taste.
Ingredients For The Creamy Garlic Sauce
Flour: 3 tablespoon
Vegan milk of choice: 1 cup
Garlic cloves: 5
Nutritional yeast: 4 tablespoons
Sea salt to taste.
Method
Heat the oil in a big pan.
Add all the ingredients for the mushroom filling and cook for 10 to 15 minutes.
Method For The Vegan Ravioli Dough
Fill a bowl with flour, water, olive oil, and salt. Good mixing and manual kneading are required to achieve an elastic texture.
Clean and duster your work surface with flour to prepare it.
Make three or four equal portions of the dough. One piece should be placed on the floured surface and rolled into a roughly .⅛-inch-sized rectangle. You can create ravioli in a circle or a rectangle. Continue until all of the round ravioli dough disks are in front of you, and the dough finishes.
Add 1-2 teaspoons of filling to one piece of round dough. Place the second piece of dough on top of the initial one. Softly press the borders together. Make ridges along the edges of each ravioli with the tines of a fork. To prevent them from opening when heated in water, make sure they are firmly packed together.
After cutting, place each ravioli on a parchment-lined sheet. Repeat as necessary to utilize all the dough and filling.
Add ravioli to a big saucepan of boiling water. Cook them for 2 to 3 minutes or until they begin to float. Remove them from the pot right away and drain them.
Method For The Sauce
Place all of the sauce's components in a blender and process until completely smooth.
When the sauce thickens, pour it into a skillet and simmer it. This is on top of the vegan mushroom ravioli.
5. Vegan Sushi
This vegan sushi recipe is very simple to create at home! In less than 30 minutes, discover how to make vegan sushi rolls!
Prep time: 30 mins | Cook time: 20 mins | Total time: 50 minutes | Servings: 6
Ingredients
Nori sheets.
Sushi rice: 200g
Water: 500ml
Rice vinegar: 3 tablespoons
Sugar: 1 tablespoon
Salt: 2 teaspoons
Ingredients For The Fillings Of Choice
Cucumber: 1, cut into strips
Red bell pepper: 1, cut into strips
Carrot: 1, cut into strips
Avocado: 1, cut into strips
Tomato, cut into strips: 1, cut into strips
Soy sauce or tamari for dipping
Raw sesame oil for drizzling on top (optional)
Lettuce
Method
Wash the rice in clean water after thorough rinsing.
Put the water and rice in a pot, and bring to a boil. Cook until it reaches boiling, then turn off the heat and cover the saucepan with a lid. Allow the rice to soak up all the liquid.
The rice needs to cool completely.
Pour salt, sugar, and vinegar into the rice after thoroughly mixing the ingredients. Mix thoroughly.
Preparing and slicing the vegetables
Place some plastic wrap over a sushi mat.
Nori sheets cover the sushi mat with the nori sheet, rough side facing up. It is using the rice, completely round the nori sheet. It must be ½" thick and should cover the top 1″ of the Nori sheet.
Vegetables are rolled gently after being layered on the bottom.
With a moist knife, cut the sushi rolls.
For dipping, combine soy sauce and unrefined sesame oil.
6. Tabbouleh Hummus Platter
Sabra hummus is a fantastic dinner in and of itself, not just a nutritious snack. Todd gets a delicious, flavourful plant-based lunch when I pack individual slices of this dish in his lunchbox.
Prep time: 30 mins | Cook time: 20 mins | Total time: 50 minutes | Servings: 6
Ingredients
Cooked multicolour quinoa: 1 cup
Olive oil: ½ tablespoon
Lemon juice, divided: 1½ tablespoons
Tomato, seeded, cored and finely chopped: 1 plum
Finely chopped English cucumber: ⅓ cup
Flat leaf parsley: 1 tablespoon
Sabra classic hummus: 1 package
Kosher salt and black pepper to taste
Method
While the oven is warmed at 350°F, place a baking sheet inside. Mix cooked quinoa, olive oil, and one-half teaspoon of lemon juice in a bowl. Sprinkle with salt and pepper to taste and spread into a thin layer on the hot baking sheet. Stirring after 10 minutes, the quinoa should be crisp and golden brown after 30-35 minutes of baking.
Combine the remaining tablespoon of lemon juice with the tomato, cucumber, parsley, and garnish. As the quinoa cooks, season with salt and pepper, mix and then set aside. Spread out the Sabra classic hummus on a serving platter. Now sprinkle the quinoa on top of the hummus.
Sprinkle the veggie mixture on top of the hummus after draining and getting rid of any extra fluids.
Serve immediately.
7. Crispy Garlic Breaded Mushrooms
With a lemony chive mayonnaise dip and succulent mushrooms fried in a crispy garlic panko breadcrumb coating. The ideal vegan appetizer or side dish!
Prep time: 20 mins | Cook time: 40 mins | Total time: 60 minutes | Servings: 15
Ingredients
Chestnut mushrooms: 15-20
Plain flour: 4 tablespoons
Panko breadcrumbs: 1 cup
Garlic granules: 1½ teaspoons
Onion granules: ½ teaspoon
Dried mixed herbs: 1 teaspoon
Smoked paprika: 1 teaspoon
Salt: ¼ teaspoon
Chickpea/gram flour: ½ cup
Plant milk: ½ cup
Neutral flavoured oil: 2 cups
Ingredients For The Dip
Vegan mayonnaise: ⅓ cup
Fresh chives: 2 tablespoons, finely chopped
Lemon juice: ½ lemon
Salt and pepper to taste
Method
On medium heat, add the oil to a small saucepan; you want it to cover roughly ⅓ of the space.
Gather three bowls, and put the plain flour in the middle.
The chickpea flour and plant milk are combined in different locations and whisked until smooth.
The last things to add are salt, paprika, herbs, garlic, and breadcrumbs. Blend thoroughly.
Remain gently and brush your mushrooms with a paper towel to remove any dirt.
Place the mushrooms in the flour and thoroughly coat. Then dip into the wet mixture, then the breadcrumb mixture, and finally place onto a dish. Make sure the mushroom is completely covered and that all layers are well-coated. Use a fork or one hand for the dry and the other for the moist.
You can determine whether the oil is hot enough by dropping a small amount of the wet mixture into the oil and watching it rise to the top.
At a time, add 2 to 3 breaded mushrooms to the pan. After a minute or two, gently flip them over until they are evenly golden brown. Continue stirring until the ingredients combine and the mushrooms cook through.
Put the fried mushrooms on a tray lined with paper towels to absorb any extra oil. While cooking, you can put the others in the oven on low heat.
Mayonnaise, chives, and lemon are combined to produce the dip in a bowl.
Serve immediately and sprinkle with additional finely chopped chives!
Conclusion
You're lucky if you seek vegan recipe suggestions for New Year's Eve. I've put together a list of my all-time favorite snacks in this post that will satisfy you and your visitors. What is a New Year's Eve celebration without a sizable pot of chilli? This article offers several straightforward recipes for snacking dips and a vegan chilli recipe. These party appetizers will be a hit with your guests! So don't miss trying these vegan recipes for New Year's Eve!
I trust you enjoyed this article about the 7 Best Vegan Recipes For New Year. Please stay tuned for more blog posts to come shortly. Take care!
JeannetteZ
Your Opinion Is Important To Me
Ideas? Thoughts? Questions? I would love to hear from you. Would you please leave me your questions, experience, and remarks about this article on the 7 Best Vegan Recipes For New Year in the comments section below? You can also reach me by email at Jeannette@LivingTheVeganLifestyle.org.
Disclosure
This post may contain affiliate links. I earn from qualifying purchases as an Amazon Associate and other affiliate programs. Read my full disclosure.
Here are links to some of my favourite articles:
9 Best Vegan Marinated Mushroom Recipes For Your Kids
9 Best Vegan Key Lime Pie Recipes For Your Kids
8 Best Veggie Noodle Recipes For Your Kids
8 Best Vegan Strawberry And Cream Recipes For Your Kids
8 Best Vegan Pecan Cookie Recipes For Your Kids
7 Best Bangladeshi Vegan Recipes For Your Kids