Best Vegan Leather Products
Best Vegan Leather Products
Our world has changed a lot. Back then, humans were so selfish. They didn't think about anything else but themselves. The only thing that used to matter to humans was a happy life full of enjoyment. However, very soon, they realized that this is not a good way of living. It is not worth being happy in exchange for destroying everything that we have.
Our previous lifestyle was awful because nobody thought about other living creatures. However, there is good news. The situation has changed now, and many people have started acting more wisely and rationally. We are going to talk about that.
Have you ever heard of vegetarianism or veganism? Do you realize that some people stopped eating meat and other animal-related products? In fact, a few decades ago, scientists understood that the way humans were living was destructive for nature.
In particular, humans used to destroy many forests and jungles to produce more food to feed livestock. Additionally, producing more food for animals caused pollution for the planet. Moreover, more food needed to be produced everywhere, and as a result, nobody cared about the quality of the products anymore. Food became unhealthy for people too.
All these problems forced people to come up with new lifestyles. For example, millions of individuals became vegetarian. It means that they stopped eating meat and supported laws that protect the animals' rights. Vegetarianism came with lots of benefits. For example, it wasn't necessary to destroy natural ecosystems to free uplands for agriculture and livestock farms. Also, animals didn't need to be killed and tortured for the sake of people's food.
It was a huge improvement compared with the previous stupidity. However, humans were far away from doing the right things. That's when a new movement was started. It was called veganism. Vegans stated that being vegetarian is not enough, and more actions must be taken. And, that is exactly the point of this article. Here, I am going to argue why we need to become vegan. Also, I will explain what vegan products are and how we can benefit from them. So, let's begin with a simple definition of veganism and then talk about its amazing benefits.

The Better Lifestyle, The Happier
Many people think that veganism is just about stopping to eat meat, dairy, and animal-related products. Yes, it is definitely true that veganism started when people stated that humans should not eat meat or any other animal-related products such as eggs, dairy, etc. It was stricter than vegetarianism. However, there is a big difference between vegetarianism and veganism. What is that? Veganism doesn't only include changing food habits. It is much more than that. In fact, veganism is about all aspects of our life, not only food.
In veganism, you choose to stop doing all the things which are cruel to animals. In the first step, you should not consider them as food. This is because studies have shown animals can feel the pain and should not suffer. If you stop eating animal products, it is not only healthier for you. It is even more ethical.
Also, there are many negative consequences if you decide not to become a vegan. However, this is not why I am writing this article. In fact, I want to talk about another aspect of veganism. Let's check it out in the next section.
Veganism Includes The Fashion Industry Too
Another aspect of veganism that people usually don't talk about is its importance in the fashion industry. Now, the fashion industry is very cruel to animals! Every day, millions of animals get killed for their skins and other similar products. For example, fur and silk are two of the most popular products coming from different animals.
Animals are kept in horrible conditions and then get tortured and killed just for the sake of producing the materials required for the fashion industry. Veganism is totally against this and asks people not to wear clothes coming from animals. So, as a vegan person, you are obligated to buy products not produced from animals. However, this is not easy for many people since they have worn them for many decades.
Leather! Still Attractive And Sexy
Leather is one of the most popular materials in the fashion industry. People like it a lot thanks to its durability, exceptional style, and reasonable price. It comes in many different colours, and you can find all sorts of clothing items made out of it. Shoes, jackets, purses, belts, hats, gloves, you name them! But, when you look into it in-depth, you will realize that there are many disadvantages associated with natural leather coming from animals.
Disadvantages Of Natural Leather
You might find it attractive to wear leather-made clothes. But you will change your idea if you hear about all the negative effects of natural leather on humans, nature, and animals themselves. Here is a shortlist. Feel free to add more to the list.
Destroying Natural Environments
If you want to produce more leather, you will need to nurture more livestock. Accordingly, you have to prepare more food to feed them. So, you need to free uplands. The simplest solution is to clear-cut forests and jungles and create agricultural land. That's how you put the lives of thousands of animals and plants in danger.
Polluting The Environment
Let me tell you an alarming statistic. According to several studies, excrement produced by animal farms is 130 times more than the entire human population! If this huge load of excrement finds its way to waterways, there will be hazardous consequences.
Processing Natural Leather Causes A Threat To Life Forms
if you think that leather can easily be made out of animals' skin, you are totally wrong. To turn skin into leather, you have to apply several chemicals, mineral salts, formaldehyde, coal-tar derivatives, oils, and dyes. All these chemicals will eventually be leached out into soil and water and cause a threat to humans and other life forms.
Contributing To Climate Change
Another awful impact of producing natural leather is that you have to consume a large amount of energy, usually coming from fossil fuels, to keep the animals fed and healthy. So, if you are in the business of producing leather from animals' skin, you are directly involved in increasing the volume of carbon emissions int0 the atmosphere, which causes the planet earth to get hotter and hotter every day.
So, what we can say is that natural leather is awful! So, do we have any substitutions for it? Yes, of course. We call it vegan leather. What is it? And how can we benefit from it? In the next section, I will define what vegan leather means and how it can stop all those negative impacts of natural leather.
What Is Vegan Leather?
Vegan leather, which is often called faux, pleather, and alternative leather, is similar to natural leather. The main difference is that no animal suffers or gets killed for the sake of producing vegan leather.
What Is Vegan Leather Made From?
This is a fundamental question! In fact, vegan leather can be produced from several different sources, including natural and synthetic ones. Here is a shortlist of all materials that can be used for producing vegan leather.
Sometimes, synthetic products such as Polyvinyl Chloride, which is known as PVC/Vinyl, and Polyurethane (known as PU) are used to produce vegan leather. PVC and PU are two famous types of plastics in the market. There are some negative aspects regarding using plastics because they cannot be biodegraded in nature.
In addition to plastics, there are eco-friendlier sources for producing vegan leather. One of them is Pinatex which is basically nothing more than waste parts of pineapple and mainly its leaves. Also, it is 100% biodegradable. So, you don't need to be worried about when it finds its way into nature. It is mainly used for the production of wallets and backpacks.
Oak trees are a great source for another vegan material. It is called cork. It is usually grown in Mediterranean countries such as Spain, France, and Portugal. Some objects such as wine stoppers, coasters, and cork boards are made from this material. The durability and elasticity of cork are its best qualities. Another benefit from it is that it is very resistant to fire and flame. Cork is extremely sustainable. Stripping cork from Oak trees is not only not harmful to Oak trees, but also helps them thrive and grow more than usual. As soon as an Oak tree reaches the age of 25, you will be able to harvest cork every nine years for up to 300 years. Bucket bags are usually made from this material.
The next material is called wine. It is sometimes named grape leather too. This material is achieved from the accumulated waste in wine production. Wine leather is one of the newest vegan materials in the market. Is wine sustainable enough? Of course, it is! Just look at the magnificence of the wine industry. There are 26 billion litres of wine being produced every year. So, the waste is stupendous as well. You will be able to produce nearly as high as 2.5 billion square meters of wine leather every year.
Have you ever eaten mushrooms? I am sure you have! Did you know that we can make leather from mushrooms too? Mushroom leather is known as MuSkin. One of the best features of mushroom leather is that it is waterproof and durable. It comes with amazing healing properties and is extremely compatible with the human body. Just like other vegan leather materials, the mushroom is very efficient because it takes only 14 days for every lifecycle to be completed. Not to mention that it is 100% biodegradable. Companies use this type of leather for producing straps and bags.
Vegan Leather Products
Nowadays, vegan leather products have got diverse enough. In fact, for nearly every clothing item, you are going to find a very nice and beautiful vegan leather product. Whether you decide to buy jackets, belts, wallets, purses, leather backpacks, messenger bags, sneakers, pants, miniskirts, bags, and boots, you can have them all produced with vegan leather materials.
What Brands Use Vegan Leather Materials In Their Products?
Well, you definitely want to buy your clothing items from a well-known brand, don't you? Right now, many famous brands have completely left using animal leather in their products. Do you know them? Some of the most famous brands are Doshi, Stella McCartney, Will's Vegan Shoes, Ethique212, Angela Roi, Beyond Skin, Urban Expressions, Wilby, Brave GentleMan, and Matt & Nat in the market. Now, I am going to introduce some of the best vegan leather products in the market.
The Best Products In The Market Are Made From Vegan Leather
The best place for finding the best products made from vegan leather is Amazon. Here I am going to present a shortlist of some clothing items products with their description.
LXY Vegan Leather Backpack Vintage Laptop Bookbag for Women Men, Brown Faux Leather Backpack Purse College School Bookbag Weekend Travel Daypack
This is a product from the brand LXY.
The price is pretty reasonable. It costs only $34.99.
It comes in three colours, including black, brown, and blue.
There are six compartments designed which are used for daily routine.
You can put one laptop in it if the screen is less than 14 inches.
The bag is made out of faux leather.
There is metal hardware in the bag which gives a vintage impression to the product.
The hidden button inside the bag helps you increase the volume of the leather backpack. Making the bag slimmer is also possible.
In addition to the six compartments, there are two anti-theft pockets for expensive stuff.
Shoulder straps can be adjusted easily considering people's height. The straps are also made from synthetic leather and nylon.
It is suitable for both college students and pupils. In addition, you can use it when you are going to work, campus, gym, travel, etc.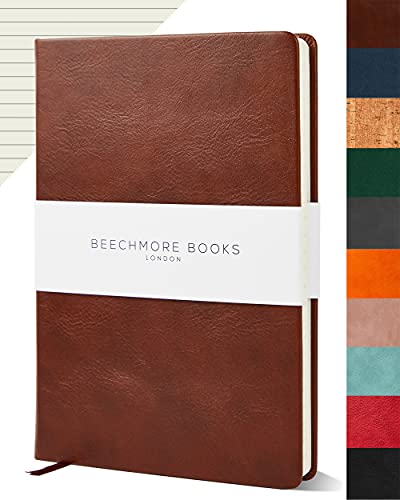 Ruled Notebook – British A5 Journal by Beechmore Books | Large 5.75″ x 8.25″ Hardcover Vegan Leather, Thick 120gsm Cream Lined Paper | Gift Box | Chestnut Brown
This is a perfect gift for people who write diaries. Other things such as jotting and sketching are also might be other purposes of using this notebook.
It is from the brand Ottergami store and costs $18.95
The front and back cover comes in several colours: brown, black, pink, navy, and sand.
The pages are crisp, ruled, and ivory cream.
The dimension of the pages is A5. Also, the papers from this brand are relatively thinker than other ones.
Ink bleed, erasing, ghosting, and shading are always happening around us, but we have to be careful about it.
High elasticity, durability, and binding process are some of the best qualities of this product.
There is one small deep back pocket for putting important business cards.
You can easily have this notebook with just one hand thanks to its elasticity, subtle bookmark ribbon, and 180 degrees lay-flat binding.
The product has a British style.
You can use this nice and practical product as a gift.
Corkor Vegan Belt for Men | Dress Durable Non-Leather Cork | 35mm Wide (Large, Black)
This product costs 26.55 euros.
It is suitable for when you are wearing jeans, uniform, and format wear.
It is flexible and comfortable as well as durable and strong at the same time.
The vegan leather material used here is from Cork.
It has a buckle fastening process.
It comes with two years manufacturer warranty.
Men's Bracelet, Vegan Leather Wrap Bracelet, Infinity Celtic Knot Cuff, Tribal Boho Jewelry, Handmade Wrist Band for Guys
This is another nice vegan product. It is perfect as a present for your boyfriend, father, or other men in your family. We have to learn that our actions must not cause misery for other animals. For example, if it is your boyfriend's birthday and you are looking to buy something nice, please, understand that buying real leather might make him happy, but it definitely makes animals dead! So, don't do it.
Men's Sandals, Fisherman's Vegan Leather Stitched Cut-Out Upper, Adjustable Open-Toe Shoes and Flexible Flat Sole Men's Casual Shoes (Color: Sand, Size: 39 EU)
If you think about it, it is cruel when you are wearing the skin of a poor animal! By wearing vegan leather shoes, you will not have any guilt regarding that.
This product is from the brand Datouya and costs only $ 49.70.
The sizes start from 38 to 44 EU.
It comes in three colours, including gray, black, and sand.
The shoes are great for walking on the beach and outdoor.
Men's Gents Classic Zip Up Chelsea Ankle Boots Faux Vegan-Friendly Leather Smart Formal Work Casual Dealer Boot Shoes Size 6 7 8 9 10 11 12
The product has a classic ankle height with an almond-shaped toe.
The leather is synthetic and very comfortable.
The closure type is zip.
It is great for everyday activities when you want to have a bit of classic style.
Men's Wallet RFID Blocking Ultra Slim Wallet Design, Durable Vegan Leather Travel Wallet, Credit Card Holder (Holds 10+ cards), Minimalist Mini Wallet Design with Gift Box, Gift for Men (Carbon Fibre)
Men must be compassionate about two of their belongings because they a lot about their character. The first one is a watch and the second one is their wallet.
The product is from the brand ARETE MERCH and costs 12.99 euros.
The colours are very diverse, including navy blue, black, brown, mustard, and carbon fibre.
The material is faux leather and animal cruelty-free.
One of the best things about the product is that it has 10 slots for your cards. Also, there is plenty of space for notes, as well as a zipped pouch for coins.
Since its anatomy is fragile, you can put it in your trouser pocket very easily.
The material, as we said, is synthetic vegan PU leather.
It matches with every dress too.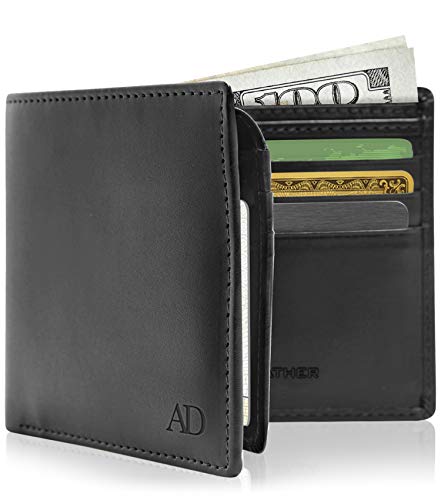 Vegan Leather Bifold Wallets For Men – Cruelty-Free Non-Leather Men's Wallet With ID Window RFID Gifts For Him
The product is from the brand Access Denied.
The product is top-rated as more than one thousand people are rating it.
It comes in three colours, including black, brown, and carbon fibre.
It costs 21.99 euros.
It is made from 100% cruelty-free faux leather.
Since many people buy this product as a gift for their beloved ones, it comes with a nice high-end gift box.
It has space for credit cards, ID cards, money, etc. it includes two cash compartments, nine credits card slots, two slip pockets, and one ID window.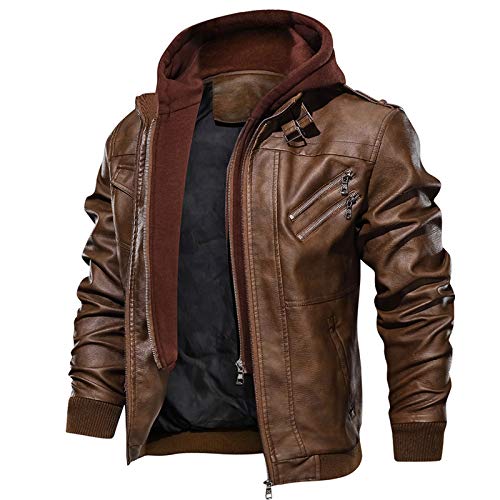 FEDTOSING Men's Bombe Leather Jackets Stand Collar Vintage Motorcycle Biker Jackets with Removable Hood (Brown-7 L)
It costs from 49.86 to 59.96 euros.
It comes in three styles and two colours.
It is made from PU leather.
The hoodie is removable.
The collar style is a band with blouson.
Thanks to hand, chest, and inner pockets, you can store too many wallets, phones, keys, and cards in this jacket.
You can wear this coat in different seasons. Also, it is great for biking, driving, cycling, hiking, etc.
Conclusion
Nowadays, veganism is not just about not eating meat and other animal products. If you are a vegan, you have to think about the fashion industry as well. Animals must not get killed because of their skin products. Leather is one of the most popular products causing millions of deaths for animals every year. Here, in this article, we talked about vegan leather and all its benefits. And, then, we introduced some of the best products in the market. I hope you find this article helpful. Please go vegan right now.
I trust you enjoyed reading the article about the Best Vegan Leather Products. Would you please stay tuned? There are more blog posts to come very shortly.
JeannetteZ
Your Opinion Is Important To Me
Ideas? Thoughts? Questions? I would love to hear from you. Would you mind leaving me your questions, experience, and remarks about the Best Vegan Leather Products in the comments section below? You can also reach me by email at Jeannette@LivingTheVeganLifestyle.org.
>Please click here to read more about Vegan Leather on Peta.org<<<
You might also enjoy these blog posts:
Best Eco-Friendly Vegan Leather Alternatives
Best Online Shops To Buy Vegan Leather Products
Best Places To Buy Vegan Leather
The Definitive Guide To Vegan Fashion And Style
A Guide To The Best Vegan Accessories