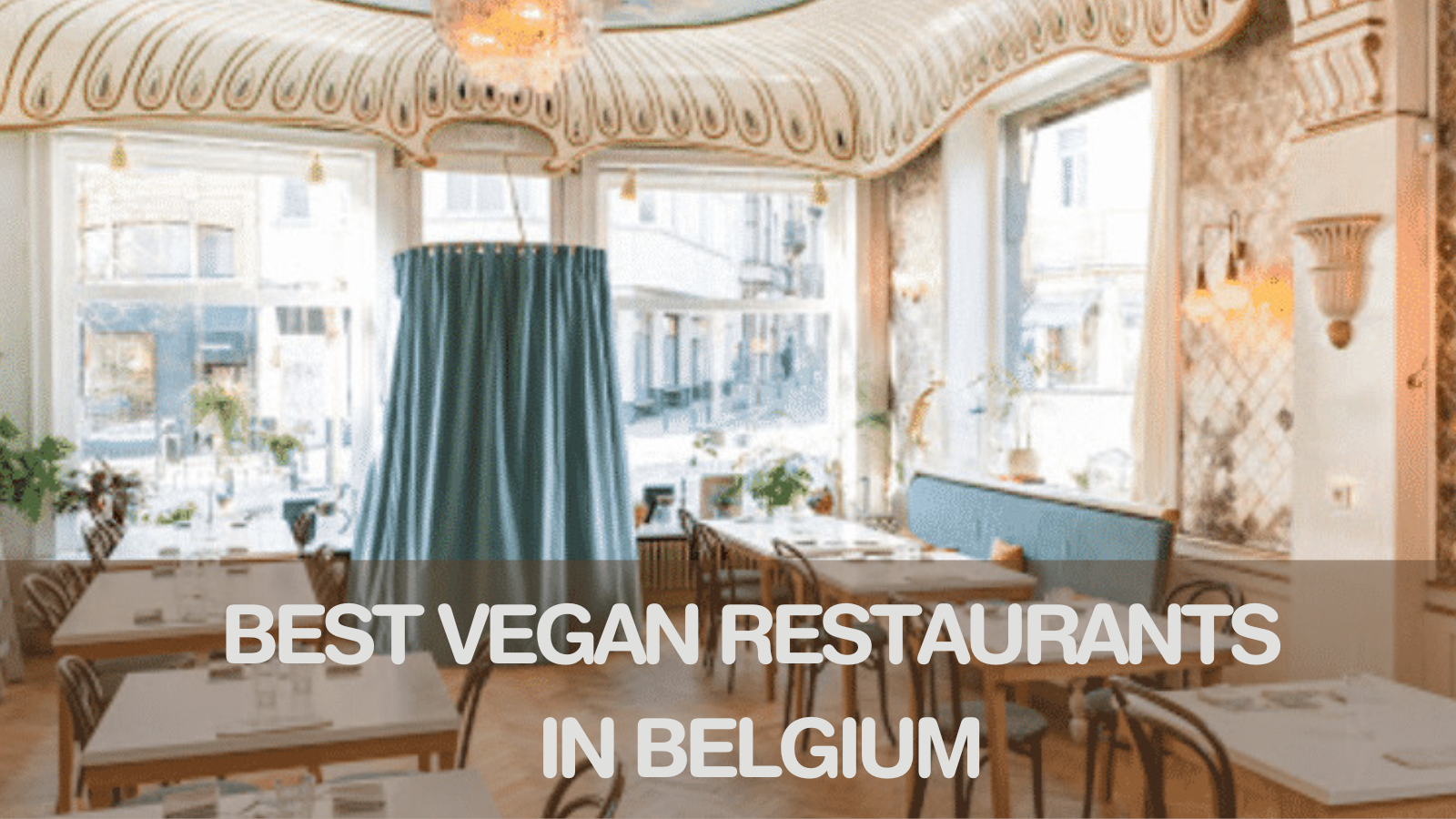 Best Vegan Restaurants In Belgium
You might not think of Belgium regarding vegan or vegetarian cuisine. After all, moules-frites are the national meal, and other delicacies include meatballs and shrimp croquettes. Do you have to eat waffles if you don't want to eat meat in Belgium?
Not in the least. In Belgium, vegetarian-friendly cuisine is available—and it's good vegetarian-friendly food. Several vegan and vegetarian restaurants are gaining popularity for their unique dishes that are devoid of animal ingredients and packed with flavour.
Consider a tasting meal that takes you on a sensory and seasonal trip through a vegetable farm. Plates piled high with raw, nutrient-dense veggies harvested that day.
Colourful recipes that could persuade even the most adamant meat eater to change his mind. Veganism is fast gaining popularity in Belgium.
These restaurants are also leading the way in terms of sustainability by shifting to a plant-focused food paradigm. Many prioritize organic and locally farmed foods, emphasizing healthy eating while decreasing food waste and CO2 emissions.
So, whether you're seeking affordable vegetarian food, ideally with a buffet, or you won't accept anything less than a Michelin star, our list of the best vegan and vegetarian restaurants in Belgium will satisfy your palate.
We've included some vegetarian establishments outside of Brussels, demonstrating that the country is on its way to becoming a truly meat-free culinary destination.
12 Best Vegan Restaurant Choices
1. Bon Bon, Bruxelles
If you've never thought of cooking as an art form, two Michelin-starred Bon Bon is about to alter your mind. The restaurant's concept includes focusing on origins, paying respectful attention to culinary traditions, and providing an experience that engages all senses.
The restaurant's classic design with dark wood and comfy seating is complemented by its modern approach to dining, which couple Christophe and Stéphanie Hardiquest own.
At Bon Bon, there are two menus to pick from the Seasons Garden tasting menu, which puts the vegetable kingdom front and center, but in a way you've never seen it before, and the Bon Bon menu. The Belgian Journey Menu also showcases the finest Belgian food with a modern twist.
While Bon Bon isn't fully vegan or vegetarian, the company's focus remains on high-quality ingredients, and the number of meat-free alternatives is growing. There is such a thing as healthy fine dining, and it looks just like Bon Bon.
2. Humus & Hortense, Bruxelles
Humus & Hortense has been dubbed the "world's greatest vegan restaurant" at the We're Smart Taste Summit in Amsterdam in 2019 and is unquestionably one of the top vegetarian restaurants in Brussels.
The restaurant is also totally devoted to sustainability, having been created through cooperation between an expert mixologist and a chef who loves making veggies perform at their best.
In the kitchen, for example, they utilize a roots-to-leave method to prevent food waste, which includes zero-waste cocktails produced from discarded herbs, infusions, and fermentations.
All of the food is organic, seasonal, and, to the extent feasible, local. A large portion of it is grown in the restaurant's garden.
The restaurant is a small space with a friendly atmosphere, and the interior architecture blends Art Nouveau and majestic Baroque with a stucco ceiling.
What about the food? Texture, look, and scent are just as essential as flavour at Humus & Hortense, which makes many of the meals quite attractive. Vegetables, as one might think, take center stage, even appearing in sweets such as candied beetroot.
3. Le Botaniste, Ghent & Bruxelles
The inventive notion of offering guests botanical remedies in the shape of plant-based 'bowls' arose in a 19th-century drugstore.
Today, the restaurant continues to provide meals that are as nutritious as they are tasty, displaying the greatest seasonal organic plant products freshly and appealingly.
Le Botaniste offers a relaxed and uncomplicated eating experience in an open, light-filled atmosphere. It offers 99 percent organic and 100 percent plant-based options, re-imagining fast food by making daily plant consumption easy, simple, and surprisingly tasty.
As one of the best plant-based restaurants in the country, and a top contender for the best vegetarian restaurant in Brussels, it offers 99 percent organic and 100 percent plant-based options, re-imagining fast food by making daily plant consumption easy, simple, and surprisingly tasty.
Indeed, rather than being a last-minute side order, plants have been restored to pride of position in the kitchen, and the restaurant's tagline is #bringtheplantback.
Le Botaniste, a strong candidate for Belgium's finest vegan restaurant, also aims to produce as little trash as possible, reduce energy use, and offset greenhouse gas emissions by supporting a Ghana-based climate initiative that distributes energy-efficient cooking stoves. As part of the restaurant's tree-planting campaign, customers may even 'add a tree' to their meals.
4. CHYL Café, Bruxelles
Cherish Your Life (CHYL) stands for Change Your Lifestyle, then Cherish Your Life, and spending a few hours there is undoubtedly uplifting and transforming.
CHYL is a relatively recent and extremely welcome addition to the capital's gourmet scene, serving as a sustainable beauty corner, organic food shop, stylish café, and all-around veggie retreat.
The fishbone parquet and high ceilings of this refurbished ancient townhouse off the capital's upscale Avenue Louise scream elegance, fireplaces, mouldings, pot plants, and thrift-store furniture for a genuine and laid-back atmosphere.
The first-floor café, which serves mezze and another unique vegetarian cuisine, invites office workers to take their time and have a nutritious breakfast or lunch.
CHYL, an extremely fashionable place in Ixelles, is both a restaurant and a store where customers can bring their containers to fill up with organic and eco goods (try the truffle mayonnaise), reducing packaging and saving money.
Meanwhile, CHYL's kitchen features a variety of prepared and raw meals made using sustainably sourced and seasonal ingredients.
CHYL is one of the best vegan breakfast spots in the city, with hefty burgers, flavour-packed juices, delectable pastries, and five different brunch choices on Sundays, firmly dispelling any concept of healthy cuisine being dull.
5. Liu Lin
Categories: Vegan, Chinese, Thai, Fast food, Delivery, Take-out, Asian, Taiwanese, Vietnamese
Casual dining Asian restaurant serving Taiwanese, Chinese, and other Southeast Asian dishes. Choices include fried foods like mock shrimp/calamari and wontons, curry and rice, soup noodles, dry rice noodles, and dumplings. Est. 2019.
6. Be Nuts, Bruxelles
The Be Nuts vegan café opened its doors in 2019. You can enjoy coffee, tea, and hot chocolate. Their nut-based cookies and cakes are delicious. Be nuts also serves a soup of the day, a hummus sandwich and salads.
7. Buddy Buddy Vegan Café, Bruxelles
Buddy Buddy is a vegan cafe and coffee bar that offers cakes, pastries, chai and coffee. Their menu features hot vegan empanadas that change flavours regularly. They may include vegan meat, nut butter and vegetables. Buddy Buddy is known for their nut butter.
8. Komkommertijd, Ghent
In carnivorous Belgium, all-you-can-eat vegan buffets are as rare as the Holy Grail, so the news gets around when one as consistently good as Komkommertijd arises.
Veggie-loving Gentenaars recognize a gem when they see one, and the Komkommertijd (a clever play on the words cucumber and silly season in Dutch) has been hailed as a warm vegan Valhalla.
For Ghent's many health-conscious eaters, their takeout option has been a lifesaver.
It is a budget-friendly plant-powered meat-free cuisine in this bustling cultural hub, Komkommertijd, located in the heart of the ancient port city of Ghent, and should be your first stop.
Vegan favourites like pumpkin and bean casserole, vegan scrambled eggs, hearty vegan carbonara, and deep-fried lentils are on the menu.
But what is the restaurant's finest feature? The all-you-can-eat buffet with a strong focus on veggies. What do you think of aubergine pakoras, potato gratin, and coconut cake for dessert?
The restaurant aims to utilize as many organic and fair-trade products as possible, and because the menu changes frequently, it's well worth returning.
9. Arabelle Meirlaen, Liège
Veggie-focused restaurants are still underrepresented in today's Michelin and Gault-Millau recommendations, but Arabelle Meirlaen is driving the way in Marchin.
The Michelin-starred chef is inspired by her Garden of Eden, reaching into her vegetable and herb patch to turn its bounty into meals brimming with flavour and edible blossoms. It doesn't get much fresher than this regarding haute cuisine.
Arabelle Meirlaen is a Michelin-starred chef whose eponymous restaurant is one of Brussels's most popular vegan, vegetarian, and sustainable eating venues.
The We're Smart Green Guide voted Meirlaen the greatest vegetable chef of 2019, indicating that she can create flavorful plant-based cuisine.
Her contemporary Liège restaurant features a stunning vegetable garden, chicken coop, and beehives.
From the freshness and brilliant colours of spring to the mushrooms, root vegetables, and spicy flavours of fall, the emphasis in the kitchen is on seasonal food.
Arabelle describes her culinary method as "intuitive," concentrating on what feels good to our bodies as the weather and seasons change.
Her food also incorporates everything she's learnt about herbalism, naturopathy, and Ayurveda cookery.
Menus are altered regularly depending on the garden harvest, but it remains one of Belgium's top vegan restaurants.
Arabelle also has gluten-free, lactose-free, and sugar-free options available. Fermentation and pickling reduce waste in the kitchen, while a large wine cellar rounds off the experience.
Why not treat yourself to a post-pampering treat after a stay at one of Belgium's greatest spa retreats? The restaurant is a little over an hour from the City of Spa.
10. Copper Branch, Bruxelles
Looking for a vegan restaurant in Brussels that isn't too expensive? Although Copper Branch is a chain, we would be remiss if we did not include it because it is great for anyone searching for a quick plant-based pick-me-up.
The Canadian company aims to deliver simple, wholesome, and high-quality food at a fair price. Copper Branch is here to ensure that health-conscious whole foods that are healthy for the Earth don't have to cost the earth.
Well-rounded meals with carefully selected ingredients will leave you energized and ready to take on the day.
We like the power bowls, which feature a foundation (brown rice, quinoa, or konjac noodles), a protein (tempeh, tofu, teriyaki, or carrot keftedes), and a variety of toppings (spiced chickpeas, edamame salad, and so on).
After that, drink a powerful smoothie made with spinach, strawberry, banana, chocolate, cinnamon, and hemp seeds packed with plant-based nourishment.
11. Dolma's Restaurant, Bruxelles
Dolma has been offering highly regarded vegetarian cuisine in Brussels since 1973, making it one of the city's first plant-based eating establishments.
Initially, it specialized in macrobiotic food, but now it serves vegetarian and vegan dishes.
Vincent Philippot, the proprietor, was raised as a vegetarian in a hippy commune with his parents.
However, the restaurant is more current eco-chic than the 70s bohemian, with natural hardwoods and plants.
Meanwhile, the dishes are unique and innovative, including all seasonal ingredients and changing regularly.
While some items (such as avocados) are off-limits due to the restaurant's concentration on local food, you won't feel like you're missing out until you're presented with a platter of the restaurant's fresh, delicious-smelling, vegetable-led concoctions.
The fact that many diners are meat eaters tells you all you need to know.
12. Les 4 Jeudis, Bruxelles
One of the major advantages of vegetarian and vegan cuisine is that it is extremely healthful. This is especially true at Les 4 Jeudis, where the chef employs complicated Lacto-fermentation techniques to preserve the veggies' great nutritional profile.
Consider a citrus-marinated vegetable carpaccio with goji berry sauce. Tabbouleh with butternut squash and curry.
Fennel and Chinese cabbage with a sweet vinaigrette Turnip, mushroom cream, and buckwheat lentil burgers. How about a creamy apple and date mousse with chocolate crumble for dessert?
The portions are large, the environment is cheerful and welcoming, everything is prepared to perfection, service is prompt, and there is a range of ethical and sustainable drinks.
The main drawback is that it is only open at lunch.
Is There Vegetarian Food In Belgium?
While traditional Belgian cuisine is not vegetarian-friendly, there is delicious vegetarian food available in Belgium, with a growing number of new eateries offering meat-free alternatives to the classic Belgian moules-frites.
Is Belgium Suitable For Vegans?
While Belgium has not always been particularly vegan-friendly, more and more eateries are opening these days that cater to vegetarians and vegans. For ideas, see our list of vegan and vegetarian restaurants in Belgium.
Is Brussels Suitable For Vegans?
Brussels, Belgium's capital, is one of the greatest destinations in the country to discover vegan-friendly cuisine. Vegan-friendly restaurants for all budgets and vegan cafés for lunch or brunch may be found across the city.
Is There A Vegan And Vegetarian Michelin-Starred Restaurant In Belgium?
Bon Bon, a Michelin-starred restaurant in Belgium, is expanding its vegan and vegetarian menu. Then there's Arabelle Meirlaen, a Michelin-starred chef who runs Arabelle Meirlaen, a plant-based restaurant in Marchin.
Following Ghent's lead in waving the Belgian vegetable flag and designating every Thursday "veggie day," other large towns have begun to follow suit.
The little country has grown vegetarian eateries like mushrooms in the last decade. Here is a list of the healthiest choices, ranging from opulent vegan banquets to fashionable raw food establishments.
1. Lukemieke, Leuven
Lukemieke in Leuven has two locations where you can enjoy their fresh biological plates daily. Inside, the vibe is laid-back and inviting, with fresh tiramisu and desserts calling you from the counter. The city garden compliments the seasonal vegetables on your plate well in the spring and summer.
2. Avalon, Ghent
Avalon, another of Ghent's vegetarian temples of devotion, has a legendary ring. The lunch restaurant near the city's 12th-century Castle of the Counts has gratefully stayed true to its medieval roots by naming itself after a fictional island from King Arthur stories.
Fortunately, the costs for their vibrant daily plates aren't as famous, and for around 15 euros, you'll leave with a tummy full of fresh vegetables.
3. Tasty World, Ghent
Large Belgian cities have recently been known for their high-quality burger establishments. Still, as a vegetarian choice, the same old Portobello mushroom alternative, as wonderful as it is, may get monotonous.
Tasty World is a Ghentian burger establishment that offers 15 different veggie burgers for €6.50 each. For an added health boost, pair your original chilli burger or hazelnut burger with one of their to-go smoothies.
4. Mun Food Café, Bruxelles
Belgium has finally joined the raw food bandwagon after a long wait. Moonfood Café, a beautiful wood and concrete location in Brussels where Thierry Aerts serves up live vegan food under the leadership of Annie Jubb, a bio-based nutrition pioneer, is one of the pioneers leading the charge.
Nothing at Moonfood is cooked over 46 degrees Celsius to preserve the ingredients' nutritional content (114.8°F). The water is filtered nine times using a reverse osmosis system to remove contaminants.
5. Lombardia, Antwerp
The photos on Lombardia's walls confirm the vegetarian eatery's celebrity reputation. Alain Indria, the owner and ex-pro surfer, is a colourful character who has welcomed many national and international A-listers to his splashy café.
They arrived for the GingerLove, a handcrafted cocktail made famous by Sting and The Wall Street Journal, but lingered for the delectable vegetarian fare. If ginger isn't your tea, try India's vegan cappuccino or GreenLove, two more delicious originals.
6. De Broers Of Julienne, Antwerp
De Broers of Julienne ("The Brothers of Julienne") have lived by the motto "Love people, prepare them delicious cuisine" since 1993, and boy, do they deliver.
The Antwerp institution's exquisite bread and butter are quiches and sweet pastries, but the brothers also produce a good seafood stew.
Juliette, their younger sister, is already six years old and is an excellent place for take-out and a fast lunch in the area of Het Zuid.
7. Aahaar, Antwerp
Aahaar, Indian cuisine in the heart of Antwerp's diamond area, gets top marks on the price-quality scale. The restaurant is known for its 10-euro buffet (you can also order off the menu), which draws on historic vegetarian traditions and spices to make you forget about meat.
Conclusion
As you can see in this article, Belgium offers vegetarian and even vegan cuisines. Many Belgium cities feature vegan restaurants. Especially Brussels and Ghent are among the friendliest cities for vegan food.
Many vegan restaurants are gaining popularity for their colourful and healthy meals. So if you are travelling in Europe as a vegan, stop in Belgium.
I trust you enjoyed this article about the Best Vegan Restaurants In Belgium. Please stay tuned for more blog posts to come shortly. Take care!
JeannetteZ
Your Opinion Is Important To Me
Ideas? Thoughts? Questions? I would love to hear from you. Would you please leave me your questions, experience, and remarks about this article on the Best Vegan Restaurants In Belgium in the comments section below? You can also reach me by email at Jeannette@LivingTheVeganLifestyle.org.
Disclosure
This post may contain affiliate links. I earn from qualifying purchases as an Amazon Associate and other affiliate programs. Read my full disclosure.
Here are links to some of my favourite articles:
Best Vegan Restaurants In Denmark
9 Most Popular Australian Vegan Recipes
Popular 8 Italian Vegan Recipes
5 Delicious Mexican Vegan Recipes For Your Kids