10 Best Cruelty-Free Organic Vegan Supplements


10 Best Cruelty-Free Organic Vegan Supplements
Thanks to huge advents of the internet, we, humans, are constantly changing our lifestyle. We have been aware that the way we used to eat is not practical anymore. In fact, we should act smarter than this. our food habits have substantial effects on nature directly and indirectly. So, we have to be more careful. Nowadays, eating meat and animal-related products is an essential part of our meals. It is hard to find a day when you didn't eat any animal-related product, isn't it?
It might have worked for our ancestors several thousand years ago when the population of humans was not that significant, and there was a nice harmony between them and nature. However, now, everything has been changed rapidly. There are nearly eight billion people waiting to enjoy their meals every day. And, what is better than nutritious animal-related food to do the job! Believe it or not, this doesn't work anymore. We should revisit our food habits substantially. Why? Because of thousands of reasons. Let's discuss some of them.
Humans Are Destroying Nature
What does meat come from? From sheep, cows, and other types of livestock. What do they need? They need to be fed every day. So, we need more land to grow plants to feed them. It means that we have to destroy forests and jungles to produce more agricultural products.
Basically, we are destroying all those animals' homes. So, we need to stop this. jungles, forests, and other natural habitats are the most important places on earth that secure our future. It is completely irrational to ruin the natural environment just for the sake of humans' getting fed.
Animals Have The Right To Live, Don't They?
We think that humans are special and different from other animals. This selfishness has made us think we have the right to dominate other animals and exploit them as we wish. Unfortunately, we kill them because we need to enjoy our meal. We put them under terrible situations so that they lay eggs, give birth to new animals, etc. We often don't care whether animals are enjoying their life. To us, they are moving flesh who need to be slaughtered.
However, there is some good news. People have greatly understood that animals feel everything as we, humans, feel. So, it is cruel to imprison cows, pigs, sheep, chickens, etc. They will suffer and get depressed because they cannot live naturally. Food production on an industrial scale doesn't care about animals' feelings at all, and many people have realized that. So, they have decided not to eat them anymore.
Nature Knows It Better
Another novel aspect of our food habits is the popularity of eating organic food. What is organic food? To put it simply, organic food is all those agricultural products that have been grown up by the least human interference. With organic food, we must not use any harmful and synthetic pesticides or fertilizers in the fields.
Also, we cannot add synthetic food additives or use irradiation and industrial solvents. All these with be in the direction of producing healthier food. They might be a bit more expensive, but people know they will benefit much more in the long term.
Fortunately, there are new horizons for humans. Because of these abovementioned challenges, many have changed their lifestyle. They have decided to become vegetarian or vegan. In this way, we could stop this cruelty to animals and live more peacefully.
There are many vegan or vegetarian products right now in the market. People can buy them and take steps toward a happier life for all animals. Here, we are going to discuss these products. However, before that, we need to know what it means to be a vegetarian or vegan.
So, first, we will talk about these two topics and then introduce some of the best products in the market. Additionally, we will do the same with organic products as well. Let's get started.
Who Is A Vegetarian Person? Who Is A Vegan? What's The Difference?
We often hear these words but might get confused with their differences. Let's start with vegetarianism. It basically means that you can eat everything except for meat. For example, it is ok for a vegetarian to eat animal-related food products such as cheese, eggs, etc.
Also, it is ok to wear clothes made out of animals' skin. However, veganism is definitely more difficult than vegetarianism. As a vegan person, you must not eat any food of animal origin. So, it basically means you are not allowed to eat meat, eggs, dairy products, etc. Also, you are obligated not to use any animal-related products. For example, buying clothes, accessories, furniture, etc., whose fabrics have something to do with animals is completely forbidden.
 What Are The Benefits Of Being Vegan Or Vegetarian?
First of all, sometimes, we, humans, need to know that the earth is not just for us. So, we must do our best to keep it healthy. There are many ecological advantages associated with veganism and vegetarianism. Aside from these advantages, there are many direct effects of veganism and vegetarianism on our health. Here is a shortlist of all those positive impacts of stop eating animals and their products.
High and low amounts of fibre and cholesterol are two of the most important factors influencing our health.
Vegans or vegetarians are less likely to suffer from heart disease.
Plant-derived food usually has the same amount of compounds you need. For example, it has been shown that soy milk has nearly the same amount of protein as cow's milk.
Losing weight more healthily, having a lower level of cholesterol, a lower risk of getting different types of cancer and diabetes are some other health benefits associated with vegetarianism and veganism lifestyles.
 The Benefits Of Organic Food?
Nowadays, it is fairly obvious that the fewer chemical interferences humans make in agricultural lands, the healthier products they are going to receive. As we said, organic food is the practice of food production with the minimum level of inference by humans. Here, we will briefly mention some of the pros of organic food.
One of the first benefits of organic food products is that they are pesticide-free. in conventional farming, plants usually receive a high amount of pesticides. Although they remain healthier and more appealing, they have residues of synthetic chemicals on them that are carcinogenic. With organic food, farmers minimize the number of pesticide applications on products.
Because there are no preservatives involved in organic products, they are sold on farms near towns. So, farmers don't add any synthetic chemicals to them because they know all of them are going to be sold.
Also, organic food is great for nature. Reducing pollution, keeping water clean, preventing soil erosion, boosting soil fertilizer, and applying less energy are some of the benefits associated with organic food.
Even when you are not a vegetarian or vegan and eating meat and animal-related products, you can do it less harmfully. For example, every year, livestock usually receives a high amount of antibiotics, growth hormones, and other synthetic chemicals to get more resistant to pathogens. However, these compounds could end up pilling up in humans' bodies with many unpredicted consequences. With organic food, you are sure that the food you are eating is not filled with artificial compounds.
The quality of some organic food is much higher than normal ones with respect to certain nutrients. For example, it has been shown that omega-3 fatty acids were up to 50 percent higher in organic meat and milk than in conventionally raised versions.
Organic food is not made from GMO sources. GMO stands for genetically modified organisms. For example, a GMO plan is highly resistant to certain pesticides. So, farmers can use pesticides more frequently to kill all the pathogens. it seems very beneficial, but it is not true. GMO plants have unseen consequences. So, it is better not to use them because we don't know how dangerous they could be. Organic food, on the other hand, is made out of non-GMOs.
 Why Are Organic Supplements So Important?
if you go to Amazon, you will see many diverse types of organic supplements. How are they better than regular supplements? There are several reasons to believe so. Let's discuss the reasons why organic supplements are better than normal ones.
Nutrients adsorption, retention, and utilization are influenced by several factors. For example, you might take supplements tablets to receive the right amount of certain compounds. However, you should know that synthetic nutrients could match real ones in adsorption, retention, and utilization.
Also, you should not underestimate the great power of synergism. What do I mean by that? I mean, the presence of all necessary compounds such as micronutrients, cofactors, enzymes, and phytonutrients works much better because each of them has positive effects on the other. So, you usually don't get the same result when you use them alone. organic supplements include many different compounds that function together and boost your health.
Also, when we use normal supplements, we might not follow the right quality that our body requires. This imbalance has negative consequences for our bodies. In contrast, there is a nice balance between the compounds included in tablets or powders.
So far, so good. We understood that eating organic food and avoiding animal-related food has benefits for us, right? Now, we are going to see what the market is offering us. There are many diverse types of vegan supplements and organic ones from many different brands. Here, we have selected some of the most popular and famous ones. We also have explained their key characteristics and some other basic information everybody needs when buying cruelty-free organic vegan supplements.
Vegan Multivitamins & Minerals with High Strength Vitamin B12 & Vegan D3. 180 Multivitamin Tablets – 6 Months Supply. Vitamins for Vegans & Vegetarians
This is one of the most popular products I found on Amazon. Here is a short description of it.
It is from the brand Vegan Vitality.
It costs $19.99.
The format of the product is a tablet, and it is applicable to adults.
It is one of the richest products as it contains many ingredients required for our body. For example, different types of Vitamins, including C, B3, B5, B2, K2, B12, etc., are available in the products. Also, it contains Microcrystalline Cellulose, Maltodextrin, Calcium, Biotin, Molybdenum and many more compounds.
One of the good things about the product is that it has been designed exclusively for a plant-based diet. So, all vegetarians and vegans enjoy taking the tablet that is so compatible with their lifestyle.
The product contains 180 tablets, which is enough for nearly 6 months.
As a vegan or vegetarian, it is very important to buy a product that is 100% free from all animal products. The tablets are free from sugar, gluten, wheat, nuts, soy, eggs, GMO substances, and all animal products.
You can have one simple product for several purposes. With this product, you don't need to spend money buying other supplements as well because it will do the trick.
It is suggested to take one tablet each day with your food. Try to follow the recommended dosage.
Vegan Vital – Multivitamins Complex 120 Capsules to Support a Plant-Based Diet with Aquamin Calcium, Vitamin B12, Vitamin B2, Vitamin D3, Selenium, Iodine, Iron, Phosphate and Zinc
This is another high-quality product in the market. It is very similar to the previous one. Let's check it out.
It is from the brand the PH PROWISE healthcare.
the product is in the form of capsules.
Just like the previous product, it has many different types of Vitamins, including D3, B2, and B12. Other compounds are Potassium Iodide, anti-caking agents, citrate dehydrate, hydroxyl Propyl Methyl Cellulose, and many more.
Each ingredient is precisely dosed and has a specific role in our body.
Vitamins and minerals are natural. For example, Vitamins are plant-based. Or, Calcium in capsules comes from calcareous marine algae.
There are 120 capsules in each pack which is enough for nearly two months. It is recommended to take two capsules per day.
No artificial colours or flavours are involved. Also, all capsules are allergen-free.
Refunding your money is easily accepted by the company if you don't feel satisfied with the product.
With having different types of Vitamins in it and other compounds such as Iron, Calcium, Iodine, Selenium, and Zinc, the product will significantly contribute to the normal function of red blood cells, nervous and immune system, the maintenance of normal skin, normal muscle function, etc.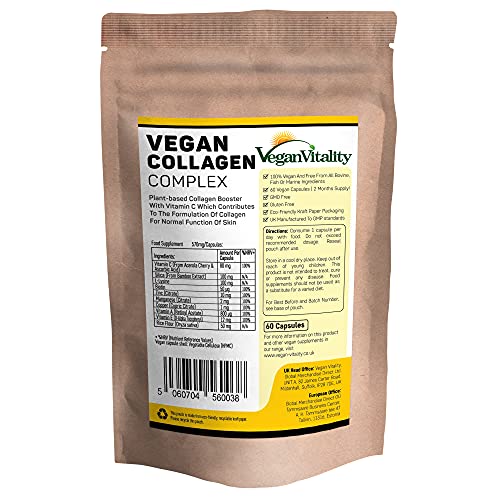 Vegan Collagen Capsules for Skin, Hair, Nails, Joints & Bones with Biotin, Lysine, Bamboo Silica, Zinc, Vitamin C, E & A. 2 Months Supply. Plant-Based Collagen Booster for Vegans and Vegetarians
this is another product in the market designed especially for women and men who take care of their appearance a lot. Let's have a review of it now.
It is from the brand Vegan Vitality.
The product is not expensive. It costs only $14.99.
The format is capsules.
The main ingredients are Vitamin C and E. Also, it contains natural silica, L-Lysine, Biotin, Zinc, Manganese, and some other elements.
It is designed for vegans and vegetarians, which is allergen-free.
One of the main characteristics of our product is that it greatly takes care of the collagen in your body. The older we become, the less collagen our body produces. So, it is vital to have such a product.
The product provides a natural, plant-based, and sustainable source of collagen, which is essential to your skin, nails, and bones' health.
You have to be sure that there are no bovine, fish or marine ingredients involved in the product.
The growth of collagen happens very naturally without bovine.
Experts recommend taking one capsule per day.
Another eco-friendly aspect of the product is that there is no plastic involved in the packaging. The packs are made of small kraft paper, which is recyclable. So, the carbon print of this product is amazingly low.
Independent laboratories have tested the product and made sure of its practicality.
Organic Reishi Mushroom Extract Powder – 100g – 30% Polysaccharides – EU Grown – Vegan (100 Powder Pouch)
This product can be easily used instead of meat because it has even higher nutritious value. Let's check it out.
– It comes from the company Time Health.
– It costs £18.99.
– There are three main ingredients in the product, namely Reishi mushroom extract powder, polysaccharides and Triterpene.
– It is both organic and vegan.
– It weighs 100 grams.
– The product has been traditionally used in ancient Chinese medicine.
– It is a nice substitute for meat as this mushroom has everything meat has. And, we don't need to kill animals to get those nutrients.
– It is recommended to use 0.5 to 2 grams per day for an adult.
– The package is also eco-friendly as no plastic has been used in it.
Organic Ginger Root Powder Capsules – 650mg – 90 Capsules (3 Months Supply) Pure Vegan Soil Association Organic Ginger Supplement, Natural Herbal Relief, Stomach Balance, Travel Remedy – Made in EU
This is another amazing product for both vegans and people who eat organic food. Here is a short review of it:
– It is from the company WeightWorld.
– It costs £16.99.
– the product comes in capsule form.
– The main ingredients are Ginger extract, Magnesium Stearate, Silicon Dioxide, Maltodextrin, HPMC Capsule Shell.
– This product works very well for your stomach and helps you digest more efficiently. In particular, it harmonizes your body while you are travelling.
– The product has the highest rate of adsorption because it is made out of the purest ginger powder.
– There are 90 capsules in each pack which is good for nearly three months.
– Refunding your money is possible within three months if you are not happy with the product.
– You can take one or two capsules per day to boost your health.
– The main health benefits include settling the stomach, boosting immunity, anti-inflammatory support and a healthy heart.
Organic Raw Cacao Powder by TheHealthyTree Company for Yoghurt, Smoothies & Baking – High in Protein, Magnesium, Fibre and Potassium – Sugar-Free, Vegan Cacao Powder (250g)
Everyone likes cacao powder, doesn't it? This is one of the best high-quality products in the market.
– The product is from The Healthy Tree.
– The product is high in protein, fibre, copper, magnesium, and potassium.
– It is one of the best options for breakfast and baking. It is a good substitute for your smoothie, hot chocolate, oats, and vegan yogurt.
– The product is certified by the UK.
– You can add it to many different snacks, including smoothies, protein shapes, cereal, hot drinks, etc.
– It weighs 250 grams with the powder format.
Seaweed & Co Organic Scottish Seaweed 60 Vegan Capsules, 60 Capsules
– The product comes from Seaweed & Co brand.
– It is purely from Hebridean Ascophyllum nodosum seaweed powder.
– The format is the capsule.
– It is a good source of natural iodine.
– It works very well to support metabolism and boost thyroid health, cognitive health, normal growth in children.
– It is recommended to take one or two capsules daily with food.
Conclusion
Nowadays, people intend to become vegetarian and vegan. They do this for many different reasons. In fact, regardless of people's intentions, being a vegetarian or vegan has too many advantages for both humans and the natural world. Here, in this paper, we talked about all the good things about vegetarianism and veganism.
Also, we explained why we should stop eating meat and other animal-related products. Finally, we introduced some of the most popular products in the market. So, what are you waiting for? Start buying them and use them in your food. You will see the benefits very soon.
I trust you enjoyed reading this article on the 10 best cruelty-free and organic vegan supplements. Please stay tuned there are more blog posts to come very shortly.
JeannetteZ
Your Opinion Is Important To Me
I would love to hear from you. Please leave me your questions, experience and remarks about the 10 best cruelty-free and organic vegan supplements in the comments section below. You can also reach me by email at Jeannette@LivingTheVeganLifestyle.org.
You might also enjoy these blog posts:

Vegetarian vs Vegan Delicious Diets
Living The Vegan Lifestyle – A Guide