How To Make Delicious Vegan Lobster Dishes
How To Make Delicious Vegan Lobster Dishes
Did you know that lobster is a poisonous fish? I didn't know until I researched this vegan blog post. This article will show you that the vegan lobster version tastes delicious and is healthy. The best part of the vegan lobster diet is getting your seafood fix without all the diarrheal mess. You can also make your lobster sauce, which is just a suitable amount of olive oil and garlic.
What Is Vegan Lobster?
Vegan lobster is a fantastic delicacy. The Chinese monks initially created it since they could not eat meat in Buddhist temples. Vegan lobster is not real lobster the way we know it. This seafood is made of vegan ingredients only, and the texture and taste are very similar to the lobster we know. However, no animals get hurt.
The dish isn't as typical as other famous vegan delicacies. However, making a vegan lobster can be very easy with an accurate recipe!
In this blog post, I introduce a few delicious vegan lobster recipes. Enjoy!
1. Vegan Lobster With Heart Of Palm And Garlic Butter
Ingredients
Hearts of palm: 2 cans (398ml / 14oz each), drained and cut into large chunks (see step 1)
Vegan butter: 5 tablespoons
Garlic: 2 cloves, minced
Water: 2 tablespoons
Paprika: ½ teaspoon
Salt: ¼ teaspoon
Lemon juice: 1 tablespoon
Fresh parsley:  1 tablespoon for garnish – optional
Lemon wedges for garnish – optional
Instructions
Cut the palm heart into bits. I prefer to make these chunks in various forms to resemble lobster parts.

Combine the vegan butter and garlic in a small bowl. Melt in the microwave for 20 seconds at a time until completely liquid. Take a large frying pan and pour half of the melted garlic butter into it, along with two teaspoons of water.

Combine the remaining half of the melted garlic butter with 1 tablespoon of lemon juice in a separate bowl. 

Set aside. You will need it for dipping.

Add the chunks of the heart of the palm to the pan with butter and water. Simmer the hearts of palms for about 5 minutes, or until well cooked.

Toss the paprika and salt over the palm heart, gently stirring to incorporate the paprika. To make it look more like lobster, I only partially mix with the paprika so that some pieces have more paprika than others. Serve the palm heart hot, with the lemon butter on the side and parsley and lemon wedges on the side.
Nutrition Information
Serving: 1 serving (recipe makes 4 servings)
Calories: 334kcal
Carbohydrates: 52g
Protein: 6g
Fat: 12g
Saturated Fat: 3g
Trans Fat: 1g
Sodium: 287mg
Potassium: 3604mg
Fibre: 3g
Sugar: 34g
Vitamin A: 927IU
Vitamin C: 18mg
Calcium: 40mg
Iron: 3mg
2. Vegan Lobster Rolls
Ingredients
Hearts of palm: 2- 14 oz cans, chop roughly to copy lobster meat consistency (half long pieces and then chop into small half circle pieces)

Old bay seasoning: 1 tablespoon

3 tablespoons olive oil

Lemon juice: 1 tablespoon

Garlic: 1 clove (minced)

Vegan mayonnaise: ¾ cup

Lemon juice: 2 tablespoons

Celery stalks and leaves: ½-¾ cups, finely chopped

Red onion: ¼ cup, finely diced

Dried dill: 1½ tablespoon

Fresh chives: 1½ tablespoon, chopped

Seaweed granules: 1 teaspoon (optional) (or nori sheets, grounded up)

Vegan butter: 2 tablespoons, melted
To Serve
Paprika
Olive oil
4 Rolls (hot dog buns, soft rolls)
Instructions
Mix the olive oil, Old Bay Seasoning, lemon juice, and minced garlic in a bowl. Add the chopped hearts of palms and marinate for as long as you can. Overnight is best.

Add the vegan mayonnaise and lemon juice to a bowl and whisk for a creamy vegan dressing. Add chopped celery, red onion, herbs of choice (I used dill & fresh parsley), whisk to combine well.

Add the seaweed granules (optional). Set the dressing aside. It is best in the fridge to firm up until you need it.

Sauté your marinated hearts of palm for 5 – 8 minutes (until brown on all sides) in a non-stick pan at medium-high heat. 

Stir occasionally.

Set aside so they can cool down.

Then add the hearts of palm (vegan lobster) to the refrigerated dressing to coat it. 

Brush the inside of your buns with vegan butter (melted). Note: The more butter, the tastier the lobster roll will be.

You may want to brush the outside of the buns with olive oil (optional).

Then toast the buns in a skillet or frying pan until they are lightly golden (approx. 1 minute per side).

Distribute your "vegan lobster salad" onto the buns. Sprinkle your lobster salad with fresh herbs (I usually use parsley).

Sprinkle your vegan lobster rolls with paprika, pepper, onions, and chives. Voila! A delicious vegan lobster roll!

You can service this vegan lobster roll with a green salad or my own tomato, cucumber, pepper salad.
Nutrition Information
Calories: 601
Fat: 50g
Carbohydrates: 26.25g
Sugar: 5.5g
Sodium: 1546mg
Fiber: 2.75g
Protein: 6.25
Cholesterol: 0mg
3. Vegan 'Lobster' Mac And Cheese
Ingredients For The Breadcrumb Mixture
Fresh breadcrumbs: 50g
Seaweed/nori powder: ½ teaspoon
lobster seasoning: ½ teaspoon
Olive oil: ½ tablespoon
Fresh black pepper
Ingredients For The 'Lobster' Seasoning
Seaweed/nori powder: ½ teaspoon
Celery salt: ¼ teaspoon
Sweet paprika: ½ teaspoon
Mustard powder: ½ teaspoon
Ginger powder: ¼ teaspoon
Bay leaves: 2
Smoked paprika: ¼ teaspoon
Freshly ground white pepper: ¼ teaspoon
Pinch of crushed red pepper flakes
Olive oil: 1 tablespoon for frying
Ingredients For The Vegan Mac And Cheese
King Oyster mushrooms: 4, torn into small to medium-sized strips and chunks

Vegan butter: 40g

Plain or gluten-free flour: 40g

Nutritional yeast: 1 teaspoon

Oat or coconut milk: 400ml

Garlic powder: ½ teaspoon

Dijon mustard: ½ teaspoon

Vegan cheese: 200g – (50/50 mix of regular and mozzarella)

Pinch of salt and pepper

Pasta (macaroni or similar), cooked: 300g
Instructions For The Breadcrumb Mixture
Mix the ingredients in a bowl. Set aside for the end.
Instructions To Make The Lobster Seasoning
Combine all the dry ingredients and grind in a high-speed blender (or coffee grinder, magic bullet).

Drizzle the mushroom strips with a little bit of olive oil and sprinkle with the lobster seasoning mix. 

Fry the mushroom pieces in a frying pan with olive oil for approx. 2 minutes

Add a few drops of water, cover with a lid and reduce heat to low for a further 2 minutes. Remove and drain off any excess water. Set aside for later
Instructions For The Mac And Cheese
Melt the vegan butter in a medium-sized frying pan on medium heat. 

Then add the flour and nutritional yeast and use and mix well.

Cook for a minute or so. Then slowly add the oat milk in batches, constantly stirring until you have a creamy sauce.

Add in mustard powder, garlic, and vegan cheese. 

Cook until melted and gooey. Add some seasoning to your liking before stirring through the cooked pasta, coating the pasta in the lovely sauce.

Throw in the cooked mushroom ' lobster,' do another quick stir and portion out into an oven-safe dish.

Top with the flavoured breadcrumb mix and place under the grill for a minute until the breadcrumbs are golden brown and crisp.

Serve with a green salad or my tomato, cucumber, pepper salad.
4. Vegan Lobster Bisque
Total Time: 35 minutes | Serves 4
Ingredients
Vegetable broth: 5 cups
Almond or coconut milk: 1 cup
Nori seaweed (sushi roll size): 1 sheet
Vegan butter: 2 tablespoons
Large shallots: 4 chopped
Medium carrots: 2 diced
Large celery ribs: 4 diced
Cashews, raw: 1 cup
Medium garlic cloves: 4 minced
Tomato paste: 2 tablespoons
Dry white wine: 1 cup
Smoked paprika (optional): ½ teaspoon
Dried thyme: 1 teaspoon
Old Bay Seasoning: 1 teaspoon
Pinch of cayenne (optional)
Vegan Worcestershire (optional): 2 teaspoons
Bay leaf: 1
Salt and pepper to taste
Chives: 2 tablespoons, chopped (garnish)
Heart of Palm: 1 can
Instructions
Add the broth and seaweed into a large pot over medium heat.

Bring the broth to a boil. Reduce the heat to a simmer. Let it simmer for about 10 mins. Remove the seaweed. Set aAdd

n, add the vegan butter, shallots, carrots, garlic, celery, old bay, Worcestershire, smoked paprika, thyme, cayenne, salt/pepper, and in a second large saucepan, cook over medium heat for 5 – 7 minutes.

Add the tomato paste, cook for an additional 4, continually stir.

Add the wine to deglaze the pot, bring to simmer, then reduce to low heat, cook for another 5-7 minutes.

Now add the seaweed-infused broth, bay leaf, almond milk, and cashews.

Bring to boil, reduce the heat to a simmer temperature. Simmer for approx. 10 minutes.

Remove the bay leaf and throw it in a blender. Blend until smooth. Garnish heart of palm, chopped chives and Old Bay.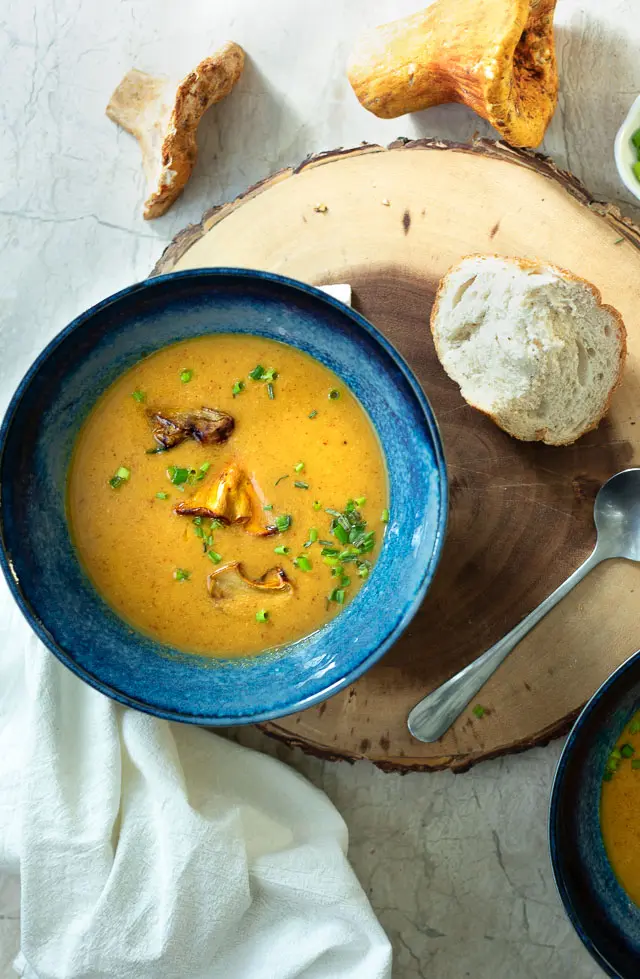 5. Vegan Lobster Mushroom Bisque [Vegan, Gluten-Free]
Calories: 291 | Serves 4 | Cooking Time: 30 minutes
Ingredients
Cashews, raw: 1 cup (soaked for at least 3 hours, better overnight in the fridge)

Vegetable broth: 1 cup
kelp powder: 1 tablespoon
Cornstarch: 1 tablespoon
Olive oil: 1 tablespoon
Shallot: 1, minced
Carrots: ½ cup, diced
Celery: ½ cup, diced
Garlic cloves: 3
Tomato paste: 3 tablespoons
vegetable broth: 4 cups
white wine: 1 cup
Dried Lobster mushrooms (soaked): 2 cups
smoked paprika: 1 teaspoon
Thyme: 1 teaspoon
cayenne pepper: ¼ teaspoon
Bay leaf: 1
Salt and pepper to taste
Instructions
Strain the liquid from the soaked cashews. Add the soft cashews to a blender with 1 cup of vegetable broth, kelp powder, and cornstarch, blending until smooth. This only takes a few minutes. Set aside. 

Soak the lobster mushrooms until they are soft (10-20 minutes).

Using a large saucepan, heat the olive oil. Then add the garlic, the shallots, the celery, and the carrots and sauté for a few minutes until they begin to soften.

Stir the tomato paste into the vegetables. 

Add broth, wine, cashew cream mixture, softened mushrooms, and seasonings. Heat up the mixture to a boil, reduce the heat and simmer for about 10 minutes to develop a delicious flavour and then finish cooking the vegan lobster mushroom bisque.

Let it cool and the purée some or all of the soup. Add the puréed portion back into the saucepan.

Note: You can purée all the soup if you prefer a creamy texture. My husband likes junky soup. I like it to be creamy.

Adjust flavouring with salt, pepper and any fresh herbs to your taste. I love to add some fresh parsley, basil or sage. Serve immediately.

Nutritional Information
Per Serving
Calories: 291
Carbs: 27 g
Fat: 15 g
Protein: 8 g
Sodium: 1310 mg
Sugar: 6 g
6. Vegan Stuffed Lobster Shells
Preparation: 20 minutes | Cook Time: 40 minutes | Servings 4 servings | Calories per serving: 348 kcal
Ingredients For The Ocean Broth
Filtered water: 5 cups
Sea salt: 2 tablespoons
Dried Wakme: 1 tablespoon
Dried Kombu: 1 tablespoon
Nori: 1 sheet
Ingredients For The Lobster Mushroom Sautee
Fresh lobster mushrooms: 1½ cups
Yellow onion: 3 tablespoons, chopped
Dry white wine: 3 tablespoons
Garlic: 3 cloves
Ingredients For The Alfredo Sauce
Large shell pasta: ½ pack
Aquafaba*: 2 cups
Plant-based mozzarella*: 1 cup
Plant-based parmesan*: ⅓ cup
Butter*: 3 tablespoons
White wine*: 3 tablespoons
Tapioca Starch*: 1 tablespoon
Garlic: 3 cloves,  crushed and chopped
White pepper: 1 teaspoon
White truffle oil*: 1 teaspoon
Ingredients For The Shell Filling
Almond ricotta: ½ cup
Non-dairy parmesan: ⅓ cup
Non-dairy mozzarella: ⅓ cup
Green onion: 1 chopped
Instructions
Wash the mushrooms and break them up into bite-sized pieces. I do this by hand because the pieces look more natural.

In order to create your ocean broth, you add all your ingredients into a large bowl, also add the lobster mushrooms and allow to soak for 30 minutes.

Prepare your shell pasta and set them aside for later use.

Sauté your Lobster Mushroom in butter, together with the garlic, onion, and white wine on medium-high heat for about 15 minutes

Add the Lobster Mushrooms to a bowl with the shell filling ingredients, mix well.

Preheat oven to 350 F

Using a large saucepan, heat the vegan butter. Add the garlic and the white wine and sauté everything at medium temperature.

Stir in all of the other sauce ingredients and mix well. The cheese will dissolve into a cream once it is warmed enough. Whisk it to mix it well.

Pour half of the alfredo sauce into a casserole dish and set aside the remainder of the sauce.

Stuff the pasta shells with the freshly made cheese lobster mushroom filling. 

Place them into the casserole dish and pour the set-aside alfredo sauce over the shells.

Sprinkle the casserole with cheese and decorate with green onions.

Bake the casserole in the preheated oven for 30 – 35 minutes or until the top is golden brown and is lightly crisp.

Serve with a green salad or my tomato, cucumber, pepper salad.
Notes
Mozzarella:

I use our homemade Mozarella which gives in a nice creamy texture. I also tried Miyoko's Mozzarella which worked well too. You might have to experiment with other store-bought Mozzarella cheeses like Violife, Daiya or your own preferred brand. It is important to get a nice creamy texture without cheese chunks.

Parmesan: 

I use our homemade nut parmesan. It is less creamy but has extra health benefits. You can also store-bought versions like the Violife parmesan.

Butter: 

I used plant-based butter from my local produce box. Earth Balance is a great-tasting plant-based butter. You can use homemade vegan butter. Some people prefer to swap out the butter with refined coconut oil. Here you would add 1 teaspoon nutritional yeast flakes.

Wine: 

Make sure the white wine is vegan. I am using organic and vegan Pinot Grigio from Sicily.

Starch:

 Tapioca starch is my favourite because it is gooey and stretchy. However, you can substitute it with potato or corn starch.

The White Truffle Oil is optional. It adds nice umami with light notes and enhances seafood and wine flavours. Black Truffle Oil will be deeper earthy and also enhance savouriness. There isn't a substitute for umami. However, this alfredo sauce will still taste amazing without umami.

Lobster Mushrooms Substitutes: If you aren't able to get lobster mushrooms, you could swap them out with

shrimp of the woods,
king oyster mushrooms,
wild puffballs, or
lions mane

It won't taste like lobster, but the closest sub will still give it seafood. Do not substitute it for shiitake, portabella, button, or cremini mushrooms- those earthy, nutty, metallic flavours do not work for seafood.
Another great option is to use plant-based shrimps!

One of my soy-free favourites made from Konjac is by All Vegetarian Inc, but many Asian grocery stores will have tasty soy-based shrimp.

Skip the marinating steps and pan-fry it with the garlic as you would with the lobster mushroom.
Conclusion
Lobster is a very popular seafood item. Here, I am introducing some of my favourite vegan lobster recipes. The key to perfect vegan lobster is to use the right ingredients and to be sure to track down the most delicious recipes. I would be interested to know what you think about these delicious vegan lobster dishes.
I trust you enjoyed this article about How To Make Delicious Vegan Lobster Dishes. Please stay tuned for more blog posts to come shortly. Take care!
JeannetteZ
Your Opinion Is Important To Me
Do you have any questions or ideas? I would love to hear from you. Would you please leave me your questions, experience, and remarks about this article on How To Make Delicious Vegan Lobster Dishes in the comments section below? You can also reach me by email at Jeannette@LivingTheVeganLifestyle.org.
Here are links to some of my favourite articles:
Easy Vegan Cream Cottage And Ricotta Cheese
6 Delicious Coconut-Crusted Vegan Shrimp Recipes
Best Vegan Restaurants In Baku, Azerbaijan
Secrets Of Vegan Lifestyle Benefits
35 Best Vegan Restaurants In Canberra, Australia
37 Best Vegan Restaurants In Yerevan, Armenia