How To Shop For Cruelty-Free Products?
More than ever, compassionate shoppers are opting to buy the high-quality, animal-free fashions that are currently flooding store shelves. With such easy access to kind fashion, there's never been a better time to rid your closet of animal-derived materials.
A product is considered cruelty-free if no form of animal testing was involved in its production. Meaning, none of its ingredients nor the final product itself has been tested on animals. Something is also considered CF if it is recognized by animal welfare organizations after undergoing systematic checkups for traces of animal testing.
Half a million animals die due to cosmetic testing each year — and that's just in one industry alone. Fortunately, many are starting to take action against these cruel practices. The European Union, for example, banned the use of animal testing over 15 years ago. In 2013, they also banned any imported products that use animal testing in their procedures.
Though our country has yet to enact a similar ban, California legislators did pass the Cruelty-Free Cosmetics Act just last year. Another 250 American companies have also banded together to endorse the Humane Cosmetics Act, which would end animal testing on cosmetics products across the nation.
But until these and further laws are enacted, the responsibility lies on consumers to research, purchase and utilize brands that steer clear of animal testing and other harmful practices — as well as avoid those who do use them. In this guide, we're showing you exactly how to do that and how to do so frugally, by taking advantage of credit cards rewards and store loyalty programs.
At its simplest, shopping cruelty-free means buying products that are not tested on animals. Companies that utilize animal testing do so in a variety of ways, often requiring the animals to ingest toxic ingredients, exposing their eyes and skin to harmful products or subjecting them to months- or years-long force-feeding to gauge long-term side effects.
There is no unilateral legal definition of "cruelty-free". In the cosmetics industry, one way to be sure you're shopping cruelty-free is to look for the Coalition for Consumers Information on Cosmetics "Leaping Bunny" logo. This certifies that the product and its ingredients were not tested on animals, nor will they be in the future.
To be clear, a cruelty-free product is not the same as a vegan product. While cruelty-free products aren't tested on animals, they may still contain animal-derived products, such as beeswax, honey, gelatin, collagen and more. Vegan products, on the other hand, contain no animal products at all.
What Is Cruelty-Free?
A product that is considered cruelty-free is free from all animal testing or any form of animal cruelty such as caging, skinning or using them for experimentation. Examples of animal cruelty include being locked in crates, having sharp nails, claws and/or teeth while in use and inducing pain during slaughter. If a company claims to be cruelty-free, it is because it has been accredited as such by an animal welfare organization. Some of the best cruelty-free products are vegan because of the nature of the brand.
Vegans do not consume any form of animal meat and dairy products, and therefore, cruelty-free products are also prohibited from those products. Almost all cosmetics manufacturers are now selling products that are considered cruelty-free by many people, especially people who are sensitive to the use of animal testing.
What is my reason to choose cruelty-free products? Having a love for animals is one of the main reasons why most people avoid using products that have had animal testing done on them. A cruelty-free product is usually available at a premium compared to its non-cruelty-free counterparts. This means that it can be more costly to those who are interested in buying them.
Products that are deemed to be cruelty-free include cosmetics, pet products, household items, furniture, health and fitness items, and personal care items. It does not cover medicines, meat, or any other items that are poisonous to a human being.
But it does include foods that are grown or raised on a farm where animal cruelty is not done. Some animal protection groups such as PETA and Humane Society of the U.S. (HSUS) have created a list of products that are considered cruelty-free. The list includes clothing, cosmetics, skincare products, shampoos, skin conditioners, toys, furnishings, and even certain types of jewelry.
What Is Not Cruelty-Free
A product is not considered cruelty-free if it has been tested on animals at least once, which does not necessarily mean that it has been done many times. A product that has been tested for multiple animals, but not all, is not cruelty-free. However, even if animal testing takes place on many animals, the product is still not cruelty-free because some of the cells or products obtained for testing are not allowed for animal consumption. Buying vegan cosmetics. The most important thing to remember while shopping for vegan makeup and cosmetics is to pay attention to their ingredient list.
Several types of animal testing are still taking place, whether on animals or the products produced from them. In the first category, you will find methods involving piglets, mice and rats. In the second, insects are tested for disease resistance, and on the last, chemical substances are subject to full animal testing for any pesticides. Make sure the product is sourced from a cruelty-free location. This implies that the factory that produced the product is not raising and killing animals, which is not something you should worry about if you are just looking for a synthetic perfume.
The Importance Of Cruelty-Free Products
There are several beauty products on the market today that claim to be cruelty-free but do not meet this standard. Thus, you may end up using a harmful product instead of something that can help you feel and look good.  In order to get to the bottom of the issue, I started by seeking out advice from leading experts and industry veterans.
Here's what they had to say:  William Manson  William Manson is the founder of ASPCA Animal Poison Control Center (APCC) and the only animal-controlled entity in the U.S. with the power to issue warning statements on products.
The practice of selling products that are not tested on animals is of vital importance as it prevents the emergence of the use of animal tests as a sole means of testing cosmetic products. Furthermore, it helps in the reduction of testing time by removing the need for animals to be used and ensures better and faster test results.
According to this study, which was conducted by the University of Sussex, products that are tested on animals and branded as "cruelty-free" have failed. It is also important to note that this term can differ in different countries, but is typically understood by Americans to mean that a product is produced and marketed in the United States.
Your basic day-to-day clothing items don't involve a lot of chemicals. To include the best in cruelty-free products, you need to know the definitions of each of its ingredients. By knowing the definition of each of these ingredients, it is easier to choose a product that contains minimal cruelty. Cruelty-free clothing is made from synthetics and fibres such as silk, cotton and wool. Therefore, you need to pay attention to the list of chemicals, which are a part of the manufacturing process.
Where To Find Cruelty-Free Products
While this might not be as easy for customers, it is not impossible. There are tons of companies that offer their own products that are free from animal testing, such as, Shiseido and Lush.  List of products that have no animal test: Bioderma Sensibio H2O is a product of the French consumer goods giant, L'Oreal.
This is another BB cream available in three shades that will easily banish your blemishes. The Perfect's Quick Perfection BB Cream SPF 50+ PA++++ is a huge favourite among beauty junkies, thanks to its lightweight formula that leaves the skin completely clean and smooth without being oily or greasy.  E.l.f. Sun Milk Free – If you're a sun protection freak, you can't miss E.l.f. Sun Milk Free.
If you want to shop products free from the harms of animal testing, you should look for the following brands. Pure Gard is an award-winning manufacturer of natural body care products. In order to promote its products and create a transparent supply chain, the company provides real-life test results for all its products.
Only last month, James Charles was appointed as a certified vegan by PETA. In order to support the brand's commitment to animal welfare and to preserve the planet, the company has made its products completely free of animal testing and other unethical practices.
There are a few different places where you can purchase products that are labelled as cruelty-free. Most online stores and even some larger clothing and perfume stores have their own selection of cruelty-free products. It's even possible to find non-certified organic products without animal testing, although this is less common.
How To Read Labels And Look For Materials That Aren't Tested On Animals
Just as a buyer would do when looking for a good deal on a new car, it's also important to look for details that reveal whether a product has been tested on animals or not. Even if the label says that it has not been tested on animals, there is always a chance that it was tested on some other mammal (like mice) which would have been killed in the process.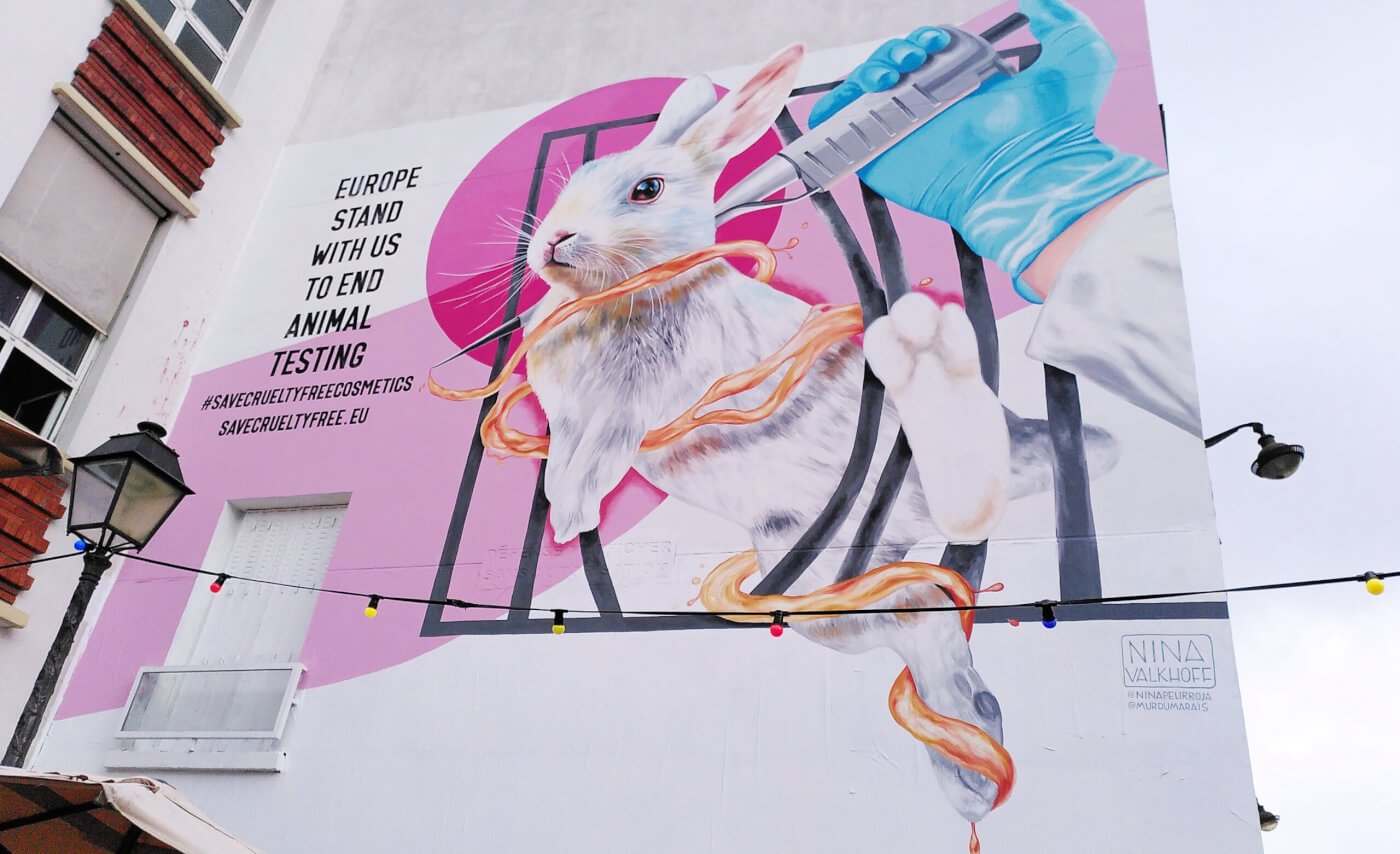 Why Do Companies Test On Animals?
There are different reasons why a company would conduct animal testing on a product. Firstly, the final product could have traces of animal products. The reason behind the measure could be to use animals' "laboratory tests to assess the tolerability or rejection of a certain product prior to its manufacture".
However, it is also widely accepted that animal testing can be used "to compare the quality and safety of the tested product against an alternative and it helps [in] predicting the potential negative effect on humans of a certain ingredient".  Can companies say their products are animal-free?  Fully. By means of its official disclaimer, Nature Republic says: "We believe that the production and consumption of meat and other animal products are not in our best interest.
Companies use animal testing because they want to know if their products are safe for use on humans. Also, if a product has different ingredients or additives from the ones found in the natural world, then it would be harmful to humans. However, despite what animal rights activists and various activists argue, there are a lot of companies that conduct animal tests because they want to understand the effect of their products. For example, if a company is testing its product on rabbits, then it would assume that the same might affect humans in a similar way. Thus, it is better to test on human beings to understand the cause and effect of the product.
Because it is cheaper to test a product before they even produce it than to find out how effective it is. For example, Consumer Reports tested more than 30 non-animal-tested toothpaste and found that the best two brands have a better than 98% chance of preventing cavities. That's only after testing thousands of different products! But Animal-rights activists are onto this little scam.
Toothpaste isn't actually all that 'non-animal tested but they are often put through another round of rigorous tests. How to find cruelty-free products in India? India is not exempted from this trend of exploiting animals. If you do your research, it is definitely possible to find cruelty-free products. There are many brands and stores which sell completely free from animal testing products.
What Are The Benefits Of Shopping For Cruelty-Free products?
Even though a majority of brands were and are not tested on animals, still, there are some that are (which is better than not even trying). Nonetheless, most of the products have no traces of animal testing and are better for the skin. Shopping CF is a good step for all animal lovers because your buying helps you at least promote a brand that cares for animals and people.
You do not have to worry if an item you are buying has traces of animal test results or not. As there are many cruelty-free products out there. You can easily identify the right product and steer clear of products that contain illegal ingredients or were tested on animals. CVS – the first and largest pharmacy store in the U.S. is well known for offering organic and natural cosmetics, skincare and body care products. Some of these products are even considered CF and are often called "cruelty-free" and "gluten-free." These items are always free from various common chemicals, artificial colourings, dyes, synthetic fragrances and parabens.
Not only does the supply of products available to choose from, but its price is also significantly lower than the regular ones. In fact, they are as good as the expensive ones at a fraction of the cost. Their marketing cost is also significantly less than that of the regular products.
Thus, you save a lot of money that you can spend on more important aspects of life, such as your health and the health of your family. Using Cruelty-Free cosmetic products has also been linked to better health. Some studies show that those products that were tested on animals, may contain more and more harmful substances over time.
How To Identify A Cruelty-Free Product?
You don't have to check and cross-check every single label you see. You can find Cruelty-free and CF products in every field of fashion. You can even find them in the "make-up" section of a drugstore. You will be able to find their names in tiny, bold letters right below their labels. Just hold your hand over their names and you will be able to recognize them.
Choosing a cruelty-free or CF product is easy, with one product's content offering a hundred different options. Here are some of the best places to shop for such products:  Petco – Petco sells a wide range of Cruelty-free and CF products. Purina – Purina sells over 400 products that are all Cruelty-free and CF.
In order for a product to be certified as animal-friendly, it must be produced in a factory that is also certified as compliant by the Global Animal Partnership (GAP). Periodically, the testing done in factories can confirm if an ingredient or ingredient blend is actually safe to use. If not, animal testing is required before the product can be distributed.
Many companies in this niche even release animal-friendly products such as fish oil, an ingredient that is commonly used in shampoo and cosmetics.
Almost all beauty brands manufacture cruelty-free products. To know if the product you want to buy is cruelty-free, simply glance at its ingredient list. It should be full of plants and plants in their natural state. Natural beauty lovers now choose to use skincare products that are derived from plant sources rather than animal-derived products.
And because of this trend, cruelty-free skincare products have gained immense popularity these days. Quality is very important when it comes to buying a cruelty-free beauty product. As it should be in order to maintain the integrity of your skin.
How Many Cruelty-Free Brands Are Out There?
To know which brands are cruelty-free brands, try searching for cruelty-free and compassion-free online.  H&M and Reebok are the top cruelty-free clothing brands that top the list. There are plenty of amazing cruelty-free brands to check out and most of them are on the top of their industries. Do not use the product on animals or that which is closely related to animals.
A simple search on the internet can uncover hundreds of products containing all types of ingredients – like animal-tested cosmetics, animal products, non-vegan products etc. Examples of products that are cruelty-free are:
The Body Shop,
Burt's Bees,
Lush,
Yves Rocher,
Bodywise,
Figleaves,
Treehugger.com,
Organic Vegan.com,
Honest Beauty,
Dior,
The Body Shop,
CVS and many more.
How To Avoid Animal Testing?
Keep your money. There are more ethical companies out there and some that are certified cruelty-free and cost less than their non-vegan counterparts.
Be aware of the cosmetic brands that sell cosmetic items. They only sell cosmetics, not non-essential items like pet food, clothing, accessories etc.
Certified Cruelty-Free Stamps
Certified cruelty-free products usually carry the UPCs CE, BS, DS, DH, SD, SO or EU and a certification number. The National Convenience Store Association (NSCA) defines the requirements to be a "cruelty-free" retailer. In order to become certified by NSCA, a retailer must ensure that:  No animal testing will be carried out on any of the ingredients used in the product, and no physical testing of the products will be done, not even visual, which includes dentistry.
The products in question are not "forgeries" or counterfeits of products that have been tested on animals.  Vending machine products are considered Cruelty-Free. These are machines that dispense drinks and foods and are sold in vending machines.
The label of certified cruelty-free products is always big and bold. As of now, over 2,000 animal rights organizations across the world are recognized by certifying organizations as such. The organizations have the unique license to use this label and certify the product is cruelty-free.
Some of the brands that are a part of the list include Patagonia, Target, Harley Davidson, Fruit of the Loom, Marmot, Ralph Lauren, Keds, Puma, Under Armour, Levi's, Dr. Bronner's and more. PETA offers a series of badges for these companies to identify their products as cruelty-free. These badges can be obtained for free from their website. These are mainly designed for major companies and thus cost is not charged.
Conclusion
While the final choice of your skincare products is of course your own, it is important to remember that choosing cruelty-free products is an easy and beautiful way to love your skin. And with multiple brands already becoming cruelty-free, the decision will be even easier for you.
By now, you must have noticed the truth that animal testing really isn't a good thing, to say the least. I know this is a massive shift in your perspective, but even though it may feel awkward at first, think about how you will feel if it was your loved ones who have been harmed by a product that was tested on animals. The moral is simple: Think twice about the ingredients in the products that you buy and think of those animals that have suffered in the name of beauty, fashion, or consumerism.
I trust you enjoyed reading the article about How To Shop For Cruelty-Free Products. Please stay tuned. There are more blog posts to come very shortly.
JeannetteZ
Your Opinion Is Important To Me
Ideas? Thoughts? Questions? I would love to hear from you. Would you please leave me your questions, experience, and remarks about the How To Shop For Cruelty-Free Products in the comments section below? You can also reach me by email at Jeannette@LivingTheVeganLifestyle.org.
Here are the links to some of my favourite articles: