Best Online Shops To Buy Vegan Leather Products
Best Online Shops To Buy Vegan Leather Products
What comes to your mind when you hear the word veganism? Who is a vegan person? And, more importantly, why do we need to be vegan? If you are interested in finding the answers to these questions, you might want to keep reading. Here, we are going to talk a lot about vegan and veganism.
Many years ago, people started thinking about the fact that how cruel people have been toward animals. People got used to eating meat and other animal-related products. That's why millions of animals used to get killed every year for the sake of food production.
A movement called vegetarianism started several decades ago. Many people said that we are not going to eat meat anymore. They said this cruelty must stop, and animals must not suffer. It was a good move not only for animals but for humans too.
We know that eating too much meat is often associated with lots of serious diseases such as heart, stroke, cancer, diabetes, high cholesterol, etc. Additionally, there are lots of negative environmental impacts as a result of eating too much meat. More demands for meat mean more livestock and more land for feeding them. If we eat meatlessly, our environment will stay healthier.
How Was Veganism Started?
As we said, during the last decades, many people became vegetarian. However, after a while, people realized that not eating meat is not enough. Yes, it is great to become vegetarian and stop eating meats. However, animals were being tortured and killed because of other products such as eggs, dairy, honey, etc.
So, a stricter movement called veganism started and allowed people to act more swiftly. In fact, as a vegan, you will not eat meat or any other animal-related products such as cheese, butter, eggs, milk, honey, etc. Again, it is a win-win situation for everyone! Animals, humans, and the environment.
Veganism Is Not Only About Food!
Veganism became popular very fast. However, it didn't stop there. Right now, veganism is not just about not eating animal-related products. It is something much larger than that. Where else can you find animal-related products? The answer is, of course, the fashion industry. This is where animals have been kept in horrible situations and get killed. Why? Because of all the clothing items we wear.
Animals are used for clothing items, right? These materials include leather, fur, wool, feathers, and silk. It is awful to see billions of animals are slaughtered each year for the fashion industry. Why should humans let this happens?
Why should animals be kept in a horrifying situation and get killed? Just because of the fashion industry? This cruelty must end! Are there any other options? Yes, we have several alternatives to stop this madness. So, if you are a vegan, you have to stop wearing products made from animals.

Leather, One Of The Most Popular Animal-Related Products
Leather is trendy among people. There are several types of leather coming from different animals. Most leather comes from cows, sheep, pigs, and goats. There are other animals, too, who are suffering just because of the leather industry. Let's have a look at different types of leather in the next section.
Different Types Of Leather
One of the most popular types of leather is cowhide which is a byproduct of the meat and dairy industry. Its durability is amazing. Because it is much heavier than other types of leather, it is usually a good material for making jackets, coats, and furniture. After cowhide, we have sheepskin which is used for producing jackets, slippers, and rugs.
Another animal whose skin is used a lot in the leather industry is pigs. The leather that comes from the pig is much denser. Also, it is waterproof and resistant to harshness better than other types. That's why it is usually used in making gloves, shoes, and sport wear.
After that, we have goatskin, which is perfect for gloves, bags, and rugs, just like pigskin. Also, it is a bit thinner than cowhide. Other animals are used to produce leather as well but not as common as the abovementioned types. For example, you can produce leather from snakes, alligators, and crocodile skin.
When skin is a byproduct of other industries, it is probably justifiable to use them. However, it is terrible to use some animals such as snakes and alligators for the leather industry because they are wild and endangered species.
Negative Impacts Of The Leather Industry
Yes, it is very classy to wear a leather jacket, shoes, or other clothing items made out of leather. However, if you know how destructive the leather industry is for nature, you will stop wearing it today. Let's talk about the most obvious one. To produce leather, you need animals. In order to have millions of animals, you have to feed them. It means that you have to destroy the natural environment and turn lands into agricultural lands to produce food for animals.
Also, the leather industry is one of the largest causes of pollutants in our world today. For example, animal skins must be first tanned and coloured. Then, it needs to go through some other processes before getting ready to be used in the leather industry. In all these steps, huge loads of dangerous chemicals are discharged into water and soil. These chemicals are very dangerous for animals and plants and kill them gradually.
Vegan Leather! The Best Alternative For Animal Leather
Do you want to end cruelty toward animals just because of their skin? If yes, you have to think about using vegan leather. What is it? You don't need to be cruel or kill any animals to buy a leather jacket or wallet. This type of leather is made from plant-based materials and sometimes synthetic chemicals. This is great because it can save millions of animals every day.
Different Types Of Vegan Leather
Natural plant materials or synthetic ones could be the source for producing vegan leather. Let's first review vegan leather coming from natural products.
Leaf Leather
Leaf leather is produced from Teak leaves. The material produced from this source is waterproof, making it a great choice for furniture. Also, you can use it for large tote bags and wallets.
Grain-Based Leather
This is another eco-friendly source for producing leather. This leather comes from Biopolyoil.
Mushroom Leather
Leather from mushrooms is stronger and more durable than normal leather. Also, the appearance of mushroom leather is very similar to the animal one. it is used for a product such as chic handbags and sandals. A good thing about mushrooms is that they grow very fast and within two or three weeks, you have huge biomass for being used in the eco-friendly vegan leather industry.
Vegan Cork Leather
This product is extremely similar to normal leather. One of the famous vegan brands in the leather industry is Arsayo, which produces professional backpacks from cork.
Piñatex® Leather
This is another source of vegan leather. You can have this type of leather from unused parts of pineapple trees. It is very similar to animal leather too. Also, the leather from pineapple is waterproof and protective.
10 Of The Best Online Vegan Fashion Stores
Well, as we said, being vegan is becoming a more popular lifestyle these days. As a result, you can buy vegan leather products from the internet. Here, I am going to introduce ten of the most popular vegan fashion stores.
Angela Roi
The brand is based in the US, New York.
The material that the company uses for its products is polyurethane leather.
The prices that the company offers are very affordable for many people.
What are the products from Angela Roi famous for? People know this company with its amazing design and variety of colours used in its products.
Their products include handbags, crossbody's, shoulder bags, satchels, accessories, straps, and finally AR Home.
Recently, they have started their canvas collection which includes global organic textile standard certified eco-friendly bags. These bags come from organic cotton, which is completely free of dangerous chemicals such as pesticides and herbicides.
This is another brand based in the US, Long Island City.
The materials they use include nylon, coated canvas, cork, rubber, etc. with a price range of $125-295.
The company produces mainly handbags and shoes.
The materials used for producing such products are coming from sustainable plant-based materials.
On their website, they have very nice filters on the website. So you can search for your products based on gender and type.
Compared with the previous brand, the diversity of products here is more.
The company offers handbags, and crossbody, shoulder, satchel, and tote bags in addition to backpacks, wallets, and clutches.
Because the brand doesn't use animal-related products, it has received several awards, including PETA vegan fashion awards, the 2012 global awards for sustainable fashion, and the independent handbag designer awards.
The materials company uses polyurethane-coated cotton canvas, microfibers upholstery fabrics, recyclable plastic bottle lining, and recycled paperboard for inner construction.
The brand has an affiliate program too. It means that you can sell on behalf of the company and get your commission rate. The commission rate for selling every product from the company is 15% which is very good for beginners.
This is another brand based in the UK.
All the products are from synthetic or vegan materials.
The price can be from $370 to 1750 euros.
The company is famous because of its luxurious designs.
The company is always looking for vegan alternatives.
Stella McCartney has very nice categories too. It includes women, unisex, Adidas, kids, sales, and Stella's world.
Each category has several subsections. For example, under the category for women, there are several subsections including ready-to-wear, handbags, shoes, accessories, and Stella loves.
This is one of the famous products of Adidas by Stella McCartney.
They cost 210.00 to 300 US Dollars.
The company is based in Canada, Montreal, Quebec.
They produce clothes with vegan and recycled materials. They use recycled plastic, cork, rubber, and recycled nylon.
They produce handbags, shoes, and accessories with vegan materials. Wallets, yoga bags, and men's briefcases are some other products from this brand.
In particular, the brand uses vegan leather to produce affordable products.
What do you know about this brand? They sell a large variety of clothing items. MATT & NAT's website categories include collections, handbags, accessories, footwear, outerwear, knitwear, and men's. Under each category, you will see lots of products for every taste. For example, you can find boots, flats, heels, sandals, sneakers, waterproof, etc.
If your orders are over $200, the shipping will be free.
Matt & Nat
When you go to Amazon.com and search with the world Matt & Nat you will get many different types of bags with different colours and sizes. Here, I am going to introduce some of them to you. Of course, there were thousands of other products which I couldn't bring all here.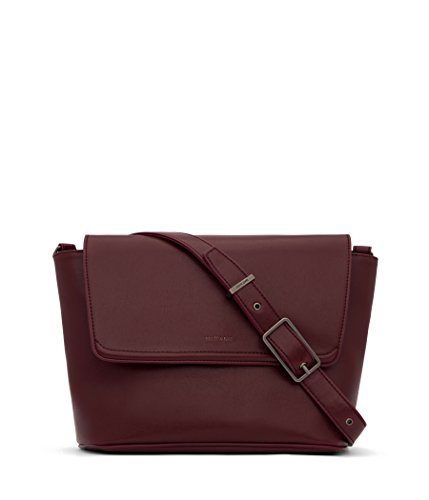 The product costs 132.37 euros ($140.00).
The strap is adjustable and removable.
The closure type is flap and pushes lock.
The sides can be expandable.
Matt & Nat Women's Passion Pit Purse
This product comes in two colours, brown and gray.
The price is 78.34 euros.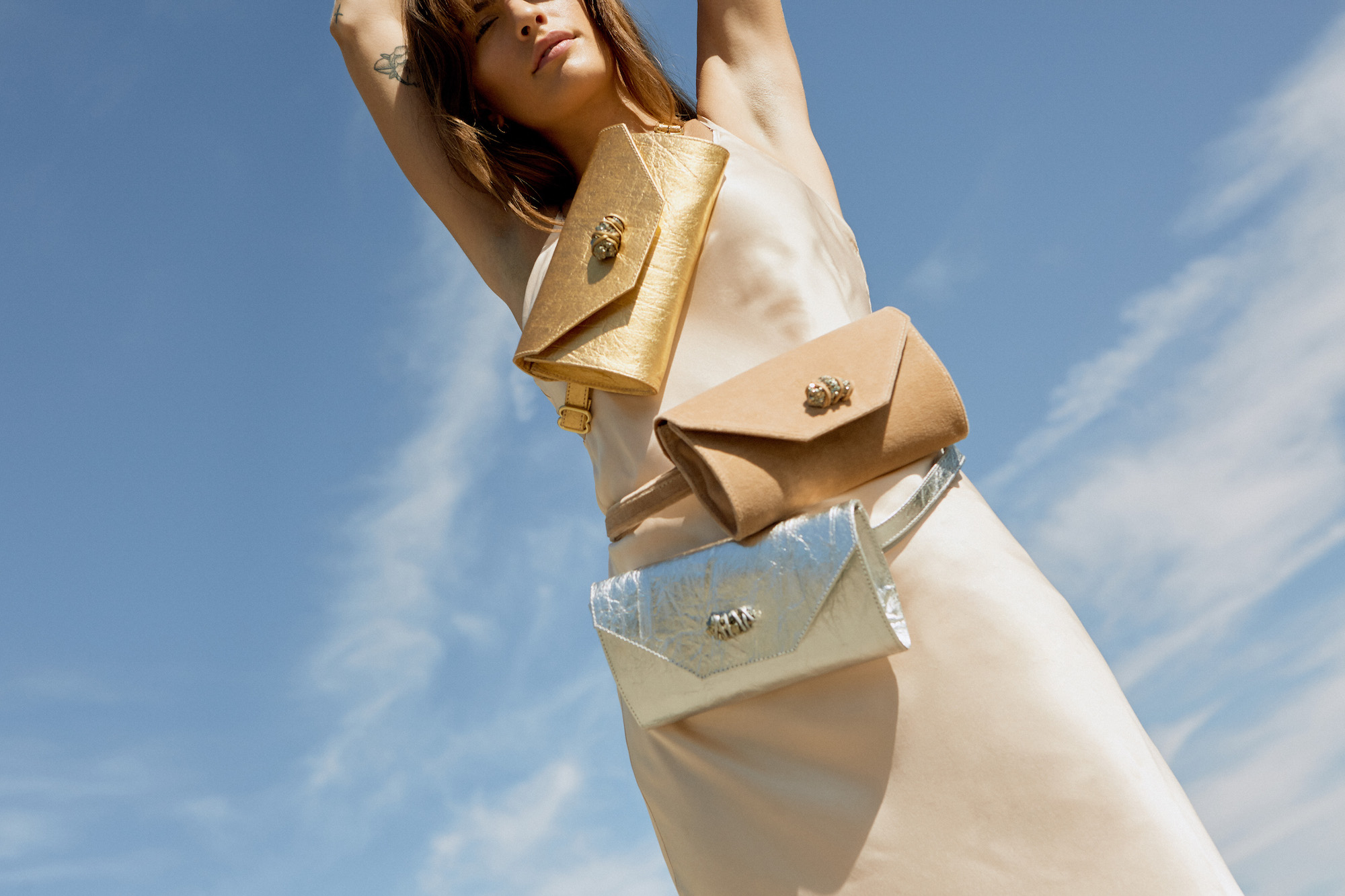 This is another American brand based in Los Angeles, California.
The company mainly uses plant-based materials such as organic cotton, hemp, and vegan pinatas leather. However, it sometimes uses recycled plastic too.
The specialty of this company is producing hands-free bags. So, you can imagine that it is a great option for travelling as well as doing everyday routine life.
The company uses wine & water bottle holders to make other things.
Their products include wallets, belt bags, crossbody's, bottle bags, and Piñatex®.
Their motto is the joy of less and sustainable materials. Let me explain what they mean by that. By the joy of less, they mean you can enjoy your style while you are hands-free.
For example, their belt bags can only contain the essentials to make life easier and more enjoyable. With a simpler style, you can feel happiness better. Also, they think about the welfare of the planet earth too. Their materials as we said, are all animal and earth-friendly.
They have four solutions for four problems.
First, one of the biggest problems of humans is plastic bottles in every corner of the cities. Interestingly, their eco-suedes are made from these recycled plastic bottles. The recycling process that the company goes through is called Oeko Tex Standard 100 certifications. It basically means that you produce clothing items that are free from organic solvents, odours, and environmental toxins such as formaldehyde, pesticides, chlorine, heavy metal, carcinogenic and allergy-inducing dyes.
Second, they have a procedure called upcycled. Do you know what it means? It basically means when you try to recycle something not just because of cleaning the environment from that material but because you want to produce something with higher quality. For example, the company uses age denim which could save up to 500 gallons of water per bag.
Thirdly, and interestingly, the company uses deadstock to produce beautiful wallets in camello. It is made from deadstock raffia fabric. What does it mean? Deadstock fabric is a fabric that isn't going to be used by the company for several reasons. For example, the fabric might not be as beautiful as it should be or is out of season. You repurpose that and create something new. That's what this company is trying to do.
Finally, HFS has a low impact, and it is earth-friendly.
One negative thing about HFS is that I didn't find any of its products on Amazon.
This company, just like previous ones, uses recyclable plant-based leather for its products.
The company has direct communication with the consumer.
von Holzhausen mainly produces accessories such as buckets, bags, totes, and crossbodies.
The company uses two types of leather. One is named Technik-Leather, which is a kind of leather coming from plastic bottles. The next type is plant-based leather.
Its payment plans are very diverse.
Also, the product's packaging is eco-friendly too. They don't use any plastic in it.
What can you find on its website? Their categories are based on gender and the material used. The materials are Technik-Leather, Bunbu leather, biodegradation, and material innovator challenge.
So far, we have talked about the brands that have an online website to sell their products. However, if you are looking for a place that has all or several brands together, you should visit online vegan fashion stores. From now on, I am going to introduce some of them to you.
This is one of the biggest vegan fashion stores. They have vegan leather as well.
It is based in the UK. What brands can sell their products on it? The morph bag, Collection and Co, Votch, Zuri, and many other companies sell their products here.
All the products on the website are vegan and cruelty-free.
If you are looking for vegan leather jackets, or other vegan leather-made clothing items such as boots, shoes, and swimwear, Immaculate Vegan is the best place for you to visit.
On its website, you can see six big categories. vegan sandals, vegan trainers, vegan bags, sustainable dresses, and sustainable swimwear are some of the biggest ones. You can find lots of products made from vegan leather.
However, it is not finished. They have other categories, such as bags & accessories, clothing, homeware, etc., with lots of products coming from vegan leather materials.
This is a German website for finding vegan leather items.
You can find elegant and chic jumpers and trousers on the website.
The fabric of products is usually recycled linen, cotton, and polyester.
It is different from American online stores in the sense that it gives updated vegan styles with a European flair.
Shirts, cardigans, trousers, and skirts are some of the best products available in the store.
Just like the previous brand, this one comes with great categorization. You are going to be surprised by how diverse their products are.
Women have different clothing items such as t-shirts, long sleeves, blouses, pants, shorts, skirts, and many more. The same is true for men. You can find nice sweats, knits, t-shirts, bottoms, and jackets.
The store has accessories too, underwear, socks, tights, etc.
Vegan Style
It is an Australian online store.
There are brands such as Ahimsa, MATT & NAT, Gunas, Zetta Shoes, and Inika.
The diversity of colours in shoes and bags are amazing. The same is true with their accessories.
This store was established in 2010.
It is one of the most passionate stores concerning veganism.
The list can go on and on, but we made our point. You can visit the brands' website or these online stores and buy your vegan leather-made products.
Hemp Tailor, You're So Vegan, and Wearth London are other stores where you can find nice vegan leather-made clothing items.
Conclusion
As we said, veganism is getting more popular these days. As a result, companies and brands are producing more than ever. They are looking for some ways to deliver their products faster and more comfortably. Here, after explaining what vegan leather is and where it comes from, we introduced some of the most famous brands where you can buy vegan leather-made products.
Also, we introduced some online stores where you can find products from several brands. I hope you find this article helpful. We will talk more about vegan and veganism in the following articles. Don't forget to follow us.
I trust you enjoyed reading the article about the Best Online Shops To Buy Vegan Leather Products. Would you please stay tuned? There are more blog posts to come very shortly.
JeannetteZ
Your Opinion Is Important To Me
Ideas? Thoughts? Questions? I would love to hear from you. Would you mind leaving me your questions, experience, and remarks about the Best Online Shops To Buy Vegan Leather Products in the comments section below? You can also reach me by email at Jeannette@LivingTheVeganLifestyle.org.
Please click here to read more about Vegan Leather on Peta.org<<<
You might also enjoy these blog posts:
Best Eco-Friendly Vegan Leather Alternatives
Best Places To Buy Vegan Leather
The Definitive Guide To Vegan Fashion And Style