Vegan-Friendly Madrid Travel Guide
Vegan-Friendly Madrid Travel Guide
In recent years, there has been an increase in Europeans switching to a plant-based diet due to higher awareness of the negative effects of animal agriculture, as well as more available information regarding the health benefits of not eating meat. As such more plant-based restaurants have opened up across the continent, including these top vegetarian restaurants in Spain.
Due to this shift in attitudes, it is estimated that around 10% of all Europeans now follow a plant-based diet. Furthermore, the continent leads the way in terms of global meat substitutes and holds 39% of the global market.
Spain, a country often praised for its vibrant food scene, is one of Europe's most foodie-friendly destinations and has been seeking to bring plant diets into the mainstream for over 30 years thanks to its diverse regional cuisines and abundance of natural produce.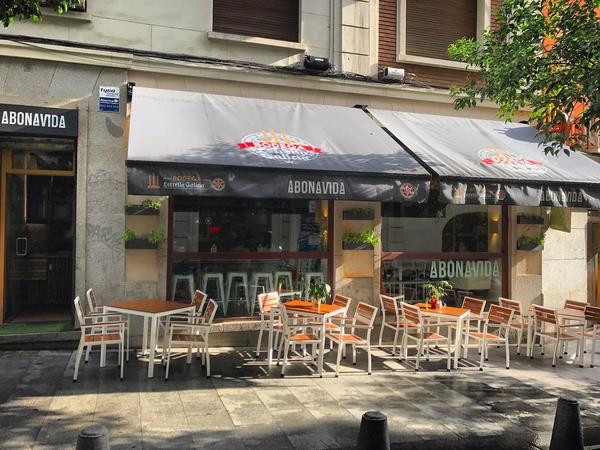 Uninitiated visitors making an epicurean pilgrimage to Madrid may be confounded when trying to find vegan and vegetarian cuisine in the city, especially given the Spaniard reputation for relishing hallmarks such as jamón Ibérico, seafood paella, and Manchego cheese. But the wheels of change are in motion.
According to guide Joy Figueroa of Devour Madrid, a local company that offers intimate, curated food and wine experiences from experts, Madrileños have opened up to restaurants focusing on flavorful meat-free dining options in the past few years. However, eating vegan and vegetarian fare has not been without its hurdles.
Figueroa admits that it is still difficult for some Spaniards to wrap their heads around this "radical culinary phenomenon." Millions of non-meat-eating visitors come to the country each year, but it can still be difficult to find options for locals and tourists alike. "To give you a sense of the level of acceptance and understanding, the Spanish word veganismo wasn't included in the Royal Academy dictionary until 2014," she adds.
While some may balk at veganism coexisting with a meat-revering culture, the pairing isn't at all unnatural; in fact, classic Spanish dishes fit perfectly into a veggie-centric diet. Figueroa offers examples: "Classics include pan con tomato drizzled with olive oil, ajoblanco (a cold soup thickened with almonds), and everything to do with potatoes (such as patatas bravas)." According to vegan restaurant owner Noemi Chianetta, the current number of vegan places in the city hovers at around 25 to 30.
In the land of suckling pig and Jamón Iberico, you'd think vegetarians would be stuck eating rice and beans all day. And while that may have been true in the past, that's not the case now. There is an increasing number of excellent vegetarian restaurants on the Spanish capital's dining horizon.
At first glance, Spain may not seem like the most herbivore-friendly of destinations. With giant legs of ham hanging from the ceilings of traditional bars, and market stalls overflowing with fresh seafood, it can seem like meat-based products are the way to go here.
But look a little closer, and you'll soon find that eating vegetarian and even vegan in Madrid can be surprisingly simple. From traditional dishes that are naturally plant-based to a growing scene of contemporary vegan restaurants, here's where to go and what to order while you're there!
Veganism In Spain
The capital may be renowned for its great barbecue, but veganism in Spain is still in its early stages. And while veganism is rapidly growing in other countries, it's still considered somewhat of a fringe, alternative, or "vegan after dark" lifestyle in Spain.
At the far end of the country, Spain's only Vegan Store boasts a range of cruelty-free products which include anything from food to clothing, accessories and body care products, making the store an essential stop if you're planning on travelling to Barcelona, Valencia, or Madrid. It even has an in-store café and regular cooking classes so that visitors can learn how to prepare a range of hearty vegan meals.
Reasons Why Veganism Is Popular In Spain
If you're a vegetarian or vegan in Madrid, chances are that you're thinking about living a more sustainable lifestyle. And although there may be high levels of greenhouse gas emissions from animal agriculture, as well as a large reliance on livestock, it's surprising just how many people are making the switch to a vegan lifestyle in Spain.
It is estimated that at least 8% of the population in Madrid follows a vegan diet, with many more going vegetarian. The movement is, for the most part, fairly recent, and even though veganism is becoming more mainstream, there's no doubt that vegetarianism is the way to go if you're planning on being environmentally conscious.
1. Easy Access To Delicious Healthy And Colourful Food
From a simple burger to a healthier version of paella and from a slice of chocolate cake to an airy flatbread, the Spanish food scene is as varied as it is delicious. The rise of veganism is often attributed to rising numbers of health-conscious Spanish people, who are choosing to opt for a plant-based diet as part of a health kick. In fact, since the "lifestyle vegans" or vegetarians began to gain popularity in the 2000s, so too have meat-eaters moved away from the animal products they used to love.
2. Vegan Classics That Are Still Popular
The iconic "black bean burger", green "chorizo", "red pesto" (basically anything containing olive oil), "salmon" and "mushroom omelette" are all classics that have stood the test of time.
Statistics About The Number Of Vegans In Spain
As of 2017, according to BBC Health, there are around 667,000 vegans in Spain (based on 2017 EU figures) – and that number is only expected to increase. Not too bad considering you have around 57 different types of cheese for your consumption.
Spanish vegans (the minority) are making up one of the largest single populations of vegans in Europe. But according to several studies, a staggering 95% of vegans in Europe were born abroad. Since vegans are not new, it is clear that their numbers are rising all around the globe.
Spanish vegetarians are less known, but they are also growing in numbers and they tend to be more accepting of those that choose not to eat meat. The majority of Spanish vegetarians eat fish, poultry and eggs.
6% of the city's population are vegan or vegetarian. 52% of these are habitual vegetarians. 4% of vegans say they are looking for alternatives to meat. 56% of vegan and vegetarian visitors are looking for new tastes and innovations in this area of Madrid. 29% of vegans are looking to eat less meat, while 57% aim to eat a healthier diet. 13% say they are eating a vegan diet due to environmental or animal rights reasons.
The increase has meant that new varieties of vegan products and products that are vegan-friendly have arrived on the market, and new restaurants are emerging all the time.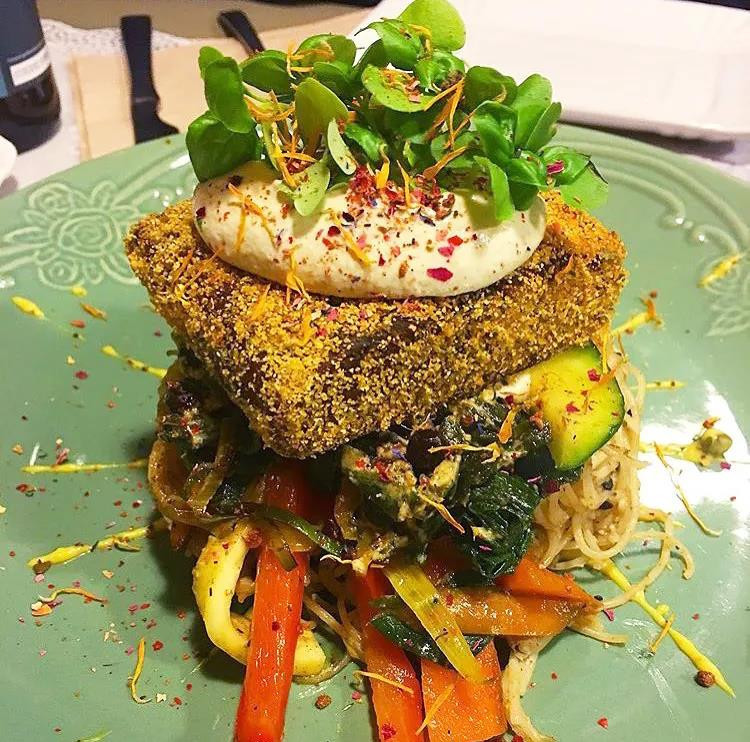 Traditional Vegan Dishes In Madrid
First things first: if you don't feel like venturing into the more "radical" vegetarian or vegan restaurants in the city, a trip to a traditional Spanish restaurant should be right up your street.
Plenty of traditional dining spots here cater for people who don't want to be scared away from a little bit of grub, and for good reason. Take Mariano Lazarte, who serves up some of the best vegan tapas in the city. His Kale and octopus croquettes are superb, but if you're more of a vegetarian, his fruity-tasting ceviche and guacamole are both excellent.
Vegetarian Madrid has been a growing trend in recent years. Local restaurants have been serving up vegan alternatives to traditional Spanish favourites like paella and croquetas de jamón for years, and it's easy to see why. Having travelled to other parts of the world, I was in awe of how naturally vegan Spain appeared to be, with numerous salads, puddings, and desserts all being made with no animal-derived ingredients.
Most of these spots have largely traditional menus, offering several classic dishes that are normally made with eggs, cheese, and butter. These include homemade cakes, pastries, and of course any vegetable dishes that may be on offer.
The Best Vegan Restaurants In Madrid
With no shortage of delicious vegetarian and vegan dishes in Madrid, it can be difficult to know where to start. The big problem is deciding what to eat. And while a good restaurant will let you know which of their dishes are not only vegan but also suitable for gluten-free, egg-free, dairy-free and egg-free diets, you'll never know which dishes won't be suited to you unless you know the specialist places to go.
Here's our selection of the best vegan restaurants in Madrid, all of which are full of delicious recipes, creative vegetarian and vegan cuisine and helpful staff to get you out the door.
With plenty of vegan restaurants, it can sometimes be a little overwhelming when dining out. With that in mind, here's a list of our top picks of the best vegan restaurants in Madrid, some of which are chain restaurants that you may have heard of, and others that you might have not.
This vegetarian restaurant chain has 19 branches across Spain. Most are in major cities, but two in Madrid are a bit further from the centre. One of the favourites is the one in Madrid Alcala, which, although tiny, is home to the vegan luchador mascot, Luchito the vegan wrestler, and the delicious Italian dishes like the peanut and tofu cream and the chard and 'cheesy mushroom' ragu.
The Green Oven Café. Since opening in Madrid's popular Salamanca district over five years ago, The Green Oven Café has attracted a large following of vegans and those who love vegetarian food. The atmosphere is busy and cozy, with an atmosphere that would make it the perfect place to eat if you are a meat-eater as well. A member of the Natura Vegana family,
The Green Oven Café's menu includes Mediterranean staples such as mojitos and an impressive selection of vegan take on tapas including vegan ceviche and a soy-based tortilla. The Green Oven also offers a wide selection of tapas, while your meal comes with freshly baked bread and a range of desserts and snacks. The Green Oven Café's website also offers easy-to-follow recipes for other dishes on the menu.
Otra Vegans, 1207 Madrid, España. This spot has become known for its authentic Mexican-style cuisine, which is really filling and delicious. You can find dishes like kale and sweet potato quesadillas, and crispy cauliflower steak with salsa, tostadas, and cactus slaw.
Fruit & Veg is the oldest vegan restaurant in Madrid. Opened in 1973, this café was originally created to offer families a meal in a healthy, family-friendly atmosphere that would allow the children to choose their own dishes. All of the restaurant's lunchtime menus are 100% vegetarian and contain no fish, meat, eggs or any other animal products.
Alongside its delicious food, Fruit & Veg is known for its particularly committed clientele, as its location in the main city centre is popular with commuters, and its weekday clientele makes it a great place to go for the full 'traveller experience'.
One of Madrid's favourite vegan restaurants, La Escuela de Alimentación in the heart of the Spanish capital has also been around for more than 30 years.
Dipesa, Retiro-Bide's 7. Located in Madrid's Retiro Park, Dipesa serves up a vegetarian lunch buffet that also contains a few vegan dishes on offer and can be enjoyed right in the middle of the park, before heading over to the nearby Botanical Gardens, which are considered to be one of the best green spaces in Spain.
Yoliza, Caja Madrid. This is a vegan bistro offering up delicious and healthy plant-based dishes, made from local, fresh ingredients. The restaurant prides itself on using the best ingredients and even has a fully-fledged organic garden growing on its premises, with herbs, vegetables, and flowers grown without chemicals.
Vegan Products In Spain
We did a little digging to find the best vegan products in Madrid, from vegan cheese and vegan mayonnaise to vegan chocolates and chocolate.
Food has come a long way in Spain, where vegetarian and vegan products and meals have grown in popularity in recent years. Although there are no companies officially certified 'vegan', companies that promise to source only vegan ingredients can legally be called vegan, so make sure you pay attention to where your food is coming from.
However, it's not all about what you put in your mouth when you're shopping in Spain.
Even more surprising is the abundance of plant-based beverages on offer, including cold-pressed juices, naturally low-sugar, unsweetened milk, plant milk and sparkling soy or almond milk.
Gluten-free flatbreads. Flamingoteca Della Gela on Calle de Puerta del Mar sells bread made with chickpea flour – a grain that's not only gluten-free but also nut-free. And they do it using a machine that produces only the most 'extra' and delicious bites of flatbread.
It's the perfect place to try something a little different from the standard bar snacks.
Meatless shepherd's pie. Originally created for Pope Paul VI to provide a meat-free meal during the Latin American tour of Pope John XXIII in 1961, cassoulet is the much-loved dish of French peasant cuisine.
Tips In Becoming A Vegan
Before you make the commitment to become vegan, it's important to consider your own dietary needs, diet, and your health. Find out what kind of foods you prefer to eat, and consider what health problems you're most likely to have. If you are planning to go vegan, check out our guide on the vegan diet, and see what exactly you need to give up.
If you're new to the idea of living without animal products, here are some quick tips to ensure that you become vegan in the fastest and most enjoyable way.
Shop for non-animal products at your local farmer's market.
Check out La Vedada's annual Harvest Festival (September and October), where you can meet the producers of your food.
Visit the Alternative Lifestyle Club, and ask them to speak to you about the concept of veganism.
Book a detox day at a local hotel.
Host a vegan potluck at your place.
Cook one meal that will have you bragging about your dinner the next day, and ask your friends if you can invite them.
Order your food in Spanish, rather than English.
Pop into bakeries and ask for vegan options.
Positive Effects Of Veganism
Spain isn't the only country to see benefits from the growing veganism movement – across the Atlantic, the American state of California has even made it legal for vegans and vegetarians to eat on the street. But Spain is making huge strides in making a name for itself for its increasing focus on the health benefits of plant-based diets – and as an environment, a healthier planet.
It is estimated that meat consumption across Europe and North America will double by 2050, whilst dairy consumption is also on the rise, meaning a huge decrease in the amount of food available for non-human life. That's why a focus on eating plant-based can have huge impacts on the environment, too.
Ever since the first vegan restaurant opened its doors in Spain, the number of vegan consumers in the country has grown exponentially. According to data released by The Vegetarian and Vegan Association (ASVIDA) in 2016, the number of vegans in the country has doubled in the last 5 years, and in 2017 is estimated to be 3.2% of the total population. This figure is said to continue to grow.
"We hope that, by 2027, 10% of the Spanish population will be vegan," says current ASVIDA president, Tonia Mata.
These positive statistics are largely due to several factors, including an increase in the number of vegetarian and vegan establishments popping up around the country.
Veganism Is A Choice
One of the biggest differences between veganism and vegetarianism is that veganism is a conscious decision – and the advantages are endless. For starters, there's no such thing as a vegan burger, and it's actually possible to have just about any kind of vegan food on tap. This is one of the first things you'll realize when you arrive in Madrid.
These foods are actually closer to the real thing than anything you'll find on a plant-based menu in the UK. From creamy vegan cheeses to beetroot salads, vegan desserts, you won't be short of options.
Veganism is about good quality food, not cruelty. Although it's easier than ever to eat a vegan diet, it isn't some cure-all cure to ensure your health.
As a nation of carnivores, many of us might not realize that Spain actually leads Europe in vegetarianism rates. It's estimated that Spain has 30% more vegetarians than any other European country. So why the plant-based lifestyle? Many reasons, actually. From a desire for lower environmental impact to improved health, eating less meat can make a big difference to our planet. But one of the biggest is the health benefits that will affect your bank balance.
According to the British Dietetic Association, a vegetarian diet is just as healthy as the average Western diet, but far more affordable. They found that a third of a person's diet should be vegetarian or vegan, to ensure optimal health.
Many of the World's top athletes are vegans, with names like Mo Farah, Jessica Ennis-Hill and David Coulthard leading the way for a vegan lifestyle.
Popstar Jay Sean even announced that he is now vegan after being urged to by his mum and partner. Taking the nutritional benefits into consideration, why not try this vegan lifestyle out for yourself?
Conclusion
Veganism is everywhere now and it's here to stay. While eating vegetarian isn't impossible, the challenge is largely one of finding delicious, sustainable and health-conscious alternatives to animal products.
Spain has certainly made an effort to promote this new trend by offering vegetarian restaurants, vegan bars and regular expos showing the foods that people can eat, for whom they are perfect, and how they can prepare them in the right way.
The country could probably stand to be a little healthier, and it's amazing to see its culture, food and even beer trends being heavily influenced by this lifestyle.
Although Spain has an impressive number of vegan-friendly restaurants, it isn't quite as easy to live a vegan lifestyle as you may think. But with a little bit of careful planning and care, veganism in Spain is something we could all learn a lot from.
I trust you enjoyed reading the article about the Vegan-Friendly Madrid Travel Guide. Please stay tuned. There are more blog posts to come very shortly.
JeannetteZ
Your Opinion Is Important To Me
Ideas? Thoughts? Questions? I would love to hear from you. Would you please leave me your questions, experience, and remarks about the Vegan-Friendly Madrid Travel Guide, in the comments section below? You can also reach me by email at Jeannette@LivingTheVeganLifestyle.org.
Here are the links to some of my favourite articles:
Best Vegan Restaurants In Barcelona, Spain
Best Cruelty-Free Cosmetic Companies
How To Shop For Cruelty-Free Products?