Best Vegan Restaurants In The Czech Republic
Are you looking for a vegan guide to Prague written by a local? Do you want to know where to find the top vegan restaurants in Prague? You've come to the correct location! I've lived in Prague for several years and know where to go and where not to go. You're not alone if you were astonished to find that there are vegan eateries in Prague.
When I initially arrived, I was in the same boat. In reality, the Czech Republic's capital is a vegan paradise. Even though Czech cuisine is known for stewed meats, dumplings, and thick sauces, vegan and vegetarian eateries have sprung up around the city.
More than half of them are vegan! Plus, it seems like a new vegan restaurant opens every month. You might be wondering how this happened. The vegan cuisine scene's rise in Prague appears to be natural.
According to one vegan restaurant owner I talked with, Czechs have begun to modify their attitudes about food and health, and they are quite intrigued.
They are willing to try vegan meals, even though traditional thought holds that if you don't have meat in your diet, you aren't eating.
In recent years, there has also been an inflow of health food stores, and because Czechs are embracing worldwide dietary trends, there is a larger market for vegan products and cuisine in Prague and elsewhere.
Great vegan cuisine is available in Prague, thanks to the inquisitive character of the Czechs, and I've done my best to try as much of it as possible.
Here are some of the greatest vegan eateries in Prague, Czech Republic, without further ado. In this guide, I've also listed my favorite vegan-friendly eateries so you can explore Prague's alternatives.
Palo Verde
Palo Verde is an all-vegan cafe and restaurant specializing in handmade pasta and pastries. Breakfast, lunch, and supper are all available. The wonderful restaurant is pleasant and roomy, with a lovely, lush garden in the back that is ideal for dining al fresco on a warm summer day.
Fresh pasta dishes such as Beyond Beef ravioli and bolognese lasagna are available for dinner. Arancini, chickn poppers, Spanish croquettes sans Jamon, hummus, olives, and bread are also available on a tapas platter for two. This is a great starter for two people.
There's also organic wine, sparkling wine, and cocktails. Various breakfast choices are available, including waffles, tofu scramble, oatmeal, and more.
You're in luck if you want to come for coffee and dessert. Homemade delicacies include vegan croissants (perhaps the only vegan croissants in Prague), cakes, cronuts, and more.
They also provide high-end coffee and tea. Another thing to remember is that Palo Verde is housed within the Salvator Boutique Hotel. If you're visiting Prague and want to start the day with a vegan breakfast in a handy location, this is the place to stay.
Moment Kavarna & Bistro
Moment Vegan Bistro and Cafe has been in business for quite some time. It's one of the city's most popular and well-known vegan eateries. It has changed hands twice in the previous six years. Palo Verde (shown above) just took over and expanded its vegan 'kingdom.'
The restaurant has been completely redecorated and remodelled. The moment is now colourful and flamboyantly ornamented. Czech posters decorate the walls in bright colours. The high ceiling, adorned with zigzag curved black beams, stands out against the white palette.
The bar has been open since the beginning and has been made more open and airy. It has a huge espresso counter and a strong copper beer tap.
There are a few items left over from the previous Moment. Outside, the now-brightly painted yellow swing, and inside, the unsteady tables with carved birds and funny Czech sayings.
The completely different menu is more focused on Czech cuisine. From the traditional Muflon beer and Kofola soda to the numerous veganized Czech meals, there's something for everyone.
When you look it over, it's clear which nation you're in. Nonetheless, it is not entirely Czech. The loaded fries, nachos, vegan pate, and fried Mozzarella Sticks have a Central Europe meets West flavour.
On my first time back, I chose to try the vegan Svková, embracing the new Moment. If you don't know what Svková is (don't worry, you're not alone), it's the most typical Czech meal that can be found on the menu of any Czech pub or restaurant.
It is not vegan in the classic sense. A sirloin steak serves as the centrepiece. Yes, you read it correctly…topped with a creamy vegetable sauce, cream, and cranberry jam. .
All of this is served alongside Czech dumplings. This is not to be confused with Asian dumplings. Czech dumplings are more like bread and are ideal for mopping up the creamy sauce.
I've tried this meal in a couple of different eateries around town (veganized, of course). This one is near the top. The seitan sirloin is really tasty. The carrot flavour in the creamy sauce is intense, and the dumplings are soft and excellent.
Overall, a fantastic meal is ideal whether you are starving, drunk, or chilled to the bone due to the cold and wet weather. This is not for the vegans who eat just raw or entire foods. So go to Moment if you're seeking Czech ambiance and veganized classic foods!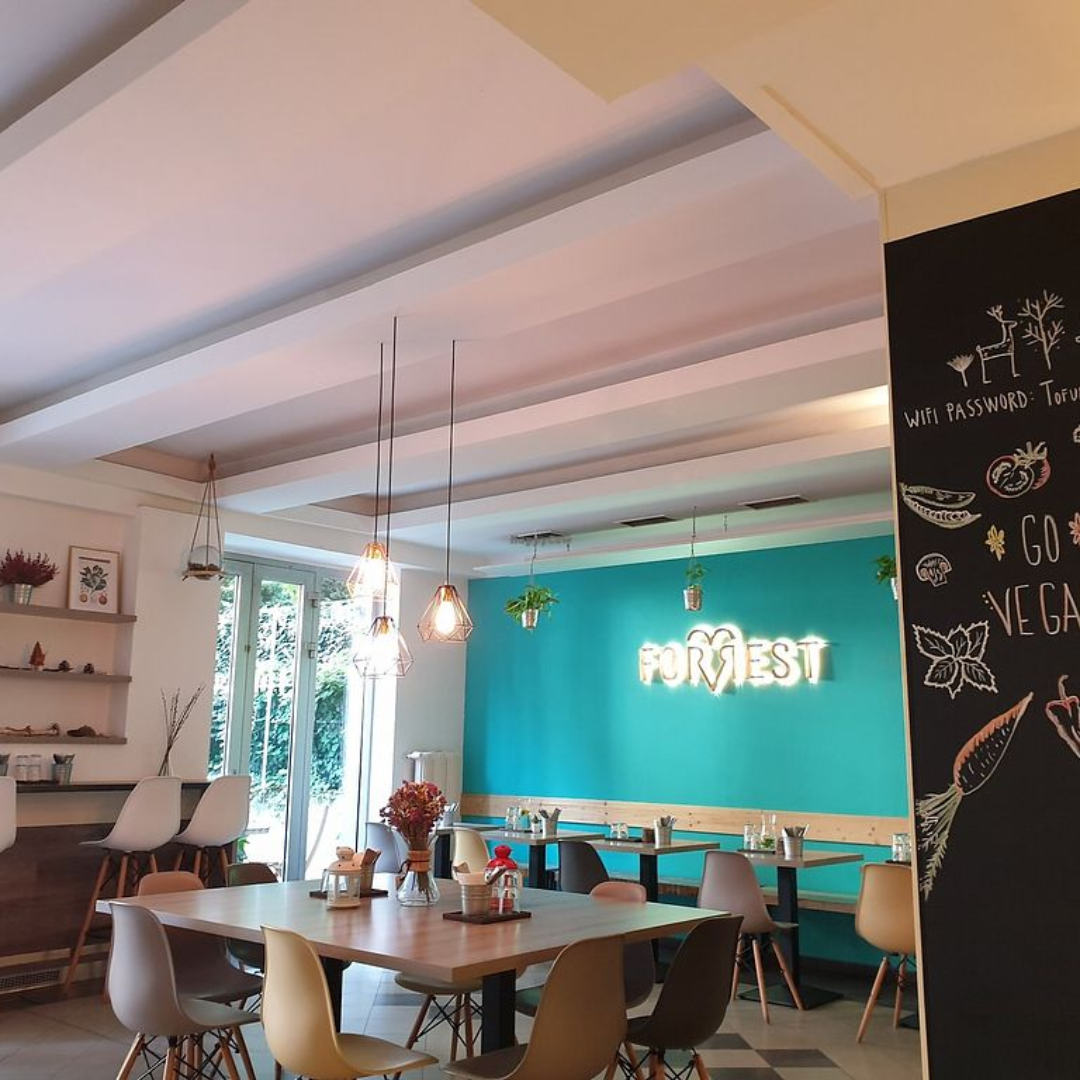 Forrest Bistro
Forrest Cafe is a vegan bistro and espresso shop in Prague's Vinohrady area. A daily homestyle (Czech, Asian, or fusion) lunch menu, supper, exquisite vegan desserts, and outstanding coffee and tea are all available at the restaurant.
In addition, Forrest offers a fixed breakfast and supper menu. The breakfast options include vegan pancakes, tofu scramble, and cheesy vegan chickpea omelettes. Forrest Bistro is a great choice for a full meal or a delectable dessert.
Pastva
Pastva (which in Czech means munching, not pasta) is a fantastic vegan restaurant in Prague's Andl area. It's an ideal setting for a celebratory supper or a romantic lunch. The meal is delicious, and the culinary crew knows what they're doing!
The restaurant serves a fairly priced daily lunch menu and a superb supper menu with a broad selection of alternatives. Vegan foie gras and lasagna are my favourite dishes on the menu. It's pure bliss.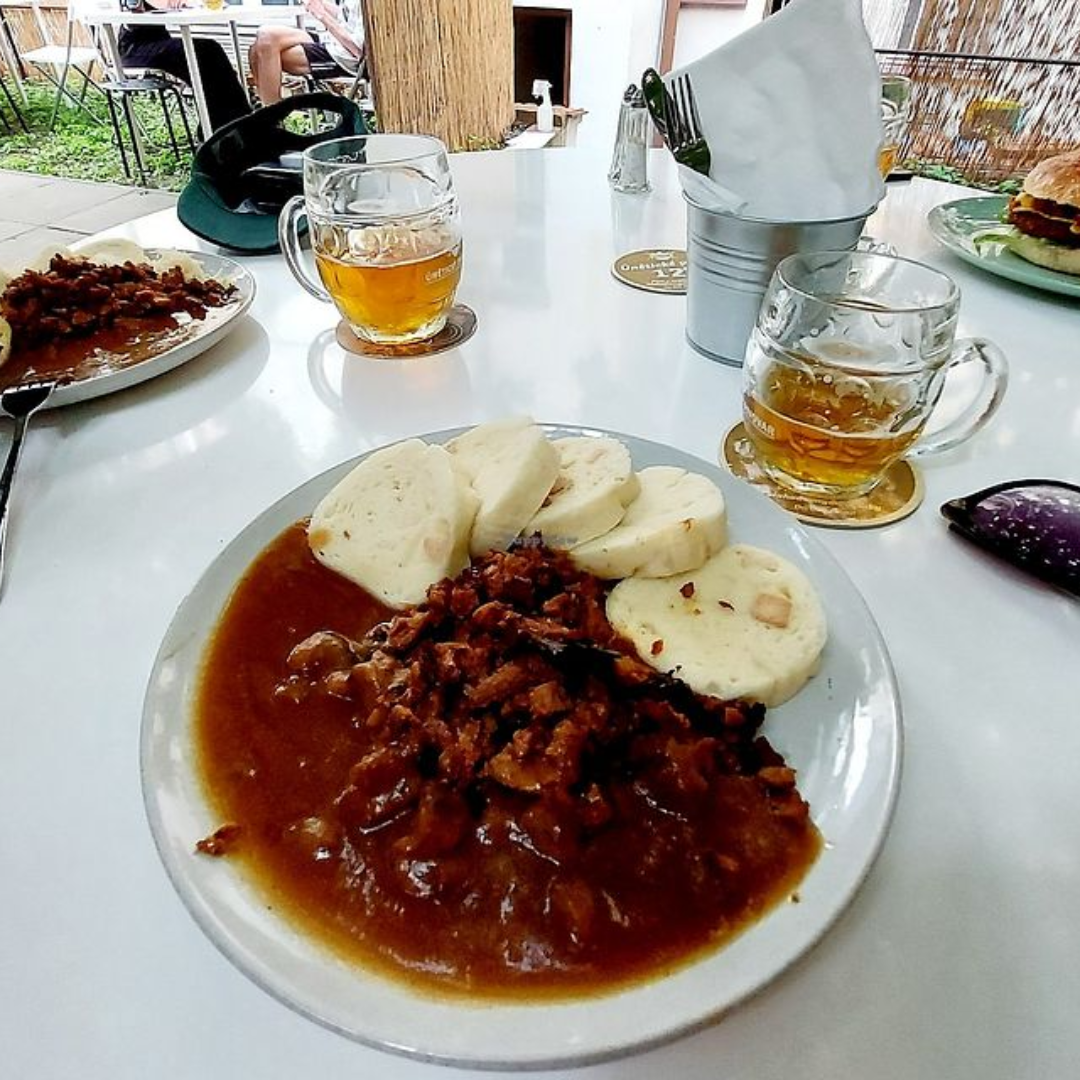 Shromaždiště
Shromaždiště (which translates to "assembly place or gathering point") is a vegan Czech tavern in ikov that serves reasonably priced beer and cuisine. This classic tavern is a few steps below ground and boasts a warm ambiance and extremely polite and inviting personnel.
They have Czech beer on tap, such as Pilsen and pale ale, and gluten-free beer in bottles. Wine, liquor, and soft drinks are also available.
Soup, fish(less) spread, beer-battered hot dogs, soy curls with Czech dumplings, pickled sausages, and crispy zucchini fries are just a few of the dishes on Shromadit's pub fare menu. So far, everything I've eaten has been amazing!
Belzepub
Belzepub is completely vegan as of January 2020!! This isn't surprising to me because they've always had some of…if not THE greatest vegan burgers in Prague.
Vegan cheese and vegan mayo are available on the Zizkov bar's vegan burgers, great fries, vegan onion rings, vegan fish and chips, vegan cheese sticks, and vegan coleslaw.
It's the perfect fatty dinner before a big night out, washed down with a refreshing Pilsner Urquell (they offer some of the best beer on tap in Prague, in my view).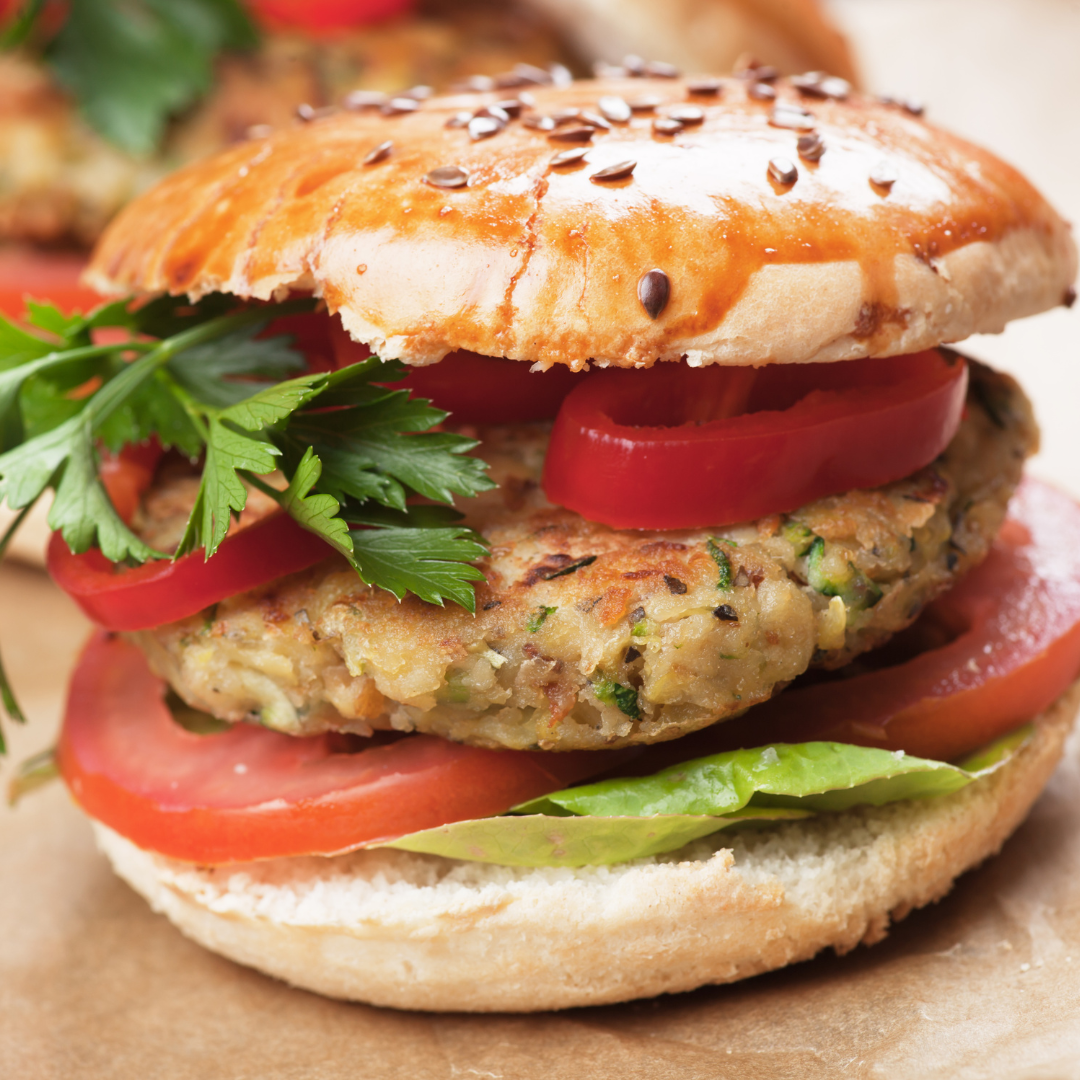 Forky's
There's a new vegan burger in town! Forky's, a Brno native, has two outlets in Prague. One is close to the Staromstská metro station and Old Town Square, and the other is near Letná Park in Holeovice.
My favourite menu item at Forky's is the spicy vegan cheeseburger. I haven't dared to try anything else on the menu since it's so excellent.
On the other hand, the kebab wrap is said to be authentic! The burger is obscenely sloppy and delectably tasty.
It's enough to fill a 300-pound man with pickles, onions, tomatoes, and lettuce slathered with a sauce of your choice – spicy mayo for me – and topped with pickles, onions, tomatoes, and lettuce.
You won't need another meal for at least 24 hours if you add thick-cut steak fries. Vegan hot dogs, buddha bowls, kebabs, and other menu items are also available at Forky's. I'm excited to test them all!
Stecha
Bistro with a social atmosphere, Stecha, a vegan restaurant and cafe, is a social company that employs individuals who are homeless or have recently completed a jail sentence.
The adorable tiny café in the Ikov area serves basic vegan food, sweets, fair-trade coffee, and beverages to guests at surprisingly low pricing.
They provide a daily lunch menu and a fixed dinner menu from Monday through Friday. They also serve a fantastic Saturday brunch with pancakes, tofu scramble, and other options.
The meal is basic, homestyle cooking, yet it will leave you completely satisfied and glad you came, especially because the bill will never break your budget.
EATERNIA
EATERNIA, a 100% vegan restaurant, is a junk food Mecca. Veganized American, Canadian, Italian, Hungarian, and Czech classics are served at this 1950s cafe in Smchov. Vegan hot dogs, hamburgers, poutine, gnocchi, langos, and fries were on the menu. In true Czech fashion, the restaurant offers a daily lunch menu with soup and a main course.
It was a potato pancake with sauerkraut and tofu when I went. I chose the vegan hot dog after having a Beyond Burger the night before at EATERNIA.
I'm glad I made that decision! The sausage was smoky, the bread was buttery, the sauerkraut was acidic, and the mayonnaise was…mayoney?
Of course, I ordered a side of deliciously crispy and seasoned fries. In Prague, this is all too frequently not done correctly.
EATERNIA also offers some great-looking sweets, which I decided to save for my next visit because I was already filled with the hot dog, fries, and exquisite Vinohradsk Pivovar beer.
If you're looking for fantastic vegan junk food in Prague, EATERNIA is one of the greatest places to go!
Linh's Vegan Corner
After a visit to Old Town Square, it's the ideal place to stop for a delicious and satisfying lunch.
The extensive menu includes cuisine from Vietnam, Thailand, Japan, and the United States. Stick to the Vietnamese meals because Linh's prepares them so well!
The Dragon Tofu, in particular. It's a meal I ate almost every day in Vietnam, and this rendition is spot on.
Crispy tofu, mildly spicy chilis, and lemongrass with a kick. What's not to appreciate about that? It comes with rice, salad, and sauerkraut on the side (giving it a Czech flair).
Linh's also serves a selection of handcrafted desserts, bubble teas, coffee, and ordinary teas (sample the homemade mochi). Which is the ideal way to cap off a fantastic lunch!
After you've finished eating, have a peek around the store to see what vegan grocery items are available.
Mock meats, mochi, cookies, ice cream (including Patipatti manufactured in the Czech Republic), milk, cheeses, and more are all available.
Mooi
Mooi is a vegan kebab and Belgian fry restaurant located near námst Republiky in the Dm erná Labu (House of the Black Swan) building.
There's also a Loving Hut, a World Vegan, a bubble tea stall, and a tropical fruit bar on the premises. Mooi, which began in Brno, has made its way to Prague.
Thick-cut fries with various sauce combination options and incredibly wonderful kebab wraps, loaded pitas, and salads are served at this little but formidable eatery.
When I went there, I ordered the "Tortilla AKROPOLIS," which comes with vegan kebab meat shaved hot from the grill, tzatziki, vegetarian sauce, vegetables, pickled garlic, and sprouts.
It was breathtaking. It was tasty, satisfying, and unlike anything else, I've had in Prague. I recommend stopping by Mooi after a trip to World Vegan, before getting a bus from the neighbouring Florence railway station, or whenever you have a vegan kebab desire!
Bistro Lifehouse
Lifehouse Bistro is a new find for me, and it's a fantastic one. This all-vegan restaurant between Old Town and Wenceslas Square delivers delectable vegan fare.
The cuisine is straightforward. Salads, soups, open-faced sandwiches, and desserts are just a few options. Some foods are raw, and everything is vegan, including their incredible vegan feta cheese produced from scratch!
Raw vegan ice cream prepared with cashews, bananas, chocolate, vanilla, and agave nectar is also available. Yum.
Loving Hut
Loving Hut is a vegan restaurant franchise that has many branches around Prague.
Curries, pho, fried rice, noodles, and spring rolls are among the Asian dishes served at Prague restaurants. A vegan pay-by-weight buffet or a full menu is available.
The Country Life
Since 1998, Country Life has been publishing. It's just a few meters from Old Town Square, making it an excellent vegan dining alternative for those staying in Prague's city center. It's also just next door to a similar-named health food store.
The Country Life restaurant serves a broad choice of modest, country-style meals. It's a self-serve restaurant where you pay for food by the pound. Beans, spaghetti, pizza, salad, vegetables, and fake meats are among the everyday possibilities.
I didn't expect to like my lunch at first. However, the dish exceeded my expectations. It's basic and familiar, but it's also well-seasoned, flavorful, and filling.
This is a nice choice if you're in Old Town and want a quick and economical vegan dinner.
Chutnej
When I first saw him there, I wasn't tempted to go to HappyCow and try Chutnej. The images on their website and Facebook page are quite deceiving. I was anticipating something like a vegan McDonald's or Burger King, but it didn't appeal to me.
I decided to try it after hearing good things from friends and having a yearning for junk food.
I was surprised to find the restaurant considerably larger and more open than I had anticipated. The area is bright and airy, with unpolished wooden tables and chairs and large windows at the front of the restaurant letting in plenty of light.
Their burgers are delicious, with vegan mayo and cheese, pickles, lettuce, red onion, and tomato as toppings.
They're a sloppy mess and a little difficult to eat, but then again, what burger is worth its salt?
The onion rings were a little bland but not horrible, and the lemonades (what the Czechs call sodas) were up to any hipster's expectations.
The quality might be better for the price – 225 kc for a burger, side, and drink – but if you're in the area and seeking savoury vegan junk food, Chutnej is a fine alternative.
Sheep Book Bar (Electric Sheep)
Check to visit The Electric Sheep Book Bar if you're searching for a relaxing way to conclude the night.
Delicious traditional drinks, specialty cocktails, and vegan munchies are served at this all-vegan cocktail bar and English bookshop.
The drink menu is extensive. Classics like the Sazerac, Old Fashioned, Dark and Stormy, and others are included.
They also feature house-made specialty cocktails, such as a Pan Galactic Gargle Blaster. You'll have to find out what that is for yourself if you want to know.
The menu changes, but I anticipate substantial bar snacks and treats. While you're there, don't forget to peek at the book wall! They sell both new and old English books in a variety of categories.
Mlsná Kavka
Mlsná Kavka is a straightforward, comfortable, casual vegetarian restaurant in Karlin. It's my go-to destination when I'm in the area around lunchtime.
Their simple, homestyle food is delicious and usually quite healthful. Vegan alternatives are available on their daily lunch menu, and on my most recent visit, the dessert was also vegan!
The restaurant is a social organization and serves good meals in a beautiful location. They hire persons who have struggled with mental illnesses. As a result, when you visit Mlsná Kavka, you are helping two charitable initiatives.
Satsang
The greatest vegan brunch in Prague is served at Satsang vegetarian restaurant.
Not only do they offer a build-your-own scrambled tofu menu where you can add vegan cheese and handmade vegan bacon to your scramble, but they also have enormous and fluffy vegan American-style pancakes on the menu, as well as unlimited mimosas and coffee.
It's the ideal brunch option for the weekend!
Satsang also has a great evening menu with vegan options, including curry, pad thai, Bahn xiao (savoury pancakes made with coconut milk), and vegan mezze. Vegan wine is also available on the menu!
Satsang is the place to go whether you're searching for a gorgeous restaurant for a romantic dinner, a date, or a hearty hangover-curing weekend brunch.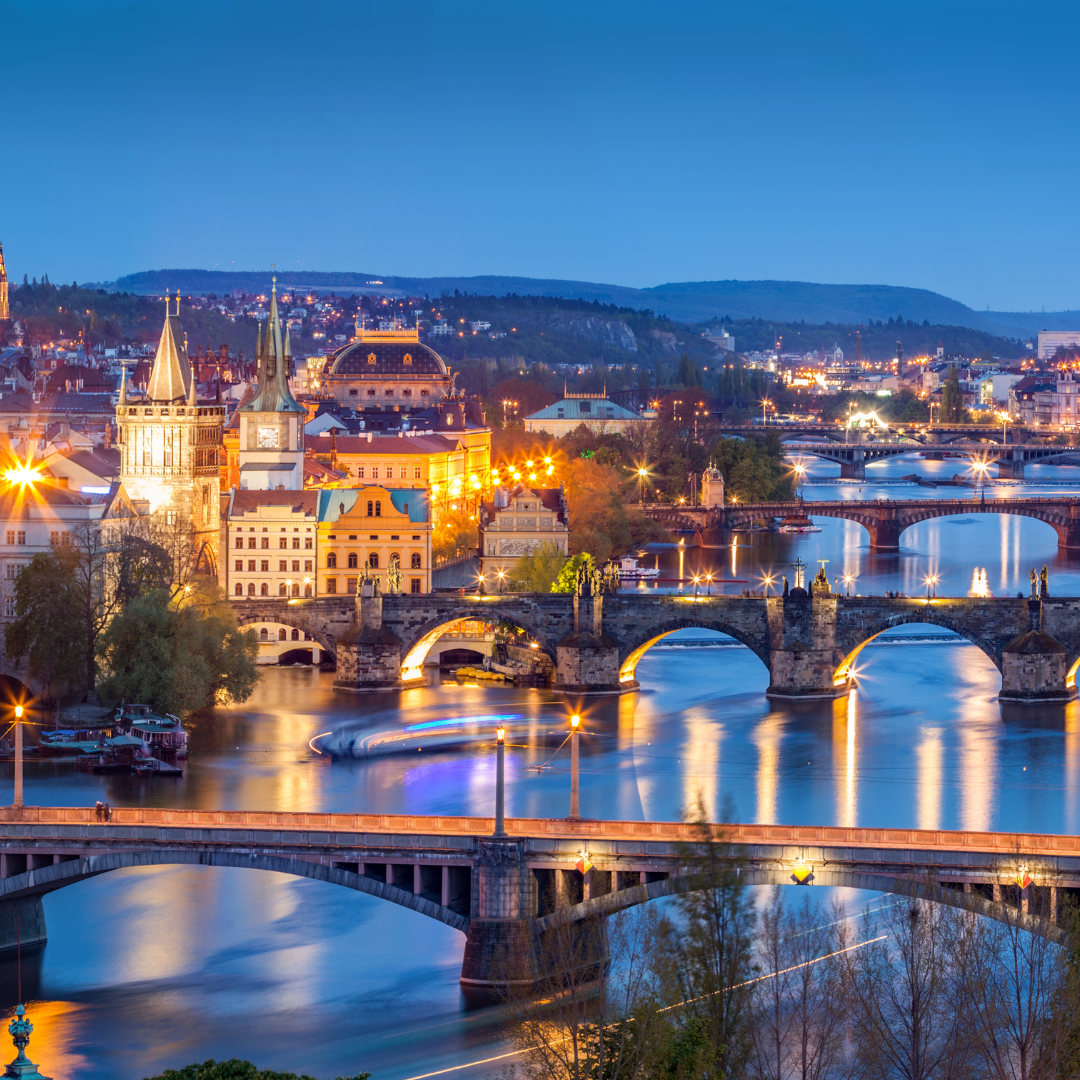 Conclusion
Prague is the capital of the Czech Republic. As you can see in this blog post, there are a lot of vegan restaurants in this city. However, you might not be as successful when travelling outside of Prague.
I trust you enjoyed this article about the Best Vegan Restaurants In The Czech Republic. Please stay tuned for more blog posts to come shortly. Take care!
JeannetteZ
Your Opinion Is Important To Me
Ideas? Thoughts? Questions? I would love to hear from you. Would you please leave me your questions, experience, and remarks about this article on the Best Vegan Restaurants In The Czech Republic, in the comments section below? You can also reach me by email at Jeannette@LivingTheVeganLifestyle.org.
Disclosure
This post may contain affiliate links. As an Amazon Associate and other affiliate programs, I earn from qualifying purchases. Read my full disclosure.
Here are links to some of my favourite articles:
Germany Vegan Travel With Popular Vegan Restaurants
8 Amazing Vegan Apple Recipes For Your Kids
Canada Vegan Travel Guide With Popular Vegan Restaurants
Mexico Vegan Travel Guide With Popular Vegan Restaurants