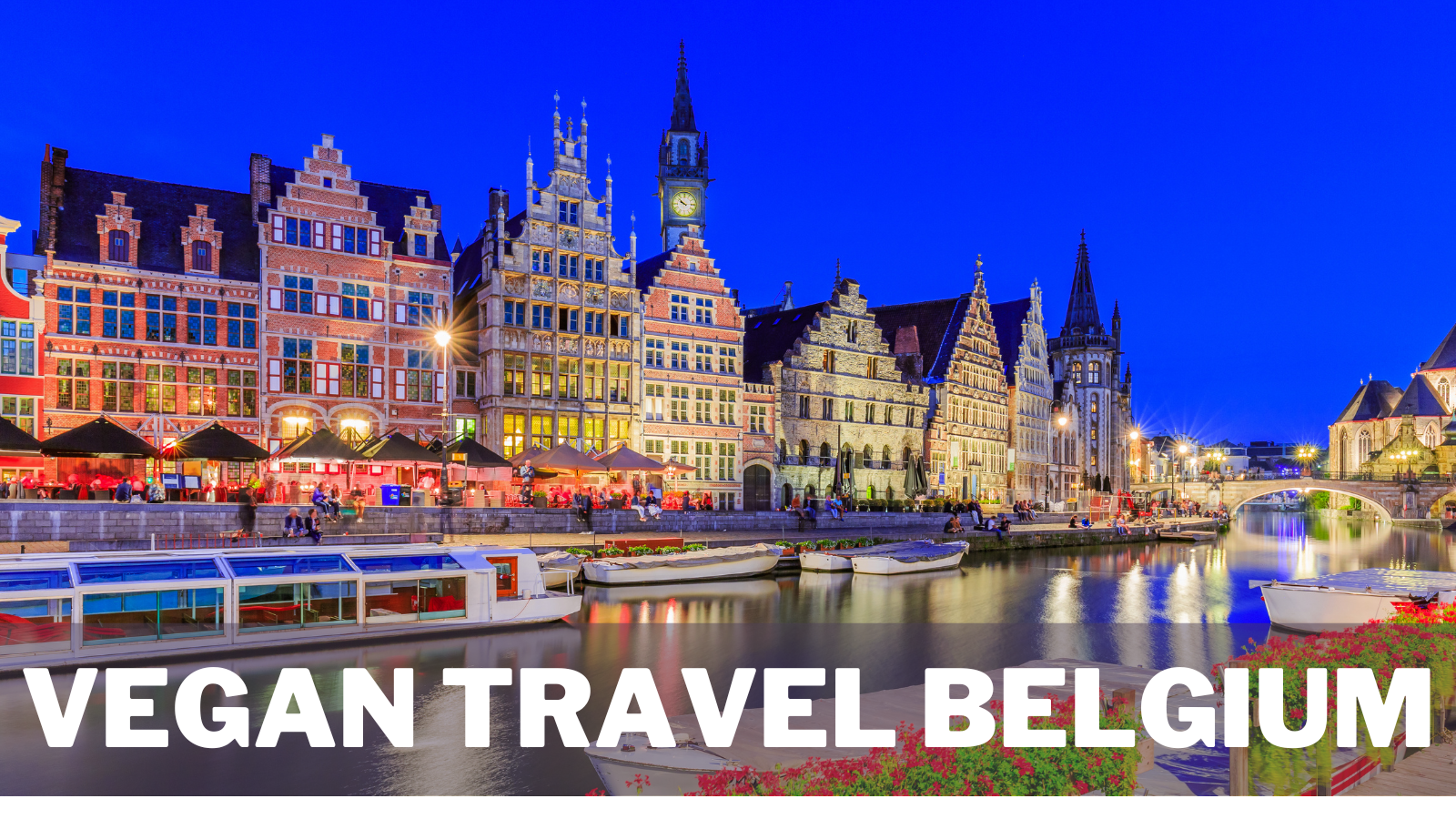 Vegan Travel Belgium
Most of Belgium comprises quiet rural settlements, rich valleys, and densely forested woods. It is a highly populated country with a monarchy, a thriving political capital, two significant university cities, and various attractive tourist attractions.
However, most people are unaware that Belgium is in the vanguard of the vegan movement, setting the standard for its European neighbours.
While English straddles the language divide between French and Dutch, it is widely (and well) spoken in most large cities. As a vegan, navigating the country of beer, chocolate, frites, and waffles might be challenging, but plant-based eaters need not feel excluded.
Every second storefront in tourist destinations like Brugge and Brussels' town center is filled with Charlie-and-the-Chocolate-Factory-style gift stores.
The abundance of delicious sweets of all types enthralls chocolate enthusiasts. Vegans will enjoy a variety of dark chocolate-covered treats, flavoured almonds, hard candies, and the occasional vegan fudge.
Belgian beer is normally created without animal products, unlike most mass-produced beer accessible in Australia.
Each bar will feature a five-page beer list filled with artisanal craft beers and ciders. A trip to Brugge's Beer Wall is a necessity.
There are hundreds of beers to pick from, but try the cherry-flavoured Kriek beer, which is popular in the area.
Ghent is known as Belgium's, and some even argue the world's vegetarian capital. This is likely due to many university students who have turned the conventional Belgian food scene upside down. Every year, Ghent organizes a 'Vegan Summer Fest,' and meat-free Thursday has become a city-wide tradition.
Here are a few of my favourites if you're seeking the greatest places to dine in Belgium.
Brussels
Les 4 Jeudis has the greatest Happy Cow rating of any vegan restaurant in Brussels, with good reason. They specialize in organic, gluten-free, vegan cuisine. They serve lunch Tuesday through Friday and offer a set menu that varies every day.
Mr. Falafel in Lemonnier, Brussels, is a winner for a fast, affordable snack. Take your falafels and hummus to the salad bar, then pile your dish with vegetables.
Another must-visit cafe in Brussels is Judgy Vegan. Their fair trade tea and coffee go down a treat with a piece of house-made cake, and they provide Western and European cuisine for breakfast, brunch, and lunch.
Leuven
Loving Hut is a fantastic vegetarian/vegan restaurant franchise across Europe. The restaurant in Leuven, just outside of Brussels, serves amazing burgers, Belgian frites, and Bitterballen, which are creamy vegetable balls.
Life Bar is a 100% vegan restaurant that serves breakfast and lunch. They specialize in healthy food and offer organic, raw choices to satisfy all dietary needs.
Ghent
Le Botaniste is the place to go in Ghent if you're searching for an Instagram-worthy dinner. For lunch and supper, the plant-based café and wine bar offer beautifully presented, delectable cuisine.
Full Circle Coffee in the heart of town serves excellent coffee. The specialty coffee shop also sells delectable pastries and tarts to go with your morning drink.
Lokaal, Mie Vie, and V-Box are worth mentioning since they all specialize in tantalizing vegan food for travellers and residents.
Antwerp
For a nutritious snack, cold-pressed juice, or takeout lunch in Antwerp, go to Jus Jus or Veganation. Another vegan highlight in Antwerp is Recollets.
They're a fully licensed restaurant that serves all types of cruelty-free delights for breakfast, lunch, and supper. Macaroni 'bacon,' vegan Bitterballs, no-chicken nuggets, and vegan camembert cheese are all worth trying.
Greenway is a fast-food restaurant in Ghent, Brussels, Antwerp, and Leuven, Belgium. With a focus on healthful and sustainable cuisine, their recent switch to a vegan restaurant is proving effective.
Brussels has much to offer more than the European Union's capital. With the enormous Grand Palace, the surrounding streets are packed with Art Nouveau architecture, and there are endless busy and lovely districts to explore. Entering the city center seems like a Royal occasion.
You'll also be pleased to discover a variety of vegan comfort foods, including vegan waffles, chocolates, and everything in between, which our guide can assist you in locating.
This vegan guide to Brussels will show you all you need to know about the city, from where to eat to where to stay! If you prefer beer, try their lambic beer (if you can, it's not gluten-free), which is made in the Pajottenland region southwest of Brussels.
Vegan Food In Brussels
Prepare to feast! There are plenty of excellent vegan and vegan-friendly restaurants in Brussels.
Le Botaniste
2 sites in Brussels: Rue du Bailli 10, 1000 Bruxelles, Belgium
A beautiful 100% vegan café with many locations in Brussels, including one in Ghent if you go beyond the city.
Their menu includes Asian and Moroccan-inspired food, pasta, and other dishes. All goods in the café are clearly labelled if they contain allergens. Gluten-free alternatives are available.
The Judgy Vegan
Belgium, Rue des Capucins 55, 1000 Bruxelles
How could you say no to a name like that? Their vegan comfort food menu includes house-made meatballs, cheeses, desserts, and even weekend brunch! You may have to return it several times. Everything on their menu is clearly labelled with allergy warnings.
Gluten-free alternatives are available.
VeganWaf
Belgium, Galerie Agora 48, 1000 Brussel
Isn't it true that you can visit Belgium without sampling their world-famous waffles? Fortunately for you and me, vegan waffles are available in Brussels!
Here you'll find a wide range of scrumptious vegan waffles and gluten-free waffle options—yay! Gluten-free alternatives are available.
What Should You Do In Brussels?
1. Take A Tour Of The Magnificent Grand Palace (Grote Markt)
A visit to this lovely square is a must-do for any Brussels trip. A UNESCO World Heritage site known for its beautiful Gothic and Baroque-style architecture and convenient proximity to other tourist attractions such as St. Michael, St. Gudula Cathedral, and the beloved Manneken Pis (note: this is the only time I mention the peeing statue—I'm not sure what the appeal is, but it's on every "what to see in Brussels guide").
The area is decorated with stunning lights and features a fantastic market with tall pine and an ice skating rink during Christmas.
In August, a lovely flower carpet covers the plaza's middle. Dogs are welcome in the market square! If you're travelling with a pet, there are plenty of activities to do with them in Brussels.
How to get there: The nearest metro station is Bourse (lines 3,4), as well as the bus lines 48 and 95; Gare Centrale, lines 38, 65, 71, and 86; and tram lines 31, 32, and 33.
2. Go To The Chasseurs Ardenais Market And Look Around
Brussels is home to a plethora of fantastic markets. This one is especially enjoyable because it takes place on Fridays from 1 to 8 p.m.—a terrific way to start your weekend!
It's a fantastic area to grocery shop or hangs out and have a beer. In the winter, heated tents are available for your drinking pleasure.
How to get there: Take Bus 29 from The Grand Palace to Hof ten Berg and get out at Plasky, which is only a five-minute walk from the bus stop.
3. Pay A Visit To Laeken's Royal Greenhouses
These lovely gardens are accessible for three weeks in late April and early May each year.
King Leopold II constructed the gardens in the late 1800s, which would bring flora back from his numerous excursions.
Many of the original plants are still alive and well. There are 30 pavilions in the greenhouse complex and a large winter garden full of tropical plants.
How to get there: Buses 232 and 53 stop just outside the Serres Royales/Koninklijke Serres gate.
4. Visit The Belgian Center For Comic Strip Art And Look At Comic Strip Murals
Many people identify Belgium with chocolate and beer, but it is also the home of several well-known comic books, like The Smurfs and Tintin. Many of these figures have come to life on the exterior of buildings across the city.
You may take a guided tour or stroll around to discover them if you want to be sure you don't miss any. The Belgian Center for Comic Strip Art also has a comprehensive history of European comics from its inception to the present.
The nearest metro stations are Rogier (lines 2, 6) and Botanique (lines 2, 6), as well as De Brouckère (lines 1, 6), the tram line De Boukere (lines 3, 4, 31, 32, and 33), and the bus stop Anspach-de Brouckere (lines 29, 38, 63, 66, 71, and 86).
5. Visit Bruges For A Day
Even if you have a few days in Brussels, I strongly recommend scheduling a day trip to Bruges. The splendour of this city, whose historic center is a UNESCO world heritage site, will captivate you.
Gothic buildings, old canals, cobblestone lanes, and a lovely market square make you feel like you've stepped into a storybook. I wish I'd had more than a day to absorb everything, but you take what you can get, right!? Before you go, read my Bruges travel guide.
The most convenient method to get to Bruges is via rail, which takes around an hour. Several trains depart daily from Brussel-Centraal, and tickets may be purchased at the station. There are other tour choices if you don't want to do everything alone.
The Best Ways To Get Around The City
The city core is easily accessible from the Brussels airport. The city core is only approximately 20 minutes away, with six trains every hour. Head immediately below the arrivals halls to level one to reach the railway station.
Trains run from the airport to Brussels North, Brussels Central, and Brussels Midi, with stops in between. A one-way ticket costs €9.20 and can be purchased at the airport's railway station.
Take bus routes 272 and 471 to the city center (Brussels North station). The bus station is on the arrivals hall's level zero. Tickets cost €3 and may be paid from the bus driver (with precise change) or the ticket machine outside the bus station. It takes 30–40 minutes to get there by bus. Finally, a taxi will set you back around €50.
Public transit makes getting about a breeze when you're in the city. A one-hour ticket costs € 2.10 and is good for 60 minutes once validated—validate your ticket to avoid a fine.
You can change lines or modes of transportation within that hour. If you want additional time, you may purchase a one-day pass for € 7.50, which is valid for 24 hours.
Tickets and passes may be purchased in BOOTIK offices or at kiosks at the main metro stations.
The Card Of Brussels
A Brussels Card, valid for 24, 48, or 72 hours and includes free admission to 49 museums and discounts to other attractions, is an excellent alternative for travellers.
Free public transit is not included in the standard Brussels card; you must purchase it separately (you check a box in the online check-out to add it).A 24-hour public transit card costs €37, a 48-hour pass costs €52, and a 72-hour pass costs €64.
The card may be purchased online or at a Visit Brussels tourist information center. If you opt to buy a Brussels pass for public transportation, you will need to complete one more step before you may use the card as a transit ticket.
Go to one of the STIB's GO ticket machines, pick an event pass on the machine's screen, and input the 9 digits written on the Brussels Card. After that, the machine will issue a ticket for you to use on public transit.
When people think of Belgium, they think of wonderful chocolates, fries, waffles, and all Belgian beers. Although beer isn't officially a food category in and of itself, it does classify as one in Belgium!
I did my Master's in Anthropology in Belgium for two years in Leuven. Leuven is a lovely historical city outside Brussels, Belgium's capital.
My time as a vegan in Belgium will always hold a particular place in my heart since it was there that I came into my own as a vegan.
As a new vegetarian who came to Belgium, I easily transitioned to veganism while living in my little student flat and cooking for J and me in our tiny triangular apartment in Belgium.
Eating At Vegan Restaurants In Belgium
I've eaten at various vegan restaurants in Belgium, and I'm always excited to explore new ones when I visit my friends in Belgium.
With a couple of the following guidelines in mind, eating at non-vegan restaurants in Belgium is also rather straightforward.
Traditional Belgian cuisine is meat-centric and, in my experience, not particularly vegan. Thus, before sitting at a restaurant serving more traditional Belgian cuisine (i.e. steak, meat-based stews, etc.), check to see what vegan choices are available.
When eating at non-vegan restaurants in Belgium, it's a good idea to check the menu online or phone ahead to see any veggie-friendly options. Generally, at least one vegan-friendly choice will be available on the menu.
One thing that shocked me about eating out in Belgium is that it is not as frequent to request menu changes as it is in North America. So, depending on whether or not there are any veggie-friendly alternatives on the menu, the cooks may or may not create vegan alterations for you.
Don't be hesitant to speak up and gently request alterations, such as spaghetti without cheese, but keep in mind that not all restaurants will be as accommodating as they are in Canada and the United States.
When I go out to eat, I look for the item on the menu that is most likely to be vegan and ask the waiter if it can be cooked for me without any animal ingredients (such as butter, animal fats, fish, or eggs).
Almost every restaurant I've visited in Belgium has been happy to accommodate my vegan needs or even produce something special for me when there aren't any vegan meals on the menu.
For my post-graduation celebration meal, the chef personally cooked a delicious "off-the-menu" saffron rice and veggie dish for me at one of our favourite restaurants in Leuven!
When I was in Bruges with my family, the chef created a delicious curry with rice for me. According to the restaurant's daughter, the chef was ecstatic to make their first-ever vegan dish at their family-owned restaurant.
The dinner was so tasty and well-presented that the chef stated he'd consider making it a regular menu item!
As you can see, many establishments can accommodate vegans with the appropriate approach – even if there isn't anything on the menu that isn't made with animal products!
There are also an increasing number of vegetarian-friendly alternatives in restaurants worldwide.
We went out to supper with my in-laws this past Christmas, and I was pleasantly pleased by the vegetarian area of the menu in a classic Belgian restaurant in Ghent! Take a look at those incredible tofu kebabs on rice. Yum!
Look For Vegan Restaurants!
When travelling as a vegan in Belgium, be sure to check out all of the vegan eateries! During your travels, there are literally hundreds of exciting and delicious locations to visit. Vegan eateries are springing up everywhere in Belgium. Right before I finished my studies at Leuven, two new restaurants opened near where I was staying.
Alternatively, You May Cook Something At Home…
Belgian supermarkets, particularly local organic ones, feature a plethora of interesting vegan alternatives. Vegan croquettes, excellent vegan cheese (bottom left), and even vegan tortellini are all available!
Try some vegan items available at Belgian supermarkets; they won't let you down if you can. I may or may not have purchased Monterey Jack Cheese and Tortellini to bring back to Canada with me!
Fries That Are Vegan?
You can't visit Belgium without passing by one of the famed "frites" stores. These fry establishments specialize in… Fries (lol) and a variety of other… well… fried foods.
Yes, fries are inherently vegan. However, remember that most fry shops (and even restaurants) cook their meals with cow or pig fat.
I always double-check if the eatery utilized vegetable-based oil to prepare your dish! If you want to partake in the Belgian tradition of fries and mayonnaise, I recommend looking for vegetarian Frites businesses.
We went to Leuven's new Loving Hut burger joint and had some vegan versions of Belgian classics, such as Bitterballen (creamy fried vegetable balls).
Beer, Beer, And More Beer!
If you visit Belgium, you must try at least one of the thousands of local and artisanal Belgian beers (unless you don't drink, in which case stick to the chocolate).
According to my study, practically all Belgian beer is vegan and free of animal ingredients; nevertheless, you can always double-check with a fast internet search.
Drinking a tasty beer as a pre-dinner apéritif is one of my favorite things in Belgium. Hoegaarden is my all-time favorite beer. If you're in Leuven, I'd recommend paying a visit to "The Capital," a bar with literally hundreds of beers to sample.
Is It Possible To Have Vegan Chocolate?
Chocolate, on the other hand, is both vegan and non-vegan. In Belgium, a lot of dark chocolate is manufactured without any dairy ingredients.
And the dark chocolate is out of this world. While residing in Belgium, I ate a lot of dark chocolate — trust me! My friend and I joke that he won my heart because of Belgium's exquisite chocolate and beer. He used to bring me a piece of chocolate every day when we first started dating. That's what love is all about, lol!
Ghent Is Belgium's Vegetarian Capital
I couldn't write this blog without mentioning Ghent, Belgium's famed medieval city. Ghent is a stunning and vegan-friendly city. Every Thursday, the city observes a meat-free day.
When visiting this quiet and inviting city, there are plenty of hip and tasty vegetarian options, and many restaurants feature at least one vegan choice. They have a vegan cuisine festival in the summer, which I'd want to attend one of these years!
Conclusion
I trust you enjoyed this article about Vegan Travel Belgium. Please stay tuned for more blog posts to come shortly. Take care!
JeannetteZ
Your Opinion Is Important To Me
Ideas? Thoughts? Questions? I would love to hear from you. Would you please leave me your questions, experience, and remarks about this article on Vegan Travel Belgium in the comments section below? You can also reach me by email at Jeannette@LivingTheVeganLifestyle.org.
Disclosure
This post may contain affiliate links. I earn from qualifying purchases as an Amazon Associate and other affiliate programs. Read my full disclosure.
Here are links to some of my favourite articles:
5 Delicious Mexican Vegan Recipes For Your Kids
7 Popular And Delicious Indian Vegan Recipes For Your Kids
Vegan Pineapple Recipes To Try At Your Next Party
9 Delicious German Vegan Recipes
7 Most Delicious Canadian Vegan Meal Recipes
Best 9 Vegan Pineapple Recipes For Your Kids