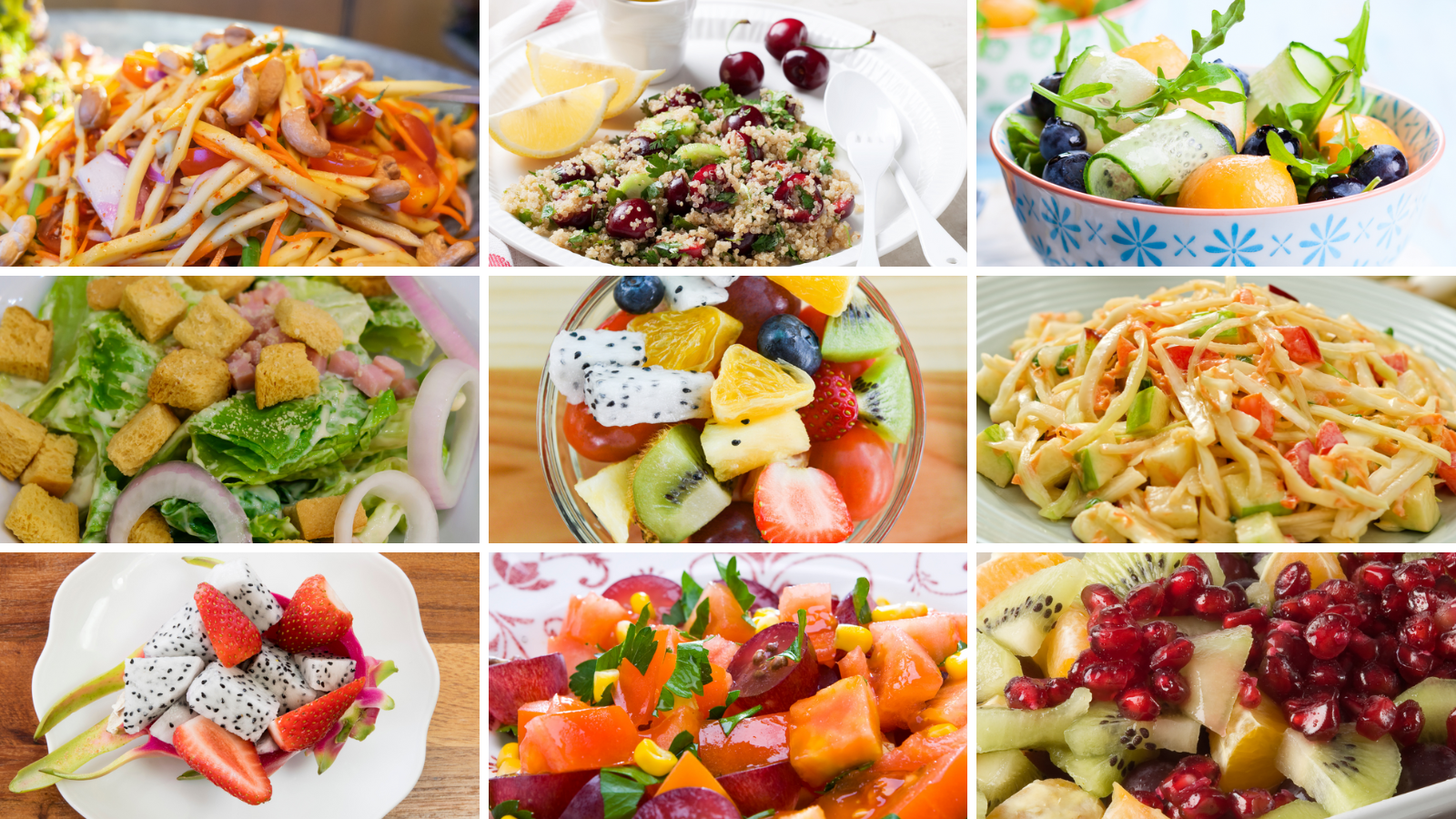 10 Easy And Healthy Vegan Fruit Salads For Your Kids
Fruit salad can be served as an appetizer, dessert, or a side dish. A fruit salad is also known as a fruit cocktail or cup when served as an appetizer or dessert. Our kids love fruit salad. They enjoy the bright colours and the sweet taste.
Fruit Salad is the most excellent food option when we hurry or want to reduce weight when we are in a rush or want to reduce weight because it is simple to prepare.
Processed foods typically lack critical nutrients, not to mention the number of unhealthy carbohydrates they contain. Vegan fruit salad is a healthier alternative to processed foods because it helps reduce body fat and enhance digestion and metabolism.
Because fruits are often high in Vitamins and Minerals, combining these fruits would constitute a sizeable healthy serving. They are also quite delicious, and children enjoy eating them.
Now, let's examine some health benefits of eating vegan fruit salad.
The health benefits are incredible. Fruit should be eaten by babies, children, and adults daily to establish a good healthy habit.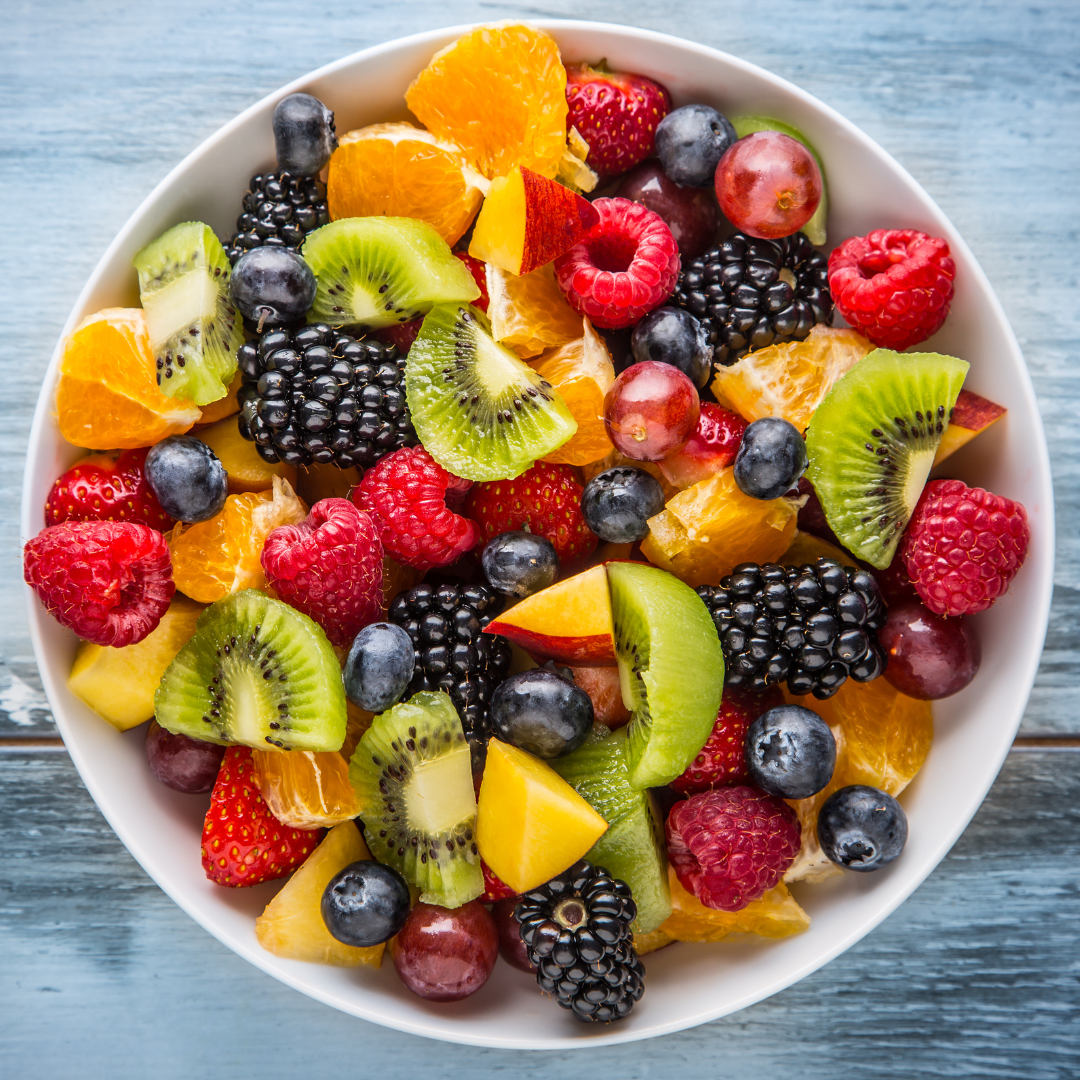 Suggestions For Vegan Fruit Salads
Fruit salad can take many different forms, but I follow five guidelines while preparing one.
Take your time chopping the fruit into tiny pieces. This allows you to obtain more flavours with each forkful.
Keep the apple peels on for more vitamins, minerals, antioxidants, and fiber.
Pay attention to the dirty dozen list to help you decide when it's worth spending more on organic vegetables.
Include a variety of hues. This will improve the appearance and flavour of the fruit salad.
To keep the apples from browning, add a splash of orange juice.
Fruit salad from the store never tastes good to me, and the fruit is usually sliced into huge bits. Make your pineapple fruit salad in a few minutes, and you'll love it much more.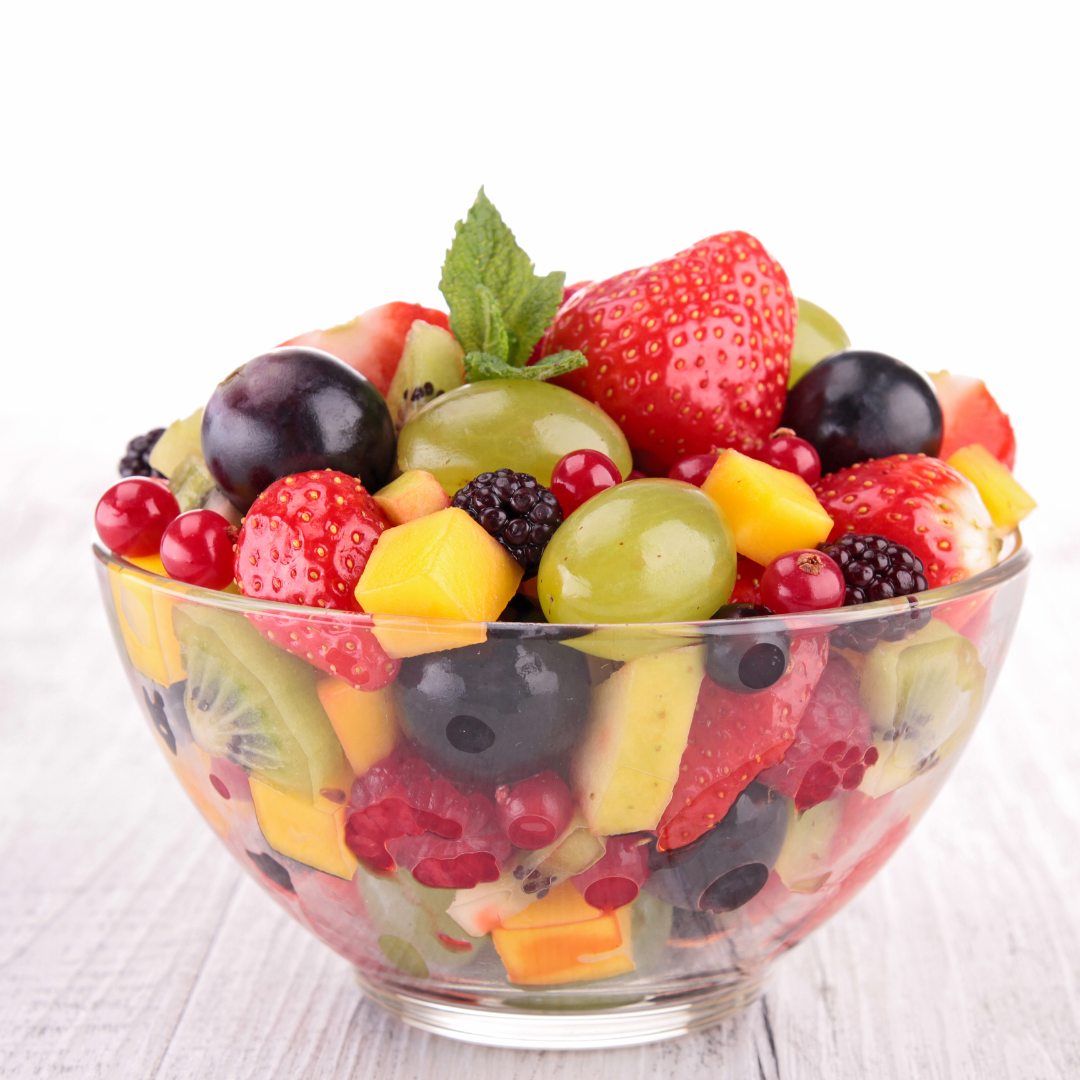 Health Benefits Of Vegan Fruit Salads
A simple bowl of fruit salad may be one of the healthiest daily meals. A fruit salad can perform wonders for you if you use the proper amount and variety of fruits, as it will offer you a power-packed dose of fibre, vitamins, and antioxidants. Here I've shared some health benefits of vegan fruit salad.
Weight Loss
Fruits contain water and fiber, ensuring a low-calorie intake and high energy levels, which aid in weight loss. Kiwi, for example, is high in fiber and low in calories, making it great for weight loss. A medium-sized kiwi contains about 50 calories, and the fibre makes the stomach feel full.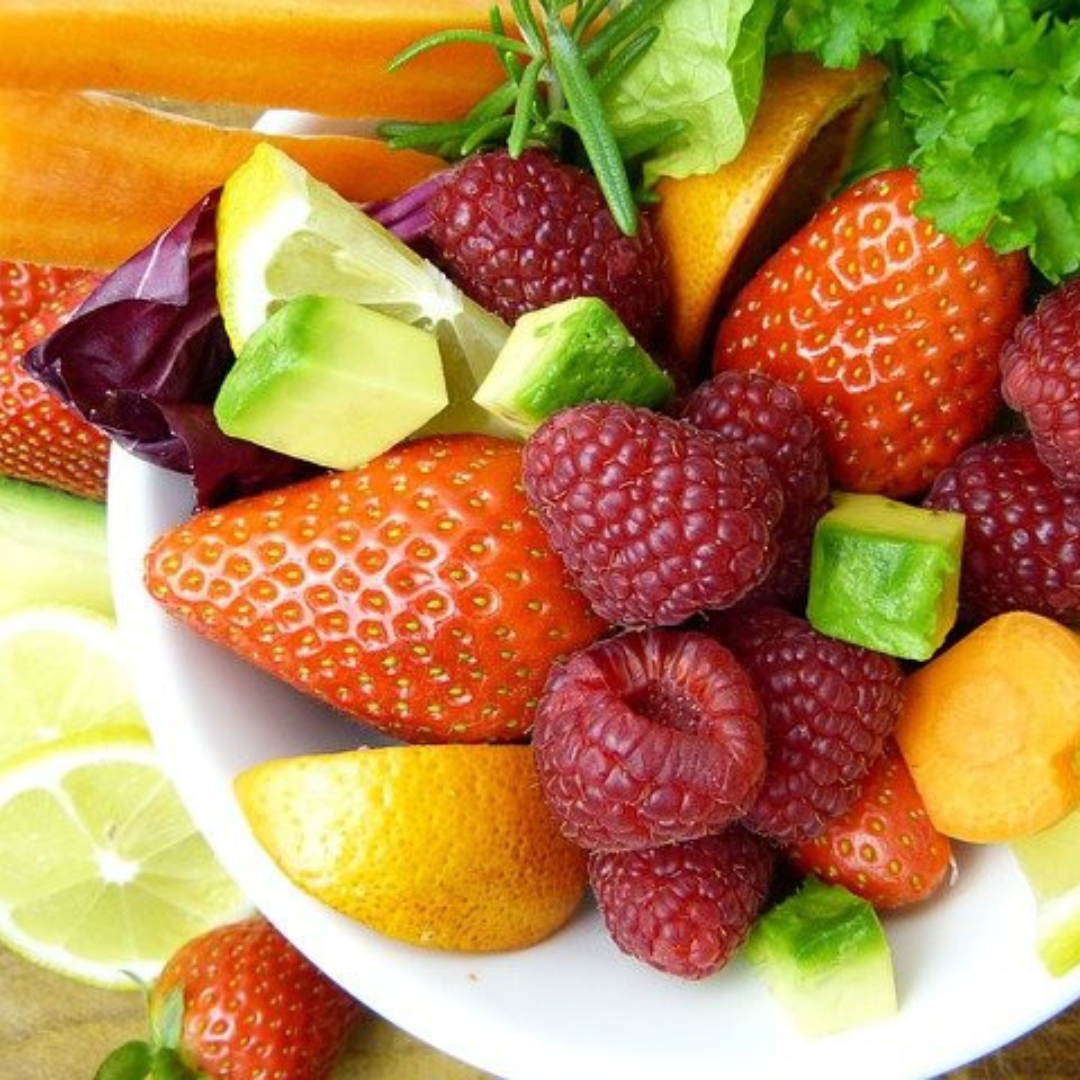 Improved Digestion
A fruit salad with a high fiber content is excellent for digestion. Actinidin, a proteolytic enzyme found in fruits such as kiwi, aids in the breakdown of proteins. In reality, fibre helps with constipation by acting as a natural laxative for the digestive tract. Fruits like oranges and bananas have less sugar, making them easier to tolerate and less likely to induce gas. They also include inulin, a chemical that promotes the growth of healthy bacteria in the gut.
Improves Energy Levels
Most fruits have vitamins that can enhance energy, so people who exercise consume more fruits. A good fruit salad can provide you with the power of a boxer. Make a point of including a bowl of fruits in your daily diet!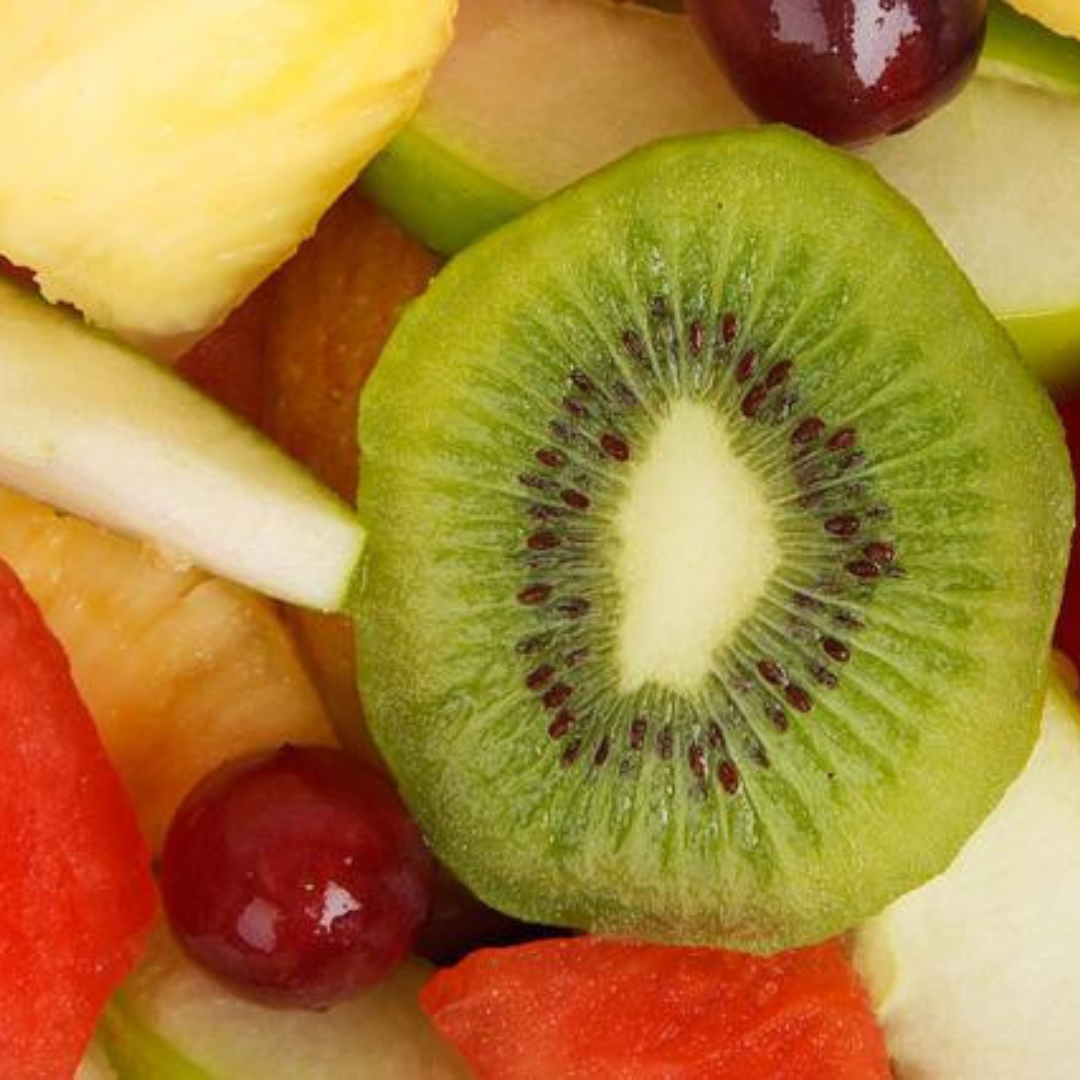 Improves Skin And Hair
Carotenoids in brightly coloured fruits help lower your skin's sensitivity to the sun. Fruits include vitamin C, which aids in the production of the enzyme collagen, which strengthens the capillaries that supply the skin. This promotes healthy skin and hair.
Improves Immune System
Vitamin C is the most abundant vitamin in fruit and highly benefits our immune system. A lack of vitamin C might weaken your immune system and cause you to become ill. Therefore, a regular serving of fruit salad is vital for maintaining a healthy immune system.
Prevents Heart Diseases
Fruit salads help maintain the body's cholesterol levels, lowering heart disease risk. Fruits are low in cholesterol and won't raise your blood cholesterol level. Choose fruit salad for a heart-healthy diet.
Improves Eye Health
The apple, a key element in fruit salad, is high in vitamin A. Vitamin A is essential for optimal vision and preserves the cornea. Vitamin A also works with other antioxidants and vitamins found in fruits to lessen the risk of eyesight loss. Vitamin A also aids in the prevention of eye irritation.
Reduces The Chances Of Anaemia
Fruit salad contains nutrients such as iron, potassium, and vitamin B6. These nutrients promote healthy blood circulation by increasing red blood cells. Fruits also contribute to hemoglobin synthesis, making them crucial in preventing anemia.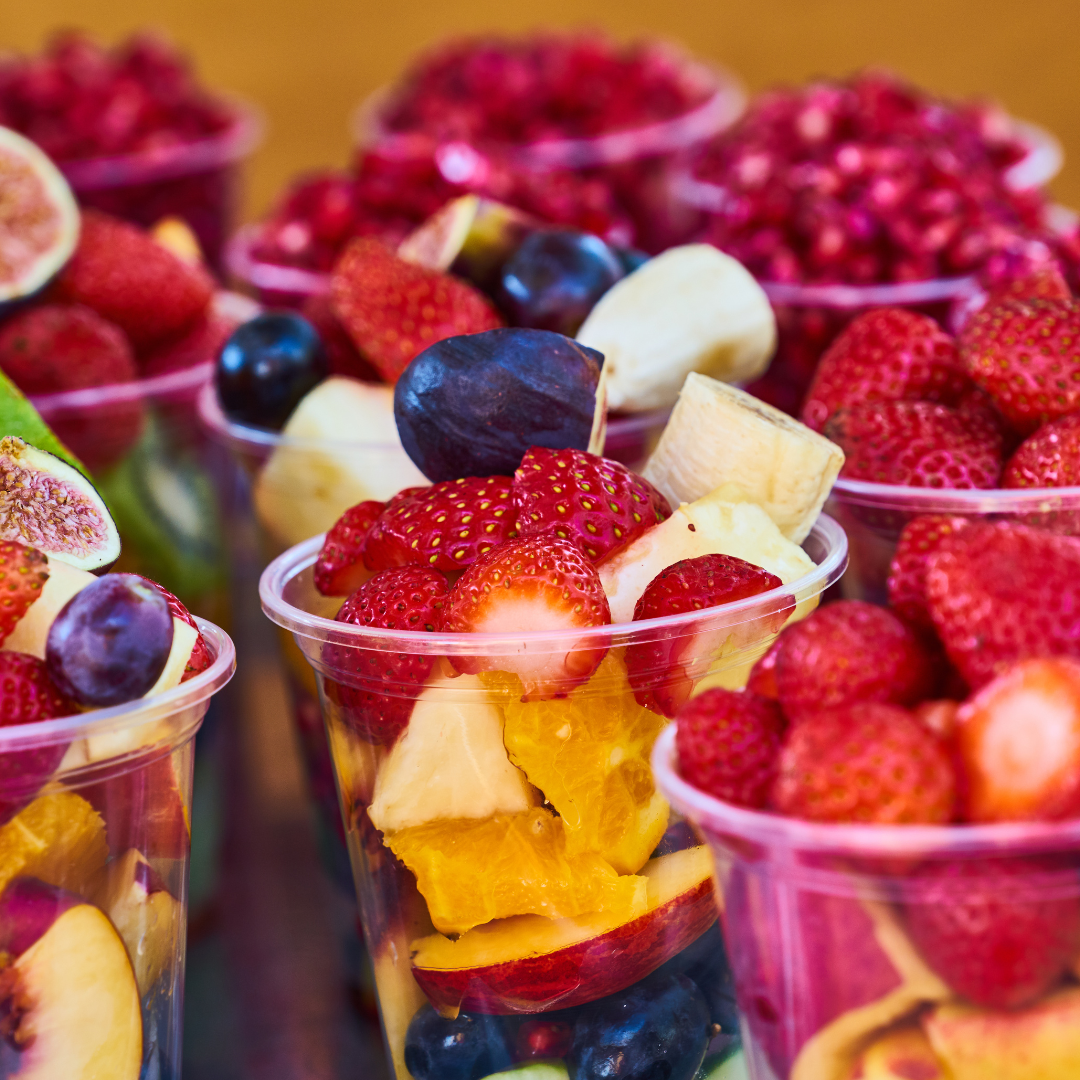 High Antioxidant Content
Most fruits are high in antioxidants, responsible for destroying free radicals in our bodies. Free radicals are harmful because they destroy our cells and can cause a variety of cancers. A regular serving of fruit salad is a fantastic way to lower your cancer risk.
9 Vegan Fruit Salad Recipes
1. Spicy Thai Mango Salad
Spicy Thai Mango Salad with mango, cucumber, carrot, and cilantro in a delicious spicy, sweet, and savoury dressing! This Spicy Thai Mango Salad is one of those quick and easy salads I love! That's my easy, and it's so delightfully fresh, vibrant, and delicious!
Prep time: 15 minutes | Cook time: 15 minutes | Total time: 30 minutes | Servings: 2
Ingredients
English cucumber: 1
Carrots: 2 large
Mango: 1 sliced
Cherry tomatoes: ½ cup, halved
Cashews or peanuts: ½ cup (optional)
Cilantro, as much as you like, to serve
Limes, to serve: 1-2
Dressing

Tamari, soy sauce or coconut aminos: 2 tablespoons
Coconut, pure cane or raw sugar: 1 tablespoon
Minced garlic clove: 1
Red pepper flakes: ½ teaspoon
Juice of one lime
Method
Combine tamari, sugar, garlic, red pepper flakes, and lime juice in a small bowl. Remove from the equation. We want the sugar to be as dissolved as possible before adding it to the salad.
Prepare your veggies and fruit, then combine them with the dressing in a medium-sized mixing dish. Serve in individual bowls with a squeeze of lime and a sprinkle of nuts.
2. Cherry Pistachio Quinoa Salad
Quinoa combined with luscious cherries, nutty pistachios, and fresh mint, garnished with a simple apple cider vinaigrette, tastes AMAZING and is easy to make!
Prep time: 15 minutes | Cook time: 15 minutes | Total time: 30 minutes | Servings: 4 – 6
Ingredients
Dried quinoa: 1 cup
Water: ¾ cups
Cherries: 2 cups, pitted and sliced in half
Pistachios: ½ cup
Red onion: ¼
Fresh mint: ¼ cup, chopped
Apple cider vinegar: ¼ cup
Lemon juice: 1
Pink Himalayan salt & fresh cracked pepper to taste
A handful of baby arugula, optional
Method
Add quinoa and water to a medium-sized saucepan, bring to a boil, cover, decrease the heat to low, and cook for 15 minutes at a soft boil. Remove from heat, cover, and leave aside 10–15 minutes before fluffing. Allow cooling to approximately room temperature before assembling.
Add the cherries, pistachios, shallot, mint, apple cider vinegar, salt, and pepper to the big mixing bowl or pot/pan where you cooked the quinoa. Toss thoroughly to blend, and if preferred, add the baby arugula.
Serve refrigerated or at room temperature.4–6 servings
Keep leftovers refrigerated for 5–6 days in an airtight container.
3. Cantaloupe & Cucumber Salad
Combine cantaloupe with cold, refreshing cucumber, sweet red bell pepper, and red onion in a spicy apple cider dressing for a light and tasty summer fruit and veggie salad.
Prep time: 15 minutes | Cook time: 0 minutes | Total time: 15 minutes | Servings: 4-6
Ingredients
Cantaloupe, seeds removed and cubed: 1
Thinly sliced Cucumber: 1
Red bell pepper, thinly sliced: 1
Red onion, thinly sliced: ½
Apple cider vinegar: 3 – 4 tablespoons
Olive oil, optional: 1 tablespoon
Fresh cracked pepper, or to taste: ½ teaspoon
Good pinch of salt
Fresh basil or mint to garnish (optional)
Method For The Cantaloupe
Cut your cantaloupe in half (horizontally or vertically, it doesn't matter). Using a large spoon, scoop out the seeds and toss them away. Cantaloupe halves should be cut into 5 or 6 slices.
Cut from one end of the slice to the other as close to the rind as possible using a sharp knife, slowly and carefully cutting the orange flesh away from the peel. Cut into tiny bite-size pieces.
Method For The Cucumber
Remove the outer skin with a vegetable peeler after slicing off either end (leave the skin on for extra nutritional value and fiber). Cucumber slices should be ⅛ – ¼ inch thick.
Wash and core your bell pepper before using it. Using a sharp knife, cut into ¼ – ⅛ inch slices. Cut the slices in half and serve.
Method For The Onion
Cut the onion lengthwise in half. Remove the outer layer by cutting off both ends of one of the sections. Place the sliced onion, cut side down, on a cutting board and slice into ⅛ – ¼ inch slices. Cut onion slices in half if they are too long for you.
To make the salad, combine all ingredients in a large mixing basin. Mix in the apple cider vinegar, salt, and pepper to coat. Cover and chill for an hour to chill and marinate, stirring regularly if desired.
Serve cold or at room temperature, depending on your preference.
Leftovers can be kept in an airtight jar in the refrigerator for 5–6 days.
4. Apple & Coconut Bacon Salad
Vegan Apple & Coconut Bacon Salad is a delectable blend of sweet and savoury ingredients with a tasty ginger peanut dressing for a nutritious lunch or dinner!
Prep time: 10 minutes | Cook time: 0 minutes | Total time: 10 minutes | Servings: 1
Ingredients
Fuji apple: 1 cored and diced
Coconut bacon: ¼ cup
Currants or raisins: 1–2 tablespoons
Ginger Peanut Dressing
Natural peanut butter: 2 rounded tablespoons
Apple cider or rice wine vinegar: 1 tablespoon
Pure maple syrup: 2 teaspoons
Garlic powder: ¼ teaspoon
Ginger powder: ⅛ teaspoon
Pinch of mineral salt
Water, plus more as needed to thin: 2 tablespoons
Method For The Dressing
Combine the dressing ingredients in a small bowl.
Add a teaspoon or two at a time to achieve the appropriate consistency.
If the dressing becomes too thin, thicken it with more peanut butter. Remove from the equation.
Method For The Salad
Toss a few large handfuls of salad mix into your serving bowl, then top with chopped apple, coconut bacon, and currents.
Enjoy with a drizzle of ginger peanut dressing on top.
5. Citrus Vegan Fruit Salad
This dish is a must-try if you're looking for a fruit salad. Simply put, it's the best. It's elementary to prepare and great to eat.
Prep time: 10 minutes | Cook time: 0 minutes | Total time: 10 minutes | Servings: 8
Ingredients
Cantaloupe (cut into bite size pieces): 1
Pineapple (cut into bite-size pieces): 1
Sliced Strawberries: 1 pound
Orange juice: ¼ cup
Method
In a large mixing bowl, combine all of the fruit. Pour the orange juice over the top and stir thoroughly.
Place in the refrigerator until ready to serve. Before serving, re-mix everything.
6. Apple Coleslaw
Apple Coleslaw is a colourful blend of fruits and vegetables with a peppery-sweet creamy coleslaw dressing that is nutritious, delicious, and simple to make.
Prep time: 15 minutes | Cook time: 0 minutes | Total time: 15 minutes | Servings: 4 – 6
Ingredients
Green cabbage: 5 cups
Carrots: ½ cup, julienned or shredded
Apples (green or red): 2, cored and cut into matchsticks
Dried cranberries: 1 cup
Green onions: ½ cup, sliced
Tahini Maple Dressing
Tahini: ¼ cup
Apple cider vinegar: ¼ cup
Pure maple syrup: 2 tablespoons
Freshly cracked pepper: ¼ teaspoon
Pinch of salt
Method
Whisk together the tahini, maple syrup, apple cider vinegar, and pepper in a small bowl to make the dressing. To thin, add 1 to 2 teaspoons of water as needed. Set aside for a while to rest.
Combine the cabbage, apples, carrots, cranberries, and green onions in a large mixing bowl (a big soup or stockpot will also work). Drizzle the tahini maple dressing over the top and toss to combine—season to taste with salt and pepper.
Serve immediately or chill for 30 minutes before serving. Coleslaw can be made ahead of time and kept refrigerated and covered until ready to serve.
7. Dragon Fruit Salad
This gorgeous Dragon Fruit Salad is excellent even without a fancy dressing. It'll astound you with how simple it is.
Prep time: 15 minutes | Cook time: 0 minutes | Total time: 15 minutes | Servings: 4
Ingredients
Dragon fruits (white or red): 2
Strawberries: 1 pint, halved
Blackberries: 1 pint
Blueberries: 1 pint
Mint leaves: 5-6, finely shredded
Method
In a medium mixing basin, combine the fruit and gently swirl.
Finely shredded mint leaves are sprinkled on top.
8. Papaya Vegan Fruit Salad
Raw papaya has a higher fiber and protein content than ripe kinds. The major nutrients found in papaya, papain and papain, assist digestion. It, along with other phytonutrients and enzymes, removes toxins from the body and aids in digestion regulation.
Prep time: 10 minutes | Cook time: 10 minutes | Total time: 20 minutes | Servings: 2
Ingredients:
Papaya: 1 medium size
Cucumber: 1 medium size
Green grapes: 1 cup
Pepper seeds: 10
Honey: 2 teaspoons
Lemon: ½
Olive oil: 1 teaspoon
Salt: ¼ tsp
Coriander leaves: 1 teaspoon
Method
All fruits should be washed. Remove the skin and seeds from the papaya and cucumber. Both fruits should be cut into small cubes. Place it in a mixing basin and top it with green grapes.
Using a pestle, roughly crush the pepper in a mortar. Combine it with the fruits in the bowl, along with the salt.
On top, drizzle with honey, olive oil, and lemon juice. Toss everything together or mix lightly with a spoon.
Place in a serving basin and top with coriander leaves. The delectable papaya salad is ready and best served in the morning.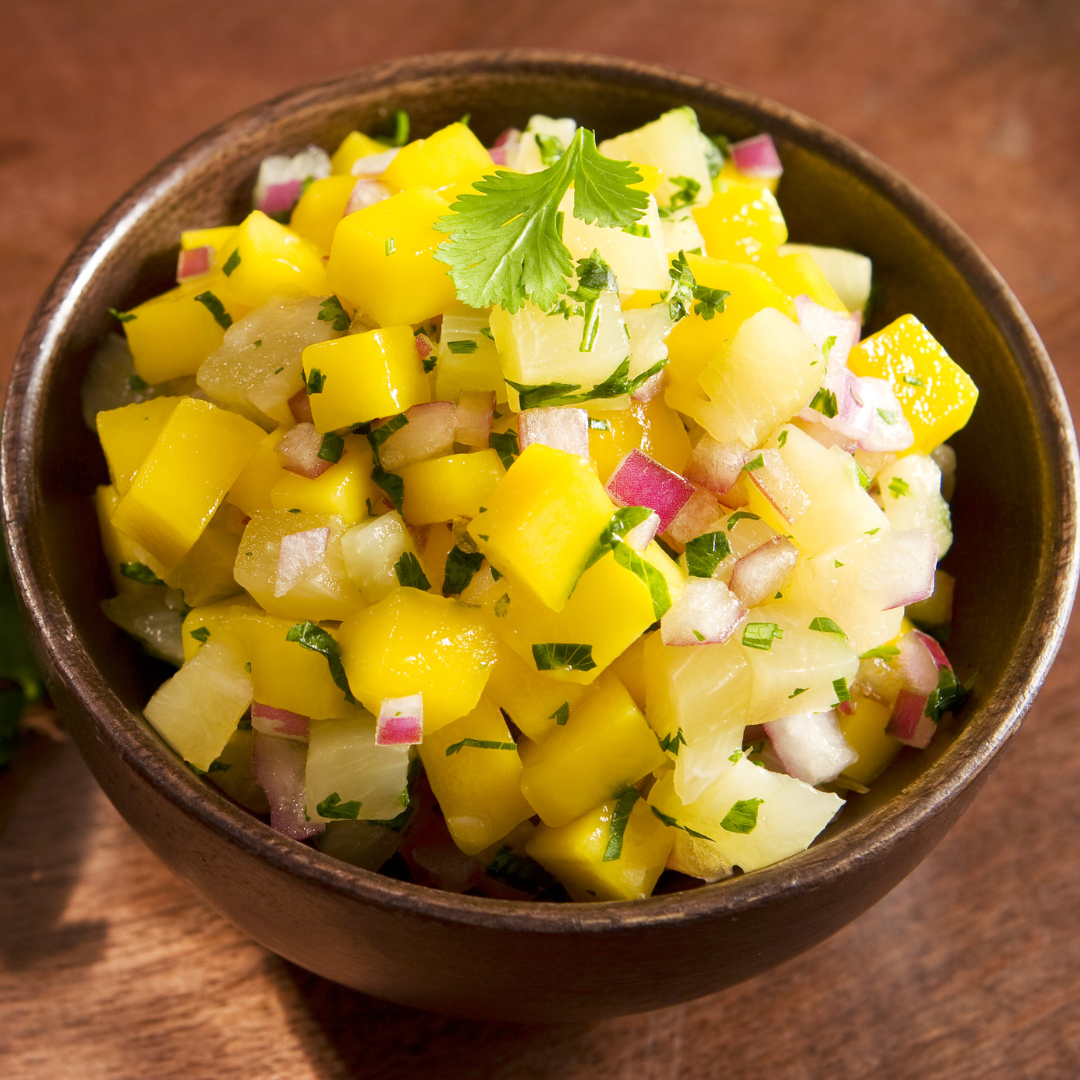 9. Pineapple Vegan Fruit Salad
This Pineapple Fruit Salad with Melon is ideal for the summer and will brighten your dinner table! This isn't your average fruit salad; the secret is in the sweet honey and mint sauce.
Ingredients
Pineapple juice: ½ cup
Maple syrup: 1 tablespoon
Freshly squeezed lime juice: 1 tablespoon
Fresh mint leaves: ½ cup, chopped
For the Salad
Strawberries: 500 grams, hulled and quartered
Kiwis: 2, peeled and cut into chunks
Fresh pineapple: ½, sliced and cut into chunks
Honeydew melon: ½, sliced and cut into chunks
Grapes: ½ cup
Blueberries: ½ cup
Pomegranate seeds: ½ cup
Method
Whisk together the pineapple juice, maple syrups, lime juice, and freshly cut mint in a mixing dish.
Add all the fruit to the mixing bowl and gently toss until the dressing coats all the fruit.
Serve right away.
10. Pomegranate Vegan Fruit Salad
This pomegranate fruit salad is a colourful and refreshing breakfast or brunch dish everyone will enjoy! Citrus fruits and berries abound. This simple breakfast salad recipe is ideal for entertaining friends over the weekend or during the holidays.
Ingredients
Pomegranate: 1 large, seeded
Pineapple: 1 into ½ inch cubes
Strawberries: 1 lb, sliced with tops removed
Clementines: 4, peeled
Star fruit: 1 sliced
Apples: 2, sliced
Fresh orange juice: ¼ cup
Method
Remove the seeds from your pomegranate and arrange them in a large serving basin.
Mix in the pineapple chunks. I like to cut the top of the pineapple off, then carefully remove the rough skin with a knife, going from the top down and cutting it off in strips. The fruit is then chopped around the center, and the pineapple chunks are cubed into bite-sized pieces. The core, top, and skins are composted. Combine the sliced pineapple and pomegranate seeds in a mixing basin.
Combine the strawberries, clementines, starfruit, and apples in a mixing bowl. Pour the orange juice over the fruit and mix thoroughly.
Serve as a side dish with lunch or as a holiday breakfast. The fruit should remain in the refrigerator for 3 days. Enjoy!
Conclusion
Vegan Fruit salad is superior to junk food in terms of health benefits. Try substituting it for your everyday junk food snacking. Enjoy all of the benefits of fruit salad, including its health benefits. Include fruit salad in your diet, and you will notice a difference in your overall body health.
I trust you enjoyed this article about the 10 Easy And Healthy Vegan Fruit Salads. Please stay tuned for more blog posts to come shortly. Take care!
JeannetteZ
Your Opinion Is Important To Me
Ideas? Thoughts? Questions? I would love to hear from you. Would you please leave me your questions, experience, and remarks about this article on the 10 Easy And Healthy Vegan Fruit Salads in the comments section below? You can also reach me by email at Jeannette@LivingTheVeganLifestyle.org.
Here are links to some of my favourite articles:
Best Vegan Restaurants In Manama, Bahrain
Best Vegan Restaurants In Nassau, Bahamas
Best Vegan Restaurants In Yerevan, Armenia
8 Easy Detox Vegan Smoothie Recipes
7 Delicious Vegan Mango Recipes For Your Kids
Best Vegan Restaurants In Tirana, Albania