Delicious Homemade Vegan Salmon Recipes
Delicious Homemade Vegan Salmon Recipes
Looking for an easy, delicious, and nutritious plant-based meal? Look no further than these delicious homemade vegan salmon recipes! This meal is packed with protein and Omega-3 fatty acids, which are beneficial for both your health and the environment. What's more, making vegan salmon at home helps protect animals by reducing the demand for fish products. Let's take a look at how to make this fantastic dish!
How To Make Vegan Salmon At Home With Easy Steps!
If you're a fan of salmon, then you know how important it is to get the most out of your food. Whether you're trying to make it taste like the real thing or just want a healthier option, there are some easy steps you can take to make vegan salmon at home.
Recipe 1: Vegan Salmon Pan-Seared Fillets
Ingredients For The Tofu
1 block (350 g / 12.3 oz) extra-firm tofu, drained, pressed, and sliced
Ingredients For The Marinade
1 cup vegetable broth
1 sheet nori, torn into pieces
3 tablespoons apple cider vinegar
1 small raw beet (20g / 0.7oz) (about the size of a walnut)
2 tablespoons white miso paste
1 teaspoon garlic powder
1 teaspoon salt
½ teaspoon turmeric
1 sheet nori, (to make a skin, optional)
½ cup cornstarch (more if needed)
2 tablespoons light oil for frying, (such as canola or vegetable), plus more if needed
lemon wedges for garnish (optional)
How To Cook The Vegan Salmon Fillets
How To Prep The Tofu
Drain the tofu and press it for 15 to 30 minutes to make it ready. I prefer to use my To future tofu press, but you can also make your tofu by following these instructions. Excess water is squeezed out of the tofu, allowing it to absorb more of the marinade and become more flavorful.
To make 4 long skinny strips of tofu, cut the tofu in half lengthwise and then in half lengthwise again. Place a chopstick on either side of one piece of tofu to prevent you from cutting all the way through and keeping the slices together. To give the tofu a flaky texture, slice it partway through several times, about 18″ apart. Repeat with the other tofu slices. Be careful handling them as they will be fragile. Tip: To make the slices look more like fish flakes, I cut them on a slight angle.
Instructions For The Marinade
In a blender, combine all of the marinade ingredients and blend until smooth.
Put the tofu in a resealable bag or dish and pour the marinade over it.
Allow to marinate for at least 30 minutes or overnight in the refrigerator.
To Cook The Vegan Salmon
Fill a large mixing basin or baking dish halfway with cornstarch. If you're using nori, cut it into strips that are nearly the same size as the tofu chunks. Remove a piece of tofu from the marinade gently (be careful as it will be fragile). Stick a strip of nori to the back of the tofu after dipping it in the marinade. (Using the marinade to cover the nori will help it stick to the tofu.) Dredge the tofu in the cornstarch with the nori attached, making sure to coat all sides of the tofu. Rep with the remaining tofu pieces.
Preheat the oil in a coated frying pan to medium-high. When the pan is heated, add the tofu that has been coated in cornstarch. Fry for 2 to 4 minutes per side, or until golden all over. Serve immediately with Basil Pasta or rice and a delicious and healthy Tomato-Cucumber-Pepper Salad. My husband likes a lemon wedge with his homemade vegan salmon.
Notes
Baking
This recipe is best pan-fried since it produces gorgeous crispy skin, but if you prefer to bake it, follow these steps. Omit the cornstarch dredge and bake the vegan salmon for about 10 minutes in a baking dish at 400F (200C) until heated through.
Air-Fryer
This recipe is best pan-fried since it produces gorgeous crispy skin, but if you prefer to bake it, follow these steps. Omit the cornstarch dredge and air-fry the vegan salmon for about 8 minutes at 360F (182C) in a preheated air-fryer until heated through.
Oil-Free
To make this dish oil-free, omit the pan-frying and instead bake or air-fry the ingredients as directed above.
Nori
This is the same seaweed that goes into sushi rolls. You should be able to find it easily in your local supermarket, or you can get it online. Nori imparts a fishy flavour to the vegan salmon, so if you prefer a milder flavour, leave it out of the marinade.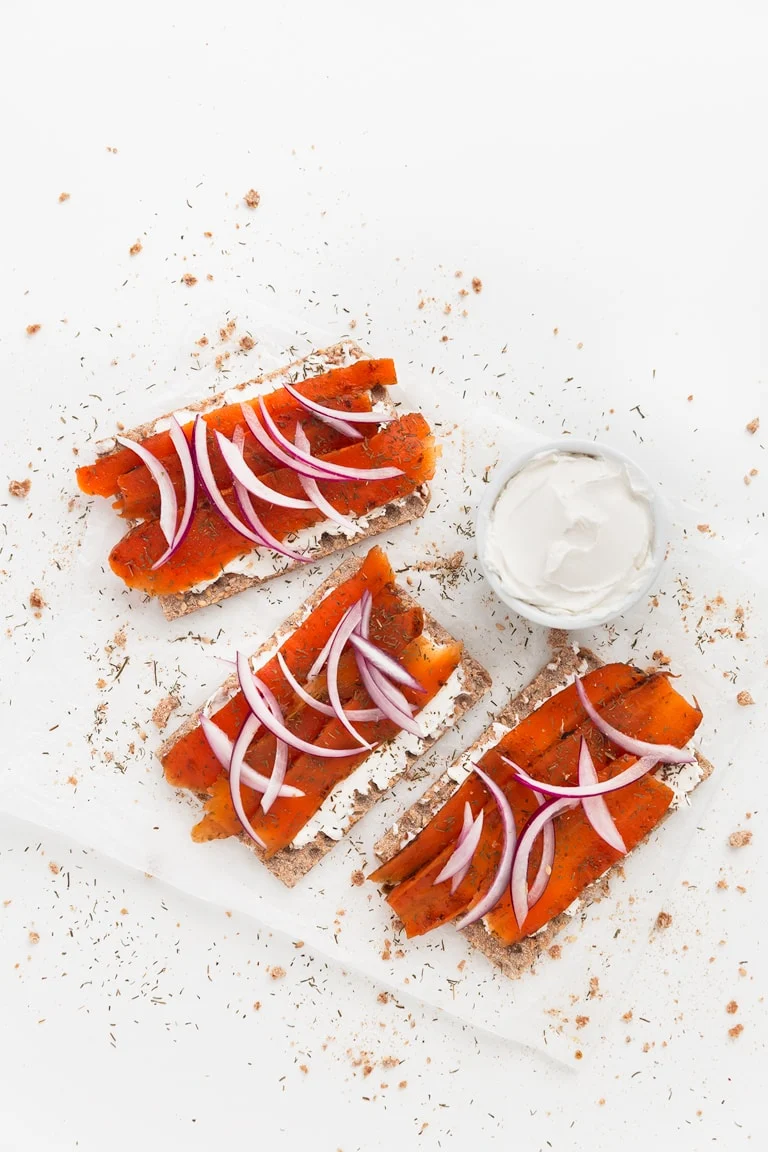 Recipe 2: Smoked Vegan Salmon
This vegan salmon recipe uses natural ingredients.
Ingredients
3

carrots (½ pound or 

225 g

)

2

 nori sheets, chopped

1 cup

 hot water (

250

 ml)

2 tbsp

 tamari or soy sauce

1 tbsp

 maple or agave syrup

1 tbsp

 apple cider vinegar

1 tsp

 smoked paprika

1 tsp

 garlic powder

1/8 tsp

 ground black pepper
Sea salt to taste
Instructions
Preheat the oven to 350ºF or 180ºC.
Wash the carrots, add some salt to taste, place them onto a lined baking tray and bake for 40 minutes. You don't have to peel them.
In the meantime, you can make the marinade. Just add the nori, water, tamari, syrup, vinegar, paprika, garlic powder and pepper and blend until smooth.
When the carrots are ready, remove from the oven, let them cool a little bit and slice them into strips with a knife, peeler or a mandoline.
Transfer the carrot strips into a sealed container and massage with some salt to taste.
Cover with the marinade and leave for at least 24 hours in the fridge.
We spread some vegan cream cheese onto crackers and topped them with the vegan smoked salmon, dried dill and chopped red onion.
Keep the vegan salmon in the fridge for up to 5 days.
Notes
Nori can be replaced for any other seaweed or just omit it if you want, although the vegan salmon won't have a fishy flavor.
Use any sweetener or vinegar (or even lemon juice) you have on hand.
To make the salmon taste even better, top with some extra virgin olive oil before serving.
Nutrition
Serving Size: 

1/4 of the recipe

Calories: 

47

Sugar: 

5.6g

Sodium: 

540mg

Fat: 

0.1g

Carbohydrates: 

9.2g

Fibre: 

2g

Protein: 

2g
Recipe 3: Spicy "Salmon" Vegan Sushi Roll
A delicious sushi roll with spicy smoked carrots (for salmon), avocado, cucumber and green onions.
sushi rice* (I sometimes use riced cauliflower instead of rice)

1

 

cup

 

smoked carrot "salmon"

 

roughly chopped

1

 

tbsp

 

vegan mayonnaise

1

 

tsp

 

chilli garlic sauce

 

or siracha

1

 

tsp

 

fresh lime juice

½

 

tsp

 

sesame seed oil

4

 

sheets of nori

 

broken or cut in half

1

 

cup

 

cucumber

 

peeled and thinly sliced

1

 

avocado

 

sliced

2

 

green onions

 

thinly sliced

¼

 

cup

 

panko crumbs

 

optional

1

 

tsp

 

sesame seeds
Instructions
In a bowl, combine carrots, mayo, chilli-garlic sauce, lime juice, and sesame seed oil. Set aside.

Wrap a sushi mat with a long piece of saran wrap and fold the edges around to seal it nicely.

Lay one-half sheet of nori shiny side down* on the plastic-wrapped bamboo mat.

Set a small bowl with a wet paper towel and a little water next to your mat.

Wet your fingers on the paper towel and place about ½ cup of sushi rice in an even layer across the nori sheet.

Sprinkle with sesame seeds.

Carefully flip the nori over so that the rice-sesame side is now facing down.**

About half an inch from the edge spread spicy carrot mixture in a line from end to end.

Now lay thin uniform slices of cucumber and avocado along with the spicy carrot mixtures.

Sprinkle with green onions and panko crumbs, if using.

Using the sushi mat and both hands, start rolling from the bottom of the roll, tucking the edge of the roll to fully enclose the filling.

Once you reach the end, use the mat to rotate the roll inside to make sure you have an even and consistent sushi roll.

Now use the wet paper towel to wipe the edge of a sharp knife.

Slice your sushi roll into 6 equal pieces. Cut it in half first, then cut each half in thirds.

Wipe the knife with your wet paper towel in between each cut; otherwise the rice sticks.

Place your sushi on a serving dish and enjoy with pickled ginger and wasabi.
Recipe Notes
* To make sushi rice, combine 1 cup of medium grain sushi rice and 1¼ cup water in an instant pot on high for 4 minutes. After it naturally releases, add in 2 tbsp rice vinegar, 1 Tbsp agave or maple syrup, and a dash of salt. Keep covered with a wet paper towel.
** Sushi Golden Rule: the shiny side of nori is always placed on the outside of the sushi.
• This recipe makes about 8 half rolls, depending on how much rice you use on each roll.
• To make a full roll, spread 1 cup of rice across a full nori sheet and proceed per instructions.
Recipe 4: Vegan Sashimi Poke Bowl
Ingredients
1/2

 

pack

 

vegan tuna or salmon sashimi, diced

1/2

 

pack

 

vegan unagi

 

see Note 1

1

 

cocktail cucumber, sliced thin

1/2

 

mango, cubed

3

 

cups

 

spinach

1

 

cup

 

cooked sushi rice

 

see Note 2 for cooking instructions
Instructions
Add sushi rice to a bowl, then top with the remaining ingredients.

Drizzle the unagi BBQ sauce over the bowl and dig in!
Recipe Notes
The unagi brand I used comes with enough barbeque sauce to season the entire poke bowl. If yours doesn't come with sauce, or it's not enough, add some extra soy sauce or teriyaki sauce to taste.
Use the table below to cook up your sushi rice. You should use either sushi rice (such as Nishiki and Sekka) or Calrose rice (such as Botan or Kingo Musenmai). Cook your desired amount of rice as usual (I prefer to do mine in the Instant Pot). When it's done, uncover it and mix in the other ingredients (vinegar, sugar, salt) while the rice is still hot.

Recipe 5: Vegan Smoked Salmon Spaghetti Carbonara
This is rich decadent vegan carbonara with carrot lox! It's amazing and you have to try it. Period.
Prepare the carrot lox at least 2 days in advance for best results; recipe here.
Ingredients
5½ oz uncooked spaghetti (160g)
3½ oz carrot lox (see notes for recipe link) (100g)
1 cup packed tender greens (such as baby spinach, kale, or chard) (45g)
¼ cup cooked sweet green peas (optional)
Ingredients For The Sauce
2 teaspoons refined coconut oil (or olive oil)
1 clove garlic, thinly sliced
1 tablespoon all-purpose flour
½ cup non-dairy milk or vegetable broth (120ml)
1 tablespoon nutritional yeast
water or broth to thin the sauce (or reserve pasta water)
salt and pepper to taste
Cook spaghetti according to package instructions.
Meanwhile, make the sauce. Heat oil in a saucepan over medium heat until hot. Add the garlic stir fry for 30 seconds or until the garlic starts to brown around the edges.
Add flour and stir vigorously until totally combined. Let cook for 10 to 20 seconds.
Add the non-dairy milk while stirring. The mixture may become lumpy; whisk until smooth.
Remove from heat and add nutritional yeast. Add salt and pepper to taste.
The sauce will be very thick. Add water, broth or pasta water to thin it out and whisk until smooth. You may need between 1/4 to 1/2 cup (60 – 120 ml) of extra liquid.
Stir in the greens, peas (if using), and carrot lox. Taste and adjust for salt and pepper before serving. Enjoy!
Vegan Tomato / Cucumber / Pepper Salad As A Healthy Side Dish
This salad is my own creation and I make it on a regular basis. It is a perfect and healthy addition to your homemade Vegan Salmon.
Ingredients For Vegan Salad Dressing
1-2 tablespoons vegan Dijon mustard
The juice of 1 lemon or 2 limes
1-2 tablespoons of Tamari (gluten-free vegan soy sauce)
Salt and (Cayenne) Pepper
Ingredients For The Salad (I use organic vegetables)
2 vine tomatoes: cut into small pieces
3 mini cucumbers: cut into small pieces
1 yellow or 1 orange pepper: cut into small pieces
Radishes: finely sliced
4 oz (114 g) button mushrooms: cut in half
Fresh parsley: finely chopped (I use ½ – 1 bunch because Parsley helps digestion)
Instructions For Vegan Tomato / Cucumber / Pepper Salad
Mix all dressing ingredients in a large salad bowl (preferably with a cover to store leftovers)
Add salad ingredients, toss well and serve with your Delicious Homemade Vegan Salmon
Other Serving Ideas
You can also serve your vegan salmon with a green salad or rice. This will add a little bit of colour and flavour to your meal and help it look more appetizing. You can also top your salmon with a lemon slice, some diced avocado, fresh ginger, and fresh tomatoes for an extra boost of flavour.
Nutrition Value Of Vegan Salmon
When it comes to salmon, there are a lot of variables you have to take into account. For example, the protein content of vegan salmon can be quite high or low depending on the recipe you choose. What's more, some recipes call for soy sauce which can harm your health. So, to make sure you're getting the most bang for your buck when it comes to vegan salmon, it's important to understand the nutritional value.
Calories: 281kcal
Carbohydrates: 22g
Protein: 15g
Fat: 16g
Saturated Fat: 2g
Trans Fat: 1g
Sodium: 1145mg
Potassium: 213mg
Fiber: 1g
Sugar: 2g
Vitamin A: 199IU
Vitamin C: 1mg
Calcium: 84mg
Iron: 3mg
Conclusion
In this blog post, you learned how to make delicious homemade vegan salmon. Plant-based food is delicious, healthy and protects the animal world from cruelty. We introduced 5 different vegan salmon recipes. I also added the recipe for my vegan tomato, cucumber, pepper salad which I make on a regular basis. This salad is a delicious and healthy side to either of the above vegan salmon recipes.
These delicious homemade vegan salmon meals are packed with protein and Omega-3 fatty acids, which are beneficial for both your health and the environment. It is a great option for those who want to eat a healthy, sustainable meal and protect the animals and the environment at the same time.
I trust you enjoyed this article about the Delicious Homemade Vegan Salmon Recipes. Please stay tuned for more blog posts to come shortly. Take care!
JeannetteZ
Your Opinion Is Important To Me
Do you have any questions or ideas? I would love to hear from you. Would you please leave me your questions, experience, and remarks about this article on the Delicious Homemade Vegan Salmon Recipes, in the comments section below? You can also reach me by email at Jeannette@LivingTheVeganLifestyle.org.
Here are links to some of my favourite articles:
Best Kid-Friendly Vegan Zinc Sources
Best Vegan Restaurants In Lausanne, Switzerland
10 Best Vegan Pasta Recipes For Your Kids
Best 15 Vegan Iodine Sources For Your Kids
14 Best Vegan Lifestyle Tips For Beginners
37 Best Vegan Restaurants In Baden, Austria