10 Delicious Crockpot Vegan Recipes
10 Delicious Crockpot Vegan Recipes
These vegan crockpot vegan recipes are perfect for dinner preparation. They're quick and easy to make, plus they're loaded with healthful veggies and plant-based protein! Soups, curries, stews, and side dishes are all included.
All of these vegan crockpot recipes are entirely plant-based.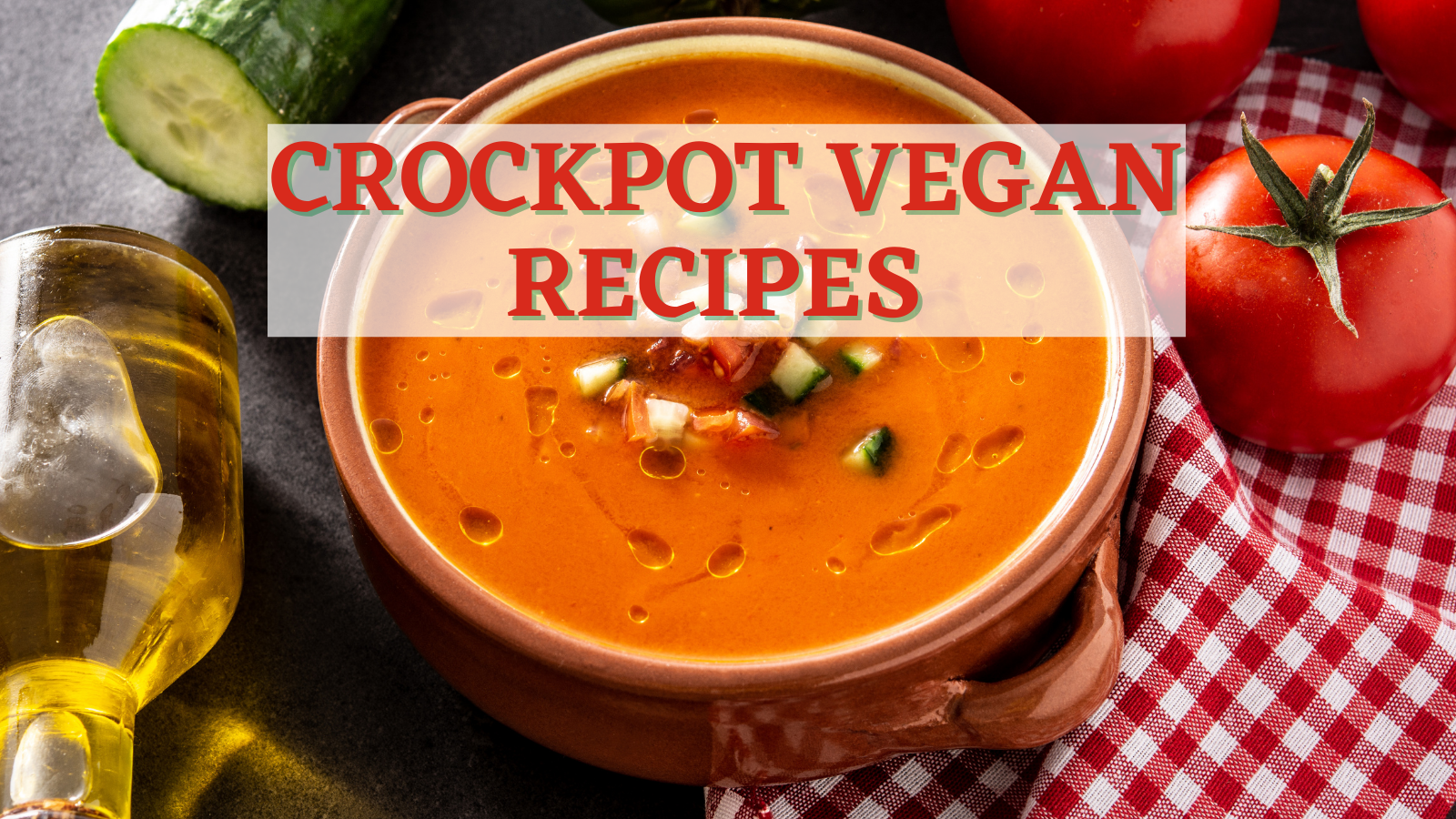 The Advantages Of Crockpot Cooking
The longer cooking durations provide for improved flavour distribution in many recipes.
Lower temperatures reduce the possibility of scorching meals that stick to the bottom of a pan or burn in an oven.
The slow cooker frees up your oven and stovetop for other purposes, an excellent alternative for large gatherings or holiday meals. Slow cooker dressing or mashed potatoes are popular side dishes.
There's no reason to scrub multiple pots and pans. You'll just need to wash the slow cooker and possibly a few prep items most of the time.
Slow cookers consume less energy than an electric oven.
The slow cooker does not heat the kitchen like a vast oven does, which is a big bonus on a hot summer day.
A slow cooker is easy to transport. Bring it from the kitchen to the office or a party. Simply plug it in and serve.
10 Crockpot Vegan Recipes For You To Try
1. Vegan Jambalaya
From my favourite crockpot vegan recipes, vegan jambalaya is one of them. This simple vegan jambalaya is made with a spicy mixture of rice, red beans, and peppers. It's quick and simple to make on the stove, or you can use a slow cooker!
Prep Time: 15 minutes | Cook Time: 30 minutes | Servings: 6-8
Ingredients
Olive oil: 1 tablespoon
Green bell pepper, diced: 1
Celery stalks, diced: 2
Onion, diced: 1 medium
Garlic cloves, minced: 3
Paprika: 1 tablespoon
Ground cumin: 2 teaspoons
Ground black pepper: 1 teaspoon
Dried thyme: 1 teaspoon
Dried oregano: 1 teaspoon
Vegetable broth: 3 cups
Diced tomatoes in the sauce: 400 grams
Cayenne pepper hot sauce: 2 tablespoons
Kidney beans drained and rinsed: 400 grams
Chopped vegan sausage: 2 cups
Scallions chopped: 3
Method
Place a big saucepan over medium heat and coat the bottom with oil. Add the bell pepper, celery, and onion to the heated oil—Cook the vegetables for 5 minutes or until they soften. Combine the garlic and spices in a mixing bowl (paprika and oregano).
Combine the broth, tomatoes, spicy sauce, and rice in a mixing bowl. Bring the liquid to a boil over high heat. Reduce the heat to a very low simmer, give the pot a good stir, and cover the pot—Cook for 20 minutes, or until the rice is soft and all the liquid has been absorbed. While the rice is cooking, brown the sausage chunks in a skillet.
Remove the saucepan from the heat after the rice has completed cooking and set it aside for 5 minutes with the lid on.
Fluff the rice with a fork after removing the lid from the saucepan. Combine the beans and sausage in a mixing bowl and stir to combine. Add salt to taste to the jambalaya.
Top with scallions and serve. Enjoy!
2. Creamy Chili Dip
Slow Cooker Creamy Chili Dip is made in the crockpot and takes only a few hours. This recipe is a 5-star since it is spicy and goes well with fresh vegetables and chips.
Prep Time: 20 minutes | Cook Time: 4 hours | Servings: 48 ounces
Ingredients
Finely chopped onion small: 1
Extra virgin olive oil: 1 tablespoon
Pinto beans: 30 ounces
Salsa: 2 cups
Dairy-free cream cheese: 6 ounces
Black olives: 30 ounces (sliced or chopped)
Chilli powder: 1 tablespoon
Ground cumin: 1 teaspoon
Sea salt: 1 teaspoon
Method
In a skillet, heat the oil over medium-high heat.
Sauté for 10-15 minutes with the finely chopped onion.
In a slow cooker, combine the sautéed onions, drained and chopped black olives, drained and rinsed pinto beans, and the additional ingredients.
Even after stirring, the vegan cream cheese will remain lumpy. It will melt as the crockpot heats up. Cook on low for 4 hours, covered.
After an hour, give it another stir to make sure the cream cheese is melted and adequately combined. Stir it again at the end of the four hours, and it's done.
If your slow cooker has a warm option, you can keep the dip in there, but it's also delicious at room temperature.
3. Peanut Stew
Slow cooker peanut stew is the epitome of vegan comfort food! It is inspired by the West African peanut stew, managed, containing chickpeas, sweet potatoes, and peanut butter. You can put this together ahead of time and freeze it as a crockpot freezer dinner.
Prep Time: 15 minutes | Cook Time: 6 hours | Servings: 4
Ingredients
Can of chickpeas drained & rinsed: 15 oz
Vegetable stock: 4 cups
Salt: ½ teaspoon
Cumin: 1 teaspoon
Ground coriander: ½ teaspoon
Cayenne: ¼ teaspoon
Diced tomatoes: 15 oz
Sweet potatoes peeled: 4-5 cups
All-natural peanut butter: ½ cup
Onion diced: 1
Garlic minced: 4
Ginger finely grated: 1 inch
Method
Add the chickpeas, vegetable stock, salt, cumin, coriander, cayenne, diced tomatoes, sweet potatoes, peanut butter, onion, garlic, and ginger to the insert of a 5 quart or larger slow cooker.
To blend, stir everything together. Cook on low for 6 hours with the lid on your slow cooker. Place four handfuls of spinach in the slow cooker, stir, and replace the cover. Set the timer for 15 minutes on high. To thicken the stew, mash the sweet potatoes with a potato masher.
This step is optional, and you can skip it if you choose. Serve with dipping bread or one of the toppings.
4. Vegan Stew
Easy Slow Cooker Recipes Vegan Stew is low in fat and high in nutrients, with root vegetables, chestnut mushrooms, and peas in a tangy, flavorful broth. To mop up the juices, serve with crusty bread.
Prep Time: 15 minutes | Cook Time: 6 hours | Servings: 6
Ingredients
Onions: 3
Carrots: 3
Potatoes: 2
Parsnip: 1
Celery sticks: 3
Chestnut mushrooms: 250 g
Plain flour: 1½ tablespoons
Vegetable stock: 500 ml
Balsamic vinegar: 1 tablespoon
Soy sauce: 1 tablespoon
Tomato puree: 2 tablespoons
Mixed herbs: 1 teaspoon
Tabasco sauce: 2 dashes
Frozen peas: 120 g
Freshly ground pepper
Method
In a large mixing bowl, roughly chop all vegetables (excluding the frozen peas).
Combine the flour, herbs, and pepper in a mixing bowl.
Place in a slow cooker.
Add the balsamic vinegar, soy sauce, tabasco sauce, and tomato puree to the stock and stir well.
Pour the liquid over the vegetables.
Set the slow cooker on high for 3.5 hours or low for 5.5 hours.
Cook, occasionally stirring until the vegetables are soft (approximately another 12 hours).
Serve in dishes with crusty bread on the side to soak up the sauce!
5. Tofu Tikka Masala
Make this hearty, creamy, and delicious tofu tikka masala in your slow cooker or Instant Pot for simple dinner prep. Gluten-free and vegan.
Prep Time: 15 minutes | Cook Time: 3 hours | Servings: 4
Ingredients
Garam masala: 1 tablespoon
Paprika: 2 tablespoons
Ground coriander: 1 teaspoon
Ground black pepper: ½ teaspoon
Salt: ¾ teaspoon
Cayenne pepper: ½ teaspoon
Ground turmeric: ½ teaspoon
Ingredients For The Tofu Tikka Masala
Extra-firm tofu: 12 oz
Coconut oil: 1 tablespoon
Cumin seeds: 1 teaspoon
Yellow onion diced: 1
Garlic minced: 4
Ginger peeled and minced: 1 inch
Green chilli peppers finely chopped: 2
Red bell pepper diced: 1
Nutritional yeast: 3 tablespoons
Tomato paste: 6 tablespoons
Cherry tomatoes quartered: 2 cups
Full-fat coconut milk: 1 can
White wine vinegar: 2 tablespoons
Coconut sugar: 1 teaspoon
Salt to taste
Freshly-squeezed lemon juice to taste for serving
Chopped fresh cilantro (coriander) to taste for serving
Method
The extra liquid from the tofu package should be drained. Wrap the tofu in many clean towels and set it on a heavy item (Alternately, use a tofu press).
I start pressing the tofu before chopping and prepping the other ingredients to save time. Mix up all of the spices and set them aside. In a skillet over medium heat, heat the coconut oil and add the diced onion with a touch of salt. Simmer, turning periodically, until the onion is transparent and gently golden, about 4 to 6 minutes.
Add the cumin seeds and cook for another 60 seconds. Cook for another 60 seconds after adding the garlic, ginger, and chilli pepper. Cook, constantly stirring, until all of the spice combinations has been incorporated.
Cook for 2 minutes further, stirring constantly, after adding the bell pepper, nutritional yeast, and tomato paste. Finally, add the tomatoes and stir thoroughly, scraping the pan's bottom. Cook, occasionally stirring, for 3-4 minutes, or until the tomatoes begin to soften. Turn the heat off.
To prepare the pressed tofu, cut it into tiny pieces. Using a light spray or grease, lightly coat the bottom of your slow cooker. Stir the coconut milk, white wine vinegar, and coconut sugar in the slow cooker.
Using a spatula, scrape all mixtures from the skillet into the bowl. Stir in the tofu with a fork.
Cook 4–6 hours on low, or 2–3 hours on high. Cook for 10 to 15 minutes on high pressure in your Instant Pot, or around 30 minutes at a low simmer on the stovetop, stirring regularly.
Season with salt and freshly squeezed lemon juice after cooking to taste.
Garnish with fresh cilantro and serve with rice or your favorite side dish.
6. Vegan Butternut Squash Soup
Vegan Butternut Squash Soup in a Slow Cooker is a delightful, hands-off soup suitable for chilly fall and winter days. It also has the added benefit of making your home smell wonderful!
Prep Time: 10 minutes | Cook Time: 2 hours | Servings: 4
Ingredients
Butternut squash: 1 medium
Vegetable broth: 2 cups
Garlic peeled: 4 cloves
White onion about 1 cup diced: 1 medium
Granny smith apple: 1
Salt: ½ teaspoon
Black pepper: ¼ teaspoon
Fresh thyme: 1 bunch
Coconut milk: 1 cup
Method
Butternut squash should be peeled, deseeded, and chopped roughly. Everything except the coconut milk should be added to the slow cooker with the butternut. Cook on low for 6 to 8 hours, or 2 to 4 hours on high, stirring occasionally.
When a fork can easily mash butternut, the soup is ready. Thyme sprigs should be picked out. To purée the soup, use an immersion blender. Serve with coconut milk on top after ladling the soup into bowls.
7. Wild Rice Soup
Butternut squash, kale, and white beans are used in this healthful wild rice soup dish. This vegetarian and vegan crockpot soup dish is made with wild rice.
Prep Time: 15 minutes | Cook Time: 6 hours | Serving: 8
Ingredients
Chopped Onion: 1 medium
Wild rice or wild rice blend: 1 cup
Butternut squash: 1 medium
White beans: 15 ounces
Chopped Celery: 4 ribs
Dried oregano: ½ teaspoon
Dried thyme: ½ teaspoon
Garlic powder: ½ teaspoon
Salt: ½ teaspoon
Black pepper: ⅛ teaspoon
Bay leaf: 1
Low sodium vegetable broth: 6 cups
Chopped kale (or fresh spinach, optional): 6 cups
Method
Except for the broth and kale, combine all ingredients in the slow cooker.
Fill the slow cooker halfway with broth and stir gently to incorporate.
Cook on low for 6 hours or high for 3 hours and 12 minutes, or until the rice is cooked and soft. Because all slow cookers are different, your' cooking time may change from mine.
Check to see if the rice is done near the end of the cooking time. The soup has simmered long enough until the rice is soft.
Remove the bay leaf from the dish. Toss the greens into the soup. Serve.
8. Irish Oatmeal
Slow Cooker Irish Oatmeal is a delicious way to start the day. In less than 5 minutes, toss everything into the crockpot, and when you wake up in the morning, drizzle on some maple syrup and enjoy a deliciously hearty meal.
Prep Time: 4 minutes | Cook Time: 8 hours | Servings: 4
Ingredients
Irish Oatmeal, steel-cut oats: 1½ cups
Water: 5 cups
Ground cinnamon: 1 teaspoon
Maple syrup for drizzling in the morning
Dairy-free milk for drizzling in the morning, optional
Apple chunks for adding to the oatmeal in the morning, optional
Method
Add the oats, water, and cinnamon to the slow cooker. Cook on low for 7-8 hours, stirring frequently.
If your crockpot has a timer and you can set the start time, that would be ideal. If you want to sleep in but don't want to overcook the oats, this is the way to go.
If you want to go all out, double the recipe! Pour into a bowl and drizzle with maple syrup.
9. Butter Chickpeas
Chickpeas in Butter with a Vegan Twist! If you like Butter Chicken, a popular Indian dish, you'll enjoy this slow cooker variation, which is vegan and easy to make.
Prep Time: 15 minutes | Cook Time: 4 hours | Servings: 4-6
Ingredients
Firm tofu: 1 (14 ounces)
Olive oil or vegan butter: 1 tablespoon
Onion, diced: 1 medium
Garlic cloves, minced: 4
Coconut milk: 1 can
Tomato puree: 1 cup
Garam masala: 1 tablespoon + 1 teaspoon
Curry powder: 1 tablespoon + 1 teaspoon
Chili powder: 2 teaspoons
Ground ginger: ½ teaspoon
Salt: ½ teaspoon
Garbanzo beans rinsed and drained: 1 (15 oz can)
Cilantro, finely chopped: ⅛ cup
Cooked rice, for serving: 2 cups
Method
Rinse the tofu after removing it from the package. Place tofu on a cutting board after wrapping it in a paper towel.
Place something heavy on the tofu for about 15 minutes to allow the water to drain out. Heat the olive oil in a large saucepan over medium heat and add the onion. Cook for 5 minutes, or until soft and transparent.
Stir in the garlic until everything is well combined. In a large mixing bowl, whisk the coconut milk, tomato puree, garam masala, curry powder, chilli powder, ground ginger, and salt & pepper. Cook for 5 minutes, or until slightly thickened.
Finely dice the tofu while the sauce is simmering. In the slow cooker's base, place the tofu and garbanzo beans. Pour the sauce over everything—cook on low for 5 hours, or until desired results are achieved.
Stir in the cilantro just before serving. If desired, serve with rice and naan.
10. Vegan Crockpot Hot Chocolate
This VEGAN crockpot (or slow cooker) hot chocolate is ultra-rich, creamy, and indulgent. This recipe for no-fail hot chocolate has real chocolate, cocoa, thick coconut milk, and sweetened condensed coconut milk. Just in time for the holidays!
Prep Time: 4 minutes | Cook Time: 4 hours | Servings: 4-6
Ingredients
Sweetened condensed coconut milk: 8oz can
Coconut milk: 1 can
Non-dairy milk: 10 cups
Cocoa powder: ¼ cup
Vegan chocolate chips: 2 cups
Vanilla: 1½ teaspoons
Method
In a small bowl, combine the cocoa powder and 1 cup of almond milk. Blend until smooth.
Stir everything into your crockpot or slow cooker, including the chocolate mixture.
Cook for 4 hours on low, stirring occasionally.
Whisk thoroughly before serving with vegan marshmallows and coconut whip cream!
Conclusion
The slow cooker is a terrific way to add flavour to your vegetarian soups and stews, but the possibilities are endless. You can use it to make everything from caramel to spinach and artichoke dip. It's a bit of a miracle worker. Winter is the perfect season for experimenting with slow cooking.
Don't miss to try and let us know about your favourite one from these Crockpot Vegan Recipes.
I trust you enjoyed this article about the 10 Delicious Crockpot Vegan Recipes. Please stay tuned for more blog posts to come shortly. Take care!
JeannetteZ
Your Opinion Is Important To Me
Ideas? Thoughts? Questions? I would love to hear from you. Would you please leave me your questions, experience, and remarks about this article on the 10 Delicious Crockpot Vegan Recipes, in the comments section below? You can also reach me by email at Jeannette@LivingTheVeganLifestyle.org.
Here are links to some of my favourite articles:
12 Popular Plant-Based Lactation Recipes
Top 10 Magnesium Vegan Food Sources For Your Kids
Best Vegan Sources Of Vitamin A For Your Kids
11 Amazing Vegan Salad Recipes
8 Best Vitamix Blenders Of 2022 – Reviews And Comparison
Best Vegan Restaurants In Bridgetown, Barbados