Best Vitamix Blenders – Reviews And Comparison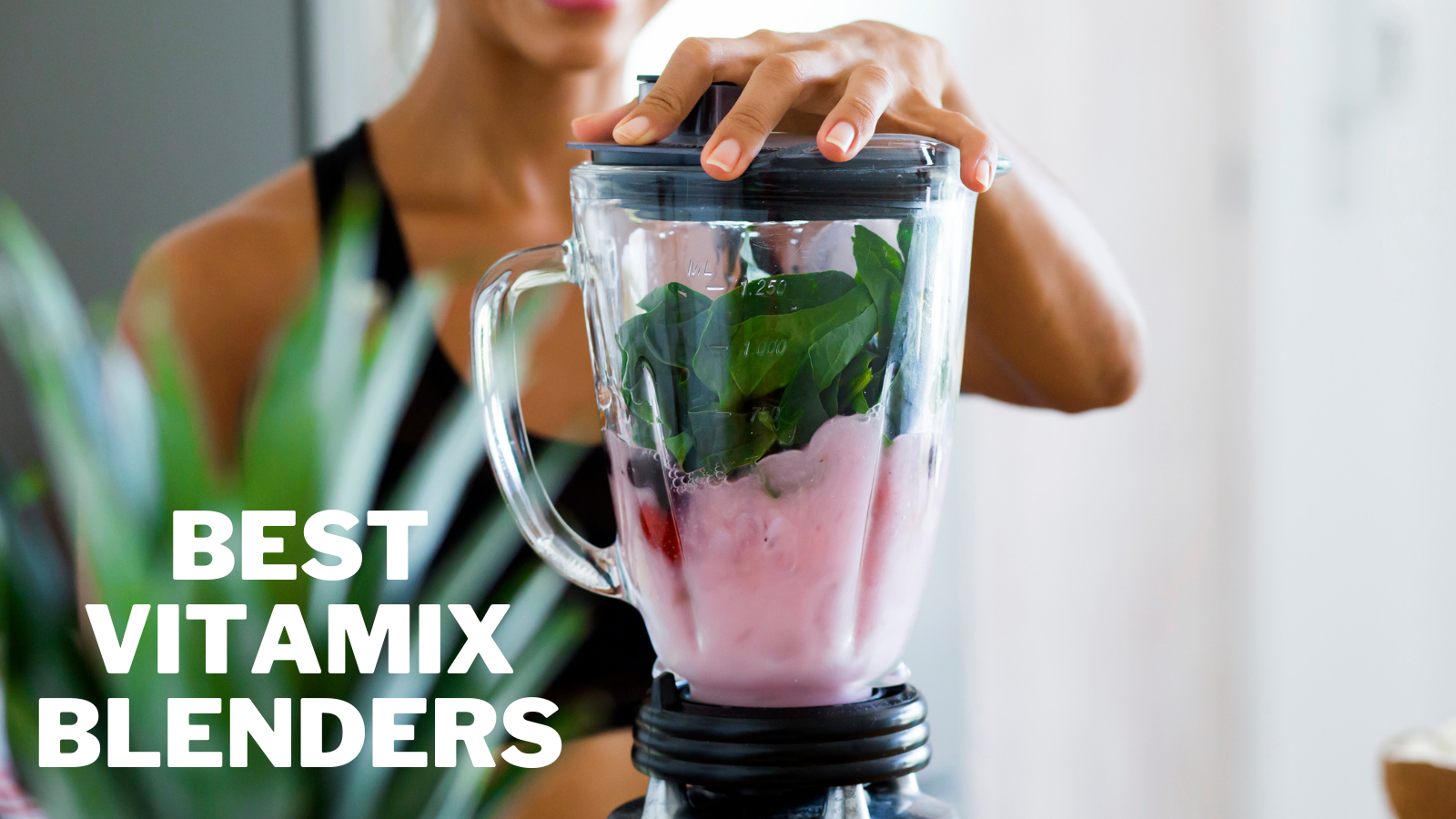 Best Vitamix Blenders – Reviews And Comparison
Vitamix Corporation is an American historical appliance company that evolved from Barnard Sales Company, founded in 1921.
The original Vita-mix blender, now known as Vitamix, debuted in 1937. It was the impetus for the world's first infomercial in 1949 when the appliance outperformed sales forecasts and sold over 400 units in a thirty-minute promotional session.
Barnard Sales is a family-owned business led by the fourth generation of Barnard ancestors. The Vitamix brand is focused on nutrition and the use of whole, healthy foods to improve health.
While Vitamix is best known for its consumer products, it also offers to blend solutions for industrial kitchens.
The Vitamix Corporation has been in business for 100 years as of 2021. It offers various blenders, attachments, cookbooks, and other kitchen appliances.
It's renowned for its quality, durability, and easy-to-use interface, making it suitable for kitchen newbies, professionals, and serious chefs. Vitamix is widely regarded as one of the top blenders on the market.
What Is The Life Span Of A Vitamix Blender?
Vitamix blenders are known for their durability. This is especially clear when you examine their extended warranty coverage. According to experts, a Vitamix blender can last ten years or more, depending on how you treat it.
Customers have stated that their Vitamix blenders survived up to 20 years in some circumstances.
This presupposes that you use it regularly and take adequate care of it. "Proper care" involves cleaning the components after each usage and not abusing the motor by doing unrecommended tasks.
In many circumstances, you'll decide you're ready for a new Vitamix blender before your current one ends its useful life.
Warranties For Vitamix Blenders
While Vitamix is most recognized for its ten-year guarantee on chosen models, the company provides a variety of warranties based on the products purchased.
Vitamix offers four warranty tiers: three, five, seven, and ten years. A three-year guarantee protects containers and components purchased separately from full blender kits.
Vitamix will repair or replace the damaged item free of charge within 30 days of receiving the returned product.
Similarly, the five, seven, and ten-year warranties cover the entire machine, assuming you bought a motor blender base, container, and/or container accessories simultaneously.
Vitamix commits to fixing or replacing the damaged item within 30 days of receiving the returned product.
Best Vitamix Blenders
1. Vitamix Explorian Blender, Black
This device features an extra-large Tritan pitcher, making it easier to prepare huge amounts of juice and smoothies quickly. The adjustable design with manual controls provides versatility.
The Vitamix Explorian 65542 64-oz blender is perfectly built to handle a wide range of food processing activities in the kitchen.
It has a 10-speed design with a rotary selector that allows customers to modify the blending speed simply. Users can manage the blending process using a pulse function while watching the real-time results.
With its huge 64-oz Tritan container, this appliance simultaneously prepares meals for small groups. On the other hand, the plastic jar is prone to damage when the blender is constantly used to break hard things.
The reinforced stainless steel blade on this Vitamix Explorian 65542 64-oz blender allows it to break through soft and tougher materials.
The blender has a self-cleaning cycle that cleans up with dish detergent and warm water, saving users time. This product comes with a tamper to stir up components for quick blending. This device has dishwasher-safe parts for easy maintenance. It includes a cookbook with healthy dishes.
Pros
Ultra-large Tritan jar
10-speed motor
Powerful blades
Cons
2. Vitamix A2500 Ascent Series Smart Blender
The Vitamix A2500 Ascent Series Smart Blender is a lighter, slightly cheaper smart blender with fewer features but lots of capability.
This 11-pound model features a timer, 10 changeable speeds, a pulse feature, and three presets for smoothies, hot soups, and frozen desserts.
It has a clever base that detects the container you set on it and adjusts automatically for a smoother blend. It includes wireless capabilities to communicate with the Vitamix app to provide you with new programs and recipes.
Because the low-profile 64-ounce pitcher isn't incredibly well-designed, you can spend extra money on matching mixing containers. It's also rather noisy, and you'll almost certainly need to use the provided tamper to achieve a smooth mix.
Pros
Fairly lightweight and reasonably-priced
10 variable speeds, a pulse option, and three presets
Works wirelessly with the app for extra programs and recipes
Automatically adjusts to a range of blending containers
Large blending capacity
Great 10-year warranty
Cons
Less well-designed blending jar
Must be tamped for smooth blending
Less durable gears
Fairly loud
3. Vitamix 5200 Blender Professional, Black
This blender has a big jar to funnel ingredients to the blades for quick processing. We appreciate the built-in auto clean system, which makes maintenance easier.
With its wide jar, the Vitamix 5200 64-oz blender can accommodate huge amounts of fruits and vegetables, making it an excellent choice for families.
This blender has a traditional style that will provide a vintage touch to any kitchen. It includes a tamper for mixing substances to improve processing.
A self-cleaning technology removes debris from this gadget in 30 to 60 seconds, saving consumers time. However, ice and nuts can damage the plastic pitcher, so this may not be the greatest blender for ice.
This Vitamix 5200 64-oz blender boasts a 10-speed fan and easy-to-use manual controls. The device offers an easy-to-use pulse function that gives users more control over the blending process. The strong stainless steel blades mash fruits, vegetables, and nuts.
These blades heat soup in around 6 minutes. This Vitamix blender contains dishwasher-safe and easy-to-clean parts. The sleek design of the 65-oz container directs ingredients toward the blades.
Pros
Extremely large pitcher
Self-cleaning cycle
10-speed controls
Cons
The plastic pitcher is prone to cracking
4. Vitamix A3500 Brushed Stainless Blender
The stainless steel finish on this blender gives a touch of refinement to the kitchen counter. We appreciate its digital preset controls, making creating various meals simple.
The Vitamix A3500 64-oz blender has a strong base that keeps it stable while processing. This stylishly stainless blender will go well with your other kitchen appliances.
This blender easily mixes frozen fruits and ice thanks to its strong blades. It has pre-programmed settings for hot soups, dips, smoothies, and frozen fruits. A self-cleaning cycle uses warm water and mild detergent to remove blending by-products, saving users time quickly.
On the other hand, the low-profile jar is inappropriate for cooking tiny beverages and meals. Dishwasher-safe parts make cleaning the Vitamix A3500 64-oz blender a breeze. Its huge jar can hold a lot of fruits, veggies, and nuts.
It includes a well-designed spout that makes processing easier by pouring out food and juice. This blender offers a combination of touch and manual controls for easy operation.
Hands-free operation is possible with an auto feature, saving users time and energy. It includes a well-illustrated cookbook with meal-planning recommendations.
Pros
Stylish design
Self-cleaning function
Preset programs
Cons
Making small batches is difficult.
5. Vitamix, Red 7500 Blender
The Vitamix 7500 Blender is our favorite, a durable device with plenty of capacity and various speed options. This blender combines many of Vitamix's best features, including a strong motor and an excellent warranty.
This blender is heavy at 13 pounds but also reasonably priced and strong. The all-metal drive includes a robust, cool-running 2.2-horsepower engine and a black plastic body with red, black, or white accents.
There are no presets, but there is a pulse feature and a selection of 10 variable speeds, and we found the switch and dial interface to be slightly clumsy but quite practical. Hardened stainless steel is used to make the four-tip blade assembly.
This model is unsuitable for lesser quantities and does not include single-serve capabilities. The low-profile 64-ounce plastic blending container is more robust and fits better under cabinets, but it doesn't blend as well.
A plastic tamper is included in the packaging to guarantee smoother blending. The 7500 is backed by a seven-year guarantee that covers parts, labour, and shipping.
Pros
Powerful, cool-running motor with an all-metal drive
Pulse feature and 10 variable speeds
Reasonably priced
Durable blades and large, low-profile blending container
Includes plastic tamper
Lengthy seven-year warranty
Cons
On the heavier side
Clunky, less elegant interface
The blending container doesn't blend as smoothly
No presets
It doesn't work well for small quantities
6. Vitamix, White 5200 Blender
Despite its rudimentary UI and restricted capabilities, the Vitamix 5200 Professional Grade Blender is a good value. Unfortunately, it lacks a long-lasting motor and no preset options.
This model has Vitamix's iconic 64-ounce Tritan pitcher, which produces smoother blends. It weighs 10.56 pounds and has a simple switch and dial interface with 10 changeable speeds. The accompanying tamper is effective, and the two-horsepower motor includes a radial cooling fan and thermal protection.
This machine is rather noisy and does not perform well with little volume. Although it's a little bulky and unattractive, it's simple. Vitamix comes with a solid seven-year warranty.
Pros
It is less expensive.
Lightweight and simple to use
There are ten varied speeds to choose from.
Powerful motor with an integrated fan and thermal protection
a large, well-designed blending container
Excellent seven-year warranty
Cons
The basic interface
The engine appears to be less durable
Quite audible
Less appealing design
There are no presets or smart features
7. Vitamix Professional Series 750 Blender
A strong engine and robust stainless steel blades give the power to quickly pulverize foods into juice or paste. The blender offers user-friendly preset programs that enable one-touch operation.
The Vitamix Professional Series 750 64-oz blender has modern convenience features. Five pre-programmed programs let customers produce a variety of hot meals quickly. This blender has pre-programmed settings for smoothies, frozen desserts, soups, and purees.
It contains a variable speed control dial allowing users to adjust their motor speed. This device has a 6-foot cord that allows flexible placement on the kitchen counter. However, because the container and lid have ridges, they are challenging to clean by hand.
This Vitamix Professional Series 750 64-oz blender has a low-profile 64-oz plastic container that allows users to create vast batches of meals in one go. The jar is graded to make it easier to measure ingredients.
This blender cleans itself of food remains thanks to a self-cleaning cycle. This model's hardened stainless steel blades break vegetables, nuts, fruits, and even ice. It has a 2.2 HP engine that gives enough power to keep it from stalling when working with thick nuts and rough veggies.
Pros
Intuitive preset programs
Large jar
Self-cleaning design
Cons
Cleaning the ridged container and lid is difficult
8. Vitamix 36019 36019-1 Vita-Mix Quiet One Blender 48 oz
The Vitamix 36019 36019-1 Vita-Mix Quiet One Blender is our least favorite blender, a highly pricey, large machine with an outstanding array of capabilities but significant downsides, such as a lack of longevity and an unexpectedly short warranty.
As the name implies, this blender is designed to be silent with a magnetically fastened sound-dampening cowl. It weighs 23.6 pounds and comes with a modest 48-ounce Tritan mixing pitcher.
It has a three-horsepower engine, a sophisticated interface with 34 programs and 93 variable speeds, and six optimized presets.
This model is exceptionally silent. However, it is also large and expensive for many people's finances. It's not very long-lasting, and the hood has an unappealingly industrial aspect.
The three-year limited warranty covers the motor and one year of labour and accessories. Because this model is designed for commercial usage, using it at home will void the guarantee.
Pros
With a sound-dampening hood an
34 programs and 93 changeable speeds, it is extremely quiet
A strong three-horsepower motor
Designed for commercial use
Cons
Expensive and cumbersome
Blending capacity is limited
Difficult interface
A shorter warranty that solely applies to business use
It doesn't appear to be very long-lasting
Body with an industrial appearance
Compare Vitamix Blenders To Other Brands
Pros
A Strong Motor
Vitamix often outperforms its competition because its powerful motors can quickly complete blending chores. Most models have a two-horsepower engine, making it one of the most powerful household blenders.
Better Warranty
Vitamix has one of the best appliance warranties in the business. With warranties ranging from three to ten years, they leave their competition in the dust, while most blender brands only provide one-year warranties.
Better Texture Outcomes
One of the most noticeable differences between Vitamix and its competitors is the blender's ability to produce a wide range of textures with pinpoint accuracy. Whether blending, pureeing, or milling dry ingredients, you'll achieve the desired consistency.
Makes Hot Soup
Yes, you can create hot soup directly from a Vitamix blender. This is accomplished using specialist blades that generate enough friction (on purpose) to heat cold raw ingredients while you make the soup, avoiding moving your blended contents to a cooktop.
Enhanced Durability
Another major selling point for Vitamix blenders is their extreme durability. Did you accidentally drop the blender pitcher from your counter or a higher surface? Not a problem! It can withstand battering and continue to function. Similarly, unlike other competitors' blender entries, you're less likely to have gear rust or prematurely worn-out blades.
Cons
Not All Blenders Are App Supported
Vitamix has entered the twenty-first century. Many of its blenders include remote controls via an associated app, but this is not true for all of its blender models.
Difficult To Store With Some Models
There are many reasons to adore Vitamix, but one common gripe is that some of their blender models feature pitchers with height dimensions, making storing in kitchen cabinets difficult. This is especially important if you want to keep the pitcher at the base.
Very Expensive
Except for the price, there's a lot to like about Vitamix blenders. If you want to add a Vitamix blender to your cooking arsenal, expect to pay $300 and $600.
Noisy During Operation
Unsurprisingly, all of that increased power and blending capabilities come at a cost: they are loud to run.
Stick Blender Lacks Accessories
The Vitamix immersion blender is not very competitive compared to other brands. You will just receive the primary blending attachment compared to many other brands that contain whisks, choppers, and other tools.
Conclusion
The Vitamix brand remains the best blender for smooth cold drinks the creamy soup. In my 15-plus years of cooking at home, the Vitamix is the best blender I've ever used.
I trust you enjoyed this article about the Best Vitamix Blenders – Reviews And Comparison. Please stay tuned for more blog posts to come shortly. Take care!
JeannetteZ
Your Opinion Is Important To Me
Ideas? Thoughts? Questions? I would love to hear from you. Please leave me your questions, experience, and remarks about this article on the Best Vitamix Blenders – Reviews And Comparison in the comments section below. You can also reach me by email at Jeannette@LivingTheVeganLifestyle.org.
Here are links to some of my favourite articles:
Best Vegan Restaurants In Bridgetown, Barbados
Best Vegan Restaurants In Dhaka, Bangladesh
10 Easy And Healthy Vegan Fruit Salads
Best Vegan Restaurants In Manama, Bahrain
Best Vegan Restaurants In Nassau, Bahamas
Best Vegan Restaurants In Yerevan, Armenia