7 Delicious Vegan Camembert Recipes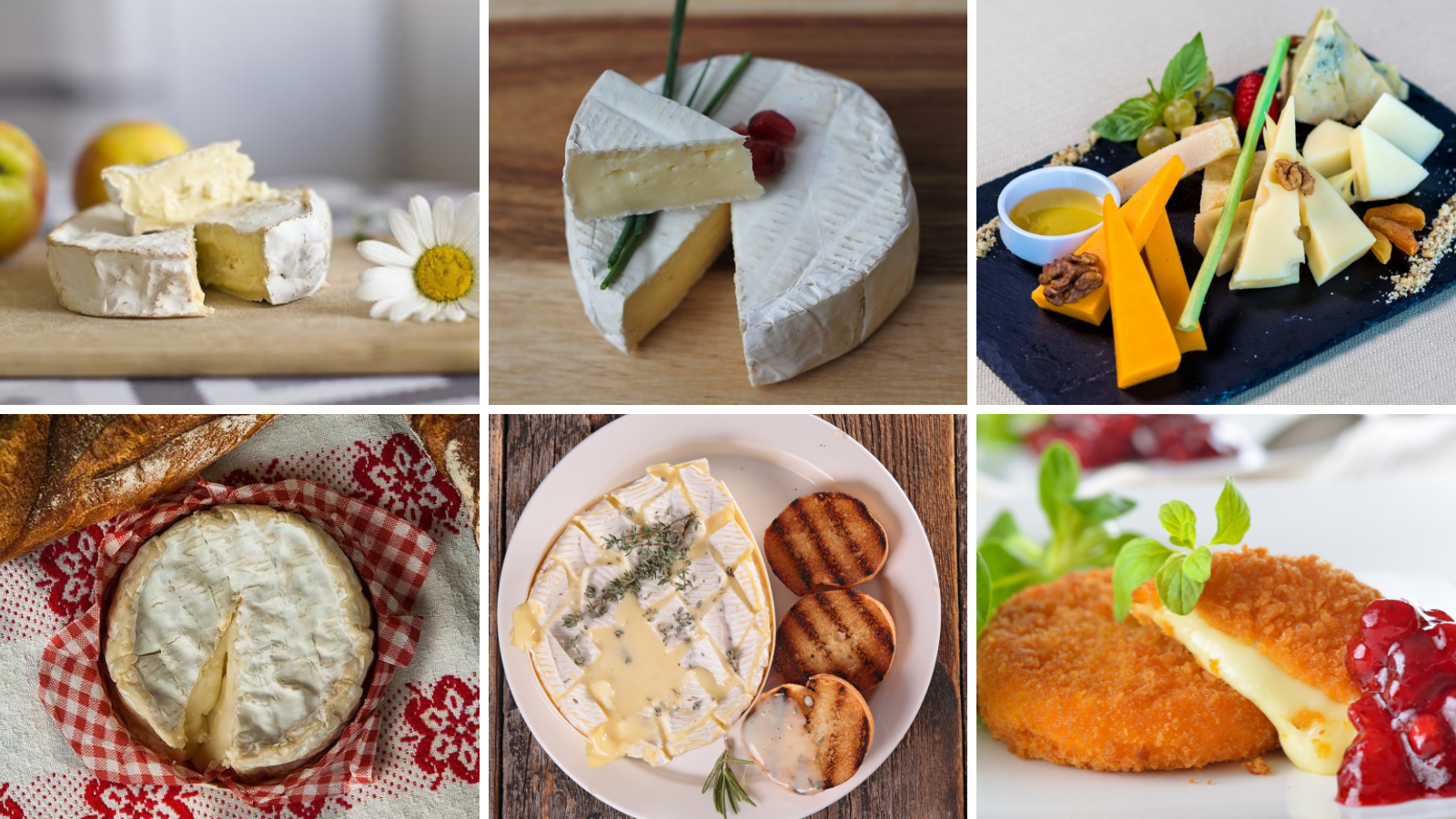 7 Delicious Vegan Camembert Recipes
Camembert was my absolute favourite cheese before becoming vegan. My mother grew up in France, and camembert was a "must-have" on our cheese platter.
We started to make our own vegan cheese. I am excited to share some of the most delicious vegan camembert recipes.
I chose different variations of creating the vegan camembert. Some of them only take an hour. Others need to be aged for up to 4 weeks.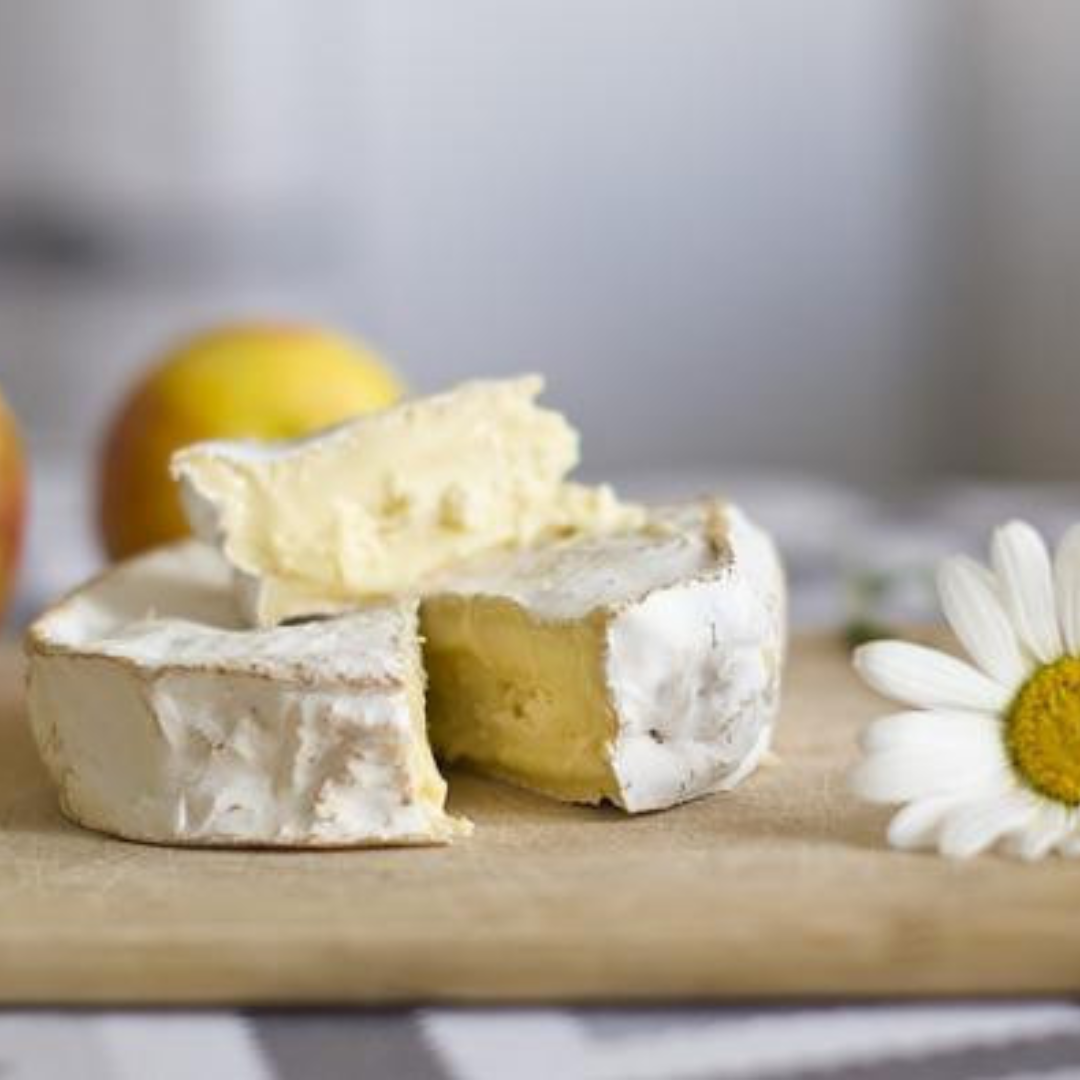 1. Easy Vegan Camembert Recipe
In my opinion, this vegan camembert tastes so good you will have a hard time believing that it is vegan. It's super easy, has no ageing required, and tastes as good or better than the 'real thing.' Enjoy it on a vegan baguette or as part of a vegan cheese platter.
Prep time: 10 minutes | Soak time: 1 hour | Cook time: 30 minutes | Total time: 1 hour 40 minutes | Servings: 2 small pieces of cheese
 Ingredients
Raw cashews: 1 cup (150g), soaked for 1 hour
Garlic: 2 cloves
Salt: ½ teaspoon
Nutritional yeast flakes: 1 tablespoon
Distilled white vinegar: 1 teaspoon
Onion powder: 1 teaspoon
Dijon mustard: 1 tablespoon
Vegetable stock/broth: ½ cup (120ml)
Ground rainbow peppercorns
Method
Place raw cashews into a medium-sized bowl. In a kettle, boil water and pour it over the cashews. Soak the cashews for 1 hour. Then drain and rinse them.
Preheat the oven to 350°F (180°C).
Pour the drained and rinsed cashews, the garlic, the salt, the nutritional yeast, the distilled white vinegar, the onion powder, the dijon mustard and the vegetable stock into the blender jug and blend until smooth.
Prepare two oven-safe round glass dishes or ramekins (~3 inches round, 2½ inches deep, see notes*) and line them with parchment paper. Use a rubber band to hold the parchment paper in place. Just remember to take it off before you start baking.
Pour the cheese mix into the prepared glass containers. Divide the mixture evenly between the two containers.
Sprinkle the ground rainbow peppercorns on top of the cheese.
Bake the cashew cheese camembert in the oven for 25-30 minutes.
Remove the vegan camemberts from the oven and cool to room temperature before placing them into the fridge to chill thoroughly before removing them from their glass dishes or ramekins.
Serve the vegan camembert on delicious and crispy vegan baguettes or as part of a vegan cheese platter.
 Recipe Notes
Nutritional yeast: You can omit the nutritional yeast. The vegan camembert recipe will still work. However, the camembert will lose some cheesiness.
Distilled white vinegar: The distilled white vinegar is best because it adds a delicious cheesy flavour to your vegan cheese recipes. You can also use apple cider vinegar. However, it doesn't work as well.
Ramekins: We used two small oven-safe ramekins (3 inches round, 2.5 inches deep). The size of the ramekins is not essential as long as the mixture fits into the container(s).
Let the cheese chill: It's ideal to let the cheese cool at room temperature before you move them to the fridge to chill thoroughly. You leave the cheese. You want your vegan camembert to be completely cold and feel firm to the touch. Once the cheese is chilled enough, removing them from the ramekins will be easier. The chilled cheese is better sliceable too.
Storing: You can store the vegan cheese in the fridge for about a week. Alternatively, you can freeze camembert for up to 3 months. Thaw it in the fridge and enjoy.
Nutrition Per Serving (1 of 8)
Calories: 111kcal
Carbohydrates: 7g
Protein: 3.7g
Fat: 8.3g
Saturated Fat: 1.4g
Sodium: 244mg
Fiber: 0.7g
Sugar: 1.1g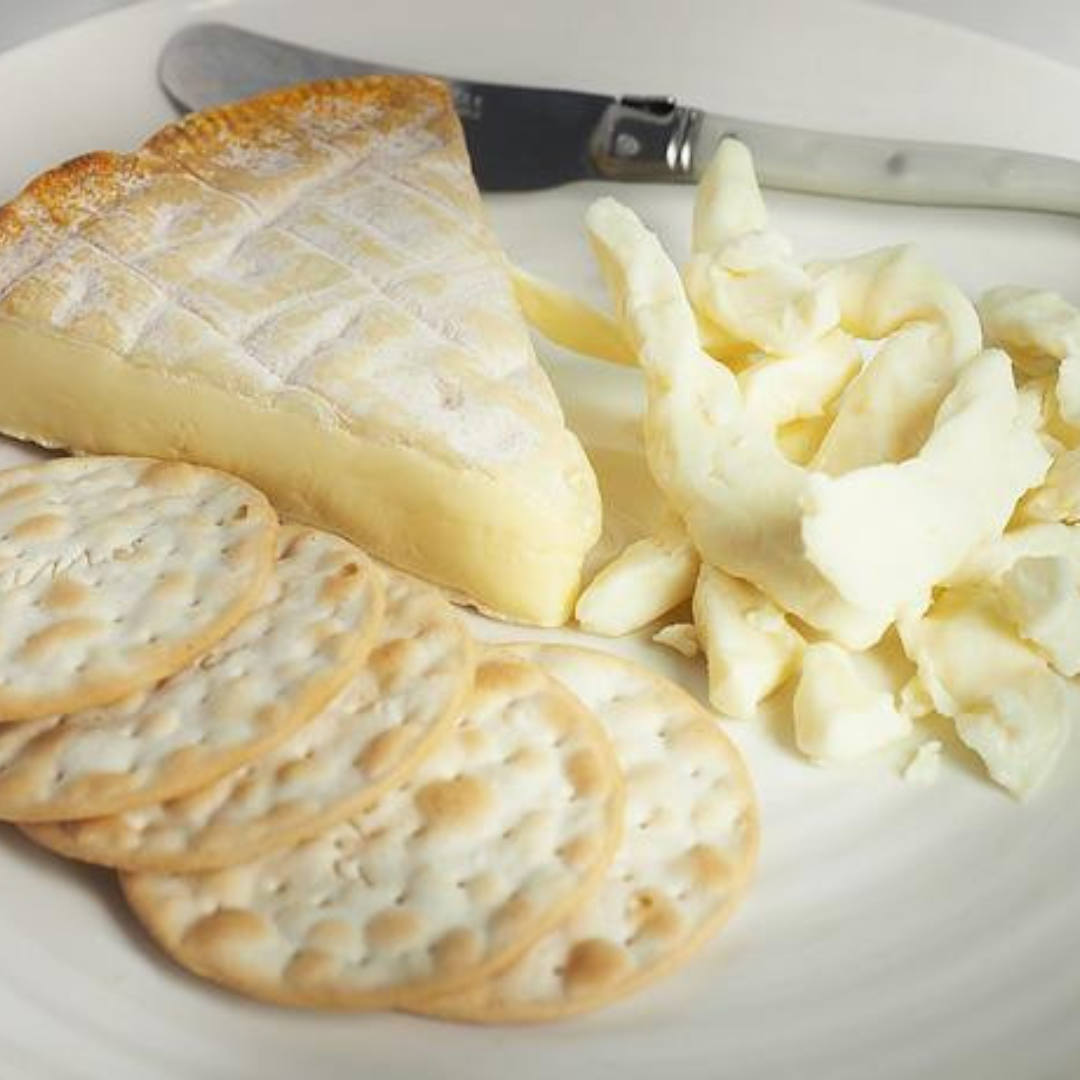 2. Vegan Camembert Made With Tofu
Prep time: 3-5 minutes | Cook time: 7-10 minutes |Total time: 10-15 minutes + Chilling time: 6-8 hours or overnight | Servings: 16
 Ingredients
Firm tofu: 16 oz (396g), drained but not pressed and broken up into pieces (see note 3)
Unsweetened non-dairy milk: 1¼ cups, or a bit more if needed
Raw sunflower seeds: ⅔ cup (see note 4)
Lemon: 1 medium, juiced
Unfortified nutritional yeast: ½ cup (fortified makes it more yellow but will still taste good)
Onion powder: 2½ tablespoons or to taste
Garlic powder: 2½ tablespoons or to taste
Gluten-free yellow or white miso paste: 2 tablespoons
Salt: 1 teaspoon or to taste
Agar powder: 1 tablespoon or Agar flakes: 3 tablespoons
Tapioca starch/flour: 6 tablespoons (see note 6)
 Method To Blend
Add all your ingredients and place everything in the blender or food processor, except the agar powder and tapioca starch.
Blend the mixture until it is smooth. Then taste it. The flavour will be the same way once it solidifies. Add more lemon juice, onion and garlic powder, miso paste or salt.
Thoroughly blend the mixture again and give it a last taste check.
Add the agar-agar and tapioca starch once your cheese tastes precisely the way you like.
Blend until the mixture is smooth again, then pour the contents of the blender into a small to medium non-stick saucepan.
We use a spatula to get all that cheesy goodness out of the blender!
Method For Cooking
Heat the saucepan over medium-high heat and stir continuously until the mixture starts to curdle. This step should take around 5-6 minutes.
Once the cheese starts to curdle, reduce the heat to medium-low. Continue cooking and stirring until the curdled cheese will transform into a glossy and thick consistency. It noticeably starts to pull away from the pan.
Now your cheese is ready to go into your prepared moulds.
Cooling And Chilling
Pour the cheese into the containers and let it cool to room temperature.
Then transfer it to the fridge. Remember that the containers you refrigerate the cheese in will be your completed cheese's shape.
You can enjoy your soft vegan camembert now or continue with the following steps.
I use round glass or ceramic containers that have covers. It makes it easier to store the vegan camembert.
Cover the containers and refrigerate the cheese for 6-8 hours overnight. Now your cheese is firm, and you can cut it easily.
Removing: To remove the cheese from the containers, carefully run a butter knife between the cheese and the container walls. Now flip the containers upside-down and tap them carefully onto a cutting board or a plate.
Serving: You can serve your camembert with a French baguette, my favourite. Alternatively, you can serve it as part of a cheese platter with fruit and crackers.
Storing: You can store the vegan cheese in the fridge for about a week. Alternatively, you can freeze camembert for up to 3 months. Thaw it in the fridge and enjoy.
Recipe Notes
Note 1: In this recipe, I used firm tofu. You can also use medium or soft tofu with less liquid added or extra-firm tofu with more liquid added. You want a thick pancake batter consistency.
Note 2: You can also use cashews to make vegan camembert. Please have a look at my other recipes.
Note 3: Agar powder is the seaweed derivative that enables this cheese to firm up. Agar powder is also known as agar-agar. When using Agar flakes, you will need 3 times as much as the powder. You might have to cook the mixture a bit longer, too, to dissolve the flakes.
Note 4: Tapioca starch enables you to make stretchy vegan cheeses, like my super famous melty vegan mozzarella. You can buy Tapioca starch in health food stores, chain grocery stores, and online.
Nutrition Per Serving
Calories: 73
Total Fat: 2.9g
Sodium: 129.6mg
Total Carbohydrate: 8.4g
Sugars: 0.3g
Protein: 4.5g
Vitamin A1%
Vitamin C2%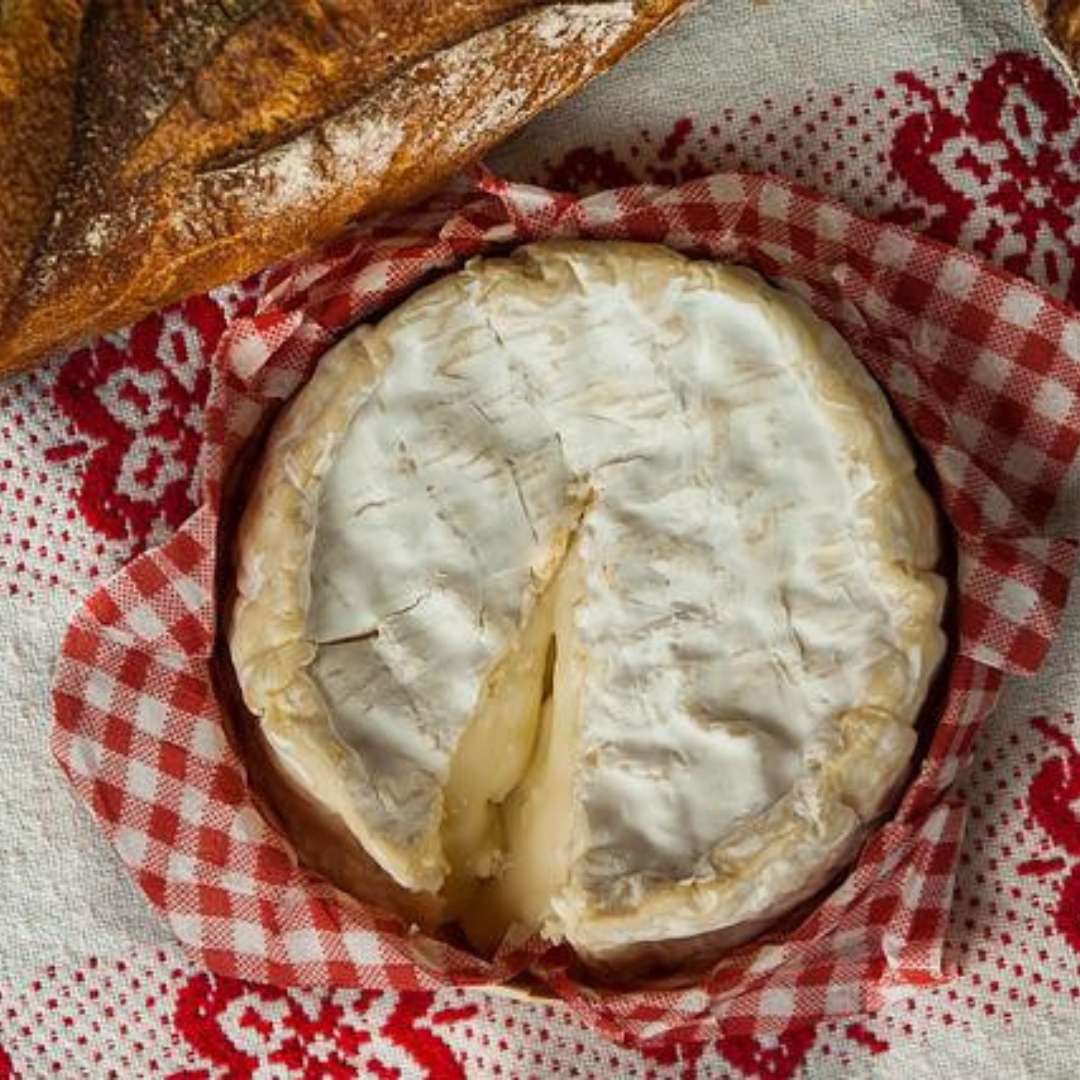 3. Easy Vegan Camembert Cheese
This creamy cashew camembert is delicious when you serve it with a warm crusty baguette as a weekend treat or when you have friends over. It is an excellent addition to a vegan cheese platter. My husband especially loves it with chutney sun-dried tomatoes.
Prep time: 10 minutes | Cook time: 20 Mins | Total time: 30 Mins | Servings: 2
Ingredients 
Cashews: 75 g / ½ cup, soaked in boiling water for 30 minutes and drained (Note: this step is not necessary for a high-power blender, like the Vitamix)
Water: 150 ml / ⅔ cup
Tapioca flour (tapioca starch): 2 tablespoons
Garlic: 1 clove, peeled
Apple cider vinegar: 1 teaspoon
Nutritional yeast flakes with B12: 1 tablespoon
Salt: ½ teaspoon
Ingredients For The Garnish
Fresh rosemary: 1 sprig (highly recommended as it imparts a beautiful flavour to the cheese)
Black pepper: 1 teaspoon or, to taste, freshly ground (omit if serving to children)
 Method
Preheat the oven to 180°C / 350°F. Line a shallow, small dish with parchment paper (the dish we use measures about 12cm x 4cm).
Add all the ingredients (except for the rosemary and pepper) to your professional-grade blender (Vitamix) and whizz on high speed until it is smooth.
Transfer the mixture to a pot and cook on medium heat, continuously stirring until it is smooth and thickens (about 2 minutes). Initially, it will go lumpy as it warms up, but don't worry, it is normal.
Keep stirring the mixture, and it will soon become smooth. Taste it, and add a touch more salt if you desire.
Pour the cashew mixture into the prepared dish and smoothen the top. Garnish with ground rosemary or rosemary needles if you like). Sprinkle with freshly ground black pepper.
Bake, the cheese mixture for 20 minutes or until the camembert cheese has formed a skin and is lightly browned around the edges. (I love to eat this vegan camembert with French bread. I usually warm it in the oven simultaneously).
Serve immediately with a delicious piece of crispy baguette or leave to cool before transferring to an airtight container. The vegan camembert will keep for up to five days in the fridge. Bring to room temperature or reheat in the oven for a few minutes before serving.
Nutrition Information Per Serving
Energy: 1012.5 kJ / 241.8 kcal
Fat: 16.5g

Saturated fat: 2.9g
Mono-unsaturated fat: 8.9g

Carbohydrates: 17.7g

Sugar: 2.4g
Starches: 15.7g

Fibre: 1.6g
Protein: 7.7g
Salt: 1.5g
Vitamin C: 0.7mg
Calcium: 19.9mg
Iron: 2.7mg
4. Vegan Camembert – Aged For 3 Weeks
Servings: 2 vegan camembert approx. 3 weeks
Ingredients
Cashews: 300 g (10.5 oz)
Water: 320 g (11.25 oz)
Mesophilic starter cultures (powder): ⅟₁₆ teaspoon
Penicillium candium (liquid or powder): ⅟₁₆ teaspoon
V-zyme: ½ teaspoon
Salt: 2 teaspoons
Method
In a highspeed blender, blend the cashews and the water until the mixture is creamy and smooth.
To age the camembert, your room temperature should be between 68-77°F (20-25°C). Sprinkle the liquid penicillium candium and mesophilic starter cultures onto the mixture and let it sit for about 5-6 minutes. Then add the Vzyme and blend the plant-based cheese mixture once more.
Transfer the cashew cheese mixture to a bowl. Cover it with a wet kitchen towel, and leave to ferment at room temperature for approx. 4 hours.
Boil the cheesecloth from the starter kit before you use it. Wring it out and line the camembert containers. Divide the fermented cashew mixture into the two forms and smoothen it out. Cover them well with the overhanging cheesecloth and apply some pressure on the top to get a smooth surface.
Let the cheese mixture rest in the fridge for approx. 24 hours.
After 24 hours, remove the cheesecloth from the cashew cheese and carefully place them onto a cheese mat. Sprinkle all sides with ½ teaspoon of salt and let the cashew cheeses dry at room temperature for about 1 hour.
Afterwards, refrigerate both cashew pieces of cheese (uncovered) for another 12 hours or until they are dry enough to touch.
After about 6 hours, turn the plant-based vegan cheeses over.
Once that's done, wrap both cashew cheese loaves in individual sheets of ripening wrap (or transfer them to a plastic container).
Over the next 2 weeks, they will develop mould. Your fridge temperature should be about 44-54°F (7-12°C).
Unwrap the vegan camembert every second day (or daily) and check if they are damp.
Use paper towels to dry any damp spots and dry the ripening wrap.
Wrap cashew cheeses once more, then put them back in the fridge (you can re-use the same wrap for one cashew cheese). If your cashew cheese is ripening in a container, wipe out the container if necessary.
After about 2 weeks, the mould will cover the whole cashew cheese. Dry them once more using paper towels. Then wrap them into special camembert paper. Continue to ripen the vegan camemberts in the fridge for another week to intensify the flavour.
5. Vegan Aged Camembert Cheese
Prep time: 50 minutes | Aging time: 14 days | Servings: 3
Ingredients
Raw cashews: 4 cups
Vegan probiotic Acidophilus: 8 capsules or mesophilic: ⅛ teaspoon
Filtered water (or boiled water cooled down): 8-10 tablespoons
Penicillium candidum: 4 drops ⅛ teaspoon
Sea salt: 2 teaspoons
Method For Preparing The Day Before
Soak the cashews overnight in filtered water (for at least 5 hours).
 Method For Forming The Cheese
Drain the cashews, add them to a large glass container (I like to use our large glass measuring cup), and cover them with boiling water. Let it sit for 1-2 minutes, and drain the cashews again. This step will help kill viable bacteria.
Place the cashews into a blender or a food processor. Add ½ cup of filtered water. Blend the cashews on high speed, scraping down the sides regularly until the mixture is very smooth and thick. This step might take up to 10 minutes (it depends on the blender's strength).
Add the probiotic powder (open the capsules) to the bowl.
Add ⅛ teaspoon (~4 drops) of the liquid penicillium candidum. (or ⅟₁₆ teaspoon of penicillium candidum powder).
Blend the mixture again for another 10-15 seconds on high speed.
You want the cashew cream to be smooth but quite thick. Slowly add tablespoon by tablespoon of water until the mixture is smooth. Only add what you need. Too much water will turn the cheese mixture too liquidy.
Transfer the cashew cream mixture to a clean glass bowl, cover it with plastic film to touch, and let it sit at room temperature for one day in a dark place. This step is essential for the cheese to ferment.
The following day, place the bowl into the refrigerator for about 4 hours. The cashew cream will firm up, and it becomes easier to handle.
Cover a clean baking sheet or flat plate with parchment paper. Place the 3 small springform pans (I used 4-inches pans without the bottom) onto the baking sheet.
Prevent the cheese from touching the metal by cutting several strips of parchment paper and laying them into the springform pans. If you want to cover the sides of the springform pans, you can also use plastic film.
Fill each pan with the mixture and smoothen the top with the help of the plastic film (you don't want it to stick to your hands).
Method For The Ageing
Cover each cheese with a plastic box or a bowl. This step is essential to prevent the cheeses from drying. Let it sit in a room at about 52-56°F (11-13°C). You can also age the camembert in the refrigerator. However, the mould will grow a bit slower.
Note: You will age the cheeses, covered, at this temperature for the next two weeks. Don't store the camembert at a temperature above 56°F (13°C).
On the next day, carefully remove the cheese from the springform pans. Sprinkle the salt over the top of the cheeses. Next, carefully flip them with the help of another plate lined with parchment paper. Sprinkle all the sides with salt. The camembert will still be very soft, like cream cheese.
The salt will remove some moisture, and the vegan cheese will be easier to handle after 3-4 days.
Continue flipping the cheese every day but do not resalt.
Please always use clean hands or work with gloves (or plastic film) to ensure the cheese remains clean.
After about 7 days, the cheese should be a little harder, and you should place them on a bamboo mat or plastic grid.
Flip the cheese every day for the next week. The mould will appear after 5-7 days and grow until the white rind fully covers the camemberts.
After approx. 2 weeks, wrap the cheese in parchment paper or cheese paper and leave them in the fridge to age for a minimum of 2 days to give them a chance to age. (Please note: The longer you let the vegan camembert age in the refrigerator, the stronger it tastes).
Enjoy with some baguette (or Ficelle if you live in France), fresh grapes and pine nuts!
The vegan camembert will keep for at least 1 month in the refrigerator.
Nutrition Per Serving (⅛ of a cheese)
Calories: 98 kcal
Carbohydrates: 5 g
Protein: 3.2 g
Fat: 8.5 g
Fibre: 0.6 g
Sugar: 1 g
6. Vegan Baked Camembert
Cook time: 20 minutes
Ingredients For The Cheese
Raw cashews: 1 cup
Water: 6¾ ounces
Nutritional yeast: 5 tablespoons
Miso paste: 1 tablespoon
Apple cider vinegar: 1 tablespoon
Tapioca starch: 1 tablespoon
Garlic powder: 1 teaspoon
Mustard powder: ¼ teaspoon
Ingredients To Serve
Rosemary
Garlic: 2 cloves, thinly sliced
Method
Soak the cashews in filtered water (overnight is best; otherwise, for a minimum of 4-5 hours). Alternatively, you can also pour boiling water over them and soak them for 30 minutes.
Drain the cashews and place them into a blender with the water, the nutritional yeast, the miso, the vinegar, the tapioca starch, the garlic and the mustard powder. Blend until smooth. The mixture should be pretty liquid.
Pour the cashew mixture into a medium-sized saucepan and heat over low heat, stirring continuously. The cashew mixture will begin to thicken. At first, it will be lumpy. Continue stirring. Soon the mixture will have the texture of gooey melted cheese. Remove it from the heat.
Line two shallow 4-inch diameter dishes with baking paper, making sure the paper comes up the sides. Pour the mixture into the dishes.
Thinly slice the two cloves of garlic lengthways. Press garlic slices and rosemary sprigs into the vegan cheese.
Place the 2 dishes into the oven at 395 °F for 15-20 minutes. The top will puff up a bit and rise and should go slightly brown and crispy.
Remove from the oven and enjoy. You can reheat this baked camembert in the oven by covering it with foil and putting back in for 5-10 minutes to heat up.
7. Baked Vegan Camembert
This vegan baked camembert will make every cheese lover's heart beat faster. This plant-based oven cheese works without animal products and makes the camembert wonderfully creamy.
Preparation Time: 15-20 minutes | Cooking Time: 20-25 minutes | Total Time: 35-40 minutes | Servings: 4-6
Ingredients For The Camembert
Cashews: 75 g
Water: 200 ml
Salt flakes: 1 teaspoon
Garlic: 1 large clove
Nutritional yeast flakes: 1 tablespoon
Apple cider vinegar: 1 teaspoon
Tapioca flour/starch: 2 tablespoons
Ingredients For Baking
Rosemary: 1 sprig
Garlic: 2 cloves
Olive oil: ½ tablespoon
Freshly-ground black pepper
 Method
Preheat the oven to 180°C and cover the inside of a small baking dish with baking paper. Put all the camembert ingredients into a blender jug and mix at high speed until the watery mixture is entirely smooth.
Pour the cashew mixture into a saucepan and cook on low to medium heat, stirring constantly. When it starts to thicken, the mixture will look quite lumpy at first! Continue stirring until the mixture is thick and gooey in texture, like melted cheese, but still runny enough to pour. Add more salt to the cashew cheese mixture if you like.
Pour the cheese mixture into the small glass dish. Slice the remaining garlic cloves into slivers and gently push them into the surface of the camembert. Top it with some olive oil, black pepper, and a few sprigs of rosemary (I usually ground it).
Bake the vegan camembert cheese in the oven for approximately 20 minutes, checking after 15 minutes. It will puff up slightly during baking once the cheese has a light-golden outer skin with a warm, gooey middle. Best devoured immediately.
Recipe Notes
You can store any leftover cheese in the fridge and reheat it in the oven. However, if heated twice, the consistency will be a bit firmer.
With a powerful blender, you can omit the step of soaking the cashews. However, the cheese mixture will be a bit less creamy.
You can prepare the cheese mixture in advance, store in the fridge and bake it shortly before you serve it. Add 5-10 minutes of baking time if the cheese mixture is cold.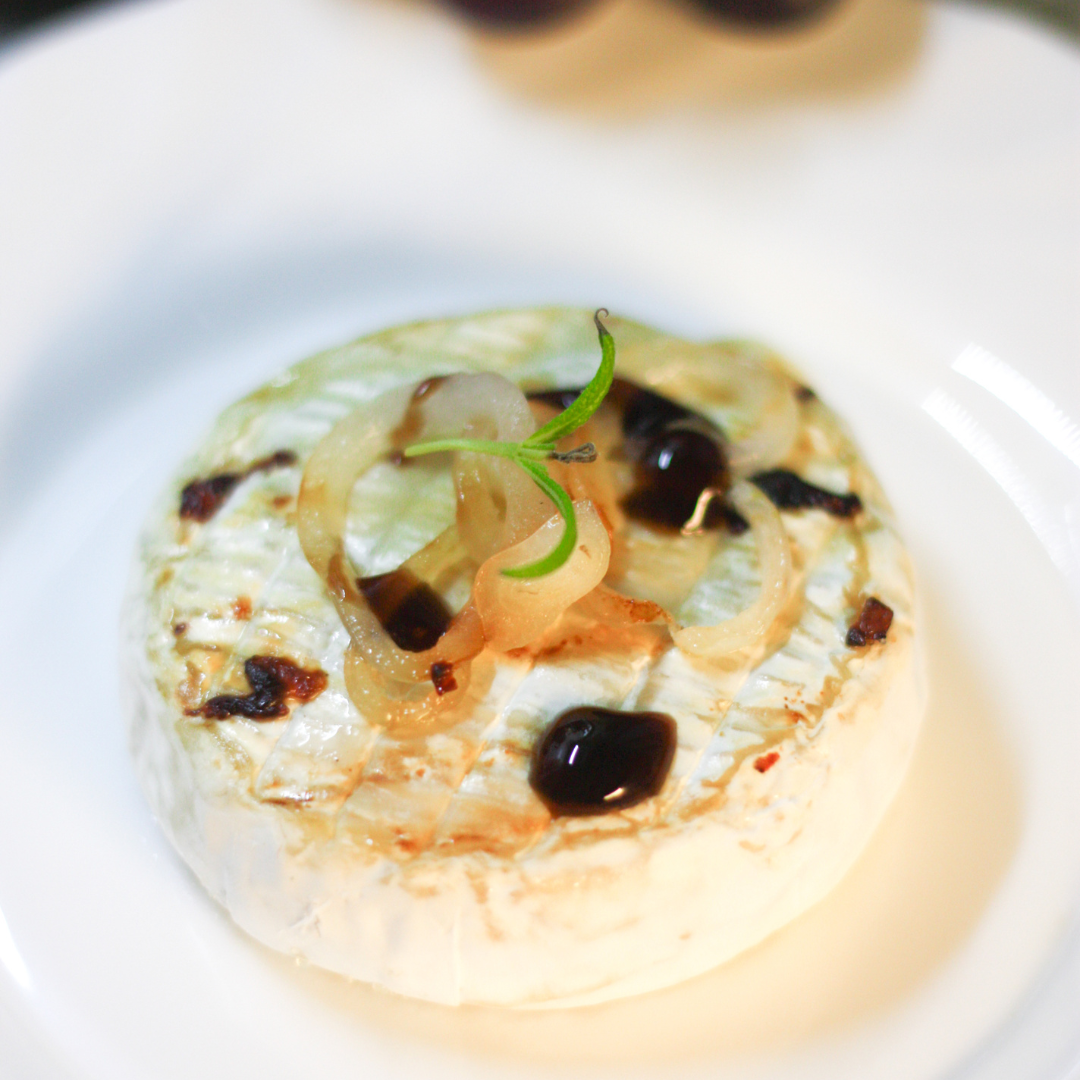 Conclusion
In this blog post, I introduced 7 variations of making vegan camembert. As you can see, there are quick ways and very long ways of making this delicious French cheese.
The vegan camembert tastes lovely when served on an authentic vegan French baguette.
I trust you enjoyed this article about the 7 Delicious Vegan Camembert Recipes. Please stay tuned for more blog posts to come shortly. Take care!
JeannetteZ
Your Opinion Is Important To Me
Ideas? Thoughts? Questions? I would love to hear from you. Would you please leave me your questions, experience, and remarks about this article on the 7 Delicious Vegan Camembert Recipes, in the comments section below? You can also reach me by email at Jeannette@LivingTheVeganLifestyle.org.
Disclosure
This post may contain affiliate links. As an Amazon Associate and other affiliate programs, I earn from qualifying purchases. Read my full disclosure.
Here are links to some of my favourite articles:
Yummy Breadfruit Recipes With Health Benefits
5 Delicious Vegan Blue Cheese Recipes
7 Delicious Vegan Jackfruit Salad Recipes
6 Delicious Vegan Crab Cake Recipes
Italy Vegan Travel Guide With Popular Vegan Restaurants
India Vegan Travel Guide With Popular Vegan Restaurants