10 Amazing Vegan Dinners For Weight Loss
10 Amazing Vegan Dinners For Weight Loss
Dinner ideas for vegans who want to lose delicious and healthful weight. They're pretty full, with plenty of protein, vegetables, and healthy fats to aid weight loss.
Here's a list of 10 AMAZING Vegan Weight Loss Recipes that can help you lose weight healthily and deliciously! They're all under 350 calories and gluten-free too!
1. Tomato Basil Soup
This is the simplest Tomato Basil Soup you'll ever make, and it's so fresh and vivid. It takes 10 minutes to create and only requires 4 ingredients (plus salt, pepper, and optional olive oil).
Prep time: 5 minutes | Cook time: 10 minutes | Total time: 15 minutes | Servings: 4 – 6
Ingredients
Olive oil: 1 teaspoon
Onion chopped: 1 medium
Cloves of garlic chopped: 3 large
Chopped fresh tomatoes: 7 cups
Basil leaves: 1 handful
Salt adjust to taste: 2 teaspoons
Pepper adjust to taste: 1 teaspoon
Method
Add the oil or a couple of tablespoons of water to a pan over medium heat.
When the pan is hot, add the onions and garlic, and sauté for a few minutes until the onions and garlic start turning golden.
Toss in the tomatoes, chopped. Cook, occasionally turning, over medium heat until the tomatoes have broken down and become mushy.
Remove from the heat, add the basil, salt, and pepper, and mix until smooth in a blender or stick immersion blender.
Serve right away.
2. One-Pot Bean Chilli
This excellent Vegan One-Pot Bean Chili is vegan and gluten-free. This dish is ideal for a quick vegan lunch or dinner. It's also oil-free and gluten-free!
Prep time: 10 minutes | Cook time: 15 minutes | Total time: 25 minutes | Servings: 4
Ingredients
SunRidge Farms Organic Chilli Colorado Blend: 1 cup + 4 cups water (or 1 cup uncooked beans of your choice)
Onion: 1 medium, chopped
Garlic: 2 cloves minced
Bell pepper: 1 yellow, chopped
Water: 3 tablespoon + 4 cups
Diced tomatoes: 1 can
Chilli powder: 1½ tablespoons
Paprika: ½ tablespoon
Sea salt: ¼ teaspoon
Cayenne: 1 dash
Salt and pepper to taste
Fresh herbs to garnish (optional)
Method
In a large pot, combine the chilli bean mixture and 4 cups of water and boil. When boiling, turn off the heat and let the beans soak for one hour.
Strain the beans into a sieve. Drain and rinse.
Add 3 tablespoons of water to the pot and cook onion, garlic, and bell pepper for 5 minutes over medium heat. If required, add more water to prevent sticking. Stir the mixture constantly.
Bring the soaked beans and the additional ingredients (excluding the optional garnish) to a boil.
Reduce to low heat and cook, covered, for 2 hours or until the beans have softened completely. To avoid sticking, stir occasionally. Note: after about 1 hour, taste (carefully!) to see if more spices are needed; if so, add them now.
3. Baked Tofu
Baked tofu is a delicious plant-based protein that is quick and easy to prepare. It's effortless to make: mix up a marinade, soak the tofu, lay it out on a pan, bake, and eat! Crispy, flavorful, and ready to add some zing to salads, noodle bowls, sandwiches, and more.
Prep time: 10 minutes | Cook time: 30 minutes | Total time: 40 minutes | Servings: 4
Ingredients
Extra-firm tofu: 8 oz
Tamari (gluten-free soy sauce): 4 tablespoons
Maple syrup: 2 tablespoons
Sesame oil: 2 tablespoons
Hot pepper sauce: ½ tablespoon
Method
Preheat the oven to 400 degrees Fahrenheit. Set out a nonstick pad to cover a cookie sheet or baking dish.
Drain the tofu and press it for 15-30 minutes after wrapping it in a clean cloth.
Cut the tofu in half widthwise when adequately drained, then cut each half into 16 pieces.
Place the cubes in a big mixing bowl and set them aside.
To make the marinade, mix the remaining ingredients in a small dish.
Toss the tofu with the marinade to coat it. Allow for at least 30 minutes of resting time.
Drain and toss out the marinade. Arrange the tofu in a single layer on the baking sheet that has been prepared.
Bake for 10-15 minutes. Flip the cubes and bake for another 10-12 minutes or until golden brown.
Before serving, allow it to cool somewhat.
4. Vegan Spaghetti Squash Mac'n Cheese
This Vegan Spaghetti Squash Mac 'n Cheese is incredible! This dish is ideal for a nutritious lunch or dinner. It's also paleo, gluten-free, dairy-free, oil-free, high-protein, and gluten-free. This Vegan Spaghetti Squash Mac 'n Cheese is the ideal lightened-up comfort dish. Spaghetti squash is high in fiber, vitamin C, B vitamins, manganese, and potassium, which benefit one's health. It also has a low-calorie count of only 40 calories per CUP! A cup of genuine spaghetti costs about 200 calories! Crazy.
Prep time: 15 minutes | Cook  time: 1 hour | Total time: 1¼ hours | Servings: 2
Ingredients
Spaghetti squash: 1 large
Broccoli florets: 2 cups
Ingredients For The Cheese Sauce
Unsweetened non-dairy milk: 1.5 cups
Dijon mustard: 4 tablespoons
Yellowbird Habañero sauce: 2 tablespoons
Low-sodium soy sauce: 2 tablespoons
Nutritional yeast: ¾ cup
Coconut flour: 2 tablespoons
Garlic powder: 1 teaspoon
Onion powder: 1 teaspoon
Salt & pepper, to taste
Method
Preheat the oven to 400 degrees Fahrenheit and line a baking sheet with foil.
Bake for one hour after slicing spaghetti squash lengthwise.
Broccoli cooked in the steamer Place broccoli in a microwave-safe dish, add two tablespoons of water, cover with a microwave-safe plate, and microwave on high for 3-4 minutes or until broccoli is softened to your preference.
In a blender or mixing bowl, thoroughly combine all cheese sauce ingredients.
Remove the seeds and scrape the "noodles" into a large mixing dish with a fork when the spaghetti squash is done.
Broccoli is added.
Mix thoroughly after pouring the sauce on top.
5. Cauliflower Bites With Tangy Avocado Slaw
Baked BBQ cauliflower pieces, tangy avocado salad, and cilantro lime quinoa make the perfect savoury family dinner. In 30 minutes, you'll be ready to eat! There's nothing quite like a quick and easy dinner that doesn't involve much thought but fills you up like a gourmet meal.
Prep time: 10 minutes | Cook time: 20 minutes | Total time: 30 minutes | Servings: 4
Ingredients For The BBQ Cauliflower Bites
Cauliflower: 1 head, chopped into bite-sized pieces
BBQ sauce: 1 cup
Ingredients For The Tangy Avocado Slaw
Avocado: ¾ – 1 cup
Shredded cabbage: 4 cups
Lime juice: 1 tablespoon
Sea salt: ½ teaspoon
Ingredients For The Cilantro Lime Quinoa
Water: ¾ cup
Uncooked quinoa: ½ cup
Chopped cilantro: ¼ cup, divided
Sea salt: ¼ teaspoon
Lime juice: 1 tablespoon
Method
Preheat the oven to 450 degrees Fahrenheit (230° Celsius).
In a small pot, combine the quinoa, water, 2 tablespoons chopped cilantro, and salt if preparing quinoa.
Bring to a boil on the stovetop over high heat (about 5-7 minutes).
Cover, reduce the heat and cook once the water has been absorbed for another 12-15 minutes.
Remove from the heat and set aside until you've finished everything else. Follow the instructions in the notes if you're using ready-made rice.
Meanwhile, combine the chopped cauliflower with the BBQ sauce in a mixing dish.
Place on a cookie sheet lined with parchment paper.
Preheat oven to 350°F and bake for 20-25 minutes or until golden brown and sticky. If you prefer your cauliflower al dente but make the tangy avocado slaw, combine all slaw ingredients while baking.
Remember to keep an eye on the quinoa while the cauliflower bakes.
When the cauliflower is done, fluff the quinoa with a fork and stir in the remaining 2 tablespoons of cilantro and the lime juice. Mix thoroughly.
Divide everything into 4 bowls, top with more BBQ sauce if desired, and eat!
6. Lentil Chilli
This meatless lentil chilli is ideal for a weeknight meal. It's flavorful but not too spicy and packed with healthful plant-based protein and fiber. An aromatic base of onion, celery, and green peppers forms the foundation of a fantastic chilli. Sautéed in the saucepan until they soften, the spices are added, and the additional ingredients are added to the pot and allowed to boil for a few minutes.
Prep time: 10 minutes | Cook time: 35 minutes | Total time: 45 minutes | Servings: 6
Ingredients
Cooking oil: 2 tablespoons
Diced Celery: 2 stalks
Diced Onion: 1
Diced Green pepper: 1
Cans diced tomatoes: 28 fl. oz.
Drained red kidney beans: 19 oz.
Pinto beans: 19 oz can, drained
Lentils: 19 oz can, drained
Chilli powder: 2 tablespoons
Smoked paprika: 1 teaspoon
Garlic powder: 1 teaspoon
Ground cumin: ½ tablespoon
Salt and pepper to taste
Method
Heat the oil in a big pot over medium heat. Add the celery, onion, and green pepper to the pot once the oil has heated up and season with salt and pepper.
Cook, occasionally stirring, for 2-3 minutes or until the veggies begin to release their liquids and turn translucent.
Stir in the chilli powder, smoked paprika, garlic powder, and crushed cumin until the vegetables are well covered.
Cook for an additional 2 minutes.
Season the diced tomatoes, kidney beans, pinto beans, and lentils with salt and pepper before adding them to the pot.
Bring to a boil, reduce to low heat and cook for at least 30 minutes.
7. Vegan Wellington
If you haven't had a Vegan Wellington before, now is the year to do it. It's a real eye-catcher! You'll need a few essential ingredients that you may get at your local supermarket.
Prep time: 25 minutes | Cook time: 50 minutes | Total time: 1¼ hours | Servings: 6
Ingredients
Frozen puff pastry sheet: 1
Carrot: 1, peeled and chopped
Celery: 1 stalk, chopped
Vegan butter or oil: 2 teaspoons
Dry lentils (green or brown): ⅔ cup
Water: 2 cups
Vegan Worcestershire sauce: 2 teaspoons
Vegetable or "no beef" bouillon: 1½ teaspoons
Garlic powder: 1½ teaspoons
Onion powder: 1 teaspoon
Paprika: ½ teaspoon
Sage: ½ teaspoon
Thyme: ½ teaspoon
Black pepper: ¼ teaspoon
Kale: 2 cups, chopped
Unsalted sunflower seeds: ½ cup, roasted and chopped
Panko breadcrumbs: ¼ cup
Non-dairy milk: 2 tablespoons
Soy sauce or salt to taste
Method
Place the puff pastry on the counter to thaw.
Sauté the carrots and celery in the vegan butter/oil or vegetable stock in a medium-sized pot until soft.
In a large mixing bowl, combine the lentils, water, bouillon, onion powder, garlic powder, vegan Worcestershire sauce, paprika, sage, thyme, and pepper.
Bring to a boil, then reduce to low heat and continue to cook for 15-20 minutes or until the lentils are soft and the liquid has been absorbed. If necessary, season with salt or soy sauce.
Remove the saucepan from the heat but leave it on the burner. Combine the kale and sunflower seeds in a mixing bowl. Five minutes, or until the kale has wilted, cover the pot.
Add the breadcrumbs and mix well. Allow the lentil mixture to cool until it is warm, not hot.
Preheat the oven to 400 degrees Fahrenheit.
You can start building your vegan wellington once the puff pastry has thawed and become malleable.
Fill the center third of the puff pastry with the lentil mixture and roll it into a log. Allow an inch of space around the edges. Make sure it's tightly packed.
Tightly fold the puff pastry sides over the top of the lentil mixture. There should be about a half-inch overlap on each side. Pinch the edges, seal them, and tuck them in. Use water to aid in the formation of a more secure seal.
Use parchment paper or a silicone baking mat to line a baking pan. Place the wellington, seam-side down, on top of it.
After scoring the pastry, brush it with the non-dairy milk (this will create a golden crust as an egg wash would.)
Preheat oven to 350°F and bake for 30 minutes or until golden brown.
Allow cooling for 5 minutes before cutting slices with a sharp knife.
8. Jackfruit Chilli
This vegan jackfruit chilli is the perfect comfort food. This is the weeknight wonder dish you've been seeking, packed with plant-based goodness and zesty spices. You can set and forget your crockpot until dinnertime with just 15 minutes of prep time! This easy vegan jackfruit chilli recipe calls for a few ingredients, most likely already in your pantry.
Prep time: 15 minutes | Cook time: 2 hours 30 minutes | Total time: 2¾ hours | Servings: 8
Ingredients
Jackfruit: 20 oz.
Onion: 1, chopped
Red pepper: 1 chopped
Crushed tomatoes: 20 oz. can
Tomatoes with chilli peppers: 10 oz.
Green chilli peppers: 4 oz, diced
Corn: 1 cup
Black beans: 15½ oz. drained and rinsed
Vegetable broth: 1 cup
Garlic powder: 1½ tablespoons
Oregano: 1 teaspoon
Chilli powder: ½-2 tablespoons
Paprika: 1 teaspoon
Cumin: 2 teaspoons
Maple syrup: 1 tablespoon
Salt: 1 teaspoon
Pepper: 1 teaspoon
Juice of one lime
Method
Drain and rinse the jackfruit. Separate the pieces a little. You can toss the seeds if you don't like them. Another method is to pulse the jackfruit many times in a food processor until it resembles pulled pork.
In a crockpot, combine all of the ingredients.
Cook for 2½-3 hours on high or 5-6 hours on low.
Enjoy!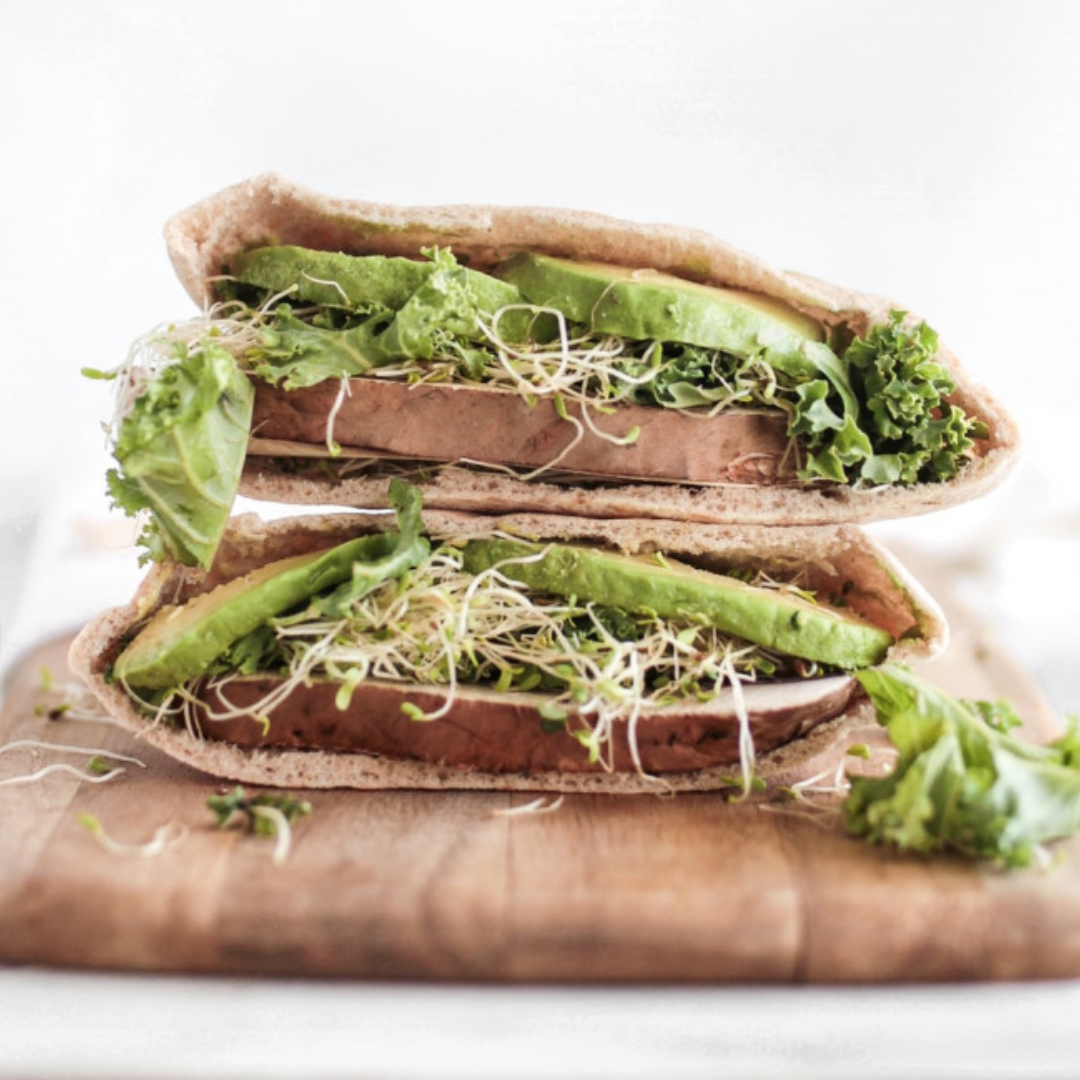 9. Avocado Chickpea Salad Collard Wraps
Vegan Avocado Peach Chickpea Salad Collard Wraps are a quick and easy dinner recipe that is delightfully green and healthful.
Prep time: 10 minutes | Cook time: 10 minutes | Total time: 20 minutes  Servings: 2-3
Ingredients
Ripe avocado: 1
Chickpeas: 1½ cups, drained and rinsed
Celery: 1 medium stalk, diced
Bell pepper: ½ large, diced
Carrot: 1 medium diced
Lemon: 1, juiced
Cilantro: ¼ cup, chopped
Salt: ½ teaspoon
Pepper: ¼ teaspoon
Collard: 6 leaves
Method
Mash the avocado in a small bowl.
Chickpeas should be placed in a large mixing dish and mashed thoroughly using a potato masher or fork. Stir in the carrots, celery, and bell pepper. Stir in the lemon juice, cilantro, mashed avocado, salt, and pepper until everything is well mixed.
Using a chopping board, lay a collard leaf flat. Fill the leaves with roughly ⅓-½ cup chickpea salad. Roll the leaf like a tortilla by folding it in the edges.
Rep with the remaining chickpea salad.
Refrigerate for up to 5 days if stored in an airtight container.
10. Tangy Tempeh Salad
As a vegetarian or vegan, getting enough protein isn't difficult. Tempeh is a good source of protein, manganese (a vital nutrient involved in various biological processes), iron, and calcium.
Check out our vegan protein guide if you're interested in learning more about protein.
Ingredients
Radishes: 6
Tempeh: 200g
Cucumber: ½
Salt: 1 teaspoon
Olive oil: 1 tablespoon
Green beans: 1 cup
Maple syrup: 2 tablespoons
Tomato paste: 1 tablespoon
Paprika: 1 teaspoon
Sesame oil: ½ teaspoon
Soy sauce: 2 tablespoons
Ingredients To Serve (Optional)
Your favourite vinegar: 2 tablespoons for extra tang. Also, throw in whatever leftover vegetables you have!
Method
Peel and thinly slice the cucumber and radishes—place in a large mixing bowl with a pinch of salt. After around 10 minutes, the salt will take out any extra water you may tip away.
Meanwhile, slice the tempeh into small pieces.
Green beans should be roughly chopped.
Cook the tempeh for five minutes on medium heat before adding the green beans, maple syrup, soy sauce, tomato paste, paprika, and sesame oil.
Cook for a few minutes, then combine everything in the bowl with the radish and cucumber. Mix everything up well, then serve and enjoy! Tempeh is best eaten as soon as possible.
Conclusion
I hope you will love these amazing vegan dinner recipes for weight loss. If you have a query, take a quick look at the comments section; you can discover an answer immediately, or you can ask me the question, and I will get back to you. Your comment makes our day.
I trust you enjoyed this article about the 10 Amazing Vegan Dinners For Weight Loss. Please stay tuned for more blog posts to come shortly. Take care!
JeannetteZ
Your Opinion Is Important To Me
Ideas? Thoughts? Questions? I would love to hear from you. Would you please leave me your questions, experience, and remarks about this article on the 10 Amazing Vegan Dinners For Weight Loss, in the comments section below? You can also reach me by email at Jeannette@LivingTheVeganLifestyle.org.
Here are links to some of my favourite articles:
Best Vegan Restaurants In Algiers, Algeria
Best Vegan Restaurants In Luzern, Switzerland
Best Vegan Restaurants In St. Gallen, Switzerland
5 Amazing Vegan Birthday Cake Recipes For Your Kids
12 Amazing Vegan Appetizers For Your Kids