6 Delicious Vegan Recipes Using Rosemary
6 Delicious Vegan Recipes Using Rosemary
These delicious vegan rosemary holiday recipes are ideal for your dinner table! Rosemary has a woodsy peppery flavour that works well in recipes. It's delicious with baked goods, potatoes, and mushrooms. Use these holiday rosemary recipes to add style and flavour to your holiday gatherings!
Health Benefits Of Rosemary
Rosemary (Rosmarinus officinalis) is a woody-scented evergreen plant with needle-like leaves. It is one of the world's most popular aromatic and therapeutic plants, despite being best recognized as a food seasoning. Rosemary essential oil is extracted and sold in small bottles.
It contains the plant's essential components or essence. It is not a natural oil, despite its name, because it lacks fat. Many scientists are currently researching rosemary oil's possible health advantages due to its use in folk medicine.
Even though most of this research is still in its early stages, it supports several conventional uses of the oil and points to potential new ones.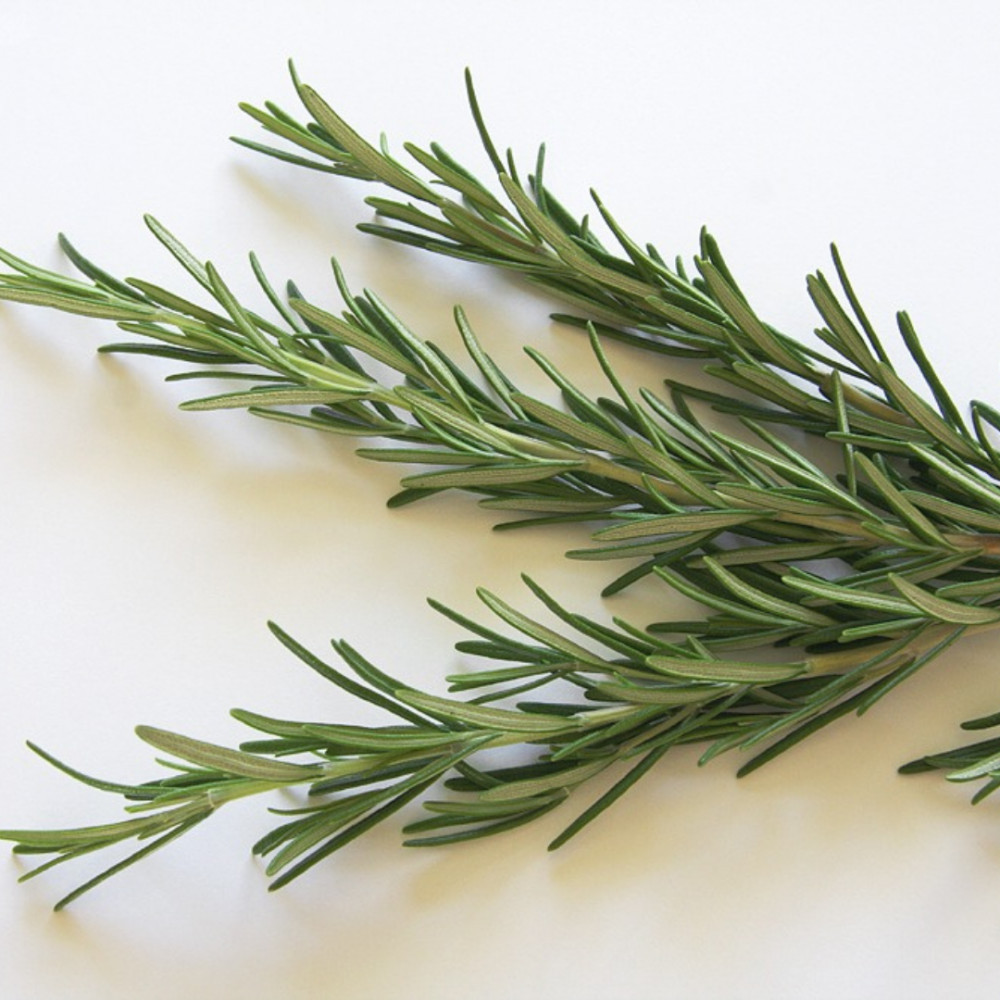 1. May Improve Brain Function
Rosemary was supposed to improve memory in ancient Greece and Rome. According to research, research, inhaling rosemary oil helps to reduce the breakdown of acetylcholine, a brain chemical vital for thinking, focus, and memory.
When 20 young people were asked math questions in a small room with rosemary oil diffused, their speed and accuracy directly improved to the length of time the oil was diffused.
Their blood levels of particular rosemary components also increased, demonstrating that rosemary may enter the body simply by inhaling. In a similar study, nursing students who inhaled rosemary oil while taking an exam reported improved concentration and information retention compared to those who inhaled lavender or no essential oil at all.
2. Stimulates Hair Growth
Androgenetic alopecia, often known as male pattern baldness, is one of the most frequent causes of hair loss, though it can also affect women. Rosemary oil helps prevent a byproduct of testosterone from destroying your hair follicles, which causes androgenetic alopecia.
Men with androgenetic alopecia who massaged diluted rosemary oil twice daily into their scalp for six months saw the same rise in hair thickness as those who used minoxidil (Rogaine), a standard hair restoration therapy.
Additionally, compared to minoxidil, those who took rosemary oil reported reduced scalp itching, suggesting that rosemary may be more bearable.
Other research suggests that rosemary oil can help with alopecia areata, or patchy hair loss, which affects up to half of the population under 21 and roughly 20% of persons over 40.
People with alopecia areata who rubbed a rosemary essential oil blend into their scalp every day for seven months saw a 44 percent reduction in hair loss, compared to only 15% in the control group who used the neutral oils jojoba and grapeseed.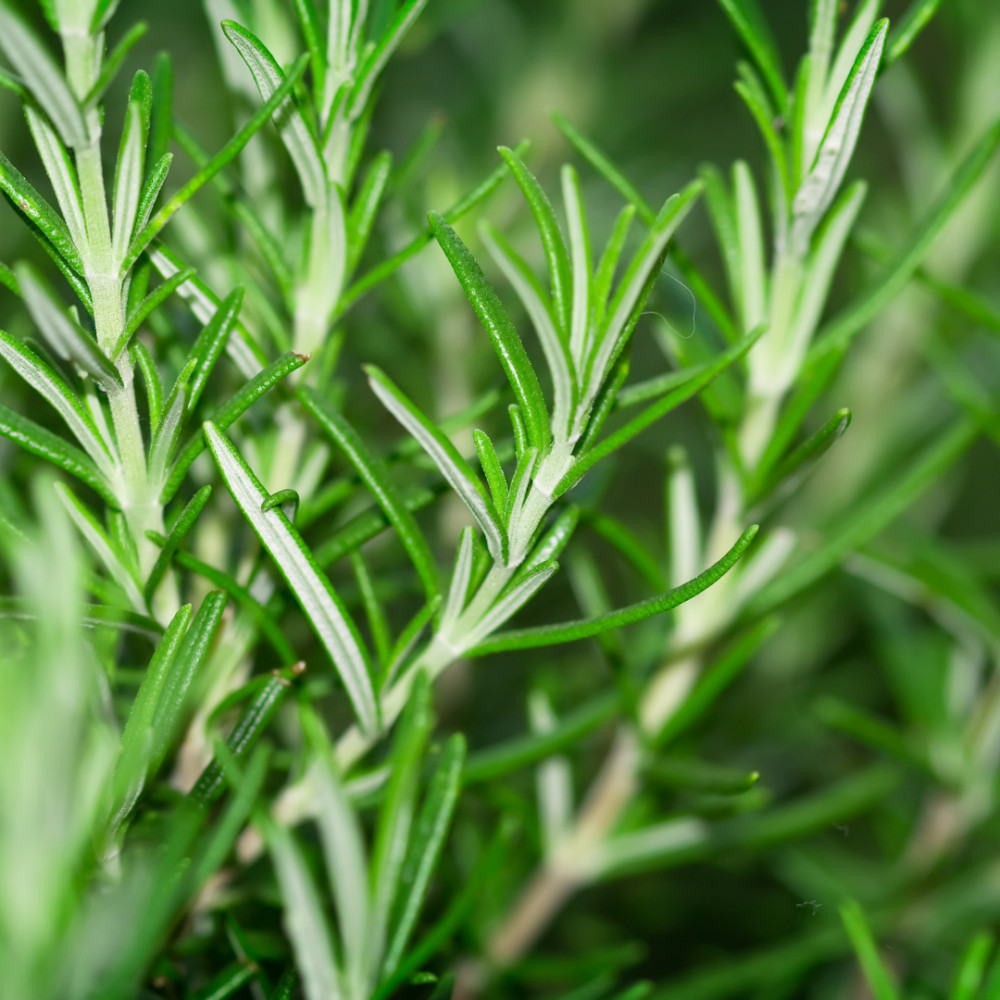 3. May Help Relieve Pain
Rosemary is moderate pain relief in folk medicine. Stroke survivors with shoulder discomfort who got a rosemary oil blend with acupressure for 20 minutes twice daily for two weeks saw a 30% reduction in pain. The pain of those who simply received acupressure was reduced by 15%.
Furthermore, an animal study found that in treating pain, rosemary oil was marginally more effective than acetaminophen, a typical over-the-counter pain reliever.
4. Repels Certain Bugs
Consider rosemary oil as a natural alternative to chemical treatments for repelling hazardous insects that may bite you or infest your garden. Control, a rosemary-oil-based pesticide, reduced the number of two-spotted spider mites by 52 percent without hurting the plants when sprayed on greenhouse tomato plants.
Rosemary can also deter blood-sucking insects that can carry viruses and germs. Compared to 11 other essential oils, rosemary oil had the most effective repellant effect on Aedes aegypti mosquitos, spreading the Zika virus.
For 90 minutes, a dilution of 12.5 percent rosemary oil repelled 100 percent of mosquitoes. A spray containing 10% rosemary oil was also found to be as effective as the chemical insecticide bifenthrin in preventing the spread of black-legged ticks, which carry Lyme disease.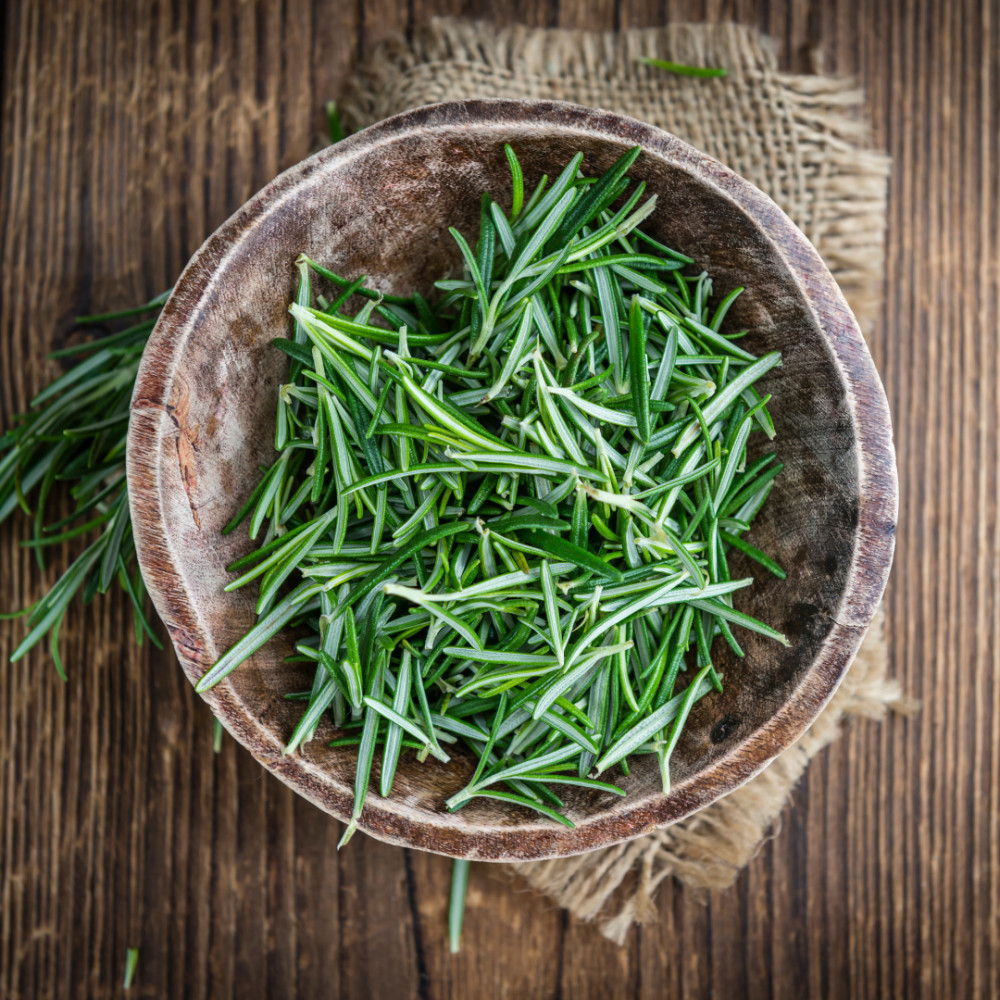 5. Antioxidants And Anti-Inflammatory Compounds
Rosemary is high in antioxidants and anti-inflammatory chemicals, which promote blood circulation and stimulate the immune system. According to laboratory research, rosemary is high in antioxidants, which help neutralize damaging particles known as free radicals.
6. Improving Digestion
Rosemary is commonly used to cure dyspepsia in Europe. In reality, rosemary has been approved by Germany's Commission E for the treatment of dyspepsia. It should be mentioned, however, that there is currently no credible scientific data to back up this assertion.
7. Neurological Protection
Rosemary has been discovered to be beneficial to the brain by scientists. Rosemary includes a compound called carnosic acid, which can protect the brain from free radical damage. Rosemary benefits patients who have had a stroke in several animal experiments. Rosemary appears to protect the brain from injury and may aid recovery.
8. Prevent Cancer
"Crude ethanolic rosemary extract (RO)" reduced the spread of human leukemia and breast cancer cells, according to research published in Oncology Reports. Another study published in the journal Bioscience, Biotechnology, and Biochemistry suggested that rosemary might be used as an anti-inflammatory and anti-tumour agent.
In addition, adding rosemary extract to ground beef lowers the production of cancer-causing chemicals that can emerge during cooking, according to a study published in the Journal of Food Science.
9. Protection Against Macular Degeneration
Dr. Stuart A. Lipton, Ph.D. and colleagues at Sanford-Burnham Medical Research Institute published a study in the journal Investigative Ophthalmology & Visual Science that found that carnosic acid, a central component of rosemary, can considerably improve eye health. This could be useful for illnesses of the outer retina, such as age-related macular degeneration, the most common eye condition in the United States.
Vegan Recipes Using Rosemary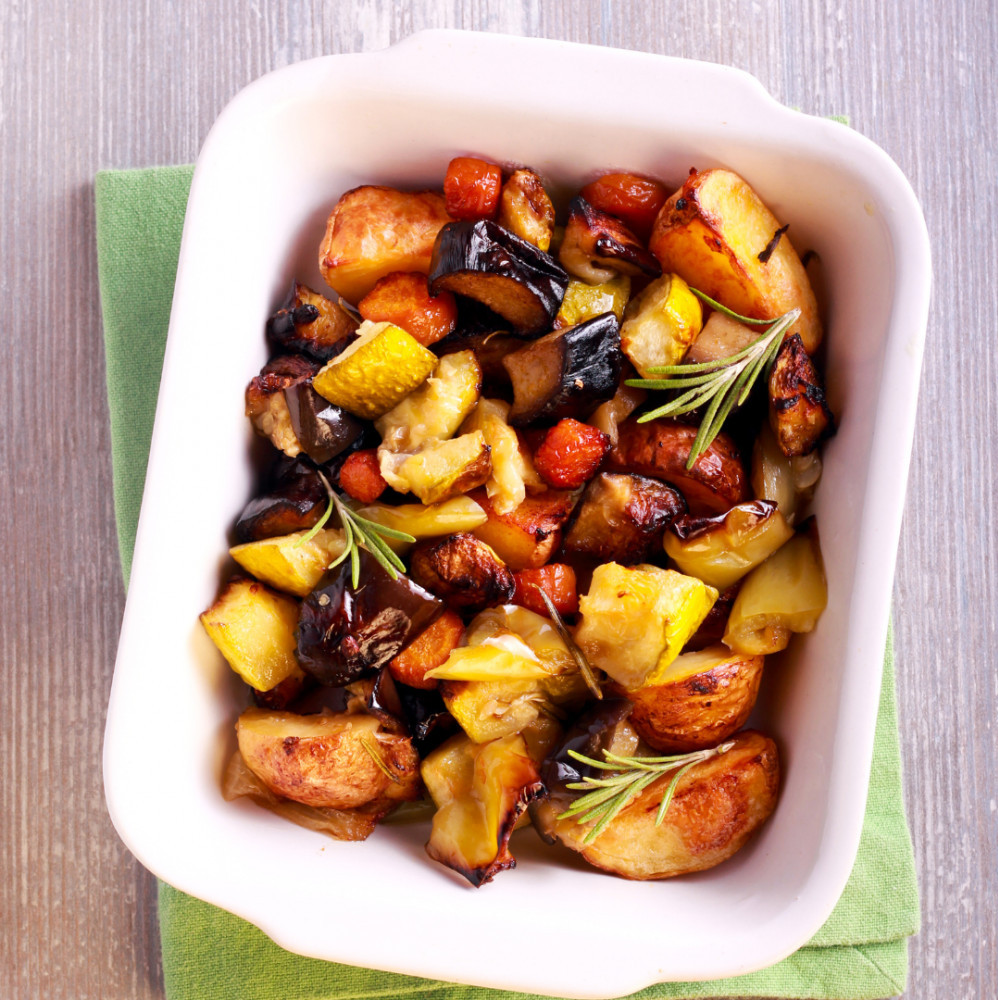 1. Roasted Vegetables With Rosemary
Roasted Rosemary Vegetables—A colourful and savoury side dish that will help anyone obtain their daily serving of vegetables.
Prep time: 10 minutes | Cook time: 40 minutes | Total time: 50 minutes | Servings: 12
Ingredients
Red onion, diced: 1 medium
Garlic, minced: 3 cloves
Zucchini, sliced: 1
Yellow squash, sliced: 1
Red bell pepper, chopped: 1
Eggplant chopped: ½
Chopped mushrooms: 1 cup
Asparagus chopped: 1 small bunch
Chopped butternut squash: 1 cup
Baby potatoes: 1 cup
Baby carrots: 1 cup
Olive oil: ½ cup
Salt and pepper to taste
Fresh rosemary
Method
Preheat the oven to 425 degrees Fahrenheit.
In a large casserole dish, combine all of the chopped vegetables. Toss with olive oil until well mixed. Season with salt, pepper, and fresh rosemary before serving.
Preheat the oven to 350°F and bake for 30-40 minutes, stirring once halfway through.
Serve with more rosemary on top.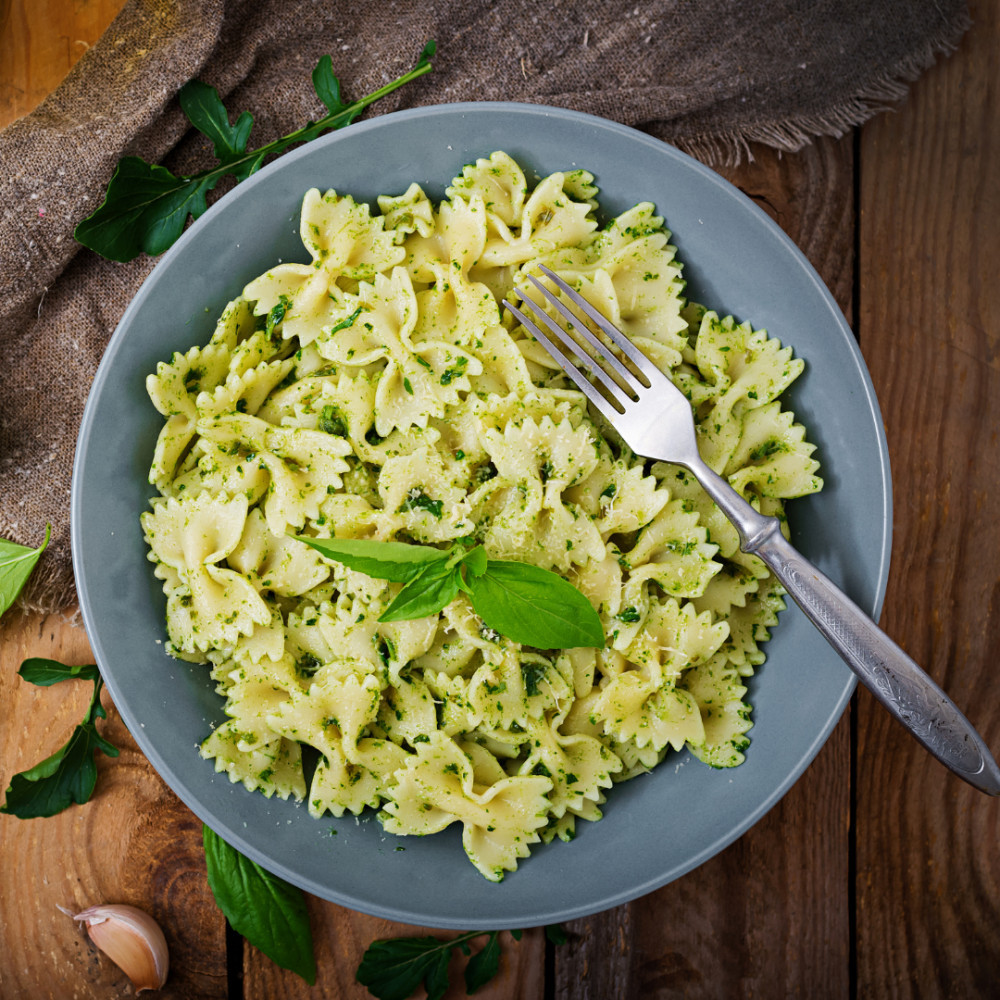 2. Rosemary Cream Pasta
This spaghetti dish is constructed with a few essential ingredients, the majority of which you probably already have on hand. Making this at home will impress you or your loved ones.
Prep time: 15 minutes | Cook time: 25 minutes | Total time: 40 minutes | Servings: 4
Ingredients For The Roasted Broccoli
Broccoli chopped into florets: 1 whole head
Olive oil: 1 tablespoon
Garlic powder: 2 teaspoon
Fresh lemon juice: 2 teaspoon
Pinch of salt & pepper
Ingredients For The Pasta
Pasta of choice: 1½ cups
Unsweetened plain plant milk: 1 cup
Extra virgin olive oil: ¼ cup
Garlic chopped & crushed: 4 cloves
Chilli flakes: 1 teaspoon
Fresh rosemary (or substitute with dry rosemary)
Fresh lemon juice
Salt & pepper to taste
Vegan mozzarella cheese for garnish (optional)
Method
Preheat the oven to 425°F. A medium-sized baking tray should be lined with parchment paper or a reusable sheet. Toss broccoli florets with remaining ingredients in a mixing basin and toss until thoroughly coated.
Arrange broccoli florets in a single layer on the baking tray, spacing them out evenly. Roast for 20-25 minutes, or until the broccoli is brown and crisp around the edges, depending on your oven. Allow for a 5-minute cooling period for the broccoli. Season with a touch of salt and pepper and toss with lemon juice.
In salted water, cook pasta according to package directions. Cook to al dente, if possible (or slightly undercooked). Turn off the heat when the pasta is al dente. Drain the pasta water but do not discard it.
Preheat a separate pan (sauté pan) on the stove to medium heat. Heat the olive oil in the pan until it is shimmering (or just about hot but not overheating). Add the crushed garlic and cook until it begins to become golden brown. Make sure the garlic isn't overcooked.
Reduce the heat if your garlic is burning or cooking too quickly.
In a small bowl, combine the rosemary and chilli flakes with the garlic oil. The amount of rosemary you use is entirely up to you. Mix until everything is well blended. After that, strain the pasta from the water and toss it into the oil mixture. Add a bit of salt and pepper to taste. Stir the plant milk into the pasta. Allow for a simmering time of 2-3 minutes.
4-5 tablespoons of pasta cooking water should be added to the pasta. The plant milk will thicken into a creamy sauce as a result of this. When the sauce has thickened slightly, remove it from the heat and drizzle with a bit of extra olive oil and lemon juice to finish.
Toss the roasted broccoli in with the spaghetti and fold it in. To serve, sprinkle a little vegan cheese (optional) and extra rosemary.
Enjoy!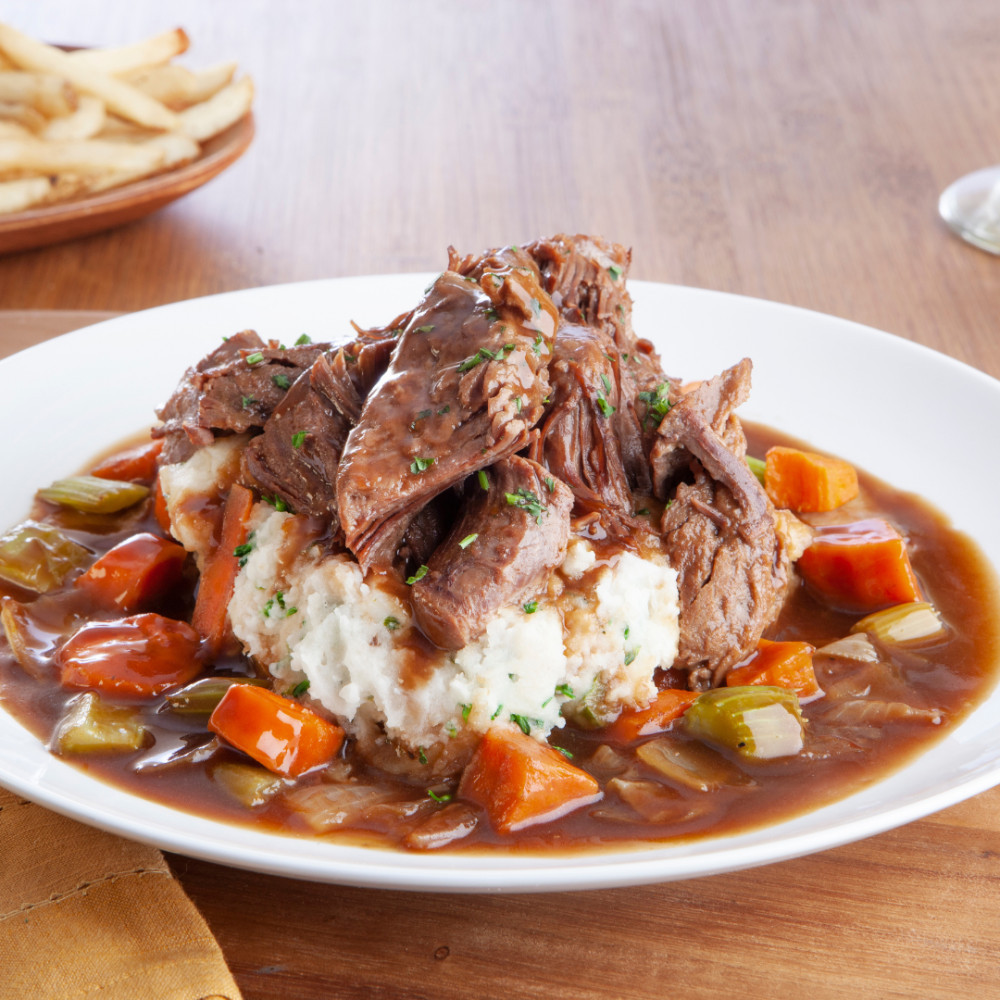 3. Mushroom-Rosemary Pot Roast
Carrots, potatoes, and onions are used in this simple one-pot dinner. Mushrooms like cremini or portobello have a solid, beefy texture that holds up well in cooking; for a richer taste, add shiitakes or dried wild mushrooms.
Prep time: 10 minutes | Cook time: 15 minutes | Total time: 25 minutes | Servings: 5
Ingredients
Cremini or portobello mushrooms: 1 pound
Olive oil: 2 tablespoons
Yellow onion, chopped: 1 medium
Carrots, sliced: 3 small
Garlic cloves, minced: 4 large
Small red or Yukon gold potatoes, cubed
Vegetable stock: 2 cups
Red wine: ¼ cup
Tomato paste: 2 tablespoons
Fresh rosemary: 2 large sprigs
Cornstarch or arrowroot powder: 3 tablespoons
Chopped flat-leaf parsley: ½ cup
Method
Trim and clean the mushrooms. Cremini mushrooms should be halved or quartered (approximately ½ to 1-inch chunks); small mushrooms should be left intact. Cut portobellos into ½ to 1-inch cubes if using.
Heat the olive oil in a large pot and sauté the onions, carrots, and garlic for 3 minutes, or until the onions are softened. Stir in the mushrooms, potatoes, vegetable stock, red wine, tomato paste, and rosemary sprigs until thoroughly combined.
Bring to a boil, then reduce to low heat and cook, covered, for 10 to 15 minutes, or until potatoes are cooked but firm. Remove and discard rosemary sprigs during the last five minutes of cooking. Incorporate ½ cup vegetable stock from the pot and cornstarch or arrowroot in a small bowl; stir well to combine, ensuring all lumps are dissolved.
Return the ingredients to the pot and boil for another 5 minutes until the sauce thickens. Season with salt and pepper to taste.
Sprinkle generously with parsley and serve in individual serving bowls. Serve immediately.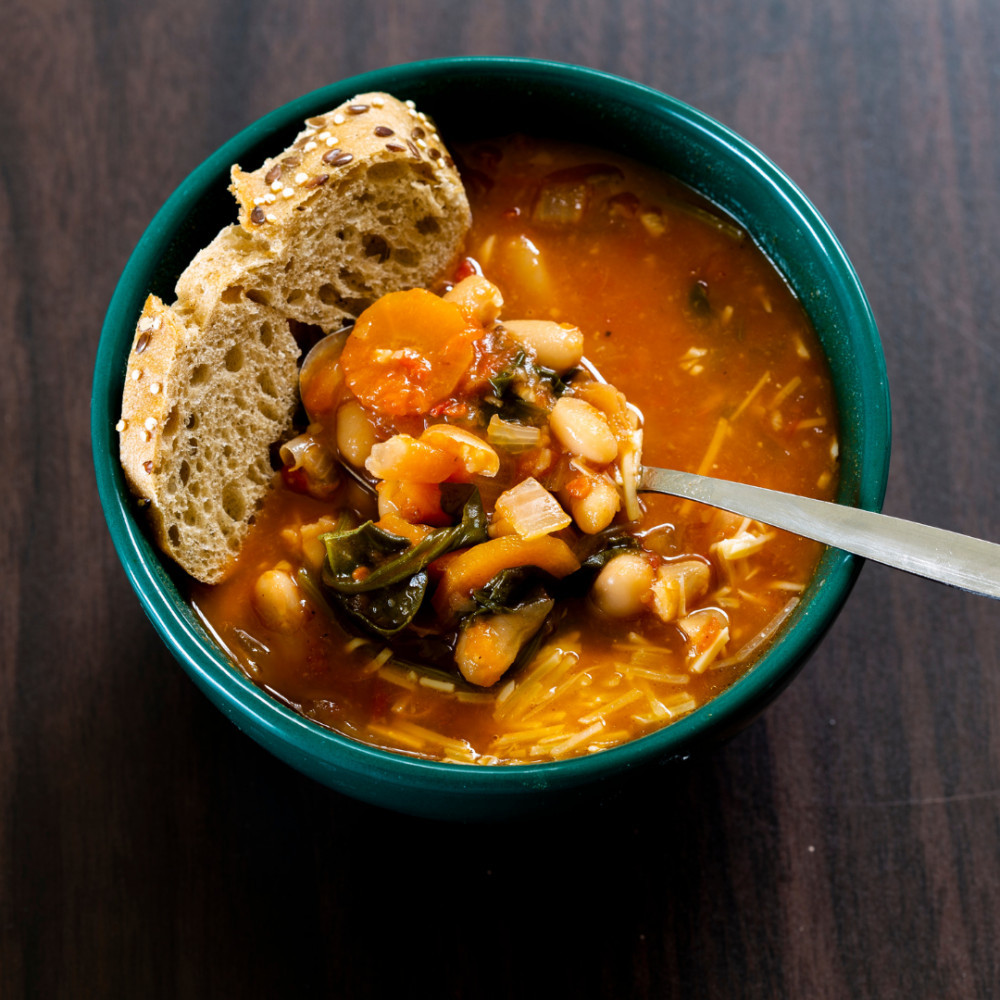 4. Vegan White Bean Soup With Rosemary And Garlic
This simple vegan white bean soup with rosemary and garlic takes only nine ingredients, some of which you may already have on hand. It's a flavorful gluten-free soup you can make whenever you want a quick and easy plant-based meal.
Prep time: 5 minutes | Cook time: 40 minutes | Total time: 45 minutes | Servings: 4
Ingredients
Olive oil: 2 tablespoons
Onion, diced: 1 large
Carrot, diced: 1 medium
Celery stalks, diced: 2
Garlic, finely chopped: 4-5 cloves
Fresh rosemary, finely chopped: 2 tablespoon
Cannellini beans: 3 cans x 400 g (14 oz)
Vegetable stock: 1 litre (4 cups)
Lemon juice: 1 lemon
Salt and pepper to taste
Method
In a large soup pot or Dutch oven, heat the olive oil and sauté the onion, carrot, and celery for 8-10 minutes over medium heat, until softened and beginning to caramelize.
Stir in the garlic and simmer for another minute, or until it is very aromatic. Cook for another minute after adding the rosemary.
Cook for 30 seconds after adding the pureed beans. Bring the drained beans to a boil, then cover with the stock.
Reduce the heat to low and cook for 25 minutes. Season to taste with salt and pepper and serve with crusty bread or croutons.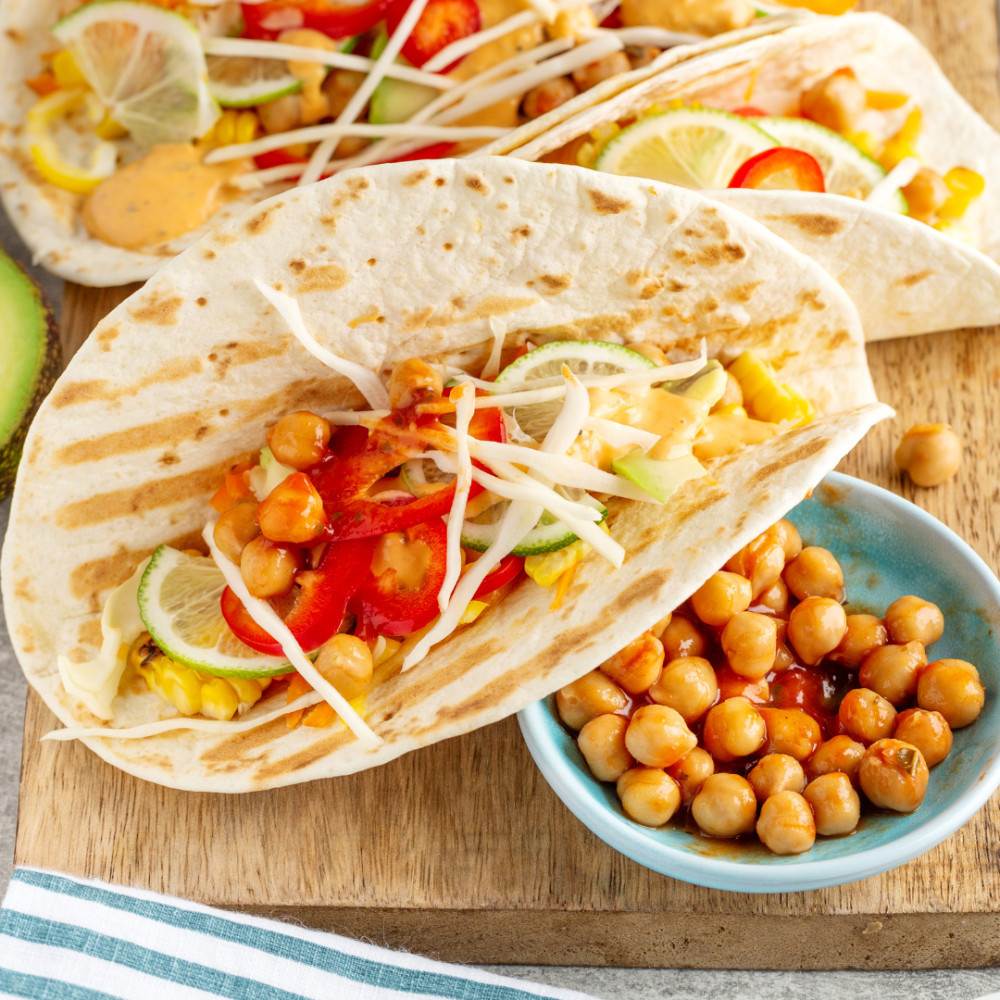 5. Chickpea and Rosemary Roasted Potato Vegan Breakfast Tacos
Gluten-free, soy-free (if you remove the miso), sugar-free, and nut-free, these chickpea and rosemary roasted potato vegan breakfast tacos are ideal for serving a crowd with dietary restrictions and allergies.
Prep time: 20 minutes | Cook time: 35 minutes | Total time: 55 minutes Servings: 8
Ingredients For The Roasted Potatoes
Red potatoes: 2 cups
Olive oil: 1 tablespoon.
Fresh rosemary, chopped: ½ tablespoon.
Garlic cloves, minced: 2
Salt: ¼ teaspoon.
Few twists of lemon pepper
Ingredients For The Scrambled Chickpeas
Chickpeas drained and rinsed: 1- 15-oz can
Yellow onion, diced: ½ cup
Water: ¼ cup
Yellow or white miso paste: 1 teaspoon
Turmeric: ¼ teaspoon
Onion powder: ½ teaspoon
Garlic powder: ½ teaspoon
Salt: ¼ teaspoon
Black pepper: 1 teaspoon or to taste
Olive oil: 1 teaspoon
Baby spinach: 2 cups
Ingredients For The Breakfast Tacos
Corn tortillas: 8
Green or red cabbage, thinly sliced: 1 cup
Cherry tomatoes quartered: 1 cup
Method
Preheat the oven to 400°F and prepare a baking sheet with parchment paper. Drizzle the olive oil over the diced potatoes on the baking sheet. Add the fresh rosemary, garlic, salt, and lemon pepper to taste. If lemon pepper isn't available, use freshly cracked black pepper and a squeeze of lemon on top.
Toss the potatoes with the remaining ingredients and bake for 25 minutes, stirring every 10 minutes. The potatoes should be fork soft and golden brown when done. Meanwhile, place the chickpeas in the bowl of a food processor and pulse a few times to break them up slightly. We don't want hummus, so don't combine! Toss the chickpeas with the chopped onion in a small bowl.
Whisk in the miso paste after heating the water in the microwave (30 seconds) or on the stovetop. Combine the turmeric, onion powder, garlic powder, salt, and a few grinds of black pepper in a mixing bowl. Stir in the spices and adjust the seasonings to your liking.
In a skillet over medium heat, warm the olive oil. Add the chickpeas and onion once the pan is heated. Half of the miso mixture should be poured in and stirred. Cook, stirring periodically, for another 5 minutes, or until the liquid has reduced. Cook for another 3 to 5 minutes after adding the remaining miso mixture.
In the last minute of cooking, add the baby spinach and simmer until wilted. Turn off the heat in the skillet.
Warm the tortillas in the microwave or a dry pan on the stovetop while the chickpea scramble cooks. When ready to serve, pour a few teaspoons of chickpea scramble into the center of each tortilla, then top with roasted potatoes, cabbage, and chopped tomato.
If desired, a dash of the spicy sauce can be added. Warm up and enjoy.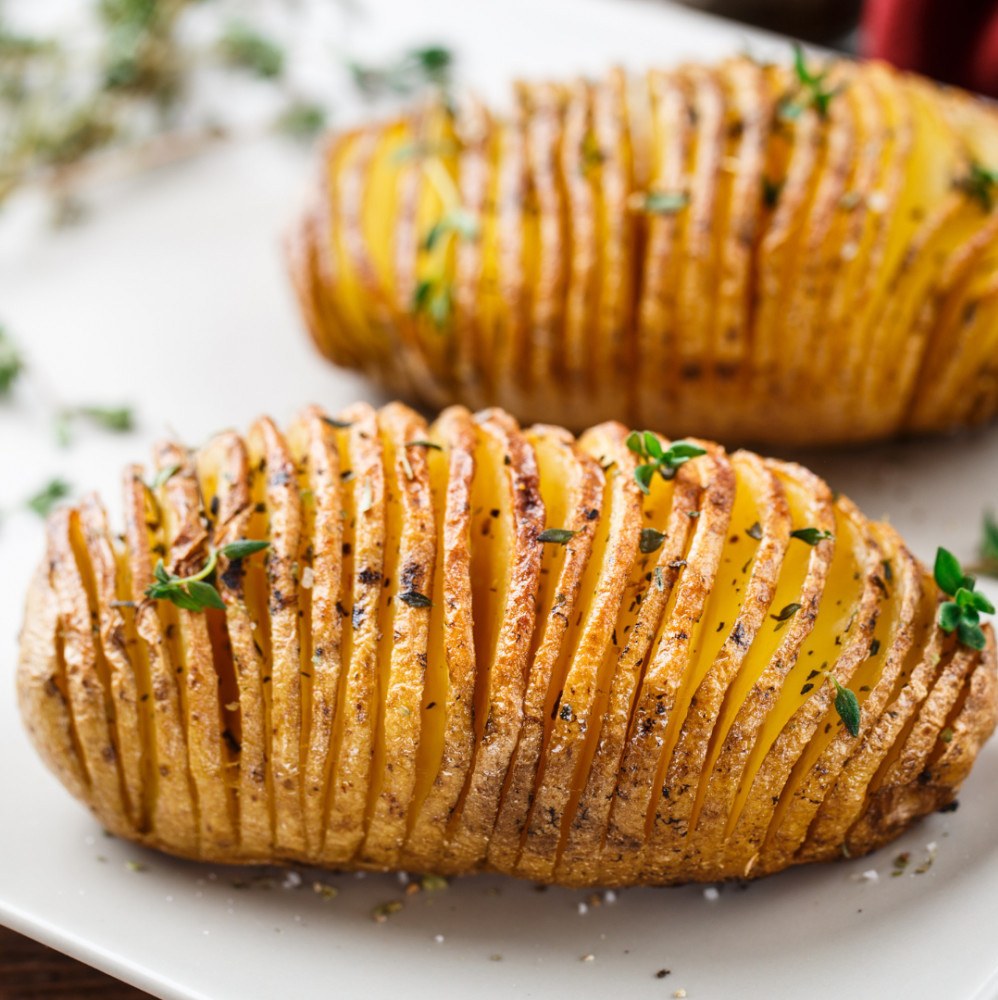 6. Rosemary Garlic Hasselback Potatoes
Vegan Baked Hasselback Potatoes with Rosemary and Garlic are quick and easy to prepare. A nutritious and tasty side dish!
Prep time: 20 Minutes | Cook time: 70 minutes | Total time: 1 hour 30 minutes | Servings: 5
Ingredients
Russet or Yukon gold potatoes, scrubbed, patted dry, but not peeled: 5
Olive oil: 4 tablespoons, divided
Garlic:  8 cloves, thinly sliced lengthwise
Rosemary: 6 sprigs
Salt and pepper to taste
Method
Preheat the oven to 425°F and place a rack in the lower-middle position.
Potatoes should be washed and dried.
Cut small ⅛-inch slashes into the potato, pausing just before cutting through to keep the slices together at the bottom — but don't worry if you cut all the way through.
Garlic should be thinly sliced lengthwise. Place a slice of garlic in every second one of the potato slits. In the remaining slots, tuck a rosemary leaf or two. It doesn't need to be flawless. By sandwiching the rosemary and garlic between the slices, the slices are separated, and the cooking time is reduced. Apply olive oil to the bottom of the baking dish or cast-iron skillet and season with salt and pepper.
Using 1-2 teaspoons olive oil, brush the top and sides of the potatoes (reserving 1 tablespoon for brushing again halfway through baking). If you like, you can use less oil. In a baking dish, arrange the potatoes and season generously with salt and pepper.
Preheat the oven to 350°F and bake the potatoes for 35-40 minutes. The layers will begin to separate at this stage. Brush the potatoes with a little more oil, allowing some drop down into the gaps between the slices.
Bake for another 25 to 35 minutes, until the potatoes are fork soft and crispy on the edges. Larger potatoes may take longer….and if they start to brown too quickly, cover carefully with foil and reduce heat to 400F until cooked.
For medium-sized potatoes, the baking time is 60 to 70 minutes (if your potatoes are on the small side or are more considerable, adjust the cooking time accordingly).
Fresh rosemary leaves can be added to the dish as a finishing touch.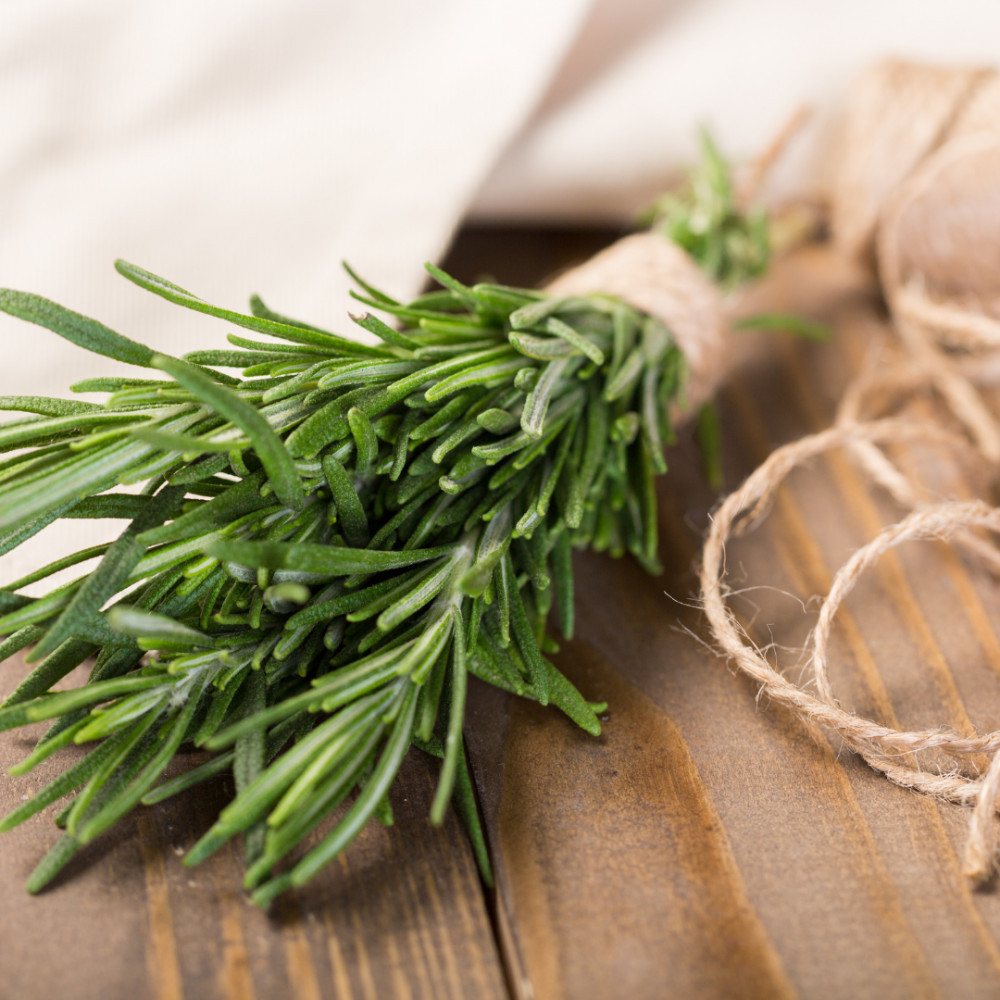 Conclusion
Rosemary is a hardy herb that can withstand freezing temperatures and will keep in the freezer for a long time. Squeeze all the air out of your rosemary sprigs before sealing them in an airtight container or freezer bag, or freeze the leaves in an ice cube tray with water or olive oil. If you would love to grow the herb in your small space you may visit our rosemary container blog.
I trust you enjoyed this article about the 6 Delicious Vegan Recipes Using Rosemary. Please stay tuned for more blog posts to come shortly. Take care!
JeannetteZ
Your Opinion Is Important To Me
Ideas? Thoughts? Questions? I would love to hear from you. Would you please leave me your questions, experience, and remarks about this article on the 6 Delicious Vegan Recipes Using Rosemary, in the comments section below? You can also reach me by email at Jeannette@LivingTheVeganLifestyle.org.
Disclosure
This post may contain affiliate links. As an Amazon Associate and other affiliate programs, I earn from qualifying purchases. Read my full disclosure.
Here are links to some of my favourite articles:
7 Popular Vegan Recipes Using Oregano
6 Delicious Vegan Recipes Using Mint
17 Top Vegan-Friendly Cities In Europe
Top 14 Vegan-Friendly Cities In Asia
7 Best Vegan Mozzarella Cheese Recipes
23 Most Popular Vegan-Friendly Cities In The World