9 Best Vegan Summer Recipes For Glowing Skin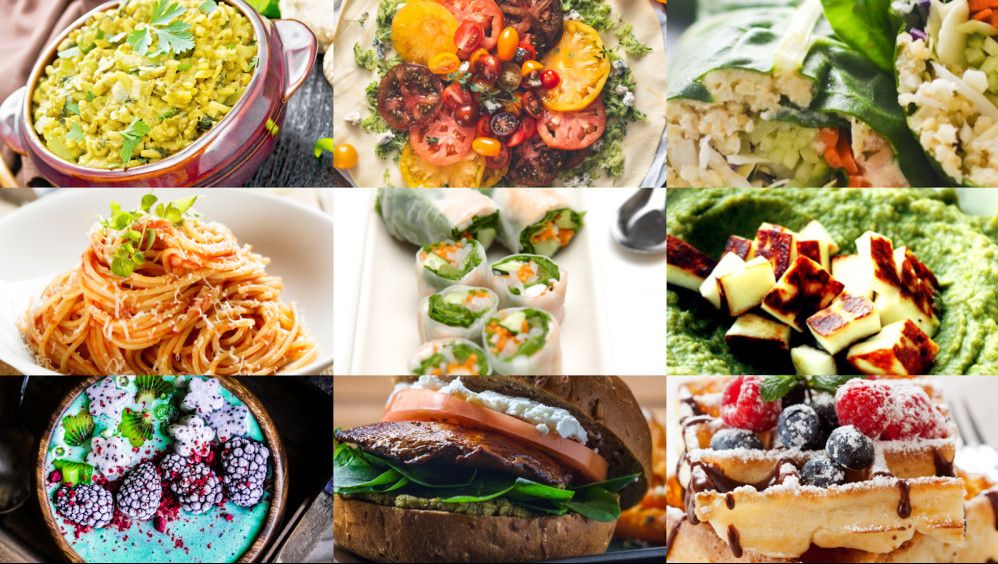 9 Best Vegan Summer Recipes For Glowing Skin
Our skin experiences a great deal of wear and tear over the course of our lifetime. The largest organ in our body, our skin experiences a great deal of wear and tear throughout our lifetime. Sunburns and sensitive, dry skin are possible results. We also have less-than-healthy-looking skin due to our laxer eating habits.
We are fortunate that summer is a great time to achieve healthy-looking skin. Check out our vegan summer recipes for glowing skin.
Why Do We Need To Eat Vegan During The Summer
Your body has different needs in the summer than in the winter and fall, which explains why you want different things because your body is aware of what it requires.
Adequate hydration is one of the most crucial things you must remember when it's hot outside. You must drink plenty of water, but remember that various fruits and vegetables are also excellent fluid sources!
They also serve as the foundation of a vegan meal. You have a lot of choices during the summer because there are a lot of seasonal fruits to choose from, like watermelon, which is mostly water (90%–95%)!
Cucumber has one of the highest water contents of all the vegetables.
Vegan Summer Recipes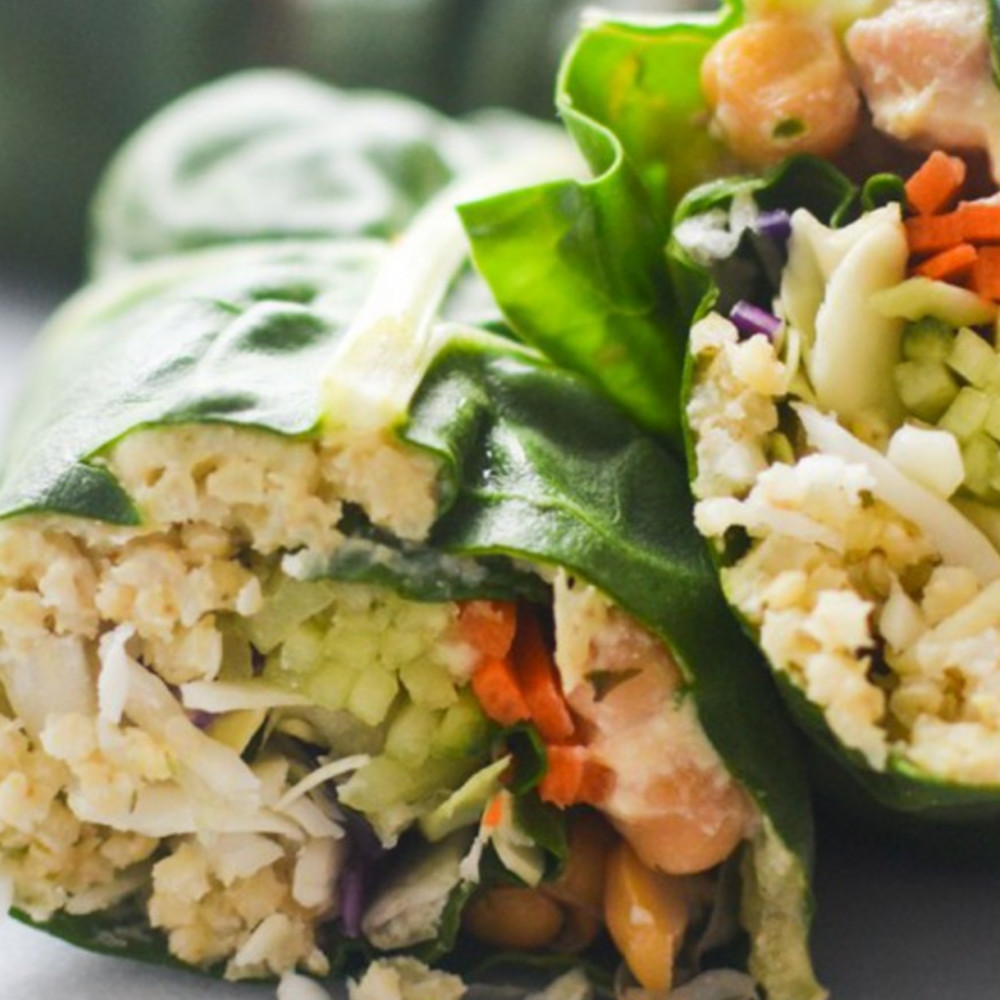 1. Chard Wraps With Millet And Chickpeas
These chard wraps are delicious and full of protein. You can prepare them exactly as written in the recipe, stuffing them with hummus seeds, hemp seeds, millet, mint, cucumber, and carrots. Alternatively, you may use quinoa instead of millet and substitute peanut sauce. Enjoy!
Prep time: 10 minutes | Cook time: 5 minutes | Total time: 15 minutes | Servings: 6
Ingredients
Uncooked millet: ½ cup
Chickpeas, cooked: ½ cup
Bunch rainbow swiss chard: 1
Carrot, shaved into ribbons: 1
English cucumber, shaved into ribbons: ½
Sliced cabbage: 1 cup
Hummus: ⅓ cup
Fresh mint leaves
Sprinkle hemp seeds
Method
Set aside the cooked or canned chickpeas as you prepare the millet according to the package directions.
Wash and dry the swiss chard before trimming the stem. The bottom stem's woody portion should be thinned out and trimmed to make rolling simpler.
Chop and julienne the following vegetables: cabbage, cucumber, and carrots. Put aside.
Before assembling, spread hummus in the center of each chard leaf. After a teaspoon of cooked millet, add the sliced carrots, cucumber, and cabbage. Add a spoonful of hemp seeds, cooked chickpeas, and fresh mint leaves.
Serve after being wrapped like a burrito.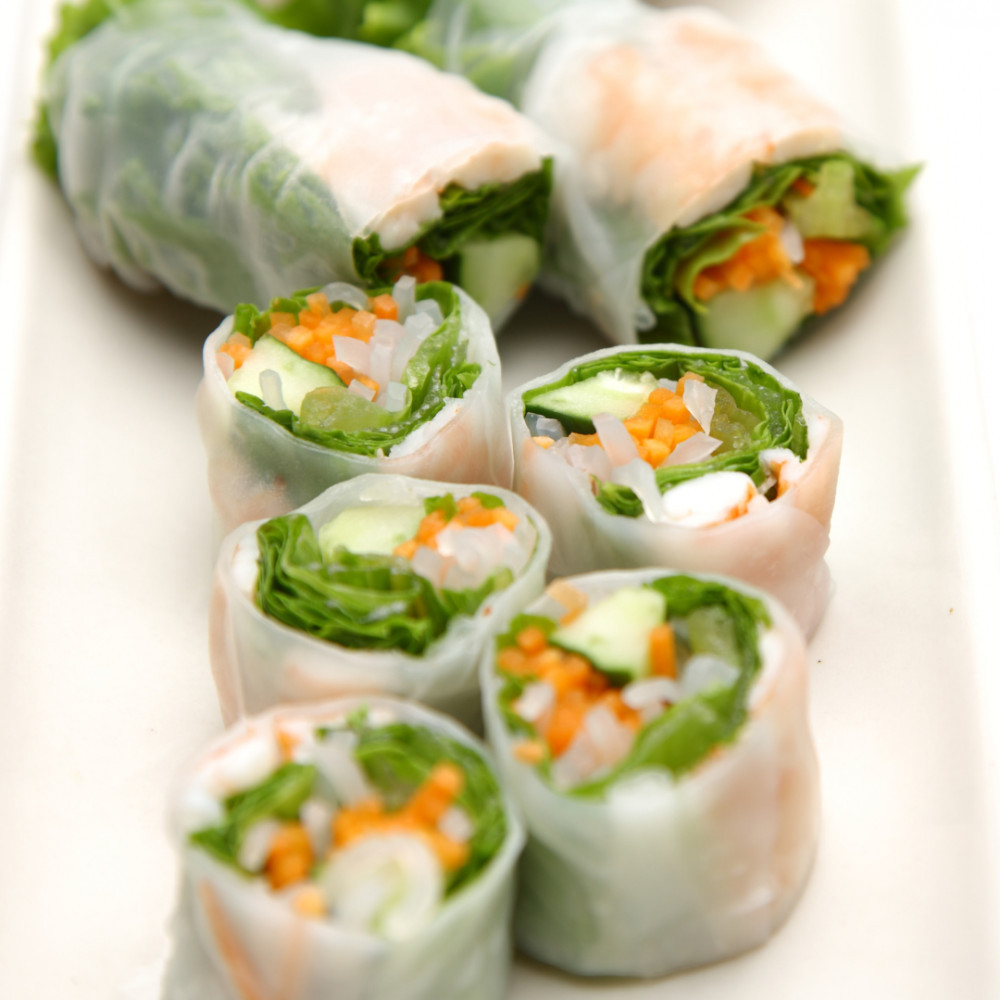 2. Magical Summer Rolls
These summer rolls are the ideal light meal for warm days; they are gorgeous, vibrant, and positively magical-looking. In addition to being delicious, these summer rolls are also a visual treat because they show off polka and golden beets. Its crisp texture and fresh flavour go especially with a creamy, handmade almond butter sauce.
Prep time: 25 minutes | Cook time: 30 minutes | Total time: 55 minutes | Servings: 8-10
Ingredients For The Summer Rolls
Rice papers: 8-10
Avocados: 1-2
Sunflower sprouts
Carrot: 1 large
Bell pepper: 1
Cucumber: 1
Yellow beets: 2
Polka beets: 2
Cilantro (optional)
Ingredients For The Almond Butter Sauce
Almond butter: ⅓ cup (raw or roasted, the roasted one will have a richer taste)
Maple syrup: 2 tablespoons
Tamari: 1 tablespoon
Brown rice vinegar: 1 tablespoon
Sesame oil: 1 tablespoon
Garlic: 1 clove
Red pepper: 1 small piece (according to taste)
Fresh ginger: 1 small piece
Water: ⅓ cup
Method
Blending at high speed in a blender of all sauce ingredients. Blend until emulsion forms.
Slice all the vegetables very thinly, or use a mandolin to achieve a great texture in your fresh spring rolls. Place the ingredients in thinly cut romaine or beet leaves, then wrap them in rice paper. Line your rice paper wrap with beets to make pretty summer rolls.
To prevent the wraps from sticking, make sure the cutting board surface is just damp enough. (Use warm water to dip the wrap). It ought to become stretchy in 1-2 minutes.
Place the wrap on your cutting board, then fill it with your preferred amount of vegetables. After tucking the ends under, roll the side with the vegetables around.
Enjoy!
3. Summer Kitchari Bowl
In Ayurveda, kitchari is a crucial food. This dish is balanced and easy to digest, made from gently spiced mung beans and rice. While the kitchari does require some time to boil, it only needs one pot and little supervision. So, as your kitchari cooks, you may divide your focus between other tasks and yet have a satisfying supper.
Prep time: 30 minutes | Cook time: 30 minutes | Total time: 60 minutes | Servings: 4-6
Ingredients For The Kitchari
Split mung beans: 1 cup
Short grain brown rice: 1 cup
Coconut oil: 1 tablespoon
Coriander seeds, ground: ½ tablespoon
Black mustard seeds, ground: 1 teaspoon
Cumin seeds, ground: 1 teaspoon
Cinnamon, cardamom, salt, and black pepper: 1 pinch each
Fresh ground ginger: 1 heaping tablespoon
Fresh ground turmeric: 1 tablespoon
Water: 8 cups
Carrots: 2, sliced into discs
Young turnips: 4, slice into half-moons
Turnip greens
Ingredients For The Optional Toppings
Carrot, sliced into discs: 1
Sweet potato: 1, peeled and diced
Kale: ½ head, sliced
Ingredients For Serving
Fresh coriander
Lime juice
Lime wedge
Sliced radishes
Shredded cabbage
Coconut flakes
Sesame seeds
Pea shoots
Fresh peas
Method
Before cooking, soak the split mung beans and brown rice in lots of water for at least 4 hours or overnight. Rinse and drain the water until it is clear. Set apart.
Melt coconut oil in a sizable pot over medium heat. Add the dry spices and stir until they are fragrant. Then add ginger and turmeric and sautée them for 15 to 20 seconds.
Stir the rice and beans into the seasonings before adding them.
Bring to a boil by adding water and increasing heat. After boiling, turn down the heat and simmer for around 20 minutes. The rice and beans should be roughly halfway done (you can tell by the amount of water left in the pot).
One of the diced vegetable selections, except greens, should be added. Continue cooking until the rice is fluffy, the beans are creamy, and the veggies are soft.
Add the greens once the heat is off. Serve plain or with the chosen toppings.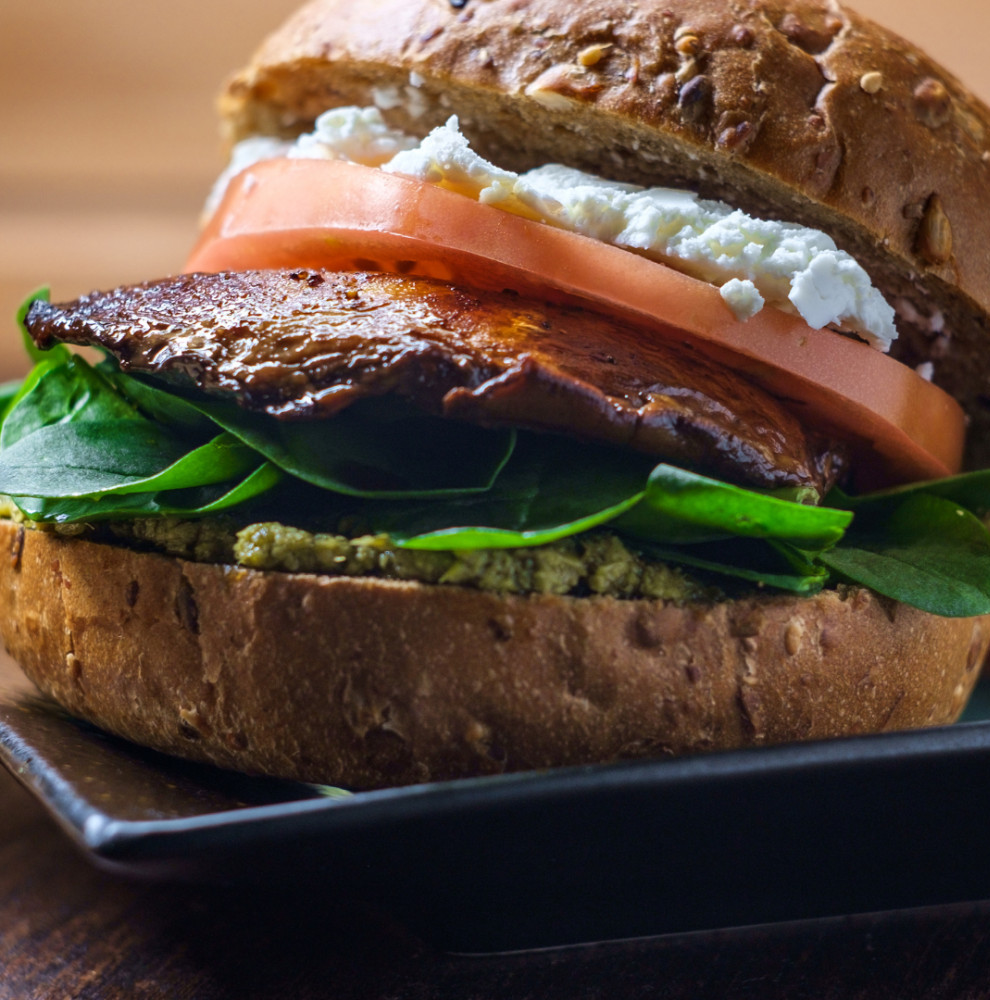 4. Raw Portobello Burgers With Collard Greens And Guacamole
It's fast food, but it's also delicious and healthy. If you've never tasted a portobello burger, prepare for a significant paradigm shift. Add other ingredients as you choose; fresh tomatoes and red onion, for example, would both be spectacular additions. This recipe's textures complement each other. The delicious crunchy, savoury, heavenly Hippie Garden Chips are in addition to the meaty mushroom, creamy guacamole, fresh greens, and guacamole.
Prep time: 15 minutes | Cook time: 10 minutes | Total time: 25 minutes | Servings: 2
Ingredients For The Burgers
Portobello mushroom tops: 2
Bragg's liquid aminos or tamari: 1 teaspoon
Baby spinach: 1 cup
Sun-dried tomatoes: ¼ cup
Huge collard leaves: 2
Tahini: 2 tablespoons
For Guacamole:
Avocado: 1
Lemon juice: 1 tablespoon
Sea salt: ¼ teaspoon
Black pepper: ¼ teaspoon
Chilli flakes: ⅛ teaspoon (optional)
Method
Sprinkle the mushroom tops with Bragg's or tamari and add them to the dehydrator at 115°F or your oven at its lowest setting.
Dehydrate them for 30 minutes or until they soften and get a little darker
Peel, pit and mash the avocado with lime juice, salt, pepper, and chilli (if using). Adjust the spices according to your taste. Maybe some garlic would be excellent.
Add some guacamole to the top of a mushroom, then top with greens and tomatoes. Add some tahini if you'd like, then wrap in a collard leaf.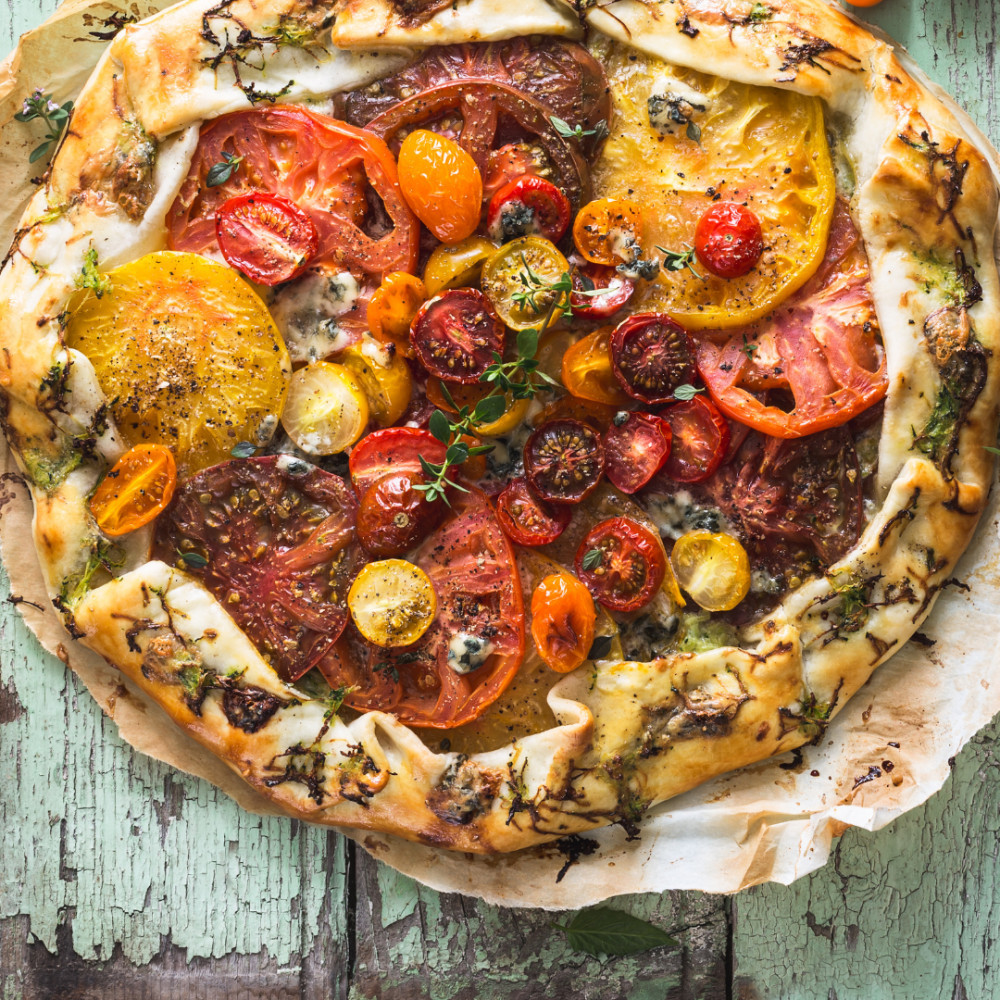 5. Rustic Pesto And Heirloom Tomato Tart
The most strikingly colourful fruits you can find are heirloom tomatoes. They might be as small as a Roma tomato or as large as an orange, ranging in colours from deep purple to bright yellow.
When they are in season, in July and August, you will find the best ones at the best prices. However, once you have them, use them as soon as possible. They don't last as long as their traditional red brethren do. You can substitute Roma or plum tomatoes for the heirloom tomatoes in this recipe if you can't locate them locally.
Prep time: 30 minutes | Cook time: 30 minutes | Total time: 60 minutes | Servings: 6-8
Ingredients For The Dough
All-purpose flour: 1 cup
Whole wheat flour: 1 cup
Salt: ¼ teaspoon
Olive oil: ¼ cup
Ingredients For The Pesto
Olive oil: 3 tablespoons
Fresh basil leaves: 1 cup
Fresh spinach leaves: ½ cup
Garlic cloves: 3
Sun-dried tomatoes: ¼ cup
Nutritional yeast: 1 tablespoon
Ingredients To Assemble
Small heirloom tomatoes, thinly sliced: 12 oz
Campari or small Roma tomatoes: 3, thinly sliced
Pine nuts: 2 tablespoons
Cornmeal, for dusting
Sea salt: 1 teaspoon or to taste
Ground black pepper: ½ teaspoon or to taste
Method To Make The Dough
Mix the flour and salt in a large bowl. Stir in the olive oil and slowly add some water (up to ½ cup) until the dough can be formed into a ball.
Wrap the dough in plastic wrap and shape it into a disk. Cool for 20 minutes in the fridge.
Method To Make The Pesto
Combine all the ingredients for the pesto in a food processor.
Blend until you have the perfect pesto consistency.
Method To Assemble The Tart
Set the oven's temperature to 425°F.
The dough should be rolled out into an even circle while still being loosely covered with plastic wrap. Apply a little pesto to your brush. After that, put the tomato slices over the dough, slightly overlapping them so that a ½-inch border is left unoccupied for the crust.
Slice tomatoes into two to three layers, adding pesto between each layer and keeping the most vibrant tomatoes for the top layer.
In any areas where the tomatoes have left pockets, use a spoon to spread dollops of pesto around the tart's top. Add the pine nuts evenly after drizzling the pesto oil on top. Leave the center exposed and gently fold the dough's borders over the contents.
Cornmeal can be used to dust a cookie sheet or pizza stone. Transfer the tart carefully to the pizza stone or cookie sheet. Your tart should be topped with two pinches each of salt and pepper.
The crust should be a light golden colour after 20 to 30 minutes of baking.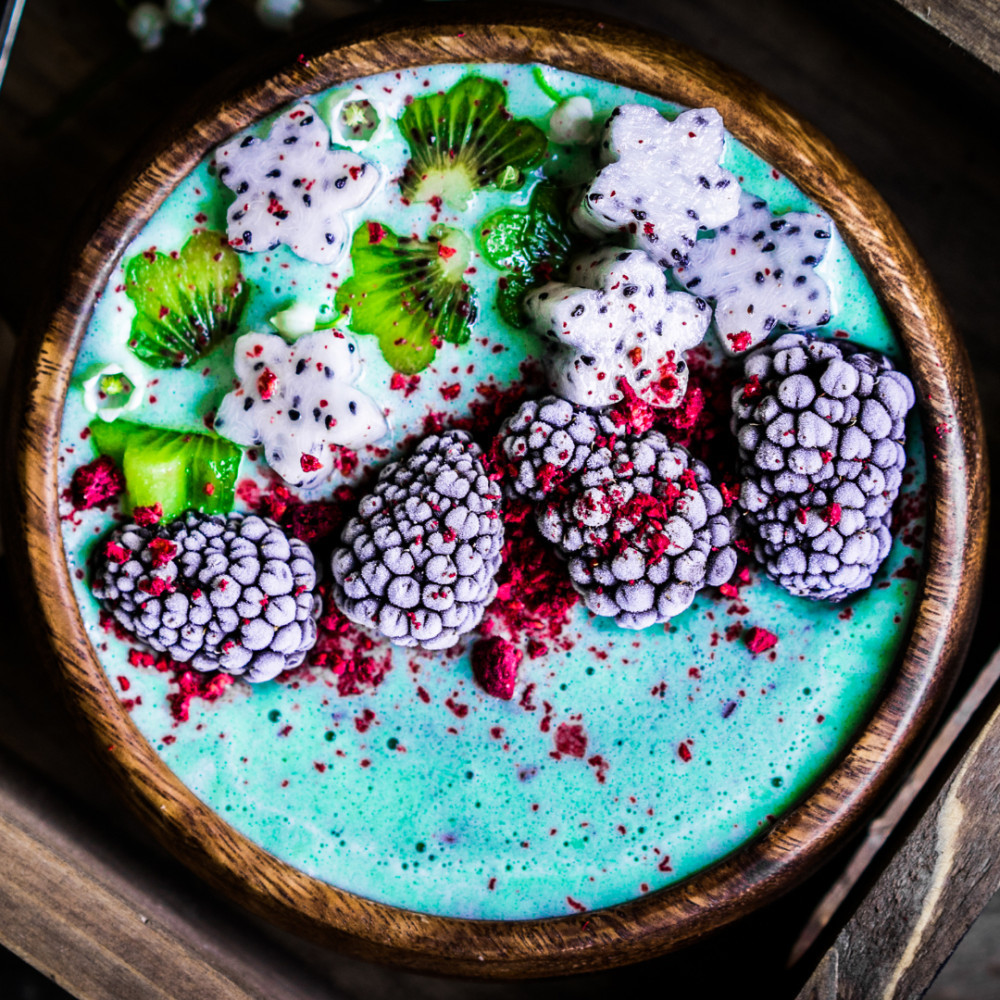 6. Blue Spirulina Smoothie Bowl
Have you tried blue spirulina yet? The only difference is that instead of adding an algal green to smoothies and raw desserts like ordinary spirulina does. It adds a splash of vibrant blue.
Bananas are mixed into an ice cream-like consistency in this delectable smoothie bowl, the vibrant blue spirulina is delicious. Fresh berries, dairy-free yogurt, coconut, and star-shaped banana slices are then placed on top. Delicious and picture-perfect!
Prep time: 10 minutes | Cook time: 10 minutes | Total time: 20 minutes | Servings: 1
Ingredients
Frozen bananas: 2
Fresh banana, for stars and blending: 1
Agave nectar: 1 tablespoon
Vegan yogurt of choice, for topping
Blue spirulina capsules: 3 or more
Blackberries, for topping
Coconut flakes, for topping
Method
Use a cookie cutter to create stars out of a few pieces of sliced fresh banana.
In a food processor, combine agave nectar, frozen bananas, and leftover banana. After it is smooth, add more spirulina caps and process.
Fill a bowl with excellent cream with blue bananas. Blackberries, banana stars, vegan yogurt, and coconut flakes should all be included.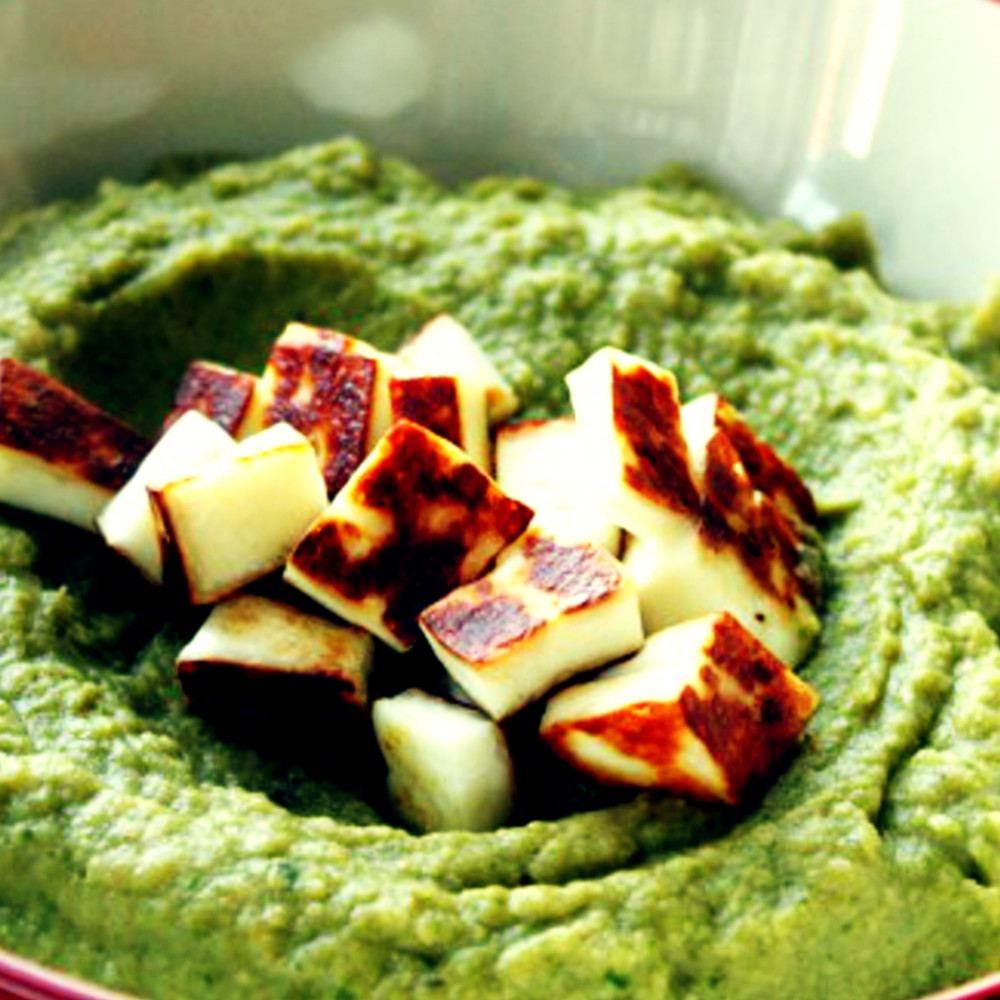 7. Cauliflower Brazil Nut Purée With Crispy Tofu
A deliciously nutrient-dense substitute for mashed potatoes is this cauliflower and brazil nut purée. This purée is tasty and soothing since it contains garlic, thyme, ground pepper, and coconut oil. This recipe transforms into a whole supper that is sure to please once it is topped with crispy, browned tofu.
Prep time: 10-15 minutes | Cook time: 10 minutes | Total time: 20-25 minutes | Servings: 2
Ingredients
Small head cauliflower: 1, stems removed, cut into florets
Garlic cloves: 2
Dried thyme: 1 teaspoon
Brazil nuts: 4
Leaves swiss chard, coarsely chopped: 3
Sea salt: 1 teaspoon
Freshly ground pepper: 1 teaspoon
Coconut oil, divided: 2 teaspoons
Extra firm tofu, cubed: ¾ cup
Method
In a covered pot, heat 2 cups of water with a pinch of salt until it boils.
Add the cauliflower, garlic, thyme, Brazil nuts, chard, and sautée for three minutes.
While heating up, brown the tofu on both sides in 1 teaspoon coconut oil in a skillet over medium-high heat.
Reserve ½ cup of the cooking liquid in a measuring cup after draining the cauliflower pot.
Add the remaining teaspoon of coconut oil, the saved cooking liquid, the cauliflower, and everything else in the pot to a food processor. Mix until emulsified.
Place browned tofu on top of purée in serving bowls.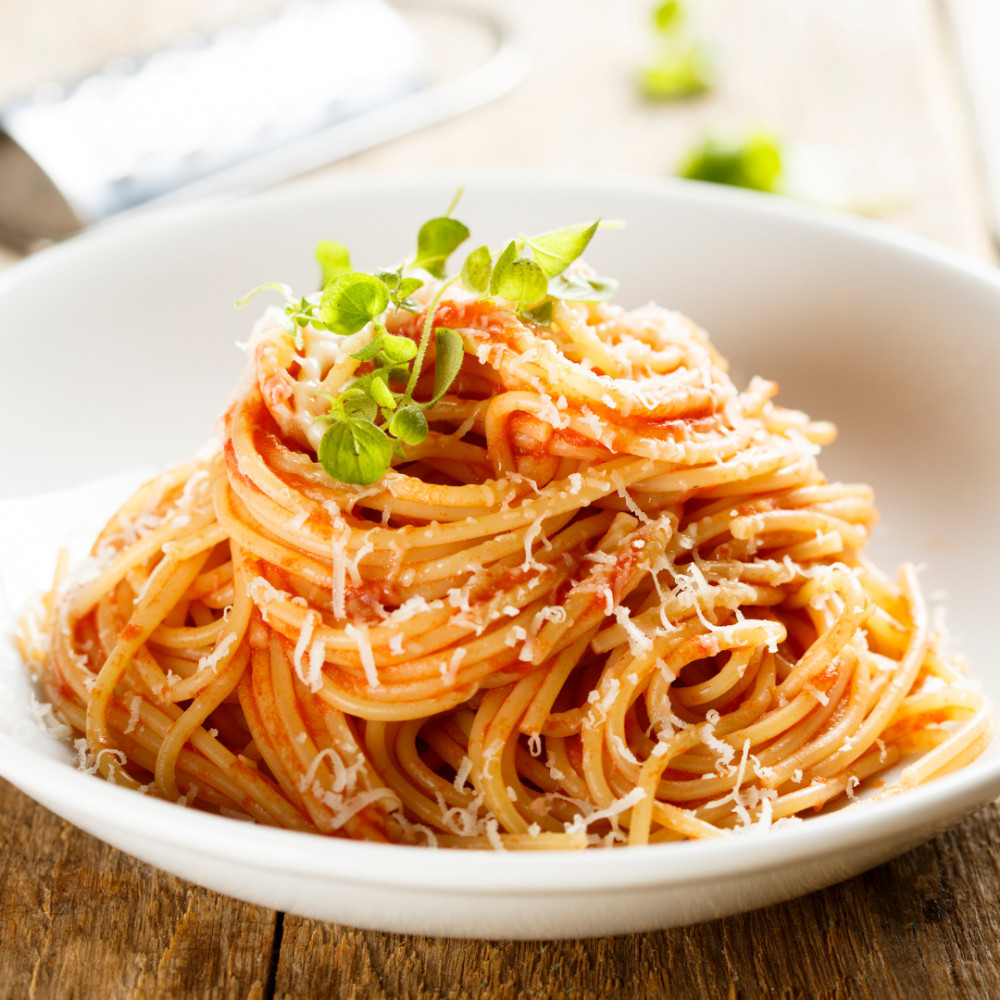 8. Smoky Tomato Almond Pasta Sauce
Smoked paprika completely changes the game in this hot, creamy pasta sauce. It makes more than enough for two people, so you can slather on the sauce without worrying that there won't be enough for your dining partner.
Choose whole almonds over an almond meal for a chunkier, pesto-like sauce. You will want to make this recipe again and again. It is one of our favourites.
Prep time: 15 minutes | Cook time: 15 minutes | Total time: 30 minutes | Servings: 2
Ingredients
Extra virgin olive oil: 2 tablespoons
Yellow onion: 1 small, diced
Garlic: 3 cloves, minced
Roasted red pepper: 1, roughly chopped
Almond meal: ½ cup (ground almonds)
Fresh parsley: 3 tablespoons
Smoked paprika or regular paprika: 1 teaspoon
Red chilli flakes: 1 pinch or to taste
Salt: ¼ teaspoon
Fire roasted tomatoes: 1- 13.5-oz can
Pasta of choice for two
Ground almonds, for topping
Method
On medium heat, warm the olive oil in a small saucepan. Stir in the onions and garlic, then cook until tender. Stir in the salt, paprika, chilli, parsley, crushed almonds, and roasted red pepper. It will have a paste-like appearance.
The almonds should continue to simmer for another 5 to 6 minutes, often stirring while cooking over medium heat. Cool after removing from heat. Blend the mixture in a blender with the tomatoes until it is smooth, if necessary, adding a drizzle of olive oil.
Return the smooth sauce to the pan, simmer it until the pasta is done, then taste and, if necessary, adjust the seasoning.
Pasta should be prepared as directed on the packaging. If the sauce needs to be thinned out, add some of the starchy pasta water at the end of cooking.
Extra fresh parsley, ground almonds, and olive oil should be added to the serving dish.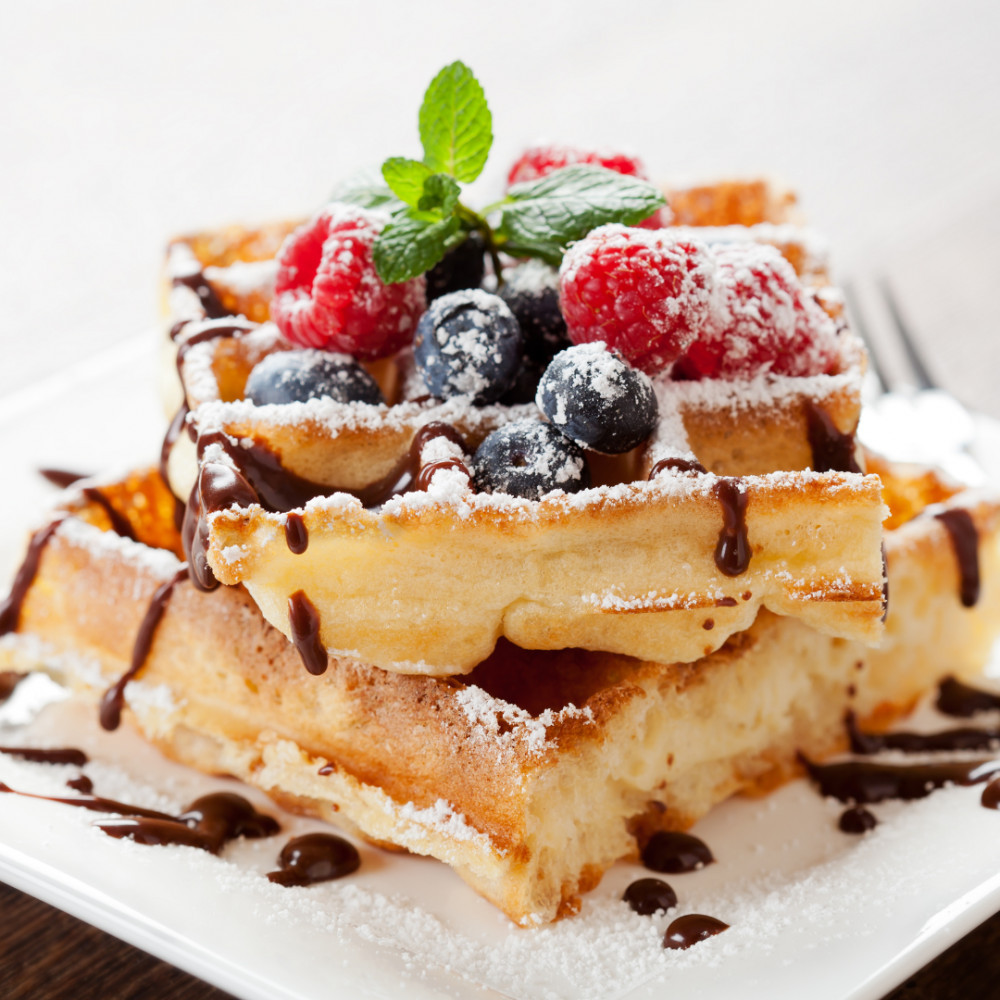 9. Vegan Raspberry Champagne Waffles
I think these raspberry champagne waffles are a delicious way to start the new year! It gives these brunch treats the ideal, delicate sweetness. They are excellent for entertaining guests or whenever you feel like pampering yourself.
Prep time: 15 minutes | Cook time: 25 minutes | Total time: 40 minutes | Servings: 2
Ingredients
Raspberry champagne: 2 cups
Gluten-free baking flour: 2 cups
Oat flour: ½ cup (or whole oats ground into flour)
Almond flour: ¾ cup
Arrowroot flour/starch: 1½ tablespoons
Salt: ½ teaspoon
Baking powder: 1½ tablespoons
Sugar: 3 tablespoons
Unsweetened applesauce: ¼ cup
Pure vanilla extract: 1 teaspoon
Vegan butter, melted: ¼ cup
Raspberries: 30, halved
Method
Warm up your waffle maker.
Mix the wet and dry ingredients in a medium-sized bowl until everything is thoroughly incorporated (save the raspberries for the last step).
Butter should be added last so that it doesn't re-harden.
Fold in the raspberries slowly (we like to reserve some for garnish). Spray coconut oil on your waffle maker (or another non-stick spray).
Add ¼ cup of batter to each waffle well, depending on the type of iron you have, and bake until the exterior is golden.
Fresh berries and powdered sugar or maple syrup should be sprinkled on top before serving.
Conclusion
Consuming a portion or more of vegetables like kale, spinach, carrots, and sweet potatoes daily helps your skin stay firm and young while regenerating new skin cells. Natural fats and oils, besides these vitamins, are essential for preserving that glow. Vegan Summer Recipes For Glowing Skin
Don't miss trying these vegan summer recipes to get healthy and glowing. You can try more vegan summer recipes from our site, so don't miss to try and let us know about your favourites.
I trust you enjoyed this article about the 9 Best Vegan Summer Recipes For Glowing Skin. Please stay tuned for more blog posts to come shortly. Take care!
JeannetteZ
Your Opinion Is Important To Me
Ideas? Thoughts? Questions? I would love to hear from you. Would you please leave me your questions, experience, and remarks about this article on the 9 Best Vegan Summer Recipes For Glowing Skin in the comments section below? You can also reach me by email at Jeannette@LivingTheVeganLifestyle.org.
Disclosure
This post may contain affiliate links. I earn from qualifying purchases as an Amazon Associate and other affiliate programs. Read my full disclosure.
Here are links to some of my favourite articles:
6 Best Vegan Cauliflower Wings Recipes For Your Kids
6 Best Vegan Bagel Recipes For Your Kids
8 Best Vegan Milk Recipes For Your Kids
Best Vegan Chocolate Chip Recipes For Your Kids
6 Best Vegan Oyster Mushroom Recipes For Your Kids
8 Best Vegan Recipes Using Saffron For Your Kids