Top Vegan Celebrities
Veganism was once considered a fringe movement but is now firmly in the mainstream, thanks to top vegan celebrities. Inspired by environmental and ethical concerns, people from all walks of life are adopting a plant-based diet.
Vegans once struggled to find a platform to share their views. But thanks to vegan celebrities sharing the positive benefits of their plant-based diets, millions of fans have been inspired to give veganism a try.
Reaching audiences of millions via social media, the rising number of plant-based celebrities and vegans have helped reach new audiences like never before. It's official, Hollywood is going vegan thanks to these vegan celebrities!
Why Veganism Is Good For You
A 2016 study published in the American Journal of Clinical Nutrition found that people who followed a vegan diet cut their risk of heart disease by more than half. This claim is based on the compelling findings of two independent investigations, which found that individuals who eat a plant-based diet have a 50 percent reduced risk of heart disease.
Another study published in The Lancet found that in addition to reducing the risk of heart disease, a plant-based diet can lower the risk of Type 2 diabetes, obesity, and certain cancers.
Along with these heart-healthy benefits, eating a plant-based diet can also improve mental health and boost mood. It's estimated that one in three Americans suffers from depression, and one in 10 has PTSD.
First of all, a plant-based diet can be a great source of nutrients. A diet that is full of unprocessed and nutrient-dense foods will nourish your body. A diet full of refined carbohydrates and processed foods will make you fat, unhealthy and inactive. A well-planned vegan diet will help keep you full and increase the number of antioxidants in your system.
Antioxidants are substances that protect your cells from damage by free radicals. They also help your body to fight off free radicals, which lead to ageing. Your brain and body also benefit from a vegan diet. A plant-based diet has been linked with a reduction in the risk of dementia and Alzheimer's. According to a study published in the Alzheimer's and Dementia Journal, plant-based diets are an "excellent way" to protect your brain.
Reasons Why People Turn Vegan
People choose to become vegan for a variety of reasons. Environmental concerns inspire many, others by animal rights. In general, people try to avoid eating animal products to reduce their personal environmental impact. This can be done by ditching conventional meat products, dairy and eggs.
But others, mainly vegans, choose to go vegan because they feel their body needs a protein-rich diet. Otherwise, it is at risk of getting ill or developing life-threatening health conditions. This is known as vegan protein concerns. Other motivations people report when deciding to go vegan include being a vegan helps make a difference to animals, improve health and reduce their environmental impact, and reduce animal suffering or their carbon footprint.
The Vegan Society said the following reasons are why people change their diet to avoid animal products:
Environmental concerns,
Animal cruelty, and
Animal welfare.
Meat production generates 18% of global greenhouse gas emissions. People suffer from chronic diseases. There are estimated to be over one billion people suffering from chronic diseases in the world.
Experts have warned that eating animal products is linked to cancer, heart disease, stroke, diabetes and obesity. Even short-term food consumption can cause damage to the cardiovascular system. Agriculture harms the environment. The World Bank estimated that agriculture contributes approximately 16.3% to greenhouse gas emissions, 10% of all water pollution and 24% pesticide use.
Here are some reasons why people turn vegan:
Consuming more plants,
Maintaining a healthy body,
Encouraging the vegan lifestyle for others,
Producing less waste,
Having more energy,
Less consumption of chemicals,
Stronger teeth and bones, and
Nutritional benefits of plant-based diets.
There are many reasons that people choose to adopt a plant-based diet. According to Save the Children UK, children can reduce their risk of poverty, poor health, and malnutrition by implementing a healthy plant-based diet. In addition, an animal is killed every five seconds on a factory farm. By eating animal-free, you are not only helping to protect animals, but you are also avoiding the potentially harmful effects of chemicals on the environment and the body.
The Emergence Of Vegan Celebrities
Vegan celebrities aren't a new phenomenon. There have always been prominent vegan spokespeople. However, one prominent influencer stands out for its sheer popularity and reach. Michelle Bridges has been helping vegetarians and vegans for almost 25 years and has released the world's first vegan cookbook, "Vegan BodyBuilders."
Rocking the runway for many iconic brands, she was the first Australian model to perform a vegan aerobics routine in 2015. However, the celebrity success of vegan celebrities is new and exciting. It has been made possible by the rise of the internet and reaching a huge number of people. Vegan celebrities no longer have to struggle to promote their message. It is a simple matter of sharing your life story and sharing your message with millions.
With more and more celebrities encouraging their fans to embrace a plant-based diet, it's no surprise that the popularity of veganism has grown dramatically over the past decade. For anyone who wants to learn more about veganism, finding unbiased information can be difficult.
But by following the advice of a celebrity, you'll often be introduced to information that is not readily available on the internet or in mainstream media. Some vegan celebrities in the UK have established large followings, including Ellen DeGeneres, Bill Clinton, Elizabeth Hurley, Kate Moss and Naomi Campbell. Vegan celebrities range from Jenna Jameson to Alicia Silverstone and Kim Kardashian to Koko the Gorilla in the US.
Celebrities Who Are Vegan
Despite most celebrities being meat-eaters, several have made a splash by sticking to a plant-based diet. Karma products are a vegan-friendly food, cosmetic and clothing company. After news broke that the company's key investor was the richest man on earth, several celebrities pledged to help them raise their profile. With a range of cruelty-free skincare and vegan apparel, they have plenty of followers already.
With their luxurious haircare range, fans love to visit Kat Von D's Facebook page. Her husband, Leafar Seyer, is a vegan activist and has hosted several vegan events in Los Angeles. The actress strongly supports animal rights, and stars in the Netflix hit series "Stranger Things".
You may have seen these social media influencers, including Chloe Moretz, Kourtney Kardashian, Olivia Munn, Vanessa Hudgens and more, all proudly proclaiming their love for veganism on their social media accounts. Vanessa Hudgens, famous for her role as Sierra Burgess in the film Sierra Burgess is a Loser, promotes the benefits of a plant-based diet and advocates for the campaign to End Animal Exploitation Forever.
YouTube has become a hub for vegan content, and a recent study found that around 15 percent of those surveyed used YouTube to watch vegan videos. Shay Mitchell is a popular YouTuber and works with other popular YouTubers, including Megan Jayne Crabbe, VegganocityUS and Vegan High, who promote plant-based content.
As well as the well-known celebrity Vegan athletes like vegan yogi Alice Liveing, many celebrities are adopting a plant-based diet. While some are long-term vegans, others are still trying to work out if they can commit to it. Here are some of the most famous vegans.
Pete Doherty Vegan – cause: animal rights. What he eats: lettuce, nuts and vegan cheese. Pet Shop Boys singer/songwriter Pete Doherty became vegan aged 32. He said that this "was the right thing to do" after watching filmmaker Louie Psihoyos's documentary River Cottage Meat, about the lives of animals used in British piggeries. Describing his life as "more full" since adopting a vegan diet, Doherty takes inspiration from his Irish roots, adding that the Irish have a "nature-first" approach to diet.
Most Popular Vegan Celebrities
Shakira, The Bad Boys of Ska, Beyonce, Lily Allen, Alice Waters, Neil Patrick Harris – Meat-Eaters = #FakeAthletes. However, a large majority of fans of vegan celebrities remain disbelieving. Many don't believe these people are actually vegan. The reason they don't believe it is because many famous vegans in the media are also meat-eaters.
Even though a number of these famous people have embraced a vegan lifestyle, they still eat meat. Sara Benincasa, Nick Kroll, Amy Schumer, Maya Rudolph, Lily Allen, Alex Preston, Beyonce, and Michael K. Williams – These celebrities have clearly taken steps to become vegans but continue to eat meat.
Celebrities can be used to promote a certain lifestyle or certain cause. But some vegans can achieve a level of recognition and popularity not achievable by normal activists. These 'vegan celebs' are hugely popular with the vegan community and have been identified by Ethical Planet as the most influential in this area. If you don't know of any vegan celebrities, don't worry.
The vegan community is filled with passionate activists, scientists, doctors, teachers, and others passionate about their cause. Here are some of the top vegan celebrities in the world today:
1. Jessie Stewart Wearing glasses and fluffy teddy bear coat, Jessie Stewart heads up the Vegan Society. She is also a well-known vegan, hosting the VEGANS! TV show.
So what are the most popular vegan celebrities, and what about their dietary choices? The celebrities in the top ten are all strong advocates for veganism and often speak openly about the diet's benefits. These include actress Kate Winslet, singer R.E.M, model and actress Amber Valletta, Olympian, fencer, and vegan Misty Copeland.
Taking the number one spot this year is a vegan chef and author Matthew Kenney, who is the author of two cookbooks and the founder of the vegan restaurant Mama's Pizza. In an interview with US News and World Report, Kenney said: "I'm a huge advocate for a plant-based lifestyle. It works for so many people, and it provides all the things you need. "When I eat a piece of pizza, I don't think about what it is. I enjoy it. I feel great.
Veganism In The Film Industry
Miles Blair is a vegan chef who has cooked for Beyonce and Jay Z and even Beyonce's mom, Gloria Carter. When he came across a picture of Beyonce wearing an animal skin coat, he felt a tug in his heart. "I actually said to myself, 'I don't like that feeling. I don't like that feeling because it makes me feel like, you know what, I don't want to work for somebody like that.'" he says.
Inspired, he made the difficult decision to walk away from a successful and very rewarding career. "I remember I was standing at the closet with my wife at the time, and I opened up my closet, and I literally had a leather jacket on, and it was almost like I almost threw it on, and I didn't want to," he says. "And my wife says, 'What's wrong with that?'" and I said, 'I don't know.
Two of Hollywood's leading ladies, Natalie Portman and Uma Thurman, are vegetarian and vegan. They're part of a growing number of meat-free Hollywood stars. In fact, more stars are vegan than ever before. There are now more than 350 vegan-friendly films that have been released in the last 15 years.
That's a startling figure compared to the mere 100 vegan films made in the previous 75 years. The latest vegan film is The Boss Baby, which is released in cinemas worldwide today. The animated family movie follows a baby boy's journey to pursue his ambition to boss the human race. Of course, there are plenty of Hollywood celebrities who are actually vegans.
Veganism In The Fashion Industry
At the beginning of 2017, more than 70% of models walked in a Victoria's Secret Fashion Show, up from just 5% in 2016. Major fashion brands have been increasing their campaigns featuring vegan and vegetarian models. In 2018, H&M became the first major clothing brand to launch a vegan collection and produced several other limited edition collections.
Top Vegan Celebrity Designers – This year, the two highest-paid vegan celebrities, Lindsey Lohan and Rosie Huntington-Whiteley, launched vegan clothing lines. Lindsey launched Lindsey Lohan Vegan International (LLVIN) on her birthday in March. The company sells clothing, accessories, jewelry, and beauty products with her name and face. The collection currently retails for $10 to $125.
With vegan celebrities sharing their views on social media, veganism has become more mainstream and has even become integrated into the mainstream fashion industry. Leading high street brands, such as Zara, ASOS, H&M and Asos, have all adopted a vegan uniform for their customers.
The rising number of vegan celebrities, many of whom are vegan, has helped spread the message about the vegan lifestyle. Many vegans have used their visibility to spread messages about ethical and environmental issues and encourage members of the public to make positive changes to their own diets. Is veganism going mainstream? According to The Vegan Society, in 2016, there were 2.3m vegans in the UK.
Veganism In The Athletic Industry
The sports industry has also witnessed a rise in the number of female athletes adopting a plant-based diet. Some of the world's leading athletes have become vocal proponents of the vegan lifestyle. These include basketball player Ellen Von Unwerth, tennis player Mardy Fish and Formula 1 driver Jos Verstappen.
Inspired by their success, thousands of women have begun to exercise to improve their well-being, lower their cholesterol levels and achieve leaner, trimmer figures. Vegan athletes say that a vegan diet helps them to concentrate better and recover faster from injuries. According to one study, compared to non-vegans, athletes following a vegan diet have an increased recovery rate after injury.
Vegans are just as inclined to keep fit as anyone else. Indeed, vegan athletes are more likely to report being physically active than meat-eaters. Many have benefited from the introduction of vegan-friendly equipment and footwear to the sporting world. Nike, the world's largest sportswear company, is thought to be the first sporting brand to introduce vegan-friendly footwear in 2004. Having seen the success of this, many other brands quickly followed suit.
Now, a vegan is about as likely to wear Adidas as they are to wear a fur coat. Speaking of that coat, fur is once again under fire in the fashion industry. Last year, a Canadian company was accused of racism by animal rights activists who used a black bearskin on a hoodie they sold.
With the rise of veganism has come the rise of vegan athletes. High-profile athletes such as Travis Pastrana, Missy Franklin and Megan Rapinoe are dedicating their careers and lives to environmental and animal welfare issues. And with so many diet-related scandals and associated health issues, many athletes are looking for ways to reduce the risk of injury while also maintaining their health and fitness.
Recent research carried out by the University of Melbourne found that vegans have twice as much muscle as the average non-vegan, making them ten times more likely to be fit. Veganism helps rheumatoid arthritis, asthma, thyroid disease, diabetes, obesity, and anemia.
How Vegan Celebrities Are Changing The World
While not all of them were Vegan before taking up their role, many of these celebrities have achieved prominence in the vegan community in the last five years. Some of the Vegan celebrities on this list have more than 1.5 million fans combined!
Vegan Celebrity Health Benefits Boosts Immunity – Research shows that eating a vegan diet can increase immunity while increasing the ability to absorb antibodies and improve natural killer cell immunity. This supports the fact that a healthy diet can prevent the body from becoming more susceptible to disease.
Meat and dairy consumption is killing the planet. But veganism provides a solution. The main environmental argument against consuming animal products is that it is causing climate change. Statistics back the argument: livestock accounts for 18% of all greenhouse gas emissions. That's more than the entire aviation industry.
Livestock produces methane, a potent greenhouse gas that is 25 times more potent than CO2. Meat and dairy production has a range of negative environmental impacts that directly result from animal farming: land needed to raise animals for food is often used to grow grain for human consumption. Water used to produce meat or dairy leads to degradation of waterways and loss of biodiversity.
According to a study published in the journal Obesity, the UK has a vegan population of 4% (4.4m), representing 1.9% of the entire adult population. Approximately the same number of UK adults follow a lacto-ovo-vegetarian diet, which still involves consuming dairy, eggs, fish, and certain oils.
But the U.S. has a population of over 325 million people. If the same percentage of Americans became vegan, it would equate to an additional 39 million people who would adopt a plant-based diet. That would be enough to prevent the release of nearly 200 million animal deaths annually from the impact of animal agriculture. If the UK population of 4% were to become vegan, it would eliminate 18 million animal deaths from the impact of animal agriculture annually.
Conclusion
It's not easy to eliminate animal products from your diet. But by following simple tips and recipes and staying dedicated to a vegan lifestyle, veganism is an easier and more rewarding way to live.
Vegans are clearly the stars of the vegan community. The key vegan celebrities from different niches are beginning to collaborate, creating a more united voice in the vegan community. Dieters have turned vegan thanks to the popular diet cravings. Vegans have turned vegan by following the influence of the world's most famous vegan celebrities. And when faced with the decision of which diet to follow, most people choose the advice of vegan celebrities, just like millions of other vegans.
I trust you enjoyed reading the article about the Top Vegan Celebrities. Please stay tuned. There are more blog posts to come very shortly.
JeannetteZ
Your Opinion Is Important To Me
Ideas? Thoughts? Questions? I would love to hear from you. Would you mind leaving me your questions, experience and remarks about the Top Vegan Celebrities in the comments section below? You can also reach me by email at Jeannette@LivingTheVeganLifestyle.org.
Below please find a link to the amazing book by Dr. Douglas Graham, an athlete on a raw vegan diet. "This book is the best I ever read on a raw vegan diet!" JeannetteZ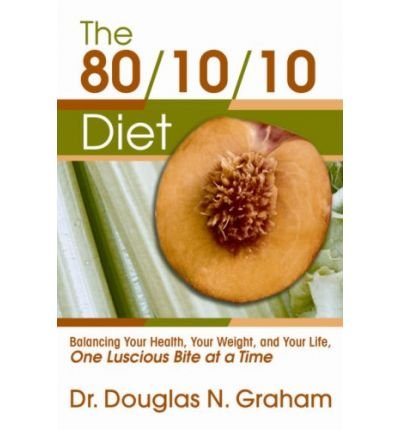 80/10/10 Diet: Balancing Your Health, Your Weight, and Your Life One Luscious Bite at a Time (Paperback) By (author) Douglas N Graham
You might also enjoy these blog posts:
Why You Should Go Vegan – A Guide
Cruelty-Free Vegan Cosmetics – Love The Animals
The Definitive Guide To Vegan Fashion And Style
A Guide To The Best Vegan Accessories