7 Delicious Vegan French Toast Recipes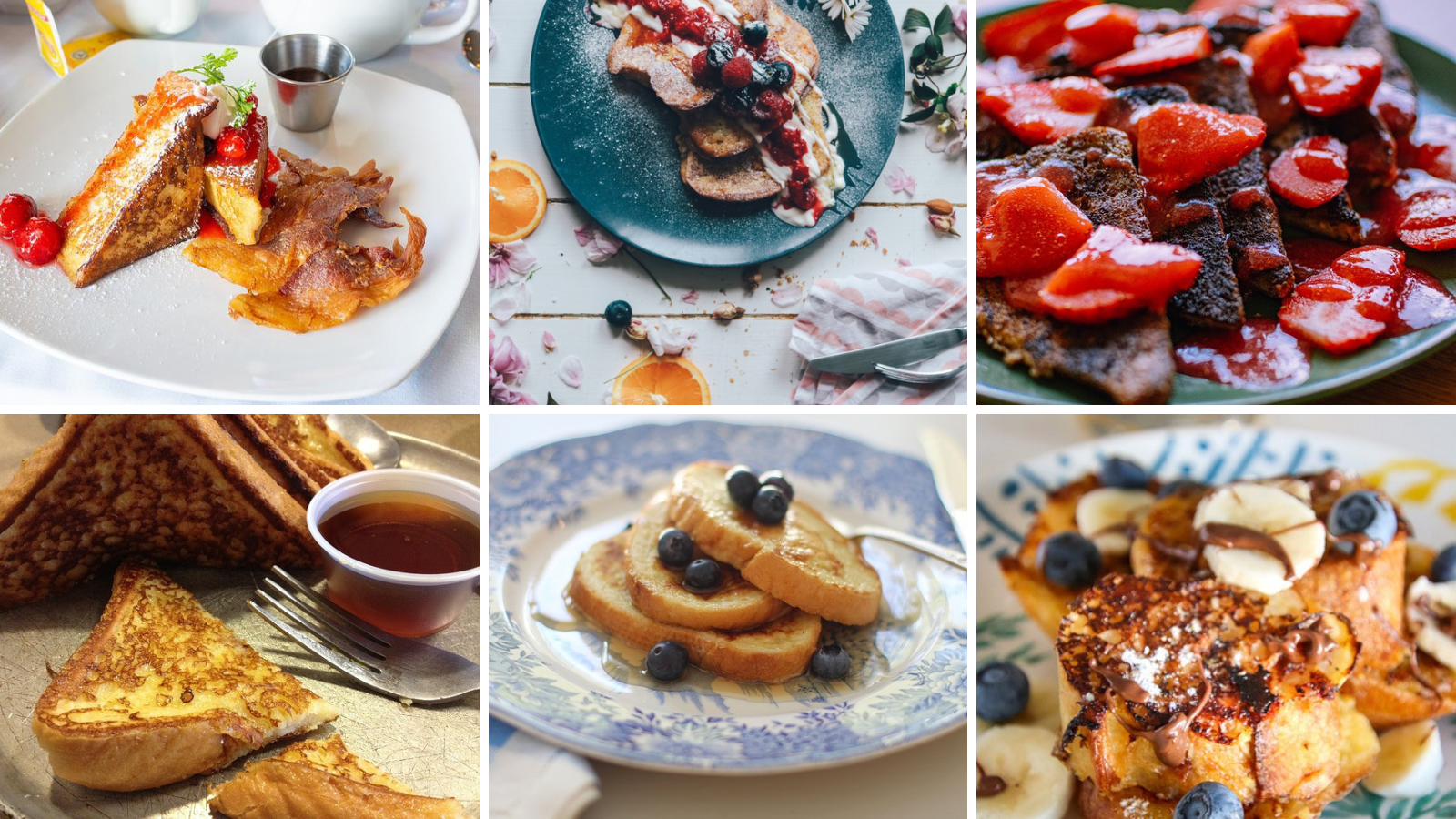 7 Delicious Vegan French Toast Recipes
French toast is a breakfast dish made from bread that has been soaked in milk and eggs, then cooked. It's a classic breakfast treat. This vegan recipe swaps out the milk and eggs for soy milk and tofu, making it the perfect dish for anyone who is strict about their diet.
This recipe is easy to make, but the end result is anything but bland. The tofu creates an interesting texture, while the maple syrup and fresh strawberry preserve add some fruity notes that take this dish to a new level of deliciousness. Serve this dish with some fruit on top or vegan butter and jam to complete your breakfast!
Use The Finest Bread Possible
The greatest French toast is made using somewhat stale, rustic white bread sliced into thick pieces. That's because it's strong, has a nice texture, and won't readily come apart.
It absorbs the tofu custard better since it's stale rather than fresh. Rustic, crusty bread also tastes better. French toast is a straightforward dish. For it to be at its finest, it must be made with high-quality ingredients.
If the bread is too thin and flimsy, such as inexpensive white sliced grocery store bread, it will not absorb the custard and break apart. It won't have a decent chewy crust or flavour either.
Please remember that the bread you use should be at least a few days old. The greatest French Toast is made using stale bread. This makes it an excellent recipe for using any stale bread you may have on hand.
If you crave some vegan french toast but only have fresh bread, put some slices out on the counter overnight. This will help to dry them out. Alternatively, you may place the fresh slices on a baking sheet and bake them at a very low temperature until they are somewhat dry.
The 5 Best Types Of Bread For Vegan French Toast
Choose your bread wisely – Bread that is crusty, strong, and of excellent quality.
When it comes to vegan french toast, not all types of bread can be used. It takes a particular kind of loaf of bread to stand up to all that wonderfully sugary, creamy, and eggy goodness. Here are some interesting facts about the best bread for your next batch of French toast.
What Are We Looking For?
Here are some of the facts that you need to consider when choosing the perfect bread for delicious vegan french toast:
Sturdy. It doesn't matter which French toast recipe you use, you will have to saturate the bread in a wet batter. The type of bread you select will need to stay in shape even when you are pan-frying it without the bread falling apart. Choose something thick-cut and dense instead of something finely sliced and airy.
Slightly stale. French toasts are usually made with a few days old breads to prevent it from being wasted. The slightly stale bread will absorb the liquid custard-like mixture much easier than the fresh slices. This is just a suggestion and you can absolutely use fresh bread to make french toast.
Flavour. My mother always said that we shouldn't cook with wine that we wouldn't drink. This same principle applies to french toast. Only use bread that consists of high-quality ingredients.
Without further delay, here are the five best types of bread for making French toast: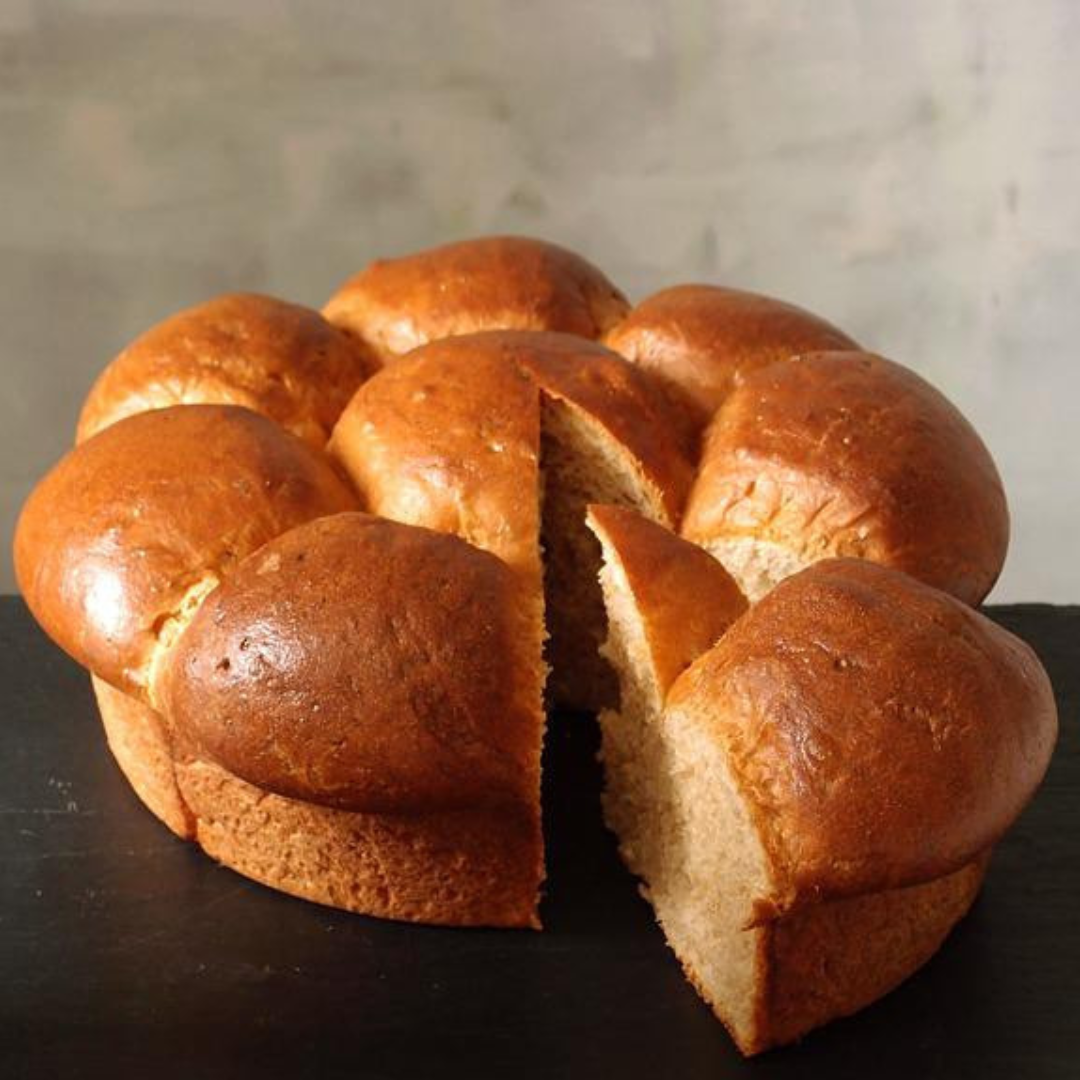 1. Vegan Brioche
Vegan brioche is one of my favourite types of bread to make french toast. It is thick and sturdy with tender plush crumbs. Its high vegan butter and egg substitute content makes it an ideal type of bread for the rich custard made with vegan eggs, plant-based milk, vanilla and icing sugar or maple syrup. It's for these reasons that the vegan brioche is one of my favourites to make french toast.
2. Sourdough
The sourdough bread's tanginess adds a touch of complexity to the over-the-top sweetness of French toast. Its natural flavour and texture are very similar to some 2-3 day-old white bread, so this is my favourite bread. Plus, it's one of the sturdiest bread and you don't have to worry about it falling apart while cooking your french toast.
3. French Bread
No surprise here: Tonight's baguette is excellent for tomorrow's French toast. French bread is typically best eaten fresh. So the next day you can easily make french toast with it. French bread like the baguette has a thick crumb and crisp crust. Similar to the vegan brioche the baguette makes ideal french toast. It stays firm while you soak it and it doesn't fall apart in the frying pan either.
4. Vegan Challah
In my opinion, there is nothing worse than wasting a perfectly good vegan challah. Not only does the traditional Jewish bread have all the hallmarks of a great French toast bread but the braided loaf makes for a gorgeous finished dish.
5. Plain Ol' White Bread
At the end of the day, French toast is a dish born out of frugality. Any thick-sliced white bread you have on hand will work, so don't even think about throwing away a loaf just because it's not the finest brioche your local bakery has to offer.
Vegan French Toast Recipes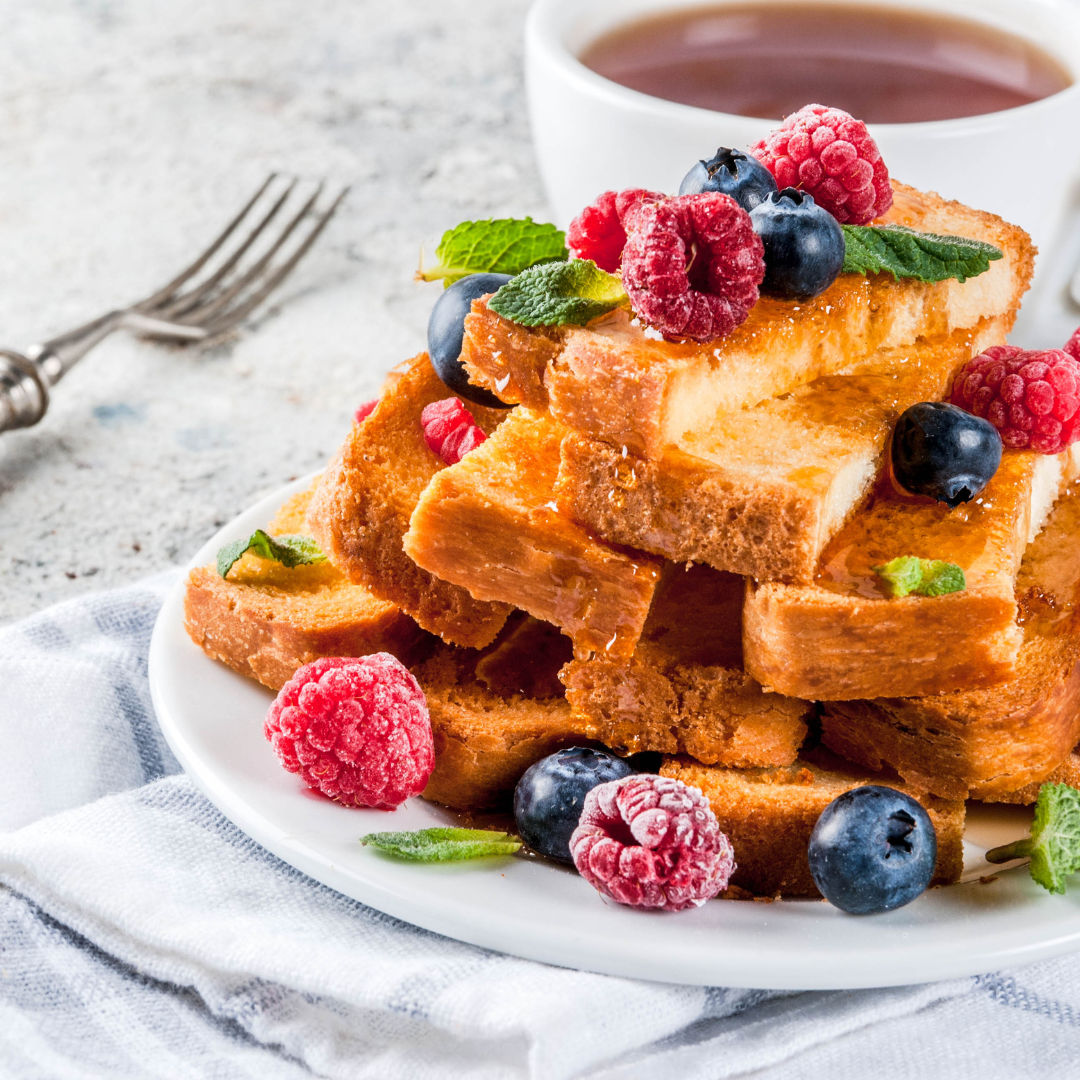 1. Vegan French Toast With 'Flaxseed Eggs'
Prep time: 5 minutes | Cook time: 5 minutes | Total time: 10 minutes | Servings: 3
Ingredients
Soy milk, unsweetened (or other non-dairy milk): 1 cup
Cornstarch: ¼ cup
Ground flaxseed: 1 teaspoon
Baking powder: ½ teaspoon
Cinnamon powder: 1 teaspoon
Maple syrup (pure): 2 tablespoons
Vanilla extract: 1 teaspoon
Good bread, such as ciabatta or baguette: 6-8 pieces, thickly cut
Vegan butter or coconut oil: 2-3 tablespoons for frying
Ingredients For Serving
Maple syrup
Icing sugar or
Fresh seasonal fruit (I love to use wild blueberries and raspberries)
Method
Blend the soy milk, cornstarch, ground flaxseeds, baking powder, cinnamon, maple syrup, and vanilla in a high-speed blender and pour into a shallow basin large enough to contain a slice of bread.
Melt a little amount of vegan butter or coconut oil in a skillet over medium-high heat. It is important to whisk the mixture again just before dipping the bread because the cornstarch will move to the bottom of the basin.
Dip the bread slices in the batter, on each side for approximately 10 seconds before placing it in the pan and cooking for 2-3 minutes on each side, until golden brown. In between slices of bread, add extra vegan butter/oil to the pan as required.
Serve with your favourite fruit, maple syrup, or powdered sugar.
Nutrition
Serving: 1 portion
Calories: 404kcal
Carbohydrates: 69g,
Protein: 12g,
Fat: 8g,
Saturated fat: 2g,
Sodium: 648mg,
Potassium: 165mg,
Fiber: 2g,
Sugar: 3g,
Vitamin A: 524iu,
Calcium: 141mg,
Iron: 1mg
Note: Nutritional values are estimates only.
2. Vegan French Toast With Rustic Bread
Prep time: 20 minutes | Cook time: 6 minutes | Total time: 26 minutes | Servings: 4-5 slices
Ingredients
Chia seeds (whole or finely powdered so they're unnoticeable): 1 tablespoon, heaped
Maple syrup or agave nectar: ½ tablespoon
Almond milk (unsweetened) (or any non-dairy milk): 1 cup
Cinnamon powder: 1 teaspoon
Vanilla extract: ½ teaspoon
Firm bread (it's vital to choose a solid, rustic bread rather than sandwich bread, otherwise the bread will be mushy and soft): 4-5 slices
Method
In a large, shallow mixing basin, combine all ingredients except the bread. Place in the fridge for 10-20 minutes to activate.
Preheat the griddle to 350 degrees F / 176 degrees C and grease with 1 tablespoon vegan butter or coconut oil.
For approximately 20 seconds on each side, dip each piece of bread in the batter (is your batter too thick? Add a bit of more almond milk). If your bread is dry, cook it for a few minutes longer. If you're using sandwich bread, soak it for no more than 25-30 seconds.
Cook until golden brown on the bottom of a griddle. Flip carefully and cook for another 3-4 minutes, or until golden brown on the other side.
Toppings of choice: coconut whipped cream, strawberries, and maple syrup were my choices.
Nutrition
Serving: 1 slice
Calories: 165
Carbohydrates: 29.6 g
Protein: 6.1 g
Fat: 2.4 g
Trans Fat: 0 g
Cholesterol: 0 mg
Sodium: 343 mg
Fibre: 2 g
Sugar: 3.9 g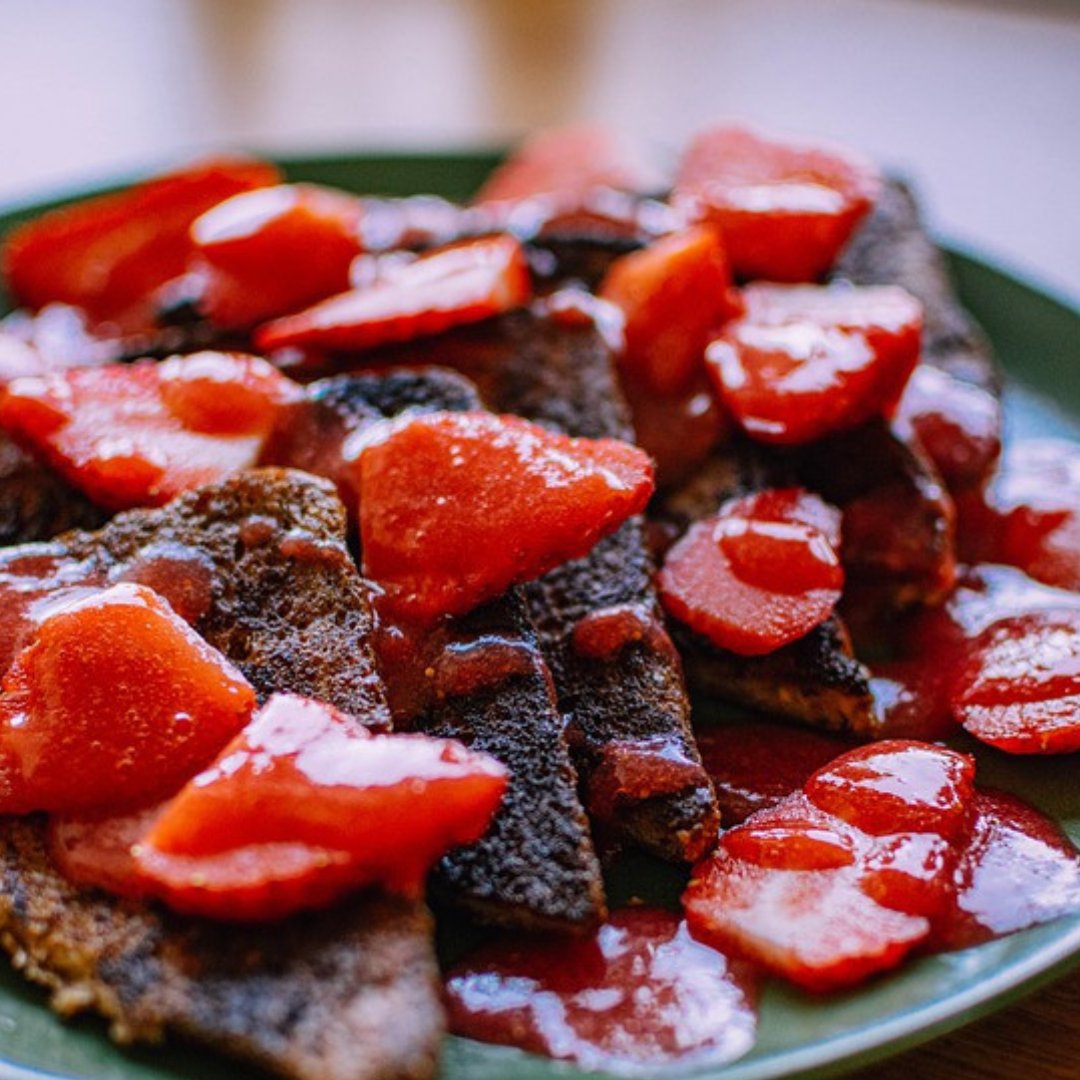 3. Vegan French Toast With Ciabatta Bread
Prep time: 5 minutes | Cook time: 5 minutes | Total time: 10 minutes | Servings: 3
Ingredients 
One-day-old ciabatta bread: 6 slices, ¾-inch thick
Plant-based milk (almond or coconut): 1 cup
Maple syrup: 1 tablespoon, plus a little more for serving
Millet flour (or spelt or whole wheat): 2 tablespoons
Nutritional yeast: 1 tablespoon (optional)
Cinnamon: 1 pinch or to taste
Nutmeg freshly ground: ¼ teaspoon
Coconut oil with a teaspoon of salt for the pan
Ingredients For The Toppings
Icing sugar
Vegan butter
Maple syrup
Seasonal fruit
Method
Using a high-speed blender, mix the almond milk, maple syrup, flour, nutritional yeast, cinnamon, nutmeg, and salt.
Pour the batter into a wide bottom bowl.
Place each piece of bread into the batter turning it so that all sides are evenly covered.
Heat the butter or olive in a frying pan to medium/low temperature. Add the bread slices to the heated pan and bake for a few minutes on both sides, until they are golden brown.
Serve with icing sugar, vegan butter, maple syrup, and fresh fruit.
Nutrition
Calories: 186kcal
Carbohydrates: 33g
Protein: 6g
Fat: 3g
Saturated fat: 1g
Sodium: 385mg
Potassium: 53mg
Fiber: 2g
Sugar: 4g
Calcium: 119mg
Iron: 1mg
The nutrition information provided is an estimate. It will vary based on the cooking methods and specific ingredients used.
4. Vegan French Toast With Tofu
Prep time: 5 minutes | Cook time: 10 minutes | Total time: 15 minutes | Servings: 8 slices
Ingredients For The Batter
Firm tofu: ½ block (approx. 6 oz
Plant-based milk (I use coconut milk): 1 cup
Brown sugar: 1 tablespoon
Vanilla: ½-1 teaspoon
Cinnamon: 1 teaspoon
Ingredients For The French Toast
Vegan butter or coconut oil: 1 tablespoon or more for frying
One-day-old bread: 8 slices (I use brioche or sourdough bread)
Ingredients Ideas For Serving
Maple syrup
Icing or brown sugar
Berries
Method
Combine all your ingredients (except for the bread slices) and blend in your high-speed blender until perfectly smooth.
Preheat a frying pan over medium-low heat.
Brush a little vegan butter on the griddle/pan (oil can be used instead but butter tastes better).
Dip the bread in the mixed 'custard' in a large mixing dish. Allow it to settle for about 20 seconds before turning it over and waiting another 20 seconds. Ensure that all areas are coated, then pull it out and dip the crust around the edges rapidly.
Place the custardy bread pieces on the hot griddle or skillet with care. Cook for about 4-5 minutes, or until deeply golden, then gently turn and cook for another 4-5 minutes, or until deeply golden on the other side. Try not to look while it's cooking and leave it alone. If you move it too soon, the golden surface will be destroyed and will no longer be as attractive.
Remove the griddle from the stovetop and serve right away.
Recipe Notes
It is best to use a good quality crusty bread and not the cheap white sliced bread you buy in the grocery stores. Heartier bread holds its shape, tastes and looks better. The crust part is delicious once fried in the batter.
Ensure you are blending the custard until it is perfectly smooth.
Don't soak the bread in the custard for longer than 20 seconds on each side of the slice. If you soak the bread slices too long they'll become soggy and might fall apart.
Use a great quality non-stick pan to avoid sticking.
Cook until really golden.
5. Vegan French Toast With White Bread
My vegan brunch dreams became true with this best version of vegan french toast ever. It is sweet, soft, and tastes of vanilla. It's golden brown and looks, tastes and feels just like the french toasts made with eggs! This recipe is made quickly and easily in under 15 minutes!
Prep time: 5 minutes | Cook time: 10 minutes | Total time: 15 minutes | Servings: 6 slices
Ingredients
Plant-based milk: 1 cup (240ml)
Extra-firm tofu: 4½ oz (130g)
Vanilla extract: 2 teaspoons
Sugar: 2 tablespoons
Ground cinnamon: ¼ teaspoon
Salt: ⅛ teaspoon
Vegan butter: 1 tablespoon + a little extra for brushing on the pan (optional)
Crusty, firm, white bread: 6 thick slices (it should be a couple of days old (use gluten-free bread if necessary)
Method
Add all the ingredients to a high-speed blender and blend until completely smooth.
Preheat a frying pan over medium temperature.
Add the vegan butter (you can also use oil but the butter tastes much better).
Pour the blended batter mix into a wide-bottom bowl and dunk the bread slices in the custard.
Leave each slice in the batter for approximately 20 seconds on each side.
You want to ensure that all areas of the bread slices are covered.
At the end lift them up and dip the crust on the edges too.
Place the custardy bread slices carefully in the frying pan. Cook each bread slices for approximately 4-5 minutes or until deeply golden brown. Flip them carefully and repeat on the other side. Try not to peek while your french toasts are cooking. You might damage the golden-brown surface if you move them too early and they might not look quite so pretty.
Remove the frying pan from the stove and serve your vegan french toast right away.
Notes
Leftovers And Storage
We all know that french toasts taste best when they are eaten fresh out of the pan. If you happen to have leftovers though, you can keep them in the fridge in an airtight glass container for 2-3 days. You then would reheat them in the frying pan on low heat.
Leftover custard, however, can be easily kept in the fridge in a sealed glass container or jar for 3-4 days.
The custard might be a little too thick. Just add a little bit of plant-based milk and whisk it to mix it well.
Then you can dip the bread slices and cook the french toast as per the recipe instructions.
Success Tips
Use 2-3 day old bread. It soaks up the batter much better than fresh bread. If you have a craving for french toast but you have fresh bread only. You can slice it up and leave it out on the counter for a few hours to dry out.
Nutrition
Serving: 1 thick slice
Calories: 238kcal
Carbohydrates: 38g
Protein: 10g
Fat: 5gSodium: 420mg
Fiber: 1.5g
Sugar: 7g
Vitamin A: 100IU
Calcium: 120mg
Iron: 2.9mg
Note: Nutritional information is provided for your convenience and is only an estimate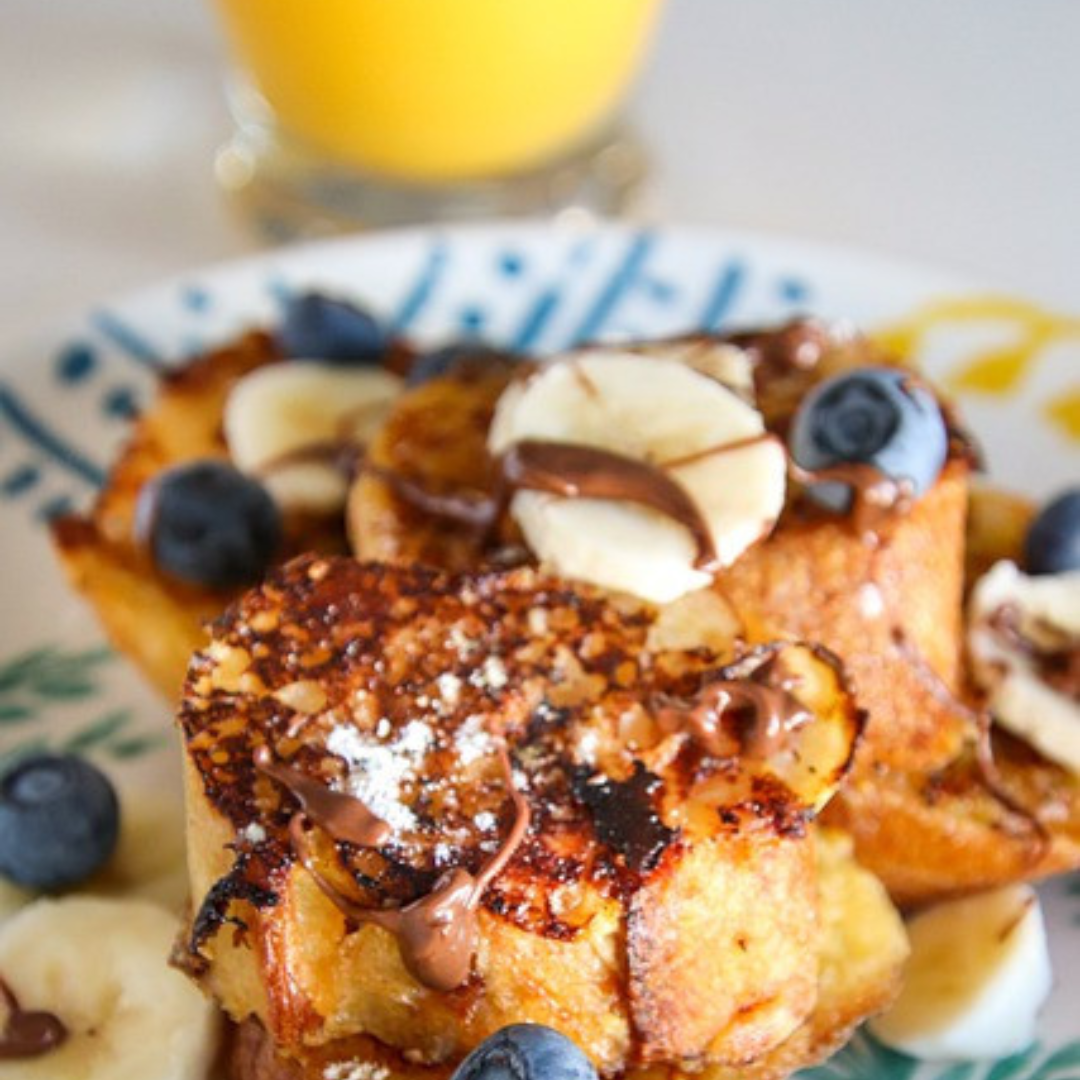 6. Vegan & Gluten-Free French Toast
Prep time: 10 minutes | Cook time: 30 minutes | Total time: 40 minutes | Servings: 6 slices
Vegan French toast is one of my favourite delicious childhood breakfasts. This one has no eggs and dairy, so I can still enjoy it even as a vegan. They are sweet, crunchy and soft, and only made with 7 ingredients.
Ingredients
Tapioca flour: 3 tablespoons
Unsweetened plant milk (250 ml): 1 cup (250ml) (I usually use coconut milk)
Brown sugar: 1 tablespoon
1 tsp vanilla extract: 1 teaspoon (optional)
Ground cinnamon: ½ teaspoon
Salt: ⅛ teaspoon
Glutenfree vegan bread: 6 slices (see notes)
Vegan butter or oil
Instructions
Mix all the batter ingredients (flour, plant-based milk, sugar, vanilla, cinnamon, and salt) in a wide-bottom and shallow bowl until it is well combined and smooth. You can also use a high-speed blender so the ingredients are better mixed.
Cover both sides of the bread slices in batter mix until they are completely covered. You might want to soak each slice for approx. 30 seconds (if you soak them too long they become soggy and might fall apart).
In a frying pan heat some vegan butter or coconut oil.
Then add the bread slices. Cook them over medium-high heat for 2-3 minutes or until golden brown.
You should serve them right away with your favourite toppings I usually add wild blueberries or any other seasonal fruit. My husband loves to use maple syrup and some berries. Sometimes we even use homemade jam as a topping.
 Recipe Notes
You can store the leftover batter in a sealed glass container for 3-4 days in the fridge and approx. 2 months in the freezer.
You can use any type of flour. We usually use gluten-free, simply because it is healthier.
I don't like french toast too sweet, so I add less sugar. I usually add more vanilla to them.
The original recipe calls for soft bread. We use our own homemade vegan bread.
Stale bread works best for French toast.
Using butter will make the toast tastier, but coconut oil is also delicious and healthier. Any kind of oil will work, though.
Serve with strawberries, blueberries, blackberries, seasonal fruit, vegan whipped cream, and jam.
Nutrition
Serving Size: 1 slice of french toast
Calories: 131
Sugar: 5 g
Sodium: 265 mg
Fat: 4.6 g
Saturated Fat: 0.9 g
Carbohydrates: 20.5 g
Fiber: 0.9 g
Protein: 2.6 g
7. Vegan Banana French Toast
This vegan banana french toast is made with healthy, whole-food plant-based ingredients and makes a scrumptious breakfast the whole family will love! This is an eggless and dairy-free recipe.
Prep Time: 10 minutes | Cook Time: 10 min | Total time: 20 minutes | Servings: 6 slices
Ingredients
Ripe banana: 1 large
Almond milk unsweetened, or plant-based milk of choice: ¾ cup
Cinnamon: ¼ teaspoon, or to taste
Nutmeg: 1 pinch (optional)
Vanilla extract: 1 teaspoon
Vegan butter or coconut oil for frying
French or sourdough bread: 6 slices, cut ¾ – 1 inch thick
Pure maple syrup, for serving
 Method
Preheat your frying pan on medium heat or griddle to the manufacturer's instructions.
Slice your loaf of bread into ¾ – 1 inch thick slices.
Mash the banana in a flat-bottom medium-sized until creamy and without lumps.
Add the vanilla, cinnamon, optional nutmeg, and plant-based milk, and whisk until the ingredients are well mixed.
Quickly dip bread into the batter and flip to coat the other side (don't let the bread slices soak, or you may have soggy french toast).
Use approximately 1 teaspoon of vegan butter or coconut oil, to fry each batch of french toast. (do this each time you add a new batch).
Place french toast sliced on the griddle and cook for 3 – 4 minutes on each side, or until golden.
Serve with maple syrup and/or fresh fruit of your choice.
Recipe Notes
If using regular sandwich bread, be sure to dip it quickly on each side or you may end up with a soggy center.
For a smooth banana mixture, use a blender to mix the ingredients.
Nutrition
Serving: 2 slices
 Calories: 297
Total fat: 7.6g
Sodium: 359.6mg
Total carbohydrates: 45.6g

Dietary fibres: 7.4
Sugars: 10.3g

Protein: 11.8g
Note: The nutritional values are estimates only.
Conclusion
It is easily possible to make vegan french toast that looks and tastes the same as the milk and egg version.
The most important ingredient for excellent french toast is the type of bread. It is essential to use good quality bread that is a few days old. Fresh bread doesn't soak up the vegan custard as well as old bread.
In this blog, I presented you with some of my favourite vegan french toast recipes.
I trust you enjoyed this article about the 7 Delicious Vegan French Toast Recipes. Please stay tuned for more blog posts to come shortly. Take care!
JeannetteZ
Your Opinion Is Important To Me
Ideas? Thoughts? Questions? I would love to hear from you. Would you please leave me your questions, experience, and remarks about this article on the 7 Delicious Vegan French Toast Recipes, in the comments section below? You can also reach me by email at Jeannette@LivingTheVeganLifestyle.org.
Disclosure
This post may contain affiliate links. As an Amazon Associate and other affiliate programs, I earn from qualifying purchases. Read my full disclosure.
Here are links to some of my favourite articles:
6 Most Delicious Vegan Scallop Recipes
Best Vegan Restaurants In Estonia
12 Best Vegan Restaurants In England