9 Best Iodine Intake Food Recipes For Your Kids
9 Best Iodine Intake Food Recipes For Your Kids
What Exactly Is Iodine?
Iodine is a mineral that the body needs in small amounts to function properly. When a vitamin is classified as "essential," it means that your body cannot create it and that you must obtain it from your diet.
When you hear "iodine," the first thing that comes to mind is probably table salt branded "iodized salt." Iodine isn't just contained in table salt. In truth, iodine isn't present in the salt. The World Health Organization suggests adding iodine to table salt to combat nutritional deficits.
Regarding your child's health, we believe iodine is a gem, not a mineral (if you know what we mean). Iodine is a nutrient that children require to be active and maintain regular body functions.
How Much Iodine Do Children Require?
Too much or too little vitamin can harm your child's health. Your youngster requires an adequate amount of iodine, not too much or too little. Vomiting, diarrhea, abdominal pain, fever, and a variety of other symptoms can all be caused by too much iodine.
The following are the WHO's dietary requirements (RDA) for iodine:
250 mcg/day for pregnant and nursing women
90 mcg/day for infants to six years old
120 mcg/day for children aged 6 to 12
150 mcg/day for adults and adolescents
Why Are Some Persons Deficient In Iodine?
Some Australian youngsters, particularly in Victoria, Tasmania, and New South Wales, are deficient in iodine.
This could be due to low iodine levels in the soil in some parts of Australia, resulting in low iodine levels in the vegetables grown there.
Many families have eliminated salt from their meals, lowering iodine levels. When they add salt to their food, it's usually ordinary salt or sea salt rather than iodized table salt.
Iodine In Excess
It is possible to consume too much iodine, although it is challenging to consume a dangerously high level of it. To consume too much, your youngster would have to consume 1 kilogram of cheese, 25 whole-boiled eggs, or 5 glasses of milk in one sitting.
High dosages of iodine could be found in some drugs and supplements.
Too much iodine might cause thyroid problems in certain people.
Iodine Intake Food Recipes
I have a blog on Vegan Iodine Sources; in this blog, I will share some delicious vegan food recipes that will help you to fill iodine deficiency.
1. Wild Garlic And Seaweed Pesto
If you've never eaten wild garlic, it tastes similar to regular garlic but is considerably more delicate. Furthermore, the bulb, leaves, and flowers are all edible. This Japanese-Italian fusion pesto combines the leaves with wakame, nori, and sesame seeds to produce a unique pesto. Serve it to your kids with pasta, potatoes, or your favorite vegetables.
Prep time: 15 minutes | Cook time: 20 minutes | Total time: 35 minutes | Servings: 4
Ingredients
Wild garlic: 7 oz
Wakame seaweed: .3 oz
Nori seaweed: ½ sheet
Sesame seeds: 1-2 tablespoons
Extra virgin olive oil to taste
Umeboshi plum vinegar or lemon juice to taste
Sea salt to taste
Black pepper to taste
Method
Soak the wakame seaweed for at least 2 hours in warm water. Wash the wild garlic and blanch it for 2 minutes in salted water. Drain, mash, and place in icy water right away. Set aside the surplus water after squeezing it out.
Toast the sesame seeds in a pan over medium heat until golden brown, turning regularly with a wooden spoon. Keep an eye on it since it might burn quickly. Place the mixture in a small basin and set it aside.
In a skillet, quickly brown the nori. Grind the sesame seeds into a paste in a small blender. Combine the wakame, nori, and wild garlic in a bowl. As needed, drizzle in a small amount of olive oil or water.
Add in a pinch of umeboshi plum vinegar or lemon juice, black pepper and sea salt to taste, and serve.
2. Seaweed And Tofu Poke
Poke is a classic Hawaiian meal. This poke stirs tofu and seaweed with ginger, lime, garlic, shallots, and soy sauce. The dish also includes wakame, which is a form of seaweed. This seafood-inspired meal is best if chilled.
Prep time: 20 minutes | Cook time: 30 minutes | Total time: 50 minutes | Servings: 5
Ingredients
Extra-firm tofu: 14 oz
Dried wakame: 2 tablespoons
Soy sauce: 3 tablespoons
Sesame seeds: 2 tablespoons
Lime juice: 2 teaspoons
Garlic: 2 cloves, minced
Red onion: ½ cup, finely diced
Ginger: ½ teaspoon, peeled and grated
Green onions: 2, chopped
Method
In a medium mixing bowl, combine the dry wakame and two glasses of water. Set this aside, or cook it according to the package directions.
Rinse the tofu with water before putting it in a pie pan and stacking plates on top of it to remove as much liquid as possible. Allow it to sit for about 20 minutes while you finish the remainder of the ingredients.
In a large mixing bowl, combine the soy sauce, sesame seeds, lime juice, garlic, red onion, ginger, and red onions.
Remove the tofu from the pie pan and cut it into bite-size cubes before adding it to the mixing bowl.
Drain the water from the seaweed, rinse it with water and squeeze out as much water as possible. Combine it with the tofu in a mixing basin.
Gently whisk in all of the ingredients until they're well incorporated. You can eat it immediately or put it in the fridge to chill. Allow cooling before serving.
3. Mung Bean Burger With Mushroom And Kale
A filling vegan burger with a meaty texture and a deep and earthy flavour! Make a basic sandwich or meaty wrap with some pesto and tomato!
Prep time: 25 minutes | Cook time: 50 minutes | Total time: 1¼ hours | Servings: 10
Ingredients
Sunflower seeds: 2½ oz
Onion: ½, peeled and diced
Kale stems removed: ½ cup
Mushrooms: 5¼ oz, sliced
Cooked mung beans: 7 oz
Capers: 2 tablespoons
Paprika: 1 teaspoon or to taste
Tomato purée: 1 tablespoon
Extra virgin olive oil: 1 tablespoon
Sea salt and black pepper to taste
Method
In a food processor, mix the sunflower seeds until the texture resembles breadcrumbs.
In a skillet with olive oil, sauté onion until brown, about 10 minutes.
Cook for 5-10 minutes with the sliced mushroom. Add the kale and allow it to wilt.
Combine the mushroom mixture with the remaining ingredients in a food processor, season, and process until smooth but not too smooth.
Form the mixture into tiny burgers using your hands. Bake for 15 minutes at 355°F on a lined baking sheet, then flip and bake for another 5-10 minutes.
Serve with fresh vegetables or a sourdough bun.
4. Zucchini Tater Tots
You're undoubtedly familiar with tater tots, the prized (and greasy) potato-y pillows served during school lunches. This recipe is a healthier version for kids, and they're so delicious that kids want to keep them in their pockets. It's as simple as combining mashed potatoes with grated zucchini, shaping them into tots, and baking them till golden and crispy.
Prep time: 10 minutes | Cook time: 25 minutes | Total time: 35 minutes | Servings: 3-4
Ingredients
Small potatoes: 6-7
Zucchinis: 2 medium
Salt, pepper, and sweet paprika to taste
Olive oil
Method
Peel the potatoes and cook them until they are fork-tender. Allow them to cool for a few minutes until they are safe to handle.
Meanwhile, shred the zucchinis and press out as much moisture as possible using a dishtowel.
Grate the potatoes in a medium-sized mixing bowl and add the grated zucchini.
Season to taste with spices and toss everything together with your hands.
Preheat the oven to 425 degrees Fahrenheit and line a baking sheet with parchment paper. You may need to line a second baking sheet if you can't fit all of the tater tots on one.
Form little cylinders with your hands in the desired size and lay them on the baking tray.
Brush both sides of each tater tot with olive oil to prevent sticking.
Brush both sides of each potato tot with olive oil to prevent them from sticking to the parchment paper, and bake for 35-40 minutes or until crispy.
Serve with dips of your choice.
5. Edamame Seaweed Salad
Are you looking for something other than lettuce in your salad with iodine intake? Try out this easy edamame seaweed salad! Edamame and wakame seaweed are tossed in a sweet, umami sauce with fresh ginger undertones before sprinkling with crunchy sesame seeds. This salad is excellent for a light lunch or a side dish for dinner.
Prep time: 15 minutes | Cook time: 30 minutes | Total time: 45 minutes | Servings: 4
Ingredients
Edamame: 3 cups
Dried seaweed: ½ cup
Green onions: 2 sliced
Ginger: 1 tablespoon minced
Rice vinegar: 2 tablespoons
Maple syrup: 2 tablespoons
Soy sauce or tamari: 2 tablespoons
Sesame seeds: 1 tablespoon
Method
Three minutes after boiling, strain edamame. After 15 minutes of soaking in cold water, drain the seaweed.
Combine the dressing in a mixing bowl with green onion, ginger, rice vinegar, maple syrup, and soy sauce. Mix well.
Combine the edamame and seaweed with the dressing and toss thoroughly in a mixing bowl.
Serve with a sprinkle of sesame seeds on top.
6. Seaweed And Tofu Soup
This 15-minute super simple Seaweed and Tofu Soup is incredibly flavorful, light, and ready in under 15 minutes. The soup (broth) is thinner than other creamy soups, and the seaweed and vegan fish sauce add an umami taste. The beauty of this soup is that it's easy to make, quick to prepare, and healthful! It's a tremendous warm-up starter soup!
Prep Time: 2 mins | Cook Time: 13 mins | Servings: 2
Ingredients
Dried seaweed: 8 g
Vegetable stock: ½ cup
Water: ½ cup
Silken tofu: 150 g
Vegan fish sauce: 1 teaspoon
Sesame oil: 1 teaspoon
Ground white pepper: ⅛ teaspoon
Spring onion or shallot: 1, thinly sliced
White sesame seeds: ½ teaspoon for garnish
Method
In a heavy-bottomed pot, bring vegetable stock and water to a boil.
I use scissors to cut dried seaweed into bite-sized pieces.
Place the bite-size seaweed pieces into the pot.
Place the lid on the pot and allow the soup to simmer for 10 minutes.
After 10 minutes, remove the cover and stir in the diced silken tofu.
Stir in the ingredients (vegan fish sauce, sesame oil, salt, and freshly ground white pepper).
After bringing it to a boil, it's ready to eat. (Spring onion slices and white sesame seeds for garnish)
7. Pinto Bean Soup
This delicious vegetarian/vegan pinto bean soup does not need ham hocks, bacon, sausage, or any other meat.
One-pot delight that's simple, delicious, and quick to prepare. It's also gluten-free and can be turned into a stew or soup by just changing the amount of water used. For a thinner consistency, add additional water or cook longer and reduce until the sauce is thick enough to your satisfaction. Simply toss everything into a heavy-bottomed stockpot, cover, and leave to simmer for a healthy, nutrient-dense hearty supper.
Prep Time: 15 mins | Cook Time: 1 hour | Total time: 1¼ hours | Servings: 6
Ingredients
Pinto beans: 3 cups, soaked for 6 hours or overnight
Carrots: 3, washed and sliced
Yellow onion: 1, diced
Garlic: 8 cloves, minced
Bay leaves: 3
Fresh thyme: 8 sprigs
Mexican seasonings, salt-free: 2 tablespoons
Dry oregano: 1 tablespoon
Smoked paprika: 2 teaspoons
Sweet paprika: 1 teaspoon
Sea salt: 1 pinch or to taste
Freshly cracked black pepper: 1 pinch or to taste
Fresh onion chives: ½ cup, chopped for garnish
Lime: 1, cut into wedges
Green chilli pepper: 1, thinly sliced for serving (optional)
Filtered water: ~8 cups
Kombu to boost Iodine (optional)
Method
Soak the beans for 6 hours or overnight in water after rinsing them.
Preheat a large heavy-bottom Dutch oven over medium-low heat and sauté the onion until transparent, using a drizzle of olive oil. Stir in the carrots and garlic, making sure everything is well coated.
Combine the soaked and rinsed pinto beans, bay leaves, thyme, and kombu, if using, in a large mixing bowl. Bring to a quick boil with 8 cups of filtered water (the beans should be covered by 2-3 inches of liquid). Reduce the heat to medium-low and cover tightly with a lid.
Keep the soup at a low simmer for 45 minutes, stirring occasionally. Combine the Mexican seasonings, oregano, and sweet and smoked paprika in a mixing bowl.
Cover and boil for another 30 minutes until the beans are softened and cooked. Remember to season to taste with smoked sea salt and black pepper around 5 minutes before the soup is done. Remove the bay leaves and thyme sprigs from the pot and set them aside. You can add a couple of teaspoons of liquid smoke if you want it to be even smokier. Serve with sliced avocado, lime slices, onion chives, and fiery chilli pepper slices.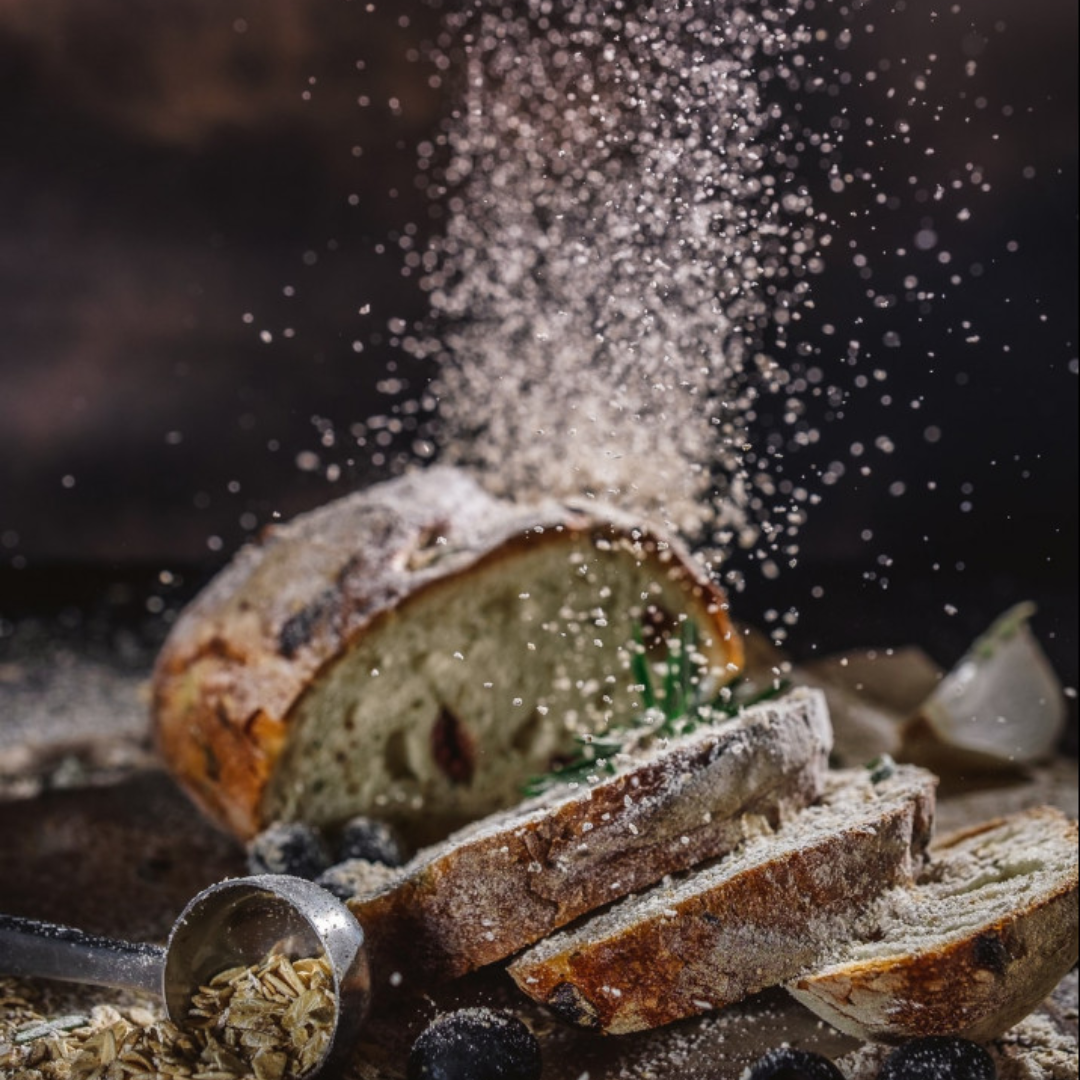 8. Spicy Seeded Herb Bread
Your new addiction will be this gluten-free herb bread. It's made with almond meal, brown rice flour, flax and chia seeds, and is high in healthful fats and iodine. This bread is excellent for breakfast, a snack, or soup accompaniment.
Ingredients
Almonds: 2⅔ cups
Pumpkin seeds: 3 cups
Sunflower seeds: 1 cup
Brown rice flour: 2½ cups
Psyllium husk powder: 6 tablespoons
Artisan bread topping: 1 tablespoon (mixture of poppy/sesame seeds/coarse salt/sunflower seeds/caraway/flax)
Garlic powder: 1 tablespoon
Fennel seeds: 1 tablespoon
Coarse pink Himalayan salt: 2 teaspoons
Flaxseed meal: 2 teaspoons
Chia seeds: 4 tablespoons
Water: 5 cups
Method
Blend the almonds, pepitas/sunflower seeds in a food processor until flour is formed. Combine the remaining ingredients in a large mixing bowl. Stir thoroughly and set aside for at least one hour to allow the chia to absorb all of the liquid.
Preheat the oven to 400 degrees Fahrenheit and grease your bread pans with coconut oil. Bake for 45-50 minutes or until golden, dividing the dough evenly between two pans (it should only be about 2 inches tall; you may need more than two pans). Remove the cake from the oven and set it aside to cool completely before slicing and serving.
9. Dijon Kale Chips
I can promise that if you're thinking about your kale intake, you're already more health-conscious than most of the population. Don't destroy it by being worried. Pour a glass of green juice and toast to all the wonderful things you're doing for your health, including kale eating.
Ingredients
Hot Russian or Dijon mustard: 2 tablespoons
Balsamic vinegar: ¼ cup
Nutritional yeast: ¼ cup
Maple syrup: 2 tablespoons
Sesame seeds or tahini: 1 cup
Red bell pepper: ½
Water: ½ cup
Sea salt to taste
Cayenne pepper to taste
Method
Mix all marinade ingredients in a blender or food processor until smooth. Only add a little water at a time to let the mixture combine. Remember that you'll have to dry this out again, so try to prevent it as much as possible.
Massage the greens and marinade together gently with your hands.
Transfer to a dehydrator rack or a baking sheet lined with parchment paper.
Place in a dehydrator set to medium-high or in an oven set to the lowest temperature with the oven door slightly ajar.
It will take around 4-5 hours in the dehydrator for them to reach the proper crunchiness. In an oven, drying periods will vary.
Conclusion
Iodine is a mineral that must be obtained through kids' food. Surprisingly, the thyroid gland needs it to generate thyroid hormones, which play a critical role in our body. Don't miss trying these iodine-intake food recipes. I hope your kids will love it all.
I trust you enjoyed this article about the 9 Best Iodine Intake Food Recipes For Your Kids. Please stay tuned for more blog posts to come shortly. Take care!
JeannetteZ
Your Opinion Is Important To Me
Ideas? Thoughts? Questions? I would love to hear from you. Would you please leave me your questions, experience, and remarks about this article on the 9 Best Iodine Intake Food Recipes For Your Kids in the comments section below? You can also reach me by email at Jeannette@LivingTheVeganLifestyle.org.
Here are links to some of my favourite articles:
8 Healthy Vegan Curry Recipes For Your Kids
10 Amazing Vegan Dinners For Weight Loss
Best Vegan Restaurants In Algiers, Algeria
Best Vegan Restaurants In Luzern, Switzerland
Best Vegan Restaurants In St. Gallen, Switzerland
5 Amazing Vegan Birthday Cake Recipes For Your Kids