6 Delicious Vegan Cheddar Cheese Recipes For Your Kids
6 Delicious Vegan Cheddar Cheese Recipes For Your Kids
Are you following a vegan or plant-based diet but are craving some cheese? You don't have to skip it. While traditional cheese is made from cow goat or sheep milk, the vegan cheddar cheese is made with cashew nuts, nutritional yeast and vegetable oils.
In this blog, I am sharing 6 delicious vegan cheddar cheese recipes. They are homemade and free of chemicals, preservatives, unnecessary added starches and thickeners.
What Is Homemade Vegan Cheddar Cheese
Vegan cheese is 100 percent animal-free and made using vegetable proteins. Usually, they're made from nuts, such as cashews, almonds, and macadamias. They also contain lemon juice, coconut oil and other natural ingredients. You can make cheese that contains agar, tapioca, chickpeas and arrowroot.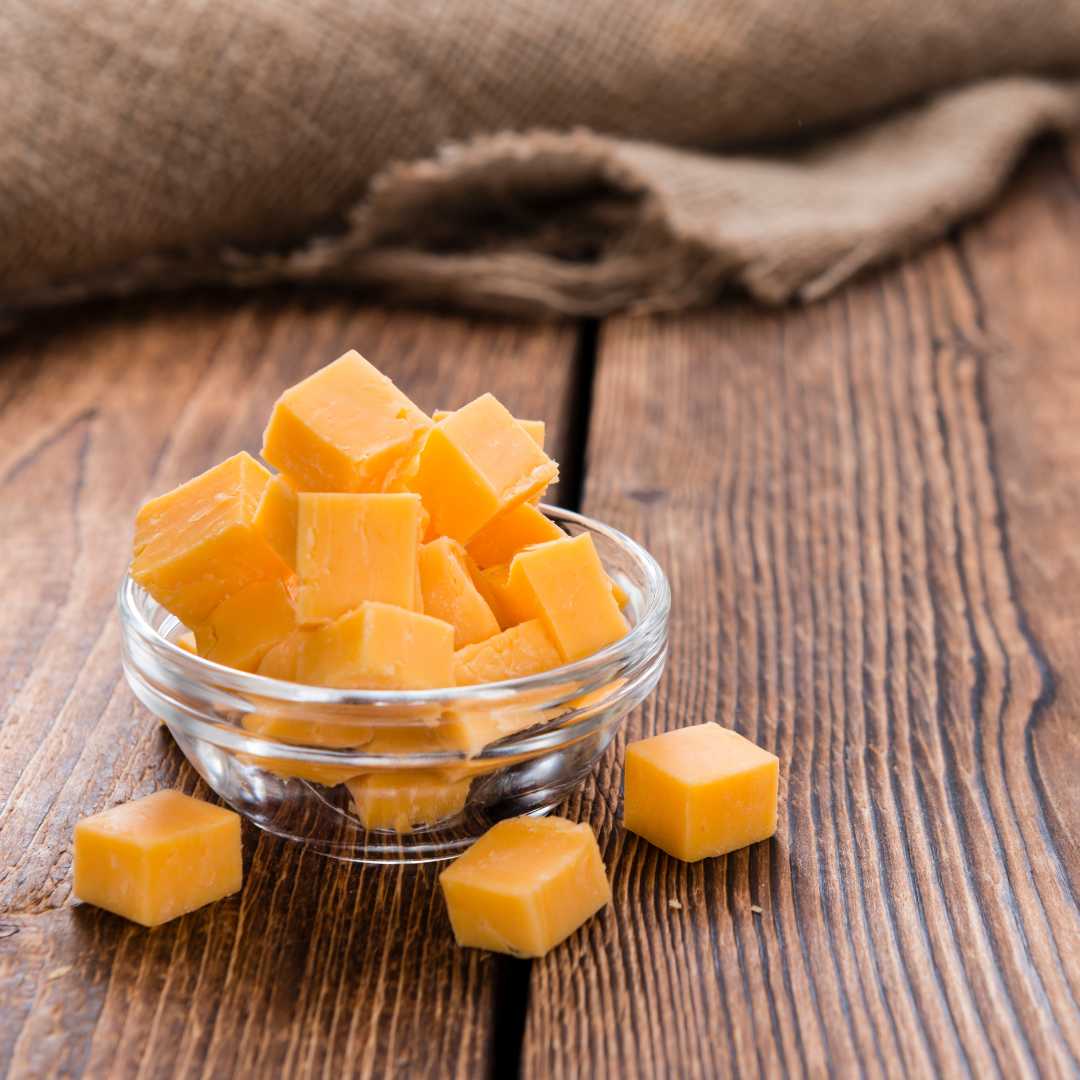 Health Benefits Of Homemade Vegan Cheddar Cheese
You can buy vegan cheddar in the stores. However, it contains some unhealthy ingredients. So if you want to eat cheese as a vegan or non-vegan, the homemade version is the only one to go for. Here are some health benefits of vegan cheddar cheese.
1. Healthy For Your Heart
A 2021 study shows that the consumption of plant-based food can lower heart diseases quite significantly. Vegan cheddar cheese has fewer processed ingredients and is more natural than regular cheese.
2. Good For Gut Health
Probiotics contained in vegan cheddar cheese protect the gut microbiota. They keep your gut healthy with yeast and bacteria, which are essential for a healthy gut. Vegan cheddar cheese doesn't contain additive opioid peptides that can increase intestinal permeability and constipation.
3. Lessens The Risk Of Cancer
Eating vegan cheddar cheese can help reduce the risk of cancer. The body can fight possible diseases thanks to the vegan cheddar's high content of fibre and vitamins.
4. Helps With Weight Loss
The homemade vegan cheddar has no unhealthy saturated fats. It is easier for the body to process and has fewer calories. Therefore, it can help people with weight loss and managing their weight.
5. Reduced Respiratory Problems
The homemade vegan cheddar doesn't contain the difficult-to-digest lactose or casein, which end up in the bloodstream. They have an excessive amount of mucus and, therefore, respiratory problems like asthma.
I can tell you from my own experience. I started having asthma attacks as a 1½-year-old baby. I continued having them throughout my childhood and some of my adult life.
Once I stopped consuming dairy, the asthma attacks stopped. My body was so thankful when I switched to a vegan diet and started eating homemade vegan cheese like cheddar.
6. Provides Healthy Energy
Everybody needs healthy energy. Homemade vegan cheddar provides your body with healthy energy thanks to the carbohydrates and fibre contained in the cheese.
7. Contains Calcium and Vitamins
Some of the vegan cheddar contains healthy nuts, which are an excellent source of minerals like calcium. Vegan cheddar is rich in vitamins such as A, C, E, and B complex.
8. Free Of Antibiotics
The homemade vegan cheddar does not contain animal products and, therefore, no antibiotics.
9. Accommodates People With Allergies
You can choose the ingredients for your vegan cheddar cheese. All the recipes are plant-based and, therefore, dairy-free. You can make them soy-free, gluten-free and nut-free.
10. Toxin-Free
Eating homemade vegan cheddar cheese prevents residues of bacteria, hormones, pus, and toxins in regular dairy cheese. These are generated by antibiotics, pesticides, disinfectants, and other chemicals ingested by cattle.
Homemade Vegan Cheddar Cheese Recipes
1. Easy Vegan Cheddar Cheese
Prep time: 2-5 minutes | Cook time: 9-10 minutes | Chill time: 3 hours | Total time: 3 hrs 11-15 mins | Servings: 8
This recipe is an easy way to make homemade vegan cheddar without nuts, gluten, or dairy.
Coconut milk: 1- 13.5 oz can (or 2 cups of any plain plant-based milk plus 3 teaspoons oil)
Water: ½ cup (omit if using 2 cups of plant-based milk.)
Nutritional yeast: ½ cup
Agar-agar powder: 2 tablespoons (or 6 tbsp agar-agar flakes)
Salt: 1¼ teaspoons
Lemon juice: 1 teaspoon
Paprika or smoked paprika: ½ teaspoon
Onion powder: ¼ teaspoon
Turmeric: ⅛ teaspoon
Add after cooking:
Warm water: 1 tablespoon
White miso paste: 1 teaspoon (or any mild-flavoured miso). You can also use tahini instead
Spray oil (to coat the cheese mould)
Add (for cheddar that stretches and melts)
Tapioca starch: 2 tablespoons + 1 teaspoon (optional)
Method
Spray a smooth glass container with oil for your cheese mould.
Pour all ingredients except miso and the water into a medium pot.
Mix the ingredients; then turn your stove on to medium heat.
Cook your cheddar cheese sauce until it has slowly boiled for 6 minutes while stirring frequently. (It must boil for 6 minutes to fully melt and activate the agar-agar).
Mix the water and the miso until the miso is dissolved completely. Pour the miso-water mixture into the cheddar cheese sauce.
Stir the cheddar cheese sauce until the miso is incorporated.
Pour the vegan cheddar cheese into the prepared glass mould.
Allow the vegan cheese to cool for about 15 minutes until it is at room temperature; cover the mould and put it in the fridge for 2-3 more hours until it cools and sets completely.
Recipe Notes
Once the cheese sauce bubbles, turn the heat down to a simmer, so it is slightly bubbling but not too hot to burn.
Frequently stir the cheddar cheese sauce to avoid burning.
Simmer the cheese sauce for 6-8 minutes to melt the agar-agar allowing it to combine with all the other cheese ingredients thoroughly.
Adding the miso at the end will avoid killing the beneficial probiotic in the miso.
Leave out the tapioca starch if you want a firm sliced cheese for crackers or for eating cold.
How To Make A Meltable Vegan Cheddar Cheese
Again, add all of the ingredients to a medium-sized saucepan except only add ¼ cup of water instead of ½ cup and reduce the agar powder to 4 teaspoons.
Heat the cheddar cheese sauce on medium heat until it begins to bubble.
Turn the heat to a simmer so it barely bubbles, and allow it to simmer for 5 minutes, frequently stirring the cheddar cheese sauce.
Add 7 teaspoons (equal to 2 tablespoons plus 1 teaspoon) of tapioca starch to ¼ cup of cold water and stir until it dissolves.
Mix the miso with the tapioca starch and the water until the miso is completely dissolved.
Whisk the tapioca starch, miso, and water mixture into the bubbling cheese sauce and simmer it for another minute. (Your cheese will turn into a very thick and stretchy cheddar).
Pour into the prepared glass container and allow to cool uncovered in the refrigerator for at least 3 hours before shredding.
2. Vegan Sharp Cheddar Cheese
It only takes 9 easy ingredients and 15 minutes to make. So easy and delicious. This sharp vegan cheddar is perfect for snacking, serving on a vegan cheese board, or adding to sandwiches. I love it on a freshly baked baguette.
Prep time: 15 minutes | Chilling time: 3 hrs | Total time: 3 hours 15 minutes | Servings: 6
Ingredients
Raw cashews: 1 cup, softened (see step 1)
Refined coconut oil: ¼ cup
Nutritional yeast: 3 tablespoons
Lemon juice: 2 tablespoons
Apple cider vinegar: 1½ tablespoons
White miso paste: 1 tablespoon
Sweet paprika: 1½ teaspoons (use smoked paprika for a smoky cheese)
Garlic powder: ½ teaspoon
Turmeric: ¼ teaspoon
Method
To soften the cashews, you can boil them or soak them overnight. Softening the cashews helps to blend them smoothly.

Boiling the cashews: In a small pot, cover the cashews with water and boil for about 10 minutes until the cashews are soft. Drain and rinse them before using them.
Soaking the cashews: add the cashews to a bowl and cover with water. Let them soak for 4 hours or longer, preferably overnight, until they are tender. Drain and rinse before using them.

Add the softened cashews and the remaining ingredients to a small food processor (see notes). Blend, stop and scrape the sides until the vegan cheddar cheese sauce is very smooth.
Scoop the vegan cheddar cheese mixture into a dish lined with plastic wrap. Cover and chill the cheddar cheese in the fridge until completely firm, about 3 hours or overnight. Enjoy the cheese as you please! The cheese will come softer the more it warms up, so you could freeze it for extra-firm cheese.
Recipe Notes
A large food processor can make it difficult to blend a small amount of cheese smoothly. You can easily double the ingredients of the recipe, which makes it easier to blend it smoothly. You can always freeze half of it and save it for another day.
This vegan cheddar cheese is perfect for snacking or as an addition to a vegan cheese board. However, it does not melt completely and is not ideal for nachos, pizza or grilled cheese sandwiches.
For this recipe, coconut oil is mandatory as it has the unique ability to be liquid when warm but solid when chilled. This helps give the cheese its fantastic texture. You should use refined coconut oil, which is flavourless, so your cheese won't have a coconut taste.
3. Vegan Nut-Free Cheddar Cheese Made With Tofu
Prep time: 4-6 minutes | Cook time: 4-5 minutes | Total time: 8-11 minutes | Servings: 2 cups
This nut-free, vegan cheddar cheese does everything dairy cheese does–it melts, shreds, and slices, but it's free of any nuts, oil, or animals! You can enjoy this delicious vegan cheddar cheese within 10 minutes of prep time and a brief chill time in the fridge.
Enjoy this delicious vegan cheddar cheese on pizza, pasta, grilled cheese sandwich and more!
Ingredients
Firm tofu: ½ of a 16 oz block (about 198g or 8 oz) (see note 1)
Non-dairy milk (unsweetened & unflavoured): 1½ cups
Lemon juice: 1 medium
Nutritional yeast: ½ cup
Onion powder: 1½ tablespoons
Garlic powder: 1 tablespoon
Turmeric: 1 teaspoon (optional)
Seasalt: 1 teaspoon or to taste
Smoke paprika: ¾ teaspoon
Tapioca starch/flour: ¼ cup (see note 2)
Kappa-carrageenan: 2 tablespoons (totally safe to eat, see note 3)
 Method
First, add the tofu, plant-based milk, nutritional yeast, and spices into the blender. Squeeze half of the lemon, blend and taste. Now add more of any of the herbs or spices you like to get the flavour you desire. Make sure it is all smoothly combined before proceeding to the next step.
Now add the tapioca flour and the kappa carrageenan. Blend until smooth. You'll find at this point that your blender may be putting up a fight mixing it. It will get thicker as the kappa carrageenan works its magic.
Now, pour the mixture into a small saucepan. Use a spatula to scrape any leftover mixture from the blender.
Heat the cheese over medium-high heat, constantly stirring once it starts bubbling. Continue stirring until it begins to curdle or stick together in clumps. Turn the heat down to medium now–it's almost done. Keep stirring, and you'll notice the texture go from clumpy to shiny, thick, and glossy. It will be stretchy, and start pulling away from the pot inside. Transfer the vegan cheese mixture to a glass container, preferably with a lid to cover it.
Cover the vegan cheddar and refrigerate it for at least 3-4 hours and test it. We usually do ours overnight. This cheddar should be relatively hard to the touch, with some give but not a lot.
Use a butter knife to loosen the cheese from the sides of the glass container and the inside perimeter to remove the set cheese from the container. Turn the glass container upside down onto a cutting board and tap the container several times with your flat hand.
Enjoy! This cheese shreds, melts, slices, and cubes. My favourite way to eat this cheese is either with crackers or on a piece of delicious crusty vegan baguette.
This cheese will keep one week in the fridge in an airtight container.
 Recipe Notes
Note 1: I used firm tofu. Medium tofu will also work, but the firm tofu version is best. I don't recommend using soft tofu since it contains too much liquid.
Note 2: Tapioca starch is often labelled tapioca flour, and they do the same thing.
Note 3: Kappa carrageenan is a seaweed-derived food agent that is entirely safe to eat. Kappa carrageenan is safe to consume and excellent for changing liquid into solid and melting!
4. Smoky Gluten-Free Vegan Cheddar Cheese
This is an easy recipe, and it makes a delicious, smoked vegan cheddar cheese. Perfect for using as cheese slices on a vegan cheese board, grated and melted on a pizza or nachos and a variety of other vegan dishes. This recipe is vegan, dairy-free, gluten-free, and wonderfully melty. On top of that, it is much better than store-bought options often loaded with palm oil, additives, and artificial flavours.
Prep Time: 7 minutes | Cook Time: 10 minutes | Setting time: 2 hours | Total time: 2 hours 17 minutes | Servings: 20
Ingredients
Coconut milk (full fat): 1½ cups
Cashew nuts: 1 cup, pre-soaked
Lemon juice: 1 lemon
Coconut oil unflavoured: ⅓ cup
Nutritional yeast: 2 tablespoons
Apple cider vinegar: 1 tablespoon
Miso paste: 1 tablespoon
Smoked paprika: 2 teaspoons
Liquid smoke: 2 teaspoons
Turmeric powder: ½ teaspoon
Salt: 1 teaspoon
Tapioca starch: 2 tablespoons
Agar-agar: 1 tablespoon
Method
Blend everything in a high-speed processor/blender. Only keep the tapioca starch and agar-agar aside.
Add the tapioca and agar-agar when you achieve a smooth, runny consistency. Blitz for a few seconds to incorporate the tapioca and agar-agar into the mix.
Pour the mixture into a pot and heat up over medium-high heat. Stir continuously. Remove from the heat when the vegan cheddar cheese mixture starts to thicken and becomes more stretchy.
Pour the vegan cheddar cheese mixture into your prepared mould. Let it cool off to room temperature. Then refrigerate.
Store the vegan cheddar in the fridge for 5-7 days. You can freeze it as well. It will keep for about 3 months.
Recipe Notes
Nutritional Yeast:  You can omit the nutritional yeast. Even though, in my opinion, the nutritional yeast is essential to give the cheddar its cheesy flavour.
Miso Paste: This paste gives your vegan cheddar an incredible depth of flavour and assists in creating cultured cheese.
Cashew Nuts: It is best to soak the cashews in cold filtered water overnight to ensure that they are soft. If you are rushed, you can soak them in boiling water for 30-40 minutes.
Agar-Agar powder: Agar powder is our favourite thickener for our vegan cheese recipes. It is an excellent 100% natural and vegan thickener that works like Gelatine. For this recipe, we suggest you use agar powder and not flakes. Agar-agar powder is much easier to work with in terms of getting repeatedly good results and the perfect texture.
Should you be stuck, you can use agar-agar flakes. You need at least double the amount (2-3 tablespoons vs 1 tablespoon powder), and the texture will differ too.
Lemon Juice: You could use a mixture of lemon juice and cider vinegar if you want. However, I like the results with just lemon juice.
Tapioca Starch: This flour is used to mimic the starchiness effect of the dairy cheese (especially the stretchy mozzarella, but it also works beautifully for this dairy-free cheddar cheese recipe).
Coconut Oil: This ingredient is absolutely necessary for the lovely melting cheese when heated (like the dairy cheese would). However, if you prefer an oil-free recipe and don't care too much about the cheddar melting, then you can forget about the coconut oil.
The 'Smoke' Factor: For this smoky vegan cheddar cheese, we added a lovely smokiness by including a small amount of liquid smoke (1 teaspoon) and smoked paprika. This takes the cheese to a whole new level and is one of my favourite aspects of this recipe. However, if you'd prefer a plain cheddar or what to experiment with other flavour additions/herbs, then feel free.
5. Vegan Chickpea Flour Cheddar Cheese
This easy-to-make, vegan cheddar cheese is made with chickpea flour! It is naturally grain-free, soy-free, oil-free and nut-free, plus high in protein. Enjoy this vegan cheddar as an appetizer or a snack. You can grate it or slice it for a delicious vegan sandwich.
Prep time: 20-25 minutes | Cook time: 10 minutes | Total time: 30-35 minutes | Servings: 8
Ingredients
Chickpea flour: 1 cup (120g)
Nutritional yeast flakes (such as Bragg's): ½ cup (40g)
Paprika (sweet or smoked): 1 tablespoon (7g)
Onion powder: 1 teaspoon
Sea salt: ¾ teaspoon
Water: 2¼ cups (560 mL), divided
Yellow mustard: 1 tablespoon (15 mL)
Apple cider vinegar: 2 teaspoons (10 mL)
Tahini: 2 tablespoons (30 g)
Method
Prepare a 9″x5″ (22½ x 12½ cm) loaf pan close to your work area.
Mix the chickpea flour, nutritional yeast, paprika, onion powder, and salt in a medium bowl. Slowly whisk in 1 cup of water until blended and smooth, and then whisk in the mustard and vinegar.
Bring the remaining 1¼ cups of water to a boil in a medium saucepan. Reduce the heat to low and whisk the chickpea mixture and tahini. Cook, constantly whisking (it sets up very quickly!), for 4 to 7 minutes, until the mixture is thick.
Pour the vegan cheese mixture into the prepared pan and smoothen the top.
Cool the vegan cheddar cheese to room temperature, and then place it in the fridge, loosely covered, for 2-4 hours until the vegan cheese is firm.
Drain the water from the pan (water will release from the cheese as it sets); invert the cheese onto a cutting board.
Cut, cube, slice or shred as desired!
Recipe Notes
Storage: Store the vegan cheddar in an airtight container in the fridge for up to 3 weeks.
Tahini-Free Variation: Tahini is made of sesame seeds. If you don't eat seeds, you can use an equal amount of avocado or olive oil or unsweetened almond butter or cashew butter.
Tip: The cheese will grate more quickly after it has "set" for at least a week (it becomes firmer the longer you wait). Alternatively, cut off a piece of the cheese you want to grate, wrap, and place in the freezer for 20-30 minutes before grating.
6. Vegan Cheddar Cheese With Jalapeño
This spicy vegan cheddar cheese loaf is an excellent snack. It is cheesy, creamy, and spicy. This easy vegan cheddar cheese recipe is made with cashews, sun-dried tomatoes, and onion powder for a savoury flavour that fits any occasion!
Prep Time: 20-25 minutes | Resting Time: 4 hours | Total Time: 4 hours 20-25 minutes | Servings: 12 people
 Ingredients
Raw cashews: 1½ cups, soaked for 4-6 hours
Sun-dried tomatoes: 3 tablespoons, soaked 30-60 minutes
Nutritional yeast: ¼ cup + 2 tablespoons
Tahini paste: 1 tablespoon
White wine vinegar: 1 teaspoon
Spicy mustard: 1 teaspoon (I use Dijon mustard)
Onion powder: 1 teaspoon
Salt: 1 teaspoon
Turmeric: ½ teaspoon
Smoked paprika: ½ teaspoon
Coconut oil: ½ cup, melted
Jalapeño: 1 minced
Method
Drain and rinse the cashews. Place them into a high-speed food processor along with the tomatoes, nutritional yeast, tahini, white wine vinegar, mustard, and spices.
Blend all the vegan cheddar ingredients until they are very smooth. Run your blender on low speed and slowly add the coconut oil until it is completely incorporated.
Transfer to a large bowl. Stir in the minced jalapeños until the mixture is well combined. Transfer the vegan cheddar cheese mixture to an airtight glass container and refrigerate for a minimum of 4 hours until the cheese is firm enough to mould.
Once mouldable, shape the cheese into a ball or wheel, top with sliced jalapenos, and serve with fruit and crackers.
Recipe Notes
Jalapeños: For a less spicy version, omit the jalapeños
Cashews: You can shorten the soaking time by pouring boiling water on the cashew nuts and letting them soak for just one hour.
Food Processor: A quality food processor is essential. I am using the Vitamix blender. It gets the cheese very creamy. It takes a high-speed food processor for this task.
Blending: Make sure to blend the cheese mixture for 5-10 minutes to ensure it is smooth.
Serving and Storing: Keep this vegan cheddar cheese wheel in the fridge until you are ready to serve it. The vegan cheese will get soften rather quickly at room temperature. Store the vegan cheddar in the refrigerator in an airtight container for up to five days.
Conclusion
Not only is the homemade vegan cheese healthy and delicious, and you can make it to your taste, but it is also good for the planet. Research shows that common vegan cheese ingredients like nuts and tofu have far smaller greenhouse gas emissions than traditional dairy cheese.
I trust you enjoyed this article about the 6 Delicious Vegan Cheddar Cheese Recipes For Your Kids. Please stay tuned for more blog posts to come shortly. Take care!
JeannetteZ
Your Opinion Is Important To Me
Ideas? Thoughts? Questions? I would love to hear from you. Would you please leave me your questions, experience, and remarks about this article on the 6 Delicious Vegan Cheddar Cheese Recipes For Your Kids, in the comments section below? You can also reach me by email at Jeannette@LivingTheVeganLifestyle.org.
Disclosure
This post may contain affiliate links. I earn from qualifying purchases as an Amazon Associate and other affiliate programs. Read my full disclosure.
Here are links to some of my favourite articles:
6 Delicious Vegan Brownie Recipes For Your Kids
5 Delicious Vegan Recipes Using Potatoes For Your Kids
6 Healthy Vegan Recipes Using Thyme For Your Kids
6 Healthy Vegan Recipes Using Parsley For Your Kids
7 Healthy Vegan Recipes Using Basil For Your Kids
8 Delicious Homemade Vegan Cheese Recipes For Your Kids