9 Best Vegan Marinated Mushroom Recipes For Your Kids
9 Best Vegan Marinated Mushroom Recipes For Your Kids
Mushrooms are not only nutrient-dense but may also use as a variety of delicious and healthful dishes.
Mushrooms may be marinated in various mouthwatering sauces, from acidic lime to fiery curry, to bring out their chewy, soft texture.
You can find some of your favourite vegan marinated mushroom recipes in this article!! Try your favourite one right now!
1. Easy Marinated And Grilled Portobello Mushrooms
Portobello mushrooms are the most popular vegan alternative to many grilled slices of meat, steaks, and burgers.
With just a few ingredients and no work, you can make them bursting with umami flavour following this straightforward recipe. These mushrooms are highly adaptable; you can use them on burgers, skewers, rice, and more.
Prep time: 30 minutes | Cook time: 45 minutes | Total time: 1¼ hours | Servings: 6
Ingredients
Portobello mushrooms: 4
Garlic: 4 cloves, finely chopped
Sweet balsamic vinegar: ½ cup
Low-sodium soy sauce or tamari: ¼ cup
Agave: 3 tablespoons
Nutritional yeast: ¼ teaspoon
Sea salt, optional: ¼ teaspoon
Red pepper flakes: ¼ teaspoon (optional)
Method
Scoop out the gills using a spoon after removing the mushroom's stem. Set aside.
Thoroughly combine all the ingredients—except the mushrooms—in a bowl.
Place the mushrooms, face up, in a large bowl.
Cover with plastic wrap after drizzling the marinade over it, and marinade for 30 minutes.
Heat a grill to a high temperature after 30 minutes.
Add two mushrooms per skewer, place them face down onto the hot grill, and cook them for 2 minutes.
Use the remaining marinade to brush and sprinkle over the grilling mushrooms.
2. Lime-Marinated Mushrooms
Bella mushrooms are much milder than Shitake mushrooms, which have a powerful, earthy flavour. Therefore, they are ideal for marinated foods since they absorb the flavours you add to the pan.
In this instance, a sweet and sour lime sauce marinades the bite-sized mushrooms. Even people who don't like mushrooms will like this tasty meal if you bring it to your next picnic!
Prep time: 25 minutes | Cook time: 30 minutes | Total time: 55 minutes | Servings: 4
Ingredients
Baby Bella mushrooms: 5 cups
Extra virgin olive oil: 3 tablespoons
Red onion: ⅓ cup, diced
Red bell pepper: ½ diced
Cilantro leaves: 3 tablespoons, chopped
Ingredients For The Marinating Sauce
Salt: ½ teaspoon
Soy sauce: 2 tablespoons
Organic coconut sugar: 1 teaspoon
Fresh-squeezed lime juice: 3 tablespoons
Lime zest: 1 teaspoon
Method
The mushrooms must dry after being scrubbed with cold water and a paper towel. Make a lengthwise cut in the mushrooms.
Over high heat, warm a sauté pan. Wait 15 seconds for the oil to get heated before adding it to the hot pan. After lowering the heat, add the mushrooms. 2 minutes should be enough time to finish sautéing the mushrooms.
In a mixing bowl, combine the marinating sauce ingredients, 2 teaspoons of cilantro leaves, red onion, and red pepper. Mix lightly after adding the mushrooms. Refrigerate for at least two hours while covering the mixing bowl with a lid. Use the remaining cilantro leaves as a garnish.
3. Raw Marinated Mushroom Soup
The raw mushrooms, avocado, and tomatoes in this raw-marinated mushroom soup will provide you with the most nutritious value. It is great on its own and when served with a lovely side salad of baby spinach.
Prep time: 20 minutes | Cook time: 40 minutes | Total time: 60 minutes | Servings: 3
Ingredients
Mushrooms: 12 oz
Onion: 1 medium
Olive oil: 1 tablespoon
Agave: 1 tablespoon
Balsamic vinegar: 1 tablespoon
Ripe avocado: 1
Tomato: 1
Garlic: 1 clove, pressed
Olive oil: 3 tablespoons
Water to process
Olive oil: 1 tablespoon
Salt and pepper to taste
Method
Combine agave, balsamic vinegar, and olive oil in a bowl. Then marinade the dry mushrooms and thinly slice the onions.
Spread on a coated dehydrator sheet and dehydrate for 2-3 hours after tossing with the chopped onions and sliced mushrooms.
For the topping, save a few onions and mushrooms.
Blend the remaining mushrooms, onions, avocado, tomato, garlic, and olive oil in a blender, adding about 1½ cups water. To achieve the desired consistency, add as much water as is required.
Add a teaspoon of olive oil and garnish with the saved mushrooms and onions.
4. Thyme Grilled Mushrooms
The perfect meaty entrée for your summer BBQ is grilled mushrooms.
Three diverse ingredients make up this dish: grilled meaty mushrooms, a straightforward salsa, and fennel slaw. You can combine it with greens and other vegetables to make a fantastic summer salad and serve them together on a bun like a burger.
Prep time: 15 minutes | Cook time: 40 minutes | Total time: 55 minutes | Servings: 5
Ingredients For The Mushrooms
Mushrooms: 4-8 large
Fresh thyme: 4 sprigs
Extra virgin olive oil: ¼ cup
Lemon juice: ½ lemon
Salt and freshly ground black pepper to taste.
Ingredients For The Salsa
Red tomatoes: 2 large, halved
Red onion: 1 quartered
Red chilli: 1 small without seeds
Garlic cloves: 2
Salt and freshly ground black pepper to taste
Extra virgin olive oil.
Ingredients For The Slaw
Fennel: 2 cups, thinly shaved, fronds reserved
Fresh parsley: ½ cup
Cilantro: ½ cup
Spring onion: 1, white and green parts
Fennel seeds: 1 teaspoon
Extra virgin olive oil: 1 tablespoon
Lemon juice: ½ lemon
Brown rice syrup: 1 teaspoon
Salt and freshly ground black pepper to taste
Whole grain rolls or salad to serve
Method
Warm up your broiler. Slice the tomatoes in half, quarter the red onion, deseed the chilli, peel and crush the garlic, and combine everything in a big baking dish.
Add a drizzle of olive oil and generous amounts of salt and pepper. Depending on how hot your broiler is, place the dish under the broiler for 8 to 15 minutes or until the tomatoes are tender and everything is browning and bubbling. Remove and place somewhere to cool. Make the slaw as the tomatoes cool.
Remove the tomatoes from the pan and set them on a chopping board after the salsa ingredients cool slightly. Then, scoop the other ingredients into a small blender and pulse them just enough to mix them. Toss everything together in a basin after roughly chopping the tomatoes.
Method To Make The Slaw
Cut a few fennel bulbs into thin slices (remove the tough core for larger bulbs). Add finely chopped parsley, cilantro, spring onions, and fennel seeds to a bowl.
Thoroughly combine the olive oil, lemon juice, and brown rice syrup in a small bowl and pour over the slaw. Use only a small amount of salt and pepper.
Warm up the grill or barbecue. Use a damp tea towel to clean off dirt and trim the stems off the mushrooms. Combine the oil, lemon juice, and fresh thyme leaves in a bowl and season with salt and pepper. Place the mushroom caps, brushed side down, on the grill. Brush the mushroom caps with thyme marinade.
Method To Make The Mushrooms
Warm up the grill or barbecue. Use a damp tea towel to clean off dirt and trim the stems off the mushrooms. The oil, lemon juice, and fresh thyme are placed in a bowl along with salt and pepper.
Place the mushroom caps, brushed side down, on the grill. Brush the mushroom caps with thyme marinade.
Cook the mushrooms on the grill for 5 minutes after flipping them over, coating them with extra marinade as they cook. Soft and juicy mushrooms are ideal. Put aside after removing from pan.
Last but not least, cut 4 whole grain buns in half, spray with olive oil, and toast cut-side down on the grill if using.
Bring the mushrooms, salsa, and slaw to the table after the chicken is golden.
5. Garlicky Barbecue Mushroom Kebabs
Any BBQ would benefit from the addition of these garlicky mushrooms. These skewered mushrooms can be prepared quickly and make a tasty addition to any veggie burger or other grilled vegetables.
Make a large quantity of these and bring them along to a potluck to offer as a side dish, or make a large quantity and serve the leftovers cold all week in salads, sandwiches, and antipasti plates.
Prep time: 40 minutes | Cook time: 50 minutes | Total time: 1½ hours | Servings: 3
Ingredients
Chestnut mushrooms: 12
Button mushrooms:  12
Olive oil, or oil of your preference: ½ cup
Parsley: 1 handful
Garlic: 2 cloves
Pepper: 1 teaspoon
Salt: ½ teaspoon
Method
Pick a mushroom that is almost the same size. This guarantees even cooking in addition to serving aesthetic advantages. If the size variations are too great, you will have some charred while others are still uncooked.
Use a kitchen towel or, if you have one, a mushroom brush to remove any soil. Put them on metal skewers, which are thinner and less likely to break, and thread them on carefully. Before skewering the mushroom caps, you must soak wooden skewers in water for around 30 minutes.
While you grill your mushrooms, soaking the wooden skewers keeps them from catching fire.
Apply the green marinade to the mushrooms on one side only. After flipping them, brush the other side. Place them in the refrigerator to cool while the barbecue is cooking.
Cooking the skewers for ten to fifteen minutes over medium heat is recommended.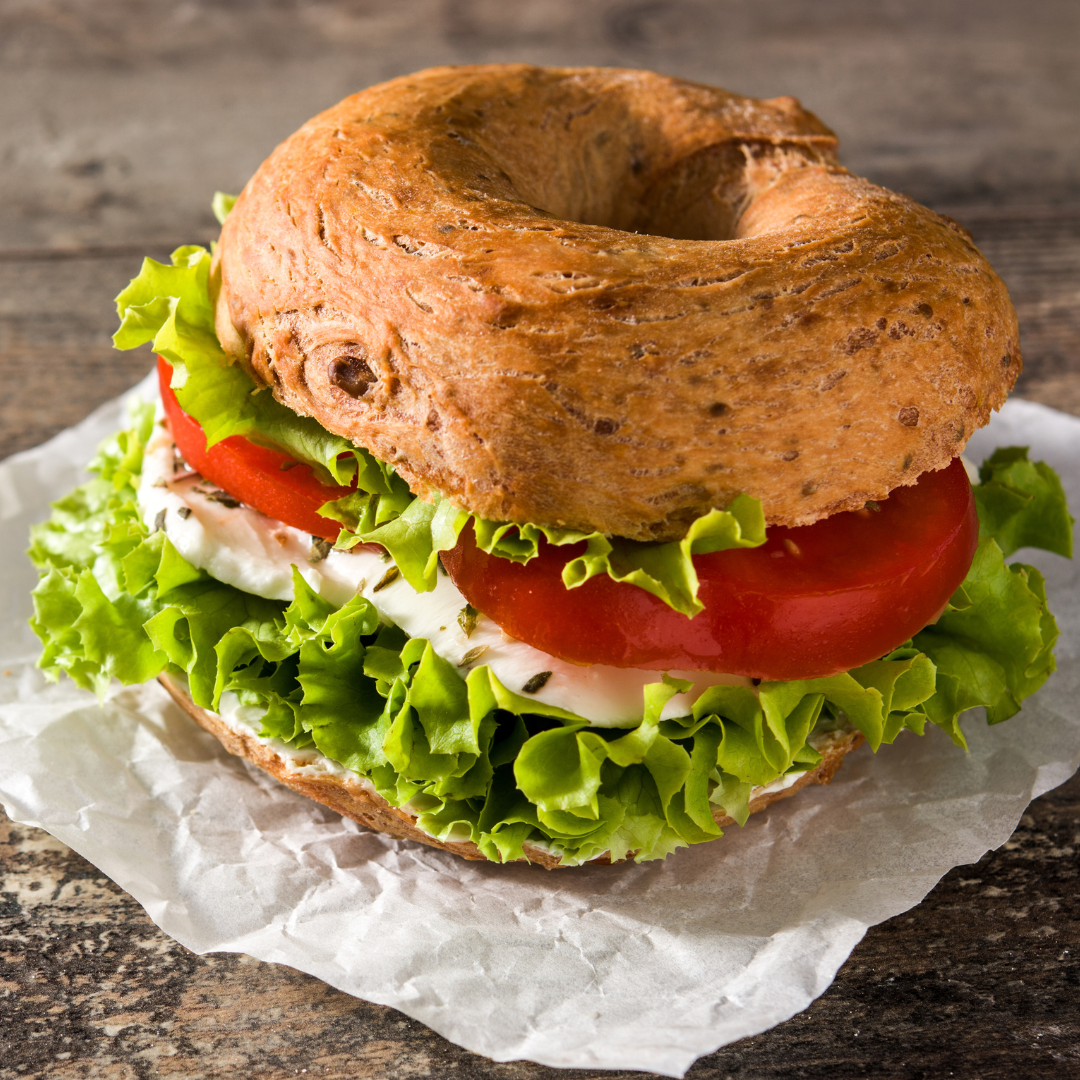 6. Marinated Tomato Mushroom Bagels
This tomato-heavy bagel breakfast features marinated mushrooms, a lot of tomato flavour, and a little smokiness and sweetness.
The more time you have to marinate the vegetables, the better. The longer you leave them, the tastier they'll get. If you have friends or family around for breakfast, this meal is a true show-stopper and makes for a delicious start to the day.
Prep time: 15 minutes | Cook time: 40 minutes | Total time: 55 minutes | Servings: 5
Ingredients
Button mushrooms: 10
Canned tomatoes: ¾ cup
Sun-dried tomatoes: 1 cup
Soy sauce or tamari: 2 tablespoons
Mild curry powder: 3 tablespoons
Smoked paprika: 1½ teaspoons
Dijon mustard: 1½ teaspoons
Tomato paste: 1 teaspoon
Sugar: 2 teaspoons
Extra virgin olive oil: 1 tablespoon
Bagels: 2
Sprouted greens for serving
Method
After cutting mushrooms into thick slices, put your mushrooms in a big sandwich bag.
To make this recipe, you'll need a blender or food processor. Add sun-dried tomatoes, tomato paste, sugar, Dijon mustard, curry powder, smoked paprika, and canned tomatoes. Mix until emulsion forms.
Place the mushrooms in a sandwich bag with the marinade, and then mix everything to ensure that the mushrooms are well-coated.
Keep it in the refrigerator (minimum 10 minutes, the ideal time is overnight).
Heat olive oil in a sizable frying pan over medium heat once the mushrooms have been marinating for as long as feasible.
When it's hot, toss the remaining marinade and the mushrooms, then cook until tender.
Over toasted bagels, spread the finished mushrooms. Once done, spread the mushrooms and sprouting greens over the toasted bagels.
7. Best Crispy Mushrooms
For those who dislike mushrooms, here is a dish. The mushrooms are thinly sliced, coated in a flavorful, smoky blend of spices and salt, and baked until perfectly crisp. They go well with whatever you're planning to eat, whether it's a salad, vegan mac & cheese, or something else!
Prep time: 25 minutes | Cook time: 45 minutes | Total time: 70 minutes | Servings: 6
Ingredients
Mixed mushrooms: 1 small container
Liquid aminos: 2 tablespoons
Thyme: 1 teaspoon
Smoked paprika: 1 teaspoon
Liquid smoke: ¼ teaspoon
Pink Himalayan sea salt: 1 pinch
Freshly cracked pepper to taste
Olive oil
Method
Set your baking sheet on parchment paper and preheat your oven to 375°F.
Add all of the ingredients to a bowl along with the sliced mushrooms.
Make sure they are well-coated with olive oil before tossing them.
Place them in an equal layer on the baking sheet.
Place them in the oven, then check on them after 30-35 minutes. Continue to cook them until they reach the required crispness. Allow them to cool.
8. Tangy Mushroom Skewers
For a good reason, mushrooms are probably the first vegetable people consider when considering a barbeque without meat.
If you add something extra, mushrooms are a diverse barbecue choice that is far from being a dull cliché; I'm sure many mushrooms wind up being thrown over a barbeque. Thanks to the marinade, these acidic mushroom skewers are huge in flavour and texture!
Prep time: 15 minutes | Cook time: 15 minutes | Total time: 30 minutes | Servings: 4
Ingredients
Ingredients For Marinade:
Tomato ketchup: 4 tablespoons
Tomato puree: 1 tablespoon
Apple cider vinegar: 2 tablespoons
Plant-based honey: 1 tablespoon
Paprika: 2 teaspoons
Vegan Worcestershire sauce: 1 teaspoon
Method
In a large basin, combine the marinade ingredients.
Add the mushrooms and completely cover them with the marinade in the bowl.
Before carefully threading them onto wooden skewers, allow them to marinate for a few minutes.
Then, put them on a hot grill for about 20 minutes while rotating them occasionally.
9. Tempeh Bacon Salad With Marinated Mushrooms
This dish is perfect if you prefer various ingredients in your salad. The list of ingredients includes tart lettuce, tempeh bacon, tomatoes, marinated mushrooms, creamy cashews, sun-dried tomato dressing, and more.
This salad is flavourful, delectable, and nutrient-rich.
Prep time: 20 minutes | Cook time: 35 minutes | Total time: 55 minutes | Servings: 2
Ingredients For The Tempeh Bacon
Tempeh: 4 oz
Smoked paprika: 1 tablespoon
Garlic powder: 2 teaspoons
Gluten-free tamari: 2 tablespoons
Apple cider vinegar: 2 tablespoons
Water: 2 tablespoons
Avocado oil: 2 tablespoons
Maple syrup: 2 tablespoons
Ingredients For The Marinated Mushrooms
Whole white, cremini, or baby bella mushrooms: 6
Gluten-free tamari: 1 tablespoon
Apple cider vinegar: ½ teaspoon
Hot paprika or cayenne pepper: ⅛ teaspoon
Ground cumin: ⅛ teaspoon
Smoked paprika: ¼ teaspoon
Maple syrup: ¼ teaspoon
Avocado oil: ½ tablespoon
Ingredients For The Creamy Cashew Tomato Dressing
Sun-dried tomatoes: ¼ cup
Tomatoes: ¼ cup, chopped
White wine vinegar: 2 teaspoons
Balsamic vinegar: 1 teaspoon
Black pepper: ¼ teaspoon
Nutritional yeast: ½ teaspoon
Water: 1 tablespoon
Olive oil: 1 tablespoon
Raw cashews: ¼ cup
Ingredients For The Salad
Romaine heart lettuce: ½
Grape or cherry tomatoes: ½ pint
Cucumber, sliced: ¼
Scallion, thinly sliced: 1
Tempeh bacon
Marinated mushrooms
Creamy cashew tomato dressing
Avocado, grilled
Mixed greens.
Method
Combine the tamari, apple cider vinegar, smoked paprika, garlic powder, and with maple syrup. Add the water and avocado oil and whisk again. You should arrange the tempeh slices in a sizable, shallow baking dish or container.
Put the marinade on top. If you need to layer the tempeh slices, make sure to cover all of the tempeh with marinade before adding the first layer and again after adding the second layer.
The tempeh should marinate for at least two hours and up to two days in the refrigerator. When you are prepared to cook, heat a pan to medium-high. Cook the tempeh slices in the pan for three to five minutes in a single layer. Cook each piece from the other side.
In a small bowl, combine the marinade ingredients by whisking. Toss the mushrooms into the marinade gently, coating each one well. Allow sitting for a minimum of 30 minutes, occasionally stirring in the marinade.
Warm the grill to a medium temperature. Cut the avocado in halves and place it on the grill with the mushrooms if you grill it.
Each mushroom should have six pieces when placed gently on a skewer. Cook the mushrooms until fully cooked and lightly browned for about 10 minutes, flipping the skewers occasionally. If grilling, place the mushrooms (and avocado) on a plate and turn off the heat.
Heat the grill to medium-high temperature. If you're grilling the avocado, slice it in half and place it next to the mushrooms on the grill.
It should contain sun-dried tomatoes, chopped tomatoes, white wine and balsamic vinegar, black pepper, nutritional yeast, water, and olive oil.
Blend everything until smooth, starting at a medium speed and increasing to high.
The cashews should be drained and rinsed before being added to the blender and reblended until smooth. You might need to pause a few times and scrape along the sides to ensure all the ingredients are combined as you blend. If necessary, taste and make adjustments. Put aside.
To assemble, tear romaine hearts into thin strips and combine them with mixed greens. On a serving tray, arrange the lettuce in layers. Add sliced cucumbers, half tomatoes, and thinly sliced scallions as garnishes.
Top the salad with tempeh bacon crumbles. Add some grilled mushrooms and avocado on top. Dress with a drizzle.
Conclusion
These handmade marinated mushrooms taste a million times better than the ones you can buy at the supermarket and are simple to make!
Italian spices are a delicious concoction of extra virgin olive oil, vinegar, garlic, shallots, fresh herbs, and Embraced in soft mushrooms.
They will vanish in a couple of minutes and are dangerously addictive! These mushrooms make a hassle-free appetizer and a simple snack. Or incorporate them into salads, pizzas, pasta, antipasto platters, and other dishes!
I trust you enjoyed this article about the 9 Best Vegan Marinated Mushroom Recipes For Your Kids. Please stay tuned for more blog posts to come shortly. Take care!
JeannetteZ
Your Opinion Is Important To Me
Ideas? Thoughts? Questions? I would love to hear from you. Please leave me your questions, experience, and remarks about this article on the 9 Best Vegan Marinated Mushroom Recipes For Your Kids in the comments section below. You can also reach me by email at Jeannette@LivingTheVeganLifestyle.org.
Disclosure
This post may contain affiliate links. I earn from qualifying purchases as an Amazon Associate and other affiliate programs. Read my full disclosure.
Here are links to some of my favourite articles:
9 Best Vegan Key Lime Pie Recipes For Your Kids
8 Best Veggie Noodle Recipes For Your Kids
8 Best Vegan Strawberry And Cream Recipes For Your Kids
8 Best Vegan Pecan Cookie Recipes For Your Kids
7 Best Bangladeshi Vegan Recipes For Your Kids
7 Best Vegan Onion Ring Recipes For Your Kids