7 Delicious Vegan Recipes Using Tomatoes For Your Kids
7 Delicious Vegan Recipes Using Tomatoes For Your Kids
Tomatoes are a delicious late-season vegetable. They are sweet, tart, nutrient-dense, versatile, and adaptable. Let's rejoice because there are so many delicious vegan recipes using tomatoes.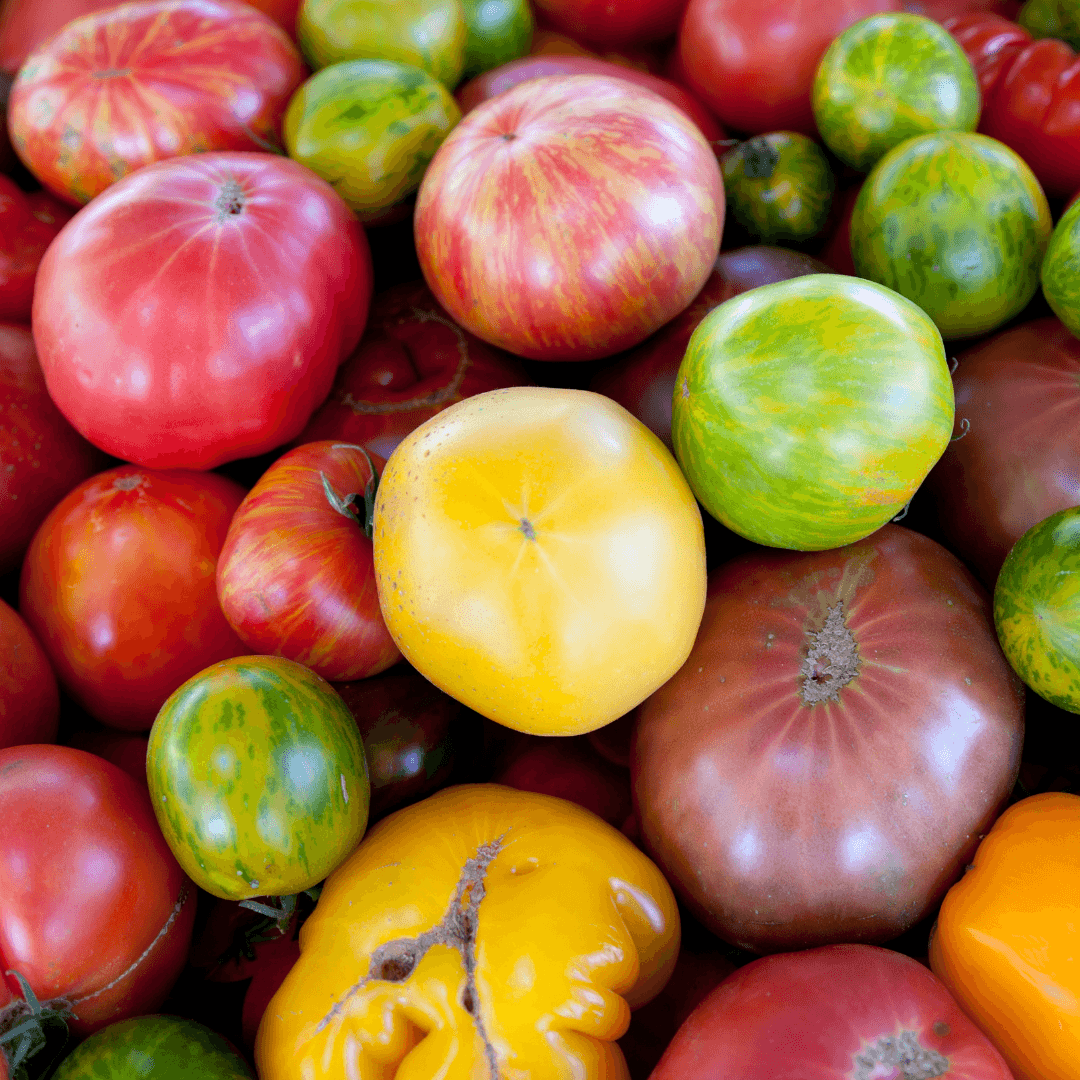 Health Benefits Of Tomatoes
A single tomato can supply up to 40% of the daily required vitamin C intake. Tomatoes also contain vitamin A, essential for immunity, vision, and skin health; vitamin K, good for bones; and potassium, necessary for heart function, muscle contractions, and keeping healthy blood pressure and fluid balance.
1. Protect Heart Health
Tomatoes contain lycopene, an antioxidant that gives them their bright red colour. According to research, eating tomatoes and tomato products is more beneficial than taking lycopene pills in heart health benefits.
Other research has linked greater blood lycopene levels to a decreased death rate in persons with metabolic syndrome, a group of risk factors that increase heart disease, diabetes, and stroke.
2. Improve Eye Vision
Lycopene is also beneficial to the eyes. Tomatoes also include lutein and beta-carotene, both of which are eye-protective nutrients.
According to studies, those nutrients help maintain eyesight and fight against eye diseases, including cataracts and macular degeneration.
3. Boost Digestive Health
Tomatoes' fluid and fiber content may benefit if you're prone to constipation. (According to the USDA, a large tomato contains 6 ounces of fluid and 1.5 grams of fiber.)
Remember that cooked tomatoes' acidity might cause or worsen acid reflux and indigestion in some people.
4. Manage Diabetes
Tomatoes may benefit patients with type 2 diabetes: In one study, persons with diabetes who took cooked tomatoes for 30 days reduced lipid peroxidation, a chain reaction in which free radicals attack fat, causing damage that raises the risk of heart disease. Diabetes raises the risk of stroke and heart attack, which is especially crucial.
5. Improve Guard Health
A study discovered that combining tomato paste and olive oil protected skin from sun damage while increasing pro-collagen formation.
This chemical gives skin its structure and maintains it firm and youthful. Lycopene, found in tomatoes, is thought to be the key.
Cooked tomatoes have the highest content and olive oil aids in absorption from the digestive tract into the bloodstream.
6. Protect Against Cancer
Observational studies have linked the superfood lycopene to a lower prostate, ovarian, lung, and stomach cancer risk.
Tomatoes have a water content of approximately 95%. Carbohydrates and fiber make up the remaining 5% of the diet.
Nutrients in a small (100-gram) raw tomato
Calories: 18
Water: 95%
Protein: 0.9 grams
Carbs: 3.9 grams
Sugar: 2.6 grams
Fiber: 1.2 grams
Fat: 0.2 grams
Vegan Recipes Using Tomatoes
1. Creamy Tomato Vegan Pasta
This is the creamiest vegan pasta I've ever had. It's created with a creamy cashew-based vegan tomato basil pasta sauce and served with your favourite noodles.
Prep time: 15 minutes | Cook time: 30 minutes | Total time: 45 minutes | Servings: 6
Ingredients
Raw cashews: 1 cup
Tomatoes, quartered: 6 medium
Yellow onion: 1 medium, chopped
Garlic: 10 cloves, peeled and smashed
Olive oil: ¼ cup, separated
Salt 1 teaspoon, separated
Ground pepper: ¼ teaspoon
Starchy pasta water: 1 cup
Lemon juice: ½ tablespoon
Pasta: 6–8 servings
Ingredients For Serving
Fresh basil
Red pepper flakes
Method
To begin, place your cashews in a bowl and set them aside. Pour boiling water over them until they are completely saturated. Allow for 30 minutes of resting time. Preheat the oven to 400 degrees Fahrenheit and line a baking sheet with aluminum foil.
On the baking sheet, arrange the tomatoes, onions, and garlic. Season with ½ teaspoon salt and ¼ teaspoon ground pepper, and drizzle with 2 tablespoons olive oil. Toss everything together, making sure it is evenly coated. Roast the vegetables for about 20 minutes at 400°F.
Prepare your pasta according to the directions on the back of the box while the vegetables are roasting. One cup of starchy pasta water should be saved for later.
Remove the baking sheet from the oven once the veggies have finished roasting and carefully peel the skin off the tomatoes. At this stage, the skins should peel off relatively easily. After that, roast for another 10 minutes.
It's now time to make your vegan creamy pasta sauce. Place the cashews in a high-powered blender after straining them from the water they had been soaking in.
Add 2 tablespoons olive oil, ½ teaspoon salt, ½ cup starchy pasta water, and ½ tablespoon lemon juice to the blender with all items from the baking sheet (including the liquids). Blend on high speed until completely smooth. Taste the pasta sauce and adjust the salt and water as needed.
Combine the cooked pasta and the sauce in a large mixing bowl. You can reheat it on the burner if it's no longer hot.
Serve with vegan parmesan, fresh basil, crushed black pepper, and red pepper flakes.
2. Vegan Tomato Soup
This is the most delicate vegan tomato soup you'll ever taste! Simple ingredients highlight the tomato flavour, and there is no added sugar.
Prep time: 10 minutes | Cook time: 25 minutes | Total time: 35 minutes | Servings: 4
Ingredients
Olive oil: 2 tablespoon
White or yellow onion diced: 1
Garlic minced:
Smoked paprika: ¼ teaspoon
Ground black pepper: ¼ teaspoon
White wine: ¼ cup
Low-sodium vegetable broth: 3 cups
Crushed tomatoes: 28 oz
Packed fresh basil leaves
Method
In a stock pot over medium heat, warm the olive oil. Add the onion and a pinch of salt, and simmer, stirring periodically, for about 3-5 minutes, until soft. Cook for another 60 seconds until the garlic, smoked paprika, and ground black pepper are aromatic. Add the wine right away and whisk it in.
Stir in the tomatoes and vegetable broth once the wine boils. Bring everything to a boil, then reduce to low heat and stew for 15-20 minutes, stirring regularly, until slightly reduced and richer in flavour. The tomatoes' acidity will be tamed, and more natural sweetness will be developed throughout this simmering time.
Remove from the heat, whisk in the fresh basil, and puree with an immersion blender until smooth (or leave a few pieces, if desired); or transfer to a blender and puree in stages if necessary.
Season with salt to taste.
3. Moroccan Stuffed Eggplant
This Moroccan Stuffed Eggplant is flavourful to the max! This vegan and gluten-free entrée, packed with lentils, tomatoes, and the ideal balance of spices, takes dinner to a new level.
Prep time: 20 minutes | Cook time: 30 minutes | Total time: 50 minutes | Servings: 4
Ingredients
Olive oil: 3 tablespoons, divided
Eggplant: 2 medium
Dry brown or green lentils: ½ cup
Garlic: 3 cloves, minced
Yellow onion: ½ large
Cumin: 1 tablespoon.
Cinnamon: 1½ teaspoon
Coriander: ½ teaspoon
Turmeric: ½ teaspoon
Sun-dried tomatoes: ¼ cup, loosely packed
Pine nuts: ¼ cup
Diced tomatoes: 15 oz
Maple syrup: 1-2 teaspoons
Salt: 1 teaspoon
Raisins: ½ cup
Fresh parsley: ¼ cup
Cayenne: 1 pinch
Method
Bring 1 cup of water to a boil in a small pot over medium heat. Cover and reduce heat to a low simmer after adding the lentils. Cook for 20-30 minutes or until the lentils are soft and all the water has been absorbed. Preheat the oven to 400° Fahrenheit. Set aside a baking sheet lined with parchment paper.
Cut the eggplant in half lengthwise. Remove the fleshy center, leaving a 12″ shell, and set it aside. Bake for 20 minutes, face up, after brushing the inside with 2 tablespoons of olive oil. Set aside the eggplant flesh, which has been chopped into small pieces.
Heat the remaining oil in a big sauté pan. Sauté the onions and garlic for 5 minutes or until transparent and aromatic. Combine the spices, sun-dried tomatoes, and pine nuts in a bowl.
Stir in lentils, diced eggplant, tinned tomatoes, and maple syrup once the pine nuts have been roasted.
Take the pan off the heat and stir in the raisins and parsley. Return to the oven for 10 minutes, evenly dividing the mixture between 4 eggplants and rounding off the tops. Serve immediately after removing from the oven and garnishing with fresh parsley.
4. Roasted Tomato & Pumpkin Seed Pesto Toasts
These roasted tomato and pumpkin seed pesto toasts are excellent ways to celebrate tomato season!
Prep time: 20 minutes | Cook time: 25 minutes | Total time: 45 minutes | Servings: 6
Ingredients
Raw cashews: ½ cup
Water: ¼ cup
Nutritional yeast: ¼ cup
Olive oil: 2 tablespoons
Raw pumpkin seeds: 2 tablespoons
Lemon juice: 1 teaspoon
Garlic: 1 clove
Loosely packed fresh basil: ¼ cup
Ingredients For The Toast & The Toppings
Gluten-free bread: 6 slices
Heirloom tomatoes: 3-4 medium
Heirloom tomatoes: 3-4 mini
Olive oil: 1 tablespoon
Garlic powder: 1 teaspoon
Fresh basil: ½ cup
Method For The Vegan Pesto
Combine the soaked cashews and water in a small blender and process until a homogeneous paste forms.
The nutritional yeast, olive oil, pumpkin seeds, lemon juice, and garlic are added.
To combine, use a blender.
Add the fresh basil and blend until smooth, scraping down the sides as needed.
Method To Make The Toasts
Preheat the oven to 400° Fahrenheit.
Slice the bread into 6 12-inch thick slices and spread 2 tablespoons pesto on each piece. Cut the tomato slices into 14-inch thick slices and place them on top of the toasts to create a tiered effect.
Before baking, drizzle 1 tablespoon olive oil, 1 teaspoon garlic powder, and salt & pepper to taste over the tomato toast.
Bake for 20-25 minutes or until the bread browns and the tomatoes caramelize.
Take out of the oven, sprinkle with fresh basil, and serve!
5. Braised Whole Cauliflower
This quick and easy cauliflower recipe is perfect for a side dish, and it's all cooked in your Instant Pot!
Prep time: 20 minutes | Cook time: 25 minutes | Total time: 45 minutes | Servings: 6
Ingredients
Extra-virgin olive oil: 2 tablespoons
Garlic, minced: 6 cloves
Ras el: about 2 teaspoons
Red pepper flakes: ⅛ teaspoon
Whole peeled tomatoes: 1 (28‑ounce)
Pitted brine-cured green olives: ½ cup, chopped coarsely
Golden raisins: ¼ cup
Fresh cilantro leaves: ¼ cup
Pine nuts: ¼ cup. toasted
Method
Cook oil, garlic, ras el hanout spice, and pepper flakes in Instant Pot on the highest sauté setting until fragrant, about 3 minutes. After turning off the Instant Pot, add the tomatoes and conserved liquid.
Trim the cauliflower's outer leaves and cut the stem flush with the bottom florets. Cut a 4-inch-deep cross in the stem using a paring knife. Place the cauliflower stem side down in the pot with some sauce.
Close the pressure release valve and secure the lid. Cook for 3 minutes using the high-pressure cook mode. Quick-release pressure and turn off Instant Pot. Remove the lid with care, allowing steam to escape away from you. Transfer the cauliflower to a serving dish with tongs and a slotted spoon, and cover with aluminum foil.
Stir olives and raisins into the sauce and cook, using the highest sauté function, until the sauce has thickened slightly about 5 minutes.
Season with salt and pepper to taste.
Cut cauliflower into wedges and spoon some sauce over the top. Sprinkle with cilantro and pine nuts. Serve, passing the remaining sauce separately.
6. Tomato And Basil Pizza
This vegan pizza has tomato sauce, vegan mozzarella, basil, and cherry tomatoes.
Prep time: 30 minutes | Cook time: 30 minutes | Total time: 60 minutes | Servings: 6
Ingredients For the Pizza Dough
Strong white bread flour: 2.8 cups
Dried yeast: 1 teaspoon
Caster sugar: 1 teaspoon
Olive oil: 1½ tablespoons, plus extra
Ingredients For The Tomato Sauce
Passata: ½ cup
Fresh basil: 1 tablespoon
Garlic: 1 clove, crushed
Ingredients For The Toppings
Vegan mozzarella-style cheese: 2 cups, grated
Cherry tomatoes: 2 cups, halved
Fresh basil
Method For the Dough
Combine the flour, yeast, and sugar in a large mixing basin. Fill a jug halfway with cold water and the other half with boiling water. Warm the water with the oil and 1 teaspoon salt, then pour it over the flour.
Stir thoroughly with a spoon, then knead the dough until it forms a soft, slightly sticky dough. Add a splash of cold water if it's too dry. Dust a work area with flour and knead the dough for 10 minutes.
Cover with cling film lubricated with a few drops of olive oil and return to the mixing bowl. Allow rising for 1 hour or until doubled in size in a warm location.
Method For the Pizza
Preheat the oven to 390 degrees Fahrenheit and place a baking sheet on the top rack. Knead the dough on a floured surface once it has risen.
Combine all tomato sauce ingredients in a mixing bowl, season with salt and pepper, and stir well. Remove from the equation.
Divide the dough into two pieces, roll each into a ball, then flatten each piece as thinly as possible with your hands. To keep the dough from sticking, make sure it's well-floured.
Spread 4-5 tablespoons of the tomato sauce on top of the pizza foundation, then top with sliced cherry tomatoes and shredded vegan cheese.
Drizzle with olive oil and bake on the prepared baking dish for 10-12 minutes, or until the base is puffed up and the vegan cheese is melted, bubbling, and golden.
Continue with the remaining dough and topping. Fresh basil leaves should be placed on top of the pizzas.
7. Baked Tomato Bruschetta
In a jar, tomato bruschetta! For a sweet and tangy baked appetizer, serve over soft vegan mozzarella cheese on a warm baguette. It's ideal for a spread, a filling, or a homemade gift.
Prep time: 30 minutes | Cook time: 30 minutes | Total time: 60 minutes | Servings: 24
Ingredients
Garlic: 5 cloves, minced
Dry white wine: 1 cup
White wine vinegar: 1 cup
Water: ½ cup
Sugar: 2 tablespoons
Dried basil: 2 tablespoons
Dried oregano: 2 tablespoons
Balsamic vinegar–2 tablespoons
Chopped cored plum: 9 cups
Baguette: 1, cut into 1″ pieces
Olive oil: 2 tablespoons
Soft vegan mozzarella or similar spreadable cheese: 4 oz.
Fresh basil
Method Tomato Bruschetta In A Jar
Prepare a water canner by filling it halfway with boiling water. Heat the jars in a pan of simmering water until they're ready to use.
Boiling is not recommended. Set bands aside after washing lids in warm, soapy water. Garlic, white wine, wine vinegar, water, sugar, basil, oregano, and balsamic vinegar should all be combined. Over high heat, bring to a full rolling boil, stirring occasionally.
Reduce heat to low, cover, and cook for 5 minutes or until thoroughly cooked garlic. Remove the pan from the heat. Fill hot jars halfway with tomatoes, allowing a 12-inch headspace.
Over the tomatoes, ladle the hot vinegar mixture, leaving a 12-inch headspace. Air bubbles should be removed. Wipe the rim. Place the hot lid in the middle of the jar. Adjust the band until it is fingertip-tight.
Fill jars halfway with water and process in a boiling water canner for 20 minutes, adjusting for altitude. Remove the jars and set them aside to cool. After 24 hours, check the lids for seal. When the center of the lid is squeezed, it should not flex up and down.
Preheat the oven to 375° Fahrenheit. Brush one side of the baguette with oil and arrange in a single layer on a baking sheet.
Five minutes in the oven.
Method For The Baked Tomato Bruschetta
Remove the baguette from the oven and apply a thin layer of vegan cheese. Return the dish to the oven for another 5 minutes.
Remove the cheese from the oven and top it with two tablespoons of canned tomatoes. Serve immediately with fresh basil on top.
Conclusion
Tomatoes are the primary dietary source of lycopene, an antioxidant linked to various health benefits, including a lower risk of heart disease and cancer. Vitamin C, potassium, folate, and vitamin K are all abundant.
Tomatoes are typically red when fully mature but can also be yellow, orange, green, or purple. Furthermore, there are numerous subspecies of tomatoes, each with its shape and flavour.
Would you like to grow your tomatoes? Click here to read about the 11 Secrets To Improve Growing Tomatoes In A Container on my Close-To-Nature.org website.
I trust you enjoyed this article about the 7 Delicious Vegan Recipes Using Tomatoes For Your Kids. Please stay tuned for more blog posts to come shortly. Take care!
JeannetteZ
Your Opinion Is Important To Me
Ideas? Thoughts? Questions? I would love to hear from you. Please leave me your questions, experience, and remarks about this article on the 7 Delicious Vegan Recipes Using Tomatoes For Your Kids in the comments section below. You can also reach me by email at Jeannette@LivingTheVeganLifestyle.org.
Disclosure
This post may contain affiliate links. I earn from qualifying purchases as an Amazon Associate and other affiliate programs. Please read my full disclosure.
Here are links to some of my favourite articles:
7 Delicious Vegan Camembert Recipes
Yummy Breadfruit Recipes With Health Benefits
5 Delicious Vegan Blue Cheese Recipes
7 Delicious Vegan Jackfruit Salad Recipes
6 Delicious Vegan Crab Cake Recipes