5 Delicious Vegan Blue Cheese Recipes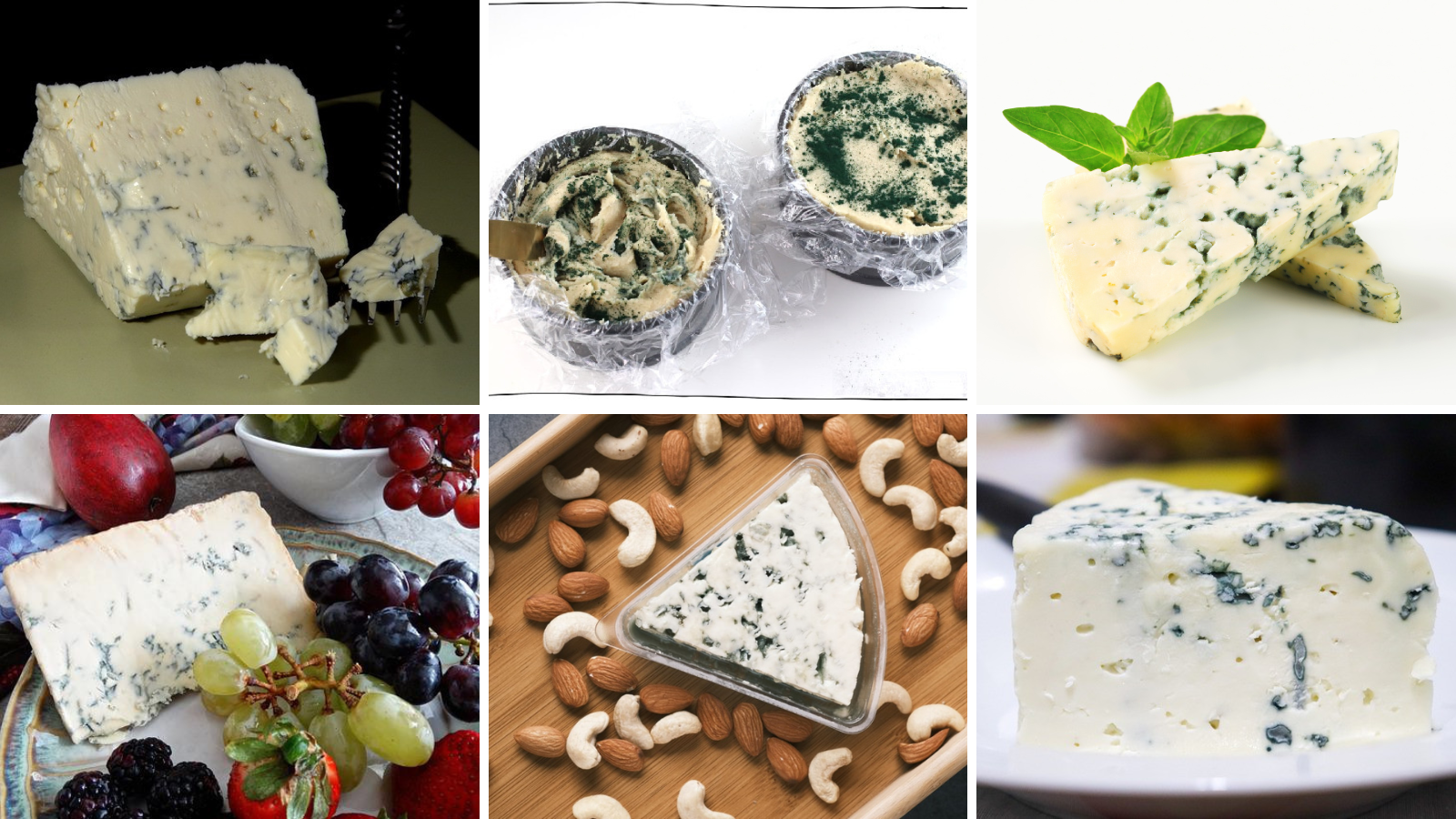 5 Delicious Vegan Blue Cheese Recipes
I always loved cheese and after becoming vegan I dearly missed eating it. That's why I am really excited to be able to share these 5 delicious vegan blue cheese recipes with you all.
In this vegan blue cheese blog post, I will present you with 5 different ways of making your own vegan blue cheese. To make them it will take you anywhere from 40 minutes to 2-4 weeks.
The best way to find which one you like best is to try out some of these recipes.
Vegan Blue Cheese Recipes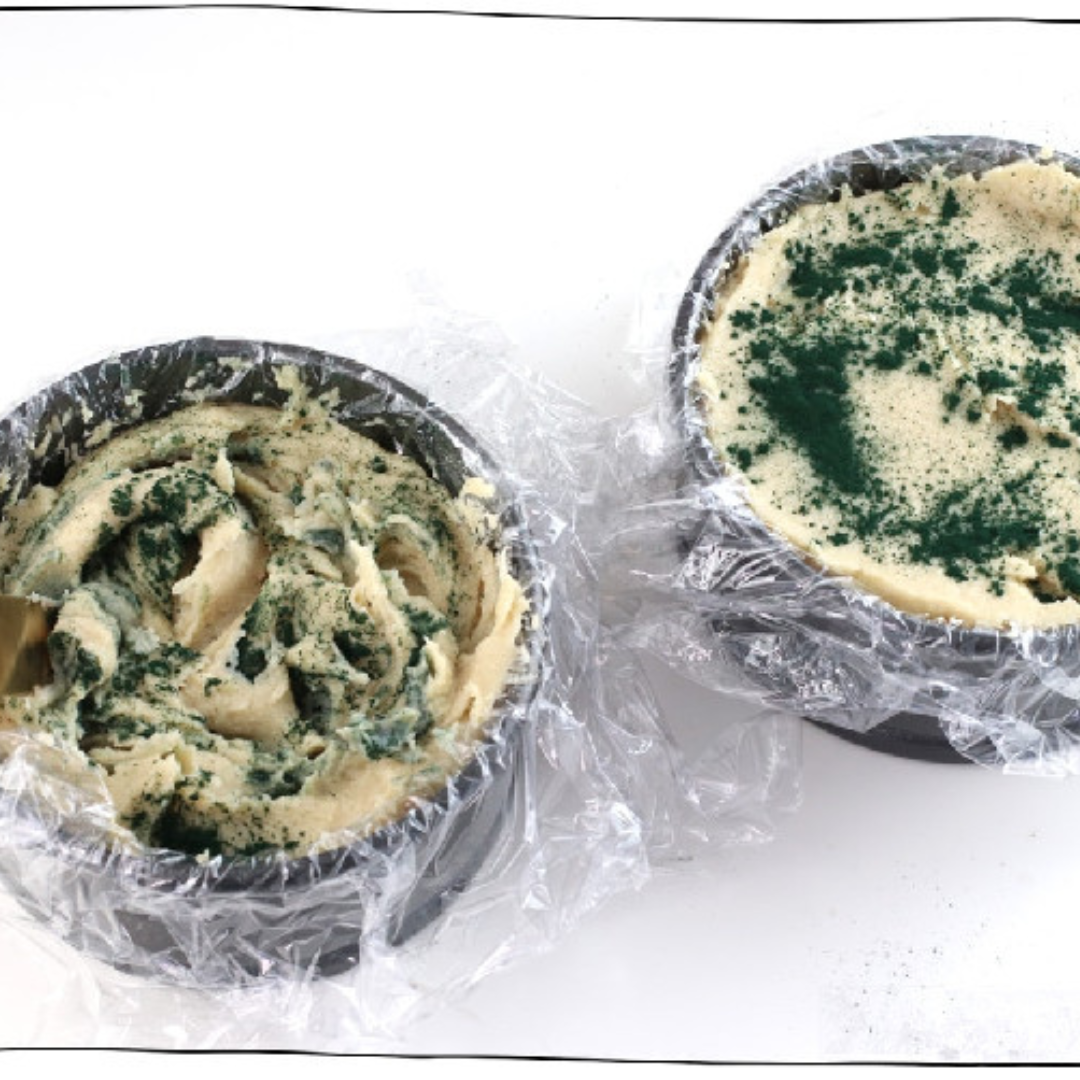 1. Easy Vegan Blue Cheese Recipe
This easy vegan blue cheese recipe only uses 8 ingredients and takes merely 20 minutes to make (plus chilling time). Voilà you can enjoy your own homemade vegan blue cheese! This dairy-free cheese is creamy, tangy, got that funky kick to it, and even has the pretty green and blue veins throughout.
Prep time: 10 minutes | Cook time: 10 minutes | Total time: 20 minutes | Chill time – Fridge: 6 hours | or Freezer 30 minutes | Servings: 2 Wheels Of Cheese (~4 inches ∅)
Ingredients
Raw cashews: 2 cups
Refined coconut oil: ¼ cup, melted
Apple cider vinegar: 3 tablespoons
White miso paste: 3 tablespoons
Salt: 1½ teaspoons
Onion powder: 1 teaspoon
Garlic powder: ½ teaspoon
Spirulina: ¼ teaspoon (for blue-green veins)
Method To Soften The Cashews
To soften the cashews, place them in a medium pot with enough water to cover them. Bring to a boil and cook the cashews for 10 minutes, or until they are soft. Rinse with cold water after draining.
Alternatively, soak the cashews for at least 6 hours or overnight by placing them in a bowl, covering the cashews with water, and allowing them to soak for at least 6 hours or overnight. Before usage, drain and rinse.
Both of these ways soften the cashews, making it simpler to combine them into a creamy consistency.
Method To Make The Cheese Base
In a food processor, combine the softened cashews, coconut oil, apple cider vinegar, miso paste, salt, onion powder, and garlic powder.
Blend until the cheese mixture is as smooth as possible, stopping to scrape the sides as needed.
It will get slightly sticky and heated as a result of the friction.
Method To Prepare Prepare Your Mould(s):
To line the moulds you can use either plastic wrap or parchment paper or you can use a silicone mould.
You may make two cheese wheels with any mould or dish you desire
I used two tiny springform pans.
Method To Form The Cheese
½ of the cheese mixture should be scooped into the mould(s) and smoothed out. Half of the spirulina should be spread across the surface.
Sprinkle the remaining spirulina over the remaining cheese mixture. 2–3 times with a knife, stir the cheese in the mold to incorporate the spirulina and create veins in the cheese. Don't overmix the ingredients.
To firm up the cheese, smooth the top of the cheese, then cover and chill for 6 hours or overnight. Fresh out of the fridge, the cheese will be harder, but as it sits out, it will soften.
To make it firmer, place it in the freezer for about 30 minutes before serving.
Easy vegan blue cheese can be kept in the fridge for 1–2 weeks or frozen for up to 3 months.
Serve your homemade vegan blue cheese with crackers or bread, spread it on a sandwich, top your salad with some pieces, or use it in a variety of other ways!
I love to serve this blue cheese on vegan french bread as a lovely addition to our vegan snack platter.
Nutrition Per Wheel Of Cheese
Calories: 1011kcal
Carbohydrates: 47g
Protein: 27g
Fat: 85g
Saturated Fat: 34g
Sodium: 2716mg
Potassium: 905mg
Fiber: 6g
Sugar: 9g
Vitamin C: 1mg
Calcium: 62mg
Iron: 9mg
2. Tangy And Rich Vegan Blue Cheese
This vegan blue cheese is rich and tangy with a deliciously mild flavour and a deliciously smooth and creamy texture.
It is super easy to make and divinely served on toasted bread, baguette or crackers.
Prep time: 15 minutes | Soaking the cashews: 1 hour | Total time: 1 hour 15 minutes | Servings: 8
Ingredients
Raw cashews: 2 cups (300g), soaked in hot water for 1 hour
Distilled white vinegar: 2 tablespoons
Refined coconut oil: 4 tablespoons
White miso paste: 2 tablespoons
Salt: 1 teaspoon
Onion powder: 1 teaspoon
Garlic powder: ½ teaspoon
Water: 2 tablespoons
Spirulina: ⅛ teaspoon (optional)
Instructions
Add the raw cashews to a mixing bowl. Pour boiling water from the kettle over the cashews until they are completely submerged. Allow 1 hour for them to soak. Drain and rinse the cashews after 1 hour.
In a blender jug (or food processor), combine the soaked cashews, the white vinegar, the refined coconut oil, the white miso paste, the salt, the onion powder, the garlic powder, and the water. Blend until smooth.
Half of the ingredients should be divided between two 4.5 inch round springform pans (or bowls, or ramekins). Spirulina should be sprinkled on top of each.
The remaining mixture should be divided between the two springform pans and layered on top of the spirulina.
Smooth it out and top with additional spirulina. Spirulina should be softly and briefly swirled through each cheese with a butter knife. To make green/blue swirls, distribute the spirulina throughout the cheese. However, do not mix it in, or your entire cheese will become green/blue.
Smooth the tops of the cheeses. Place the vegan blue cheese in the freezer overnight to set.
After that, chill it for an hour before removing it from the springform pans and serving it.
Recipe Notes
Refined Coconut Oil: We use refined coconut oil since the coconut flavour has been removed, leaving it with all of the benefits of coconut oil but none of the coconut flavour. You can use regular/virgin coconut oil, but there will most likely be a coconut aftertaste.
Spirulina Powder: This is what gives us the gorgeous green/blue lines we see in this cheese. You can omit those lines if you don't mind having them.
Springform Pans: Two 4.5-inch springform pans were utilized. Springform pans, bowls, and ramekins can all be used.
Food processor: This vegan blue cheese recipe also works great in a food processor. The texture initially may seem less smooth, but once it's set you won't notice any difference. If you don't have a powerful blender then I recommend making it in the food processor instead.
Fridge Or Freezer: When taken out of the fridge, this cheese will become fairly soft. It can be quite soft, even straight from the fridge. If you would like to firm it up even more, put it back in the freezer for 30 minutes and serve.
Storing: Keep it refrigerated and eat it within a week. You may also keep it frozen for up to three months.
Nutrition Per Serving
Calories: 249kcal
Carbohydrates: 11g
Protein: 6g
Fat: 21g
Saturated Fat: 9g
Polyunsaturated Fat: 3g
Monounsaturated Fat: 8g
Sodium: 454mg
Potassium: 227mg
Fiber: 1g
Sugar: 2g
Vitamin A: 4IU
Vitamin C: 1mg
Calcium: 16mg
Iron: 2mg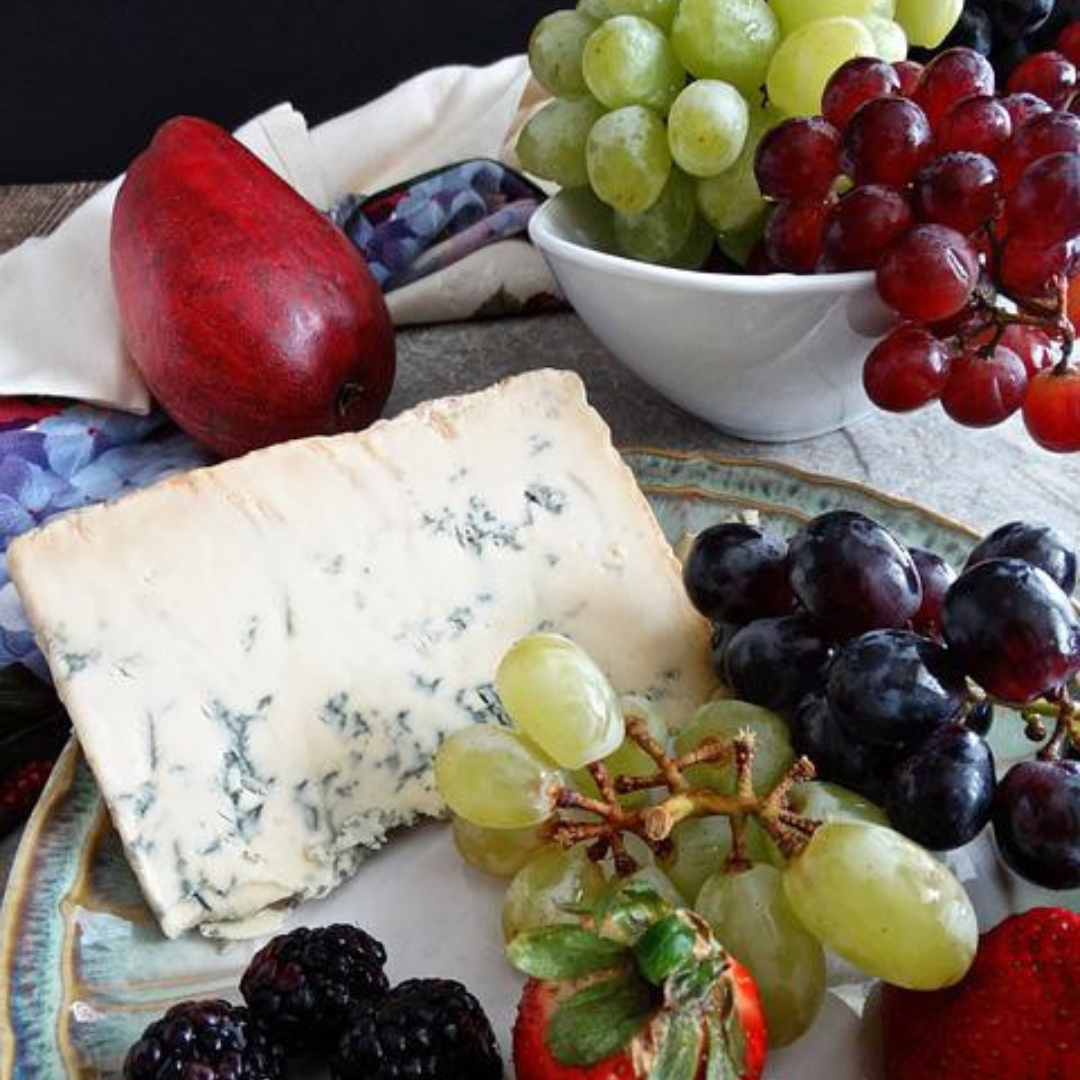 3. Vegan Blue Cheese That Tastes Like The Real One
This vegan blue cheese is made using traditional cheese-making techniques and it tastes like the real one! A creamy, sharp and strong cheese.
Prep time: 50 minutes | Aging time: 35 days | Servings: 4
Ingredients
Raw cashews: 3 cups
Refined coconut oil: 2 tablespoons
Mesophilic culture: ⅛ teaspoon or vegan probiotics (Acidophilus): 6 capsules
Penicillium roqueforti: ⅛ teaspoon liquid or ⅟₁₆ teaspoon powdered
Filtered water: 5 tablespoons
Sea salt: 1 teaspoon or to taste
Method Prepare A Day Ahead
Soak the organic and raw cashews in filtered water for at least 5 hours or overnight.
Method To Form The Vegan Blue Cheese
Drain your soaked cashew nuts and add them to a large glass measuring cup.
Boil a large pot of water and pour the boiling water directly onto the cashews.
Let it sit for 2-3 minutes and then drain them again. This additional step will help to kill any possible bacteria.
Transfer the well-drained cashews to a food processor or blender, and add your coconut oil and 5 tablespoons of filtered water to them.
Blend it on high speed, while scraping down the sides from time to time. This step might take 10-12 minutes depending on the size and power of your blender. You should end up with a thick, but smooth vegan blue cheese mixture.
Add the power of the probiotic capsules to your blender.
Also, add the penicillium roqueforti to the mixture in the blender. Note the liquid or powdered from work the same).
Blend for 10-15 seconds more.
The blue cheese mixture should be smooth but with a smooth consistency.
If your blue cheese mixture needs it, you can add 1 tablespoon of water at a time until it is smooth. You want to be careful not to add too much water. The blue cheese mixture should remain thick in texture.
Transfer the blue cheese mixture to a clean glass bowl. Cover it with a plastic lid or Saran wrap. Let the blue cheese sit in a dark place at room temperature for about 24 hours. This step is important for the cheese to ferment.
On the next day, place the bowl into the fridge for about 4 hours. The chilling makes it easier to work with the mixture.
Next, you line a flat plate or a baking sheet with parchment paper.
Place 4 small springform baking pans on top of it (I used 3-inch cookie cutter rounds, stacked) for each of the cheese pieces.
Cut several strips of parchment paper and lay them out in 4 small springform baking pans. You want to make sure you cover the bottom and sides of each springform baking pan.
The goal of this step is to prevent the cashew mixture from touching the metal. Therefore, you can also use Saran wrap or any other plastic film if you prefer. Fill each pan with the cashew cheese mixture and press it down. Use plastic film so the mixture doesn't stick to your fingers.
Place a plastic or glass container upside down on the plate where the cheese sits. This step is essential to keep some of the humidity inside. It is important for good mould growth.
Place the cheese in your refrigerator (you will age the cheeses covered in your refrigerator during the whole aging process).
Method For The Aging Of The Blue Cheese
2 days later, sprinkle salt on top of the vegan blue cheese and lightly rub it with your hands.
Using a small plate lined with parchment paper carefully flip the cheese and remove your springform cake pan. Sprinkle salt on top (previously the bottom) as well as on the sides, rubbing it gently in. Adding the salt is only done once.
After a few days, the cheese will be easier to work with even if it is still soft.
Flip the cheese daily, always handling it with clean hands. You can also use gloves or work with a plastic film to make sure you are not touching the cheeses.
After about 7 days blue mould should start to appear. The mould will be slightly lighter or darker depending on your fridge's humidity and temperature.
After approx. 2 weeks, you will break the cheese into little pieces (just like when you scramble tofu). Make sure your bowl is clean. The cashew mixture will still be rather soft and it is important to make little bits.
Here, I highly recommend wearing latex gloves (if nobody in your family is allergic to latex).
Lay out parchment paper strips into springform baking pans. Fill each baking pan with the scrambled cheese pieces, without pressing too much.
This step will create holes inside the cheese and is very important.
The mould needs air to grow. You can remove the cheese from the springform pans right after shaping them. Place the cheeses on a baking sheet or a large plate.
Cover it with a plastic container and refrigerate again.
For the next 3 weeks, continue flipping the cheese daily. It only takes a few seconds. Always use gloves or clean hands.
After 5 weeks, the inside and the outside of your cheese will be covered with blue mould.
Wrap each piece of cheese in aluminum foil or cheese paper, and let them age another 4-8 days.
Note: The longer you let them age in the fridge, the stronger their taste will be.
The vegan blue cheese will keep in the fridge for about a month and will become firmer and sharper.
Recipe Note
The mould sizes have no real importance and you can use whatever containers you have in your kitchen.
Nutrition For ¼ Of A Cheese (~1 oz)
Calories: 95 kcal
Carbohydrates: 5 g
Protein: 3.2 g
Fat: 8.5 g
Fiber: 0.6 g
Sugar: 1 g
4. Vegan Cashew Blue Cheese 
Yes, this is real vegan blue cheese. It is made with soaked cashews, filtered water, fresh lemon juice, and various seasonings. This vegan blue cheese is soft, spreadable and tangy. Perfect for serving on crackers on a vegan snack platter. You can achieve the "mouldy cheese look" when you add dry herbs and spirulina to the blue cheese mix it will get the true blue color.
Prep time: 20 minutes | Soak the cashews: 4-6 hours | Refrigeration time: over night | Servings: 8-10
Ingredients
Cashews: ⅔ cup
Water: ¼ cup
Lemon juice: ½ cup
Ume plum vinegar: 1 tablespoon (or make your own by combining ¾ cup white rice vinegar, ¼ cup sugar and 2 teaspoons of salt, then store the rest in the refrigerator for later)
Nutritional yeast: 1 tablespoon
Oregano: ½ teaspoon
Marjoram: 2 teaspoons
Spirulina: 1 teaspoon
Salt: 1 pinch or to taste
Method
For a minimum of 4 hours soak the cashews.
Add the cashews, the salt, the lemon juice, the nutritional yeast, the ume plum vinegar, and the water to your blender and blend the mixture until it is smooth.
Take 3-4 tablespoons of the mixture and add it to a small glass bowl. Add the oregano, marjoram, and spirulina. Stir and combine the mixture thoroughly.
In a small glass bowl, prepare a piece of cheesecloth.
Add the white cheese mixture to it
Then add the coloured-herbed mixture to it. You can use a long toothpick to marble the mixtures together.
Once your cheese is marbled, tie up the cheesecloth and then punch wholes into the top part of the cheese, but through the cheesecloth only, with a large skewer.
Use this to suspend the cheese over a bowl, to allow excess water to drain.
Refrigerate overnight.
Nutrition Per Serving
Total Calories: 423
Total Carbs: 31 g
Total Fat: 29 g
Total Protein: 15 g
Total Sodium: 1825 g
Total Sugar: 7 g
5. Vegan Blue Cheese (Artisan Roquefort)
You can definitely get the real blue mould taste from the penicillium roqueforti ingredient. And the best thing is that it is all plant-based so you can eat it without feeling guilty! Are you ready to give this vegan blue cheese a try? Let's do it!
Prep time: 1 hour | Curing and aging time: 2-4 weeks
Ingredients
Raw cashews: 2 cups (474 ml) – Organic & fairtrade is preferable.
Filtered water: 3 tablespoons (45 ml)
Water kefir: 3 tablespoons (45 ml) – or other any other probiotic liquid (you can skip it and just use filtered water instead).
Coconut oil: 2 tablespoons (30 ml)
Plant-based probiotic: 4 capsules (I use the 15 billion per capsule variety)
Himalayan or cheese salt: ~½ teaspoon (5 ml) (the salt needs to be low in iodine)
Penicillium roqueforti: ⅟₁₆ teaspoon (dash)
 Method For Making The Vegan Blue Cheese
First of all soak the cashews in filtered water in the fridge overnight.
 Day 1
Dump the water the cashews soaked in overnight. Then pour boiling water over the soaked cashews.
Let it sit for a couple of minutes then drain them.
Add the cashews to a high-speed blender (or a food processor)
Add the salt, water kefir and filtered water.
Blend or pulse. Regularly scrape the sides and blend until you achieve the smooth blue cheese texture that you would like to have.
Add the contents (powder) of the probiotic capsules and the penicillium roqueforti.
Blend or pulse again until all the ingredients are thoroughly mixed in.
Pour the mixture into a glass container.
Lightly cover it and let stand overnight to ferment it.
 Day 2
Use a container lid and put a bottomless springform cake pan on it, then put cheesecloth in it.
Scoop the mixture into it and slightly pack it down. Then fold the cheesecloth over the edges and gently press it down to level the blue cheese mixture.
Use a glass or plastic container to lightly cover it, and let it sit in the coolest area of the house (53-56 °F or 12-14°C). I leave mine in the basement and it works great. Let it form during the night.
 Day 3
Take out the springform and remove the cheesecloth. Sprinkle some salt evenly on it. Using a piece of parchment paper to cover it you can carefully flip the cheese.
Remove the cheesecloth and sprinkle salt on its sides as well.
Cover the blue cheese and put it back into the cool area.
Note: the amount of salt you use to sprinkle is about ¼ teaspoon (1.25 g), but don't worry if it is not the exact amount.
 Day 4
You can see some blue mould starting to form, but mostly on the sides of the cheese.
Use an additional piece of parchment paper to flip the cheese over, dry the plastic cover should there be moisture on it, and put your blue cheese back into the cool area.
Note: You can wipe down the paper with a clean washcloth after each use and then dry it. Then you can re-use the same paper until it gets too weary.
 Day 5
There is more blue mould showing today. There are two methods to get air into the cheese at this point of the process.
The first option is to use a clean stick to poke the cheese to make the holes. Start from the top through to the bottom, then from the side through to the other side. Prick as many holes as you can into the cheese, but make sure the cheese doesn't collapse.
Then use a piece of parchment paper to cover the cheese and flip it. Prick this side through the bottom as well. Dry the cover with a dish towel and put the cheese back into the cool area of your house. In our case, it is the pantry or the garage.
The second option is: to crumble the cheese into small chunks, then lightly pack the chucks into the smaller springform baking pan. Remove the springform, dry the cover and put it back into the cool area of your house.
Note: this step is essential for allowing air to circulate and creating air pockets inside the cheese for the mould to grow. The mould is the key to making the cheese tasty.
 Day 6
There is more mould on it but also a bit more moisture.
Use a piece of parchment paper or Saran wrap to cover the cheese and flip it.
This time you can put a bamboo mat underneath to help ventilate the bottom of the cheese.
Dry the cover, replace it and put the cheese back into the cool area. You could put the cheese directly on the mat, but the mold might stain it and it's hard to clean.
 Days 7 – 11
Repeat the flipping every day, change the bamboo mat to a dry one should it gets too damp.
 Day 12 or so
The cheese now should be covered with blue mould.
It's time now for the slow aging of the blue cheese.
Transfer the cheese to a sheet of parchment paper and wrap it with it.
Put it in a breathable container and store it in the refrigerator to age for another 2 maybe 3 weeks.
No more need to flip the blue cheese at this point. Note: the mould didn't grow and covered the entire cheese with the one that I crumbled. I didn't like the looks of it that much, however, I covered it and let the cheese age in the refrigerator anyways.
 After About 2 Weeks In The Fridge
Your blue cheese should be ready to eat. The one with the hole pricked has mould growth inside where it got pricked.
It tastes delicious, and it can definitely satisfy my blue cheese cravings.
You can leave the blue cheese a bit longer if you like a stronger flavour.
I let the crumbled cheese age for about 4 weeks. It doesn't look as appealing at first on the outside, but the smell and texture are really close to the dairy-containing blue cheese.
There are also many more small blue veins inside that distribute the flavour.
The crumbling did a very good job creating small air pockets for the mould to grow.
With a lot more mould distributed, the taste is amazing. Being aged longer with more mould inside, this one is the winner!
Conclusion
There are many steps in creating vegan blue cheese. The most important part is to take the time to learn about what goes into each step so that you have a perfect dish. Also, make sure to let the cheese cool before serving! In this blog post, I presented you with 5 different ways of making vegan blue cheese.
The first version takes only 40 minutes plus chilling and the last version tales several weeks for the vegan blue cheese to ferment to perfect taste and texture.
I trust you enjoyed this article about the 5 Delicious Vegan Blue Cheese Recipes. Please stay tuned for more blog posts to come shortly. Take care!
JeannetteZ
Your Opinion Is Important To Me
Ideas? Thoughts? Questions? I would love to hear from you. Would you please leave me your questions, experience, and remarks about this article on the 5 Delicious Vegan Blue Cheese Recipes, in the comments section below? You can also reach me by email at Jeannette@LivingTheVeganLifestyle.org.
Disclosure
This post may contain affiliate links. As an Amazon Associate and other affiliate programs, I earn from qualifying purchases. Read my full disclosure.
Here are links to some of my favourite articles:
7 Delicious Vegan Jackfruit Salad Recipes
6 Delicious Vegan Crab Cake Recipes
Italy Vegan Travel Guide With Popular Vegan Restaurants
India Vegan Travel Guide With Popular Vegan Restaurants
6 Delicious Vegan Rhubarb Recipes
Singapore Vegan Travel Guide With Popular Vegan Restaurants