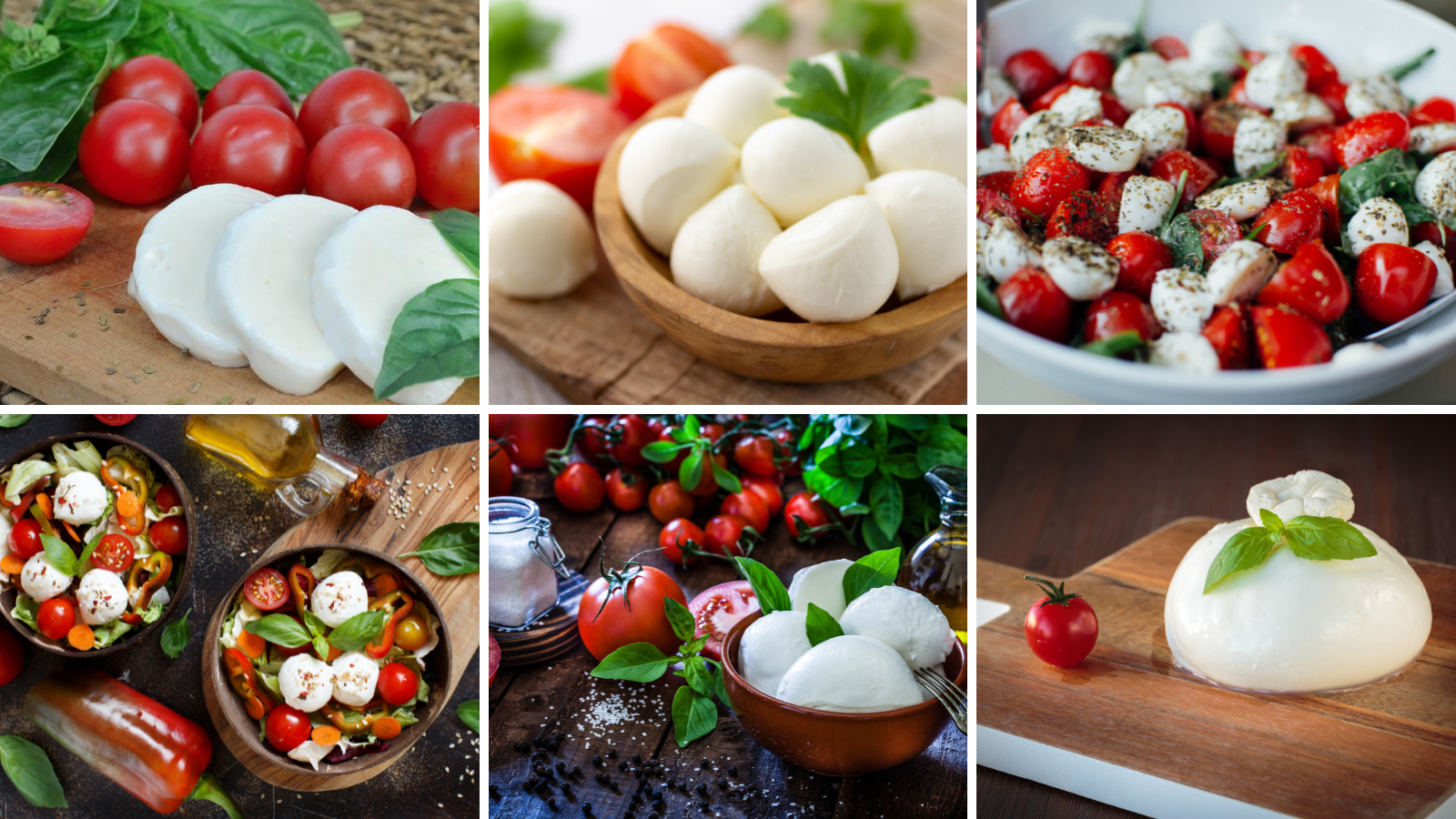 7 Best Vegan Mozzarella Cheese Recipes For Your Kids
We use mozzarella cheese in a lot of different recipes. I love pizza, and our homemade vegan and gluten-free pizzas are delicious. My absolute favourite is vegan mozzarella with slices of tomatoes and fresh basil, as shown in one of the images.
In this blog post, I am introducing the 7 best vegan mozzarella cheese recipes. I love them all. Some of them take less than 20 minutes plus chill time.
Enjoy the recipes, and let me know what you think about them in the comments below.
1. Best Vegan Mozzarella Cheese (No Oil!)
This is the best vegan mozzarella cheese that I have ever tasted! It only has 7 ingredients, is oil-free, doesn't contain nutritional yeast and has no tapioca starch! This cheese is so creamy, rich, thick and unique! This vegan mozzarella is made with healthy whole foods that make pizza, grilled cheese, and pasta, which bake incredibly delicious, and even non-vegans will love it!
Prep time: 12 minutes | Cook time: 15 minutes | Total time: 27 minutes | Servings: 2 cups
Ingredients
Low-sodium veggie broth: ½ cup (120g)
Dairy-free plain unsweetened high-fat yogurt: ¼ cup (60g)
Raw cashews: ½ cup (75g)
Yukon Gold Potatoes: ½ cup, packed (120g), cooked, peeled and mashed (You are weighing the 120 grams AFTER you've cooked/peeled & mashed the potato)
Cooked white rice: ¼ packed cup (50g)
Distilled white vinegar: ½-1 tablespoon (15g) (½ tablespoon = mild tang and 1 tablespoon for extra tang (this step is key to the cheesy flavour, so don't sub it)
Freshly squeezed lemon juice: 1 teaspoon (5g)
Fine sea salt: ¾ teaspoon (this is KEY to the cheesy flavour, don't reduce or omit. It has to stand out on pizza and grilled cheese.
Note
You must weigh your ingredients to get the correct ratios for this vegan mozzarella cheese to be perfect! I just put my Vitamix on my scale, hit zero, and added each ingredient, hitting zero between each addition. SO easy and fast.
Method
If you don't have a Vitamix or another high-speed blender, soak the cashews overnight in a bowl of warm water so that they can soften. Otherwise, you will end up with gritty cheese.
The first step only applies if you don't own a high-speed blender like the Vitamix.
Peel, boil and mash the potatoes with a potato masher. You need 120g (½ cup, packed).
Cook the rice and let it cool.
Add the broth first to the blender. It will make the blending more effortless. Add the yogurt, the cashews, the mashed potatoes, the cooked rice, the vinegar, the lemon juice and the salt.
Blend it all on high until 100% smooth, thick and creamy. You will need to scrape down the sides several times to get it going.
Taste that amazingness! Rich, creamy, tangy and a bit salty. The salt is essential to stand out in grilled cheese sandwiches and on pizza since, technically, you aren't eating it on its own.
While it tastes fantastic straight out of the blender, wait to judge it on pizza and grilled cheese entirely!
It should be thick, gooey and creamy. You can use it immediately or place it in the fridge to firm up.
Ideas Of How To Use The Vegan Mozzarella
Grilled Cheese or Quesadillas
This method is different and requires time to prepare in advance, so please read through the instructions.
Grilled Cheese Sandwich: Since you only heat the grilled cheese briefly on the stove, the cheese sauce is too liquid to use for grilled cheese sandwiches.
In order to create a firmer cheese, you will line a 6-inch round cake pan or Pyrex glass container with parchment paper.
Pour the blended-up cheese sauce into the oven-safe glass container and bake it at 350°F (180°C) for about 10 minutes. This firms up the cheese enough to make it perfect for the grilled cheese sandwich or the quesadillas.
You can use this vegan mozzarella immediately or store it in the fridge to firm up even more before using it.
When ready to make the grilled cheese toast, spread a  generous amount of the cheese (several spoonfuls) onto the bread and heat in a nonstick pan on the stovetop until browned on both sides.
Quesadillas: Spread a thick layer on the bottom of a large tortilla, add toppings and another thin layer on the top tortilla. The cheese will help them to stick.
Pizzas
The vegan mozzarella has the perfect consistency to use on pizza right after blending, as it's effortless to spread and drizzle or dollop.
Add your homemade pizza sauce to your pizza crust and all the toppings you want. We like to use tomatoes, peppers, mushrooms, thinly sliced celery, and zucchini if we have any at home.
Distribute the cheese sauce over your pizza.
We spread a generous amount of the cheese sauce onto our pizza. This way, we can taste the cheese with every bite.
Bake at 400°F (200°C) for about 15-20 minutes until the cheese looks firm and a bit brown on top and the crust is golden.
Dip For A Crudité Platter
Here again, you can use it right away from the blender, as it should be warm from blending. You can always blend it a bit longer to warm it up (be careful not to overheat your blender) or heat it on the stove for 3-5 minutes on medium-low to warm through or thicken it slightly more if desired. However, it should already be thick and creamy. In addition, it will firm up more when you store it overnight in your fridge.
Recipe Notes
You can store this vegan mozzarella cheese in the fridge for 1-2 weeks.
Nutrition Per Serving (¼ cup)
Calories: 94kcal
Carbohydrates: 10.3g
Protein: 2.4g
Fat: 5.1g
Saturated Fat: 1g
Sodium: 186mg
Potassium: 124mg
Fiber: 0.8g
Sugar: 0.8g
Calcium: 6mg
2. Easy Stretchy Vegan Mozzarella Cheese
Prep time: 7-10 minutes | Cook time: 10 minutes | Total time: 17-20 minutes | Servings: 8
This Stretchy Vegan Mozzarella Cheese is my favourite. It has only 5 ingredients, and it is made in less than 20 minutes. It is perfect for grilled cheese, lasagna, pizza and more!
Ingredients
Raw cashews: ½ cup, soaked
Water: 1⅓ cups
Fresh lemon juice: 1 tablespoon (about ½ a lemon)
Apple cider vinegar: 1 tablespoon
Salt: ½ teaspoon
Tapioca starch: 4 tablespoons
Method
Boil 2 cups of water (either on the stovetop or in the kettle). Pour the boiling water over the cashews and let them soak for 5-10 minutes or up to an hour.
Drain the cashews, add them to a blender, and add 1⅓ cups of fresh water (don't use the cashew soaking water), lemon juice, apple cider vinegar, salt and tapioca starch.
Blend until the ingredients are combined well and smooth, scraping down the sides of the blender as needed. It will be very watery at this point.
Pour the watery mixture into a small saucepan and bring the heat medium. Begin to stir with a wooden spoon.
After a few minutes, the mixture will begin to clump. Keep stirring until it suddenly becomes super gooey, stretchy, thick and smooth. It will turn into the stretchy vegan cheese you are looking for.
Remove the pan from the heat.
Use immediately, or store in a covered container in the refrigerator. It is easiest to use immediately because it will thicken up more in the fridge and be less stretchy. So if possible, especially for using on pizza or lasagna, make it right before using.
Drop 1-2 tablespoon balls onto the crust and pat down a little for pizza. Or spread it all over. It will brown in the oven. For lasagna, drop dollops of the cheese all over the top towards the end of cooking time. Or place between bread and grill for grilled cheese.
Recipe Notes
The tapioca starch/flour is essential in this recipe. Cornstarch will not create the same "stretchy" quality.
If you want to brown the cheese in the oven, spray with a bit of oil and broil for 5-10 minutes, observing. This vegan cheese is lovely for pizza, lasagne, or just as a topping for a vegan croissant.
Even though you can freeze this cheese, it is best eaten fresh. It will keep in the refrigerator for 4-5 days. But again, it will immediately be the most stretchy and easy to work with.
Nutrition Per Serving
Calories: 59kcal
Carbohydrates: 6g
Protein: 1g
Fat: 4g
Saturated Fat: 1g
Sodium: 149mg
Potassium: 53mg
Fiber: 1g
Sugar: 1g
Vitamin C: 1mg
Calcium: 3mg
Iron: 1mg
3. Vegan Mozzarella Cheese
Prep time: 4 minutes | Cook time: 6 minutes | Chill time: 3 hours | Total time: 3 hours 10 mins
A delicious vegan mozzarella recipe that you make with coconut milk. The vegan cheese melts and stretches and is perfect for a grilled cheese sandwich, vegan pizza, grilled cheese, quesadillas, lasagnas, and casseroles.
Ingredients
Full-fat coconut milk or coconut cream: 1- 13.5 oz can
Warm water: ¼ cup
Salt: 1¼ teaspoons
Nutritional yeast: 2 tablespoons
Agar-agar powder: 4 teaspoons
Garlic powder: ½ teaspoon
Tapioca flour: 2⅓ tablespoons
Water: ¼ cup
 Method
Prepare a glass, ceramic, or silicone mould and have it ready to pour the cheese into when you are ready.
Add a 13½ oz can of coconut milk, ¼ cup of warm water, 1¼ teaspoons salt, 2 tablespoons of nutritional yeast, 4 teaspoons agar-agar, and ½ teaspoon of garlic powder.
Heat the cheese sauce mixture over medium heat until it begins to boil.
Turn down the heat until it barely bubbles, and allow it to boil for 5 minutes while stirring frequently.
Add 2 tablespoons plus 1 teaspoon (or 7 teaspoons) tapioca starch to ¼ cup of water and whisk until the tapioca is dissolved.
Add the water/starch mixture to the boiling cheese sauce, stir it with a whisk, and cook for an additional minute until your cheese becomes rather thick and stretchy).
Pour the vegan mozzarella cheese into a glass container (no cover) and allow it to cool in the fridge for 3-6 hours before you shred your vegan cheese.
Store covered in an airtight container for 5 days in the fridge or 3 months in the freezer.
Tips For Making Great Vegan Mozzarella Cheese
Measure all your ingredients very carefully! The slightest changes in the amount of liquid, the agar-agar, or the tapioca starch can change the texture of your cheese a lot!
After adding the coconut milk, rinse the can with warm water to get all the coconut milk out.
Add an additional tablespoon of nutritional yeast to your cheese sauce for a cheesier flavour.
Store the cheese in a sealed glass container in the fridge for a week or for 3-4 months in the freezer. I prefer to eat the vegan mozzarella cheese fresh. Its texture is much smoother.
Put the cheese into the freezer for 20-30 minutes before shredding.
Tips On How To Melt Your Vegan Mozzarella Cheese
Take the cheese out of the fridge an hour before putting it in a sandwich or casserole. This way, the cheese will melt easier.
Ensure you cook the food with the vegan cheese at lower temperatures and for longer to allow the time for the heat to travel into the center of the food.

Grilled Cheese Sandwiches or Quesadillas – preheat it in a microwave for about 45 seconds before grilling it, so the cheese in the center melts.
Cover it with foil for lasagna and casserole. This way, you trap the steam, which will aid the vegan cheese is melting.
Vegan Pizza – Use the top rack to broil the pizza for the last 4-5 minutes of cooking, watching it carefully. You can also cover it with nonstick foil for cooking for the last few minutes.
 Nutrition Per ¼ Cup Serving
Calories: 111
Fat: 10g
Saturated Fat: 9g
Sodium: 371mg
Potassium: 157mg
Carbohydrates: 5g
Fibre: 1g
Sugar: 1g
Protein: 2g
Vitamin C: 1mg
Calcium: 16mg
Iron: 2mg
4. Real Vegan Mozzarella Cheese
The real vegan mozzarella cheese recipe makes super simple and tasty Vegan Mozzarella Cheese that will slice, shred, melt, and blow your mind!!
Prep Time: 5-6 minutes | Refrigerator time: 4-5 hours | Total Time: 4-5 hours + 5-6 minutes | Servings: 10
Ingredients
Method
Select a heat-safe glass dish (I use Pyrex containers because they come with tops for easy storage) for your cheese mould and set it aside.
Rinse the cashews under HOT water for several minutes. Alternatively, you can soak them in super hot water for 5 minutes. Then rinse them.
Bring your water to a boil. You can use either a small pot on the stove or a kettle.
Add the cashews to your high-speed blender.
Then add all the other ingredients (except the water!) to the blender.
Add the boiling hot water into your blender (be careful not to burn yourself). Put the blender lid on! And blend immediately until entirely smooth.
Stop blending a couple of times to scrape the sides of the blender, and then continue blending.
Immediately transfer your vegan mozzarella cheese to your chosen dish/mould, as the cheese will start to solidify as it cools.
Place in refrigerator to chill. No need to cover yet.
After 2-3 hours or when thoroughly chilled, remove cheese block from dish/mould, wrap in paper towels, and then tightly plastic wrap. The flavour improves over a day or two, but it's great as soon as it's hardened. Yay! You are officially a cheese-maker!
Recipe Notes
Don't skip rinsing the cashews! The rinsing helps decrease the 'cashew' flavour in the recipe while still using the incredible creaminess of the cashew!)
What Kind Of Moulds Should I Use? The 2-cup mould from this Pyrex bowl set has an excellent shape for making the vegan mozzarella cheese.
Can I use Agar powder instead of Kappa Carrageenan? Yes, you can use Agar Powder. Use 3 tablespoons of Agar Powder instead of 1½ tablespoons of Kappa Carrageenan.
Can I use Agar flakes instead of Kappa Carrageenan? I don't recommend it. The cheese texture will not be quite as firm or as melty.
Can I use Lactic Acid instead of Lemon Juice? I don't recommend it. The quick blending process doesn't work well with this substitution, and your cheese may not be set properly.
For A Slightly Drier Cheese Texture: After your cheese block has hardened, you can wrap it first in a dry paper towel and then tightly in plastic wrap. This step will remove any excess moisture.
For A Softer Mozzarella Cheese: Decrease Kappa Carrageenan amount to 1 tablespoon. The softer cheese texture will be ideal make mozzarella balls. I love to eat them with tomatoes and basil.
How Long Can I Store The Vegan Mozzarella In The Fridge? It will easily keep in the fridge for 4-5 days.
Can I Freeze This Cheese? Yes, you can. However, its texture does get a little softer after thawing. I prefer to eat the vegan mozzarella fresh!
Nutrition
Calories: 83kcal
Carbohydrates: 4g
Protein: 1g
Fat: 8g
Saturated Fat: 5g
Sodium: 349mg
Potassium: 57mg
Vitamin C: 0.6mg
Calcium: 2mg
Iron: 0.5mg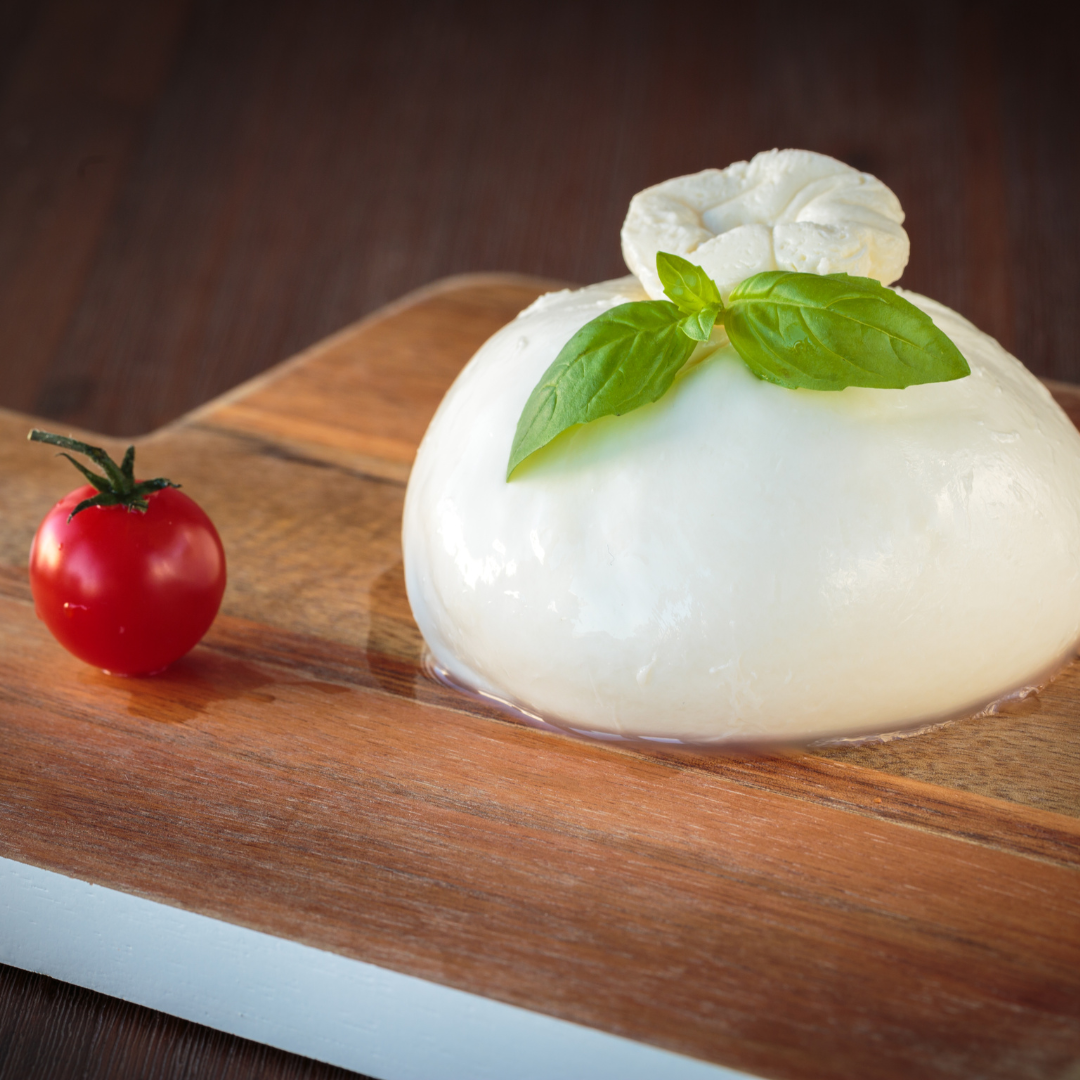 5. Vegan Mozzarella Cheese With Plant-Based Yoghurt
This vegan mozzarella cheese is delicious, soft, fresh, and so creamy! In my opinion, it is a perfect substitute for the dairy version.
Prep time: 25 minutes | Cook Time: 10 mins | Total Time: 35 minutes | Servings: 8 people
Ingredients
Raw cashews: 1 cup, soaked in boiling water for 25 minutes. Keep covered. *See note
Unsweetened dairy-free yogurt: 1¼ cups
Plant-based milk: ¼ cup
Refined coconut oil: 2 tablespoons, or sunflower oil (make sure to use refined coconut oil to avoid a subtle coconut taste)
Lemon juice, freshly squeezed: 2 tablespoons.
Tapioca flour/starch: 3½ tablespoons
Garlic powder: ¼ teaspoon
Nutritional yeast: 2 teaspoons
Sea salt: 1½ teaspoons, more to taste (plus more for brine)
Water: ½ cup, plus more for brine
Agar powder: 2 teaspoons
Method
To make the brine, fill a medium-sized glass bowl halfway with filtered water, and add 1-2 teaspoons of salt and 5-6 ice cubes. Set it aside.
Drain cashews and discard soaking water. Add the cashews, the plant-based yogurt, the soy milk, the coconut oil, the lemon juice, the tapioca starch, the garlic powder, the nutritional yeast and the salt to a high-powered blender. Blend on high for 1-3 minutes until the mixture is completely smooth. Set aside.
Add ½ cup filtered water to a medium pot and warm it up over medium heat. Once hot, stir in the agar powder. Stir it well.
After 3-4 minutes, the agar-agar will start to appear gel-like.
Add the blended mixture to the pot and stir it.
Continuously stir. You don't want the cheese mixture to stick or burn. Scrape the sides and bottom. The cheese will start to thicken up.
As soon as the vegan mozzarella mixture becomes stretchy and thick (after about 5-6 minutes), remove it from the heat.
Scoop out the mixture (I use an ice cream scoop) and place the mozzarella balls into the prepared brine. Cover and place the mozzarella balls into the fridge (in the water) for at least 2-3 hours. The cheese will harden as it chills, and the texture will improve. It will also be easier to slice.
Recipe Notes
To soak the cashews, boil the water in a small pot or in a kettle, remove from heat, add the cashews and cover them. Then let them sit for 25 minutes.
To make things easier, you can prepare and soften the cashews by placing them into the water for a minimum of 2-4 hours (or overnight in the fridge).
You can store the vegan mozzarella balls in the fridge in its brine for 3-5 days.
Would you like to make this mozzarella melt easily? You can add a ¼-½ cup of soy milk to the ingredients or take it out of the brine earlier (around an hour). It will be soft but delicate and ideal to be melted. To add it to a vegan pizza, slice the cheese into ¼" pieces and place it on top of the pizza before it goes into the oven so it has time to melt.
This Vegan Mozzarella will not melt as easily as the dairy version. However, it does melt a little bit and becomes soft and slightly stretchy. I think it's a close alternative and so darn tasty.
Nutrition Per Serving
Calories: 176kcal
Carbohydrates: 11g
Protein: 5g
Fat: 12g
Saturated Fat: 5g
Sodium: 469mg
Potassium: 215mg
Sugar: 3g
Vitamin A: 35IU
Vitamin C: 1.7mg
Calcium: 85mg
Iron: 1.2mg
6. Melty Stretchy Gooey Vegan Mozzarella
Just 15 minutes to make and only 7 ingredients! Perfect for pizza, lasagna, grilled cheese, fondue, and nachos! It's the best! This homemade vegan mozzarella recipe tastes way better than any store-bought non-dairy mozzarella, and it's also cheaper to make and healthier as it has no added oils! I hope you love this recipe as much as I do.
Prep time: 10 minutes | Cook time: 5 minutes | Total time: 15 minutes | Servings: 1 cup
Ingredients
 Method To Soften The Cashews
You don't have to soften the cashews if you have a high-speed blender.
Otherwise, softening the cashews is an essential step to achieving a smooth vegan mozzarella cheese.
You have two choices: boil (fast method) or soak (needs to be done ahead of time).
To boil the cashews (the fast method): add the cashews to a small pot, cover them with filtered water, and boil for about 10 minutes until the cashews are soft.
To soak the cashews: add them to a glass bowl, and cover them with water. Let them soak for 4-6 hours or overnight until they are soft. Drain and rinse the cashews before you use them.
 Method To Make The Vegan Mozzarella
Add the cashews and 1 cup of water, and all the remaining ingredients to a high-speed blender. Blend the mixture until it is entirely smooth. It will be very liquidy at this point.
Pour the liquid mixture into a small saucepan and put it over medium-high heat. Continually stir. The cheese will start forming clumps. Keep stirring, and continue clumping until the mixture turns from watery to a thicker melty cheese sauce. This step takes about 5 minutes. Serve hot or allow to cool and store in an airtight container in the fridge for 2 – 3 days. The cheese will get thicker as it cools but stay in a melty state.
Recipe Notes
Tapioca starch is essential for this recipe. This important ingredient gives the cheese a stretchy and gooey texture.
To return the cold mozzarella to a dipping consistency, reheat over low to medium heat while constantly stirring.
Once it is hot and bubbling, it might have thickened up too much. You can thin it out by adding a splash of water at a time, stirring it in until desired consistency is reached.
To ensure a smooth cheese, you may also want to pour the liquid through a fine-mesh strainer or cheesecloth before cooking to remove any cashew bits that didn't grind up. This step will ensure a smooth cheese texture.
 Nutrition For ¼ Of The Recipe
Calories: 123kcal
Carbohydrates: 12g
Protein: 3g
Fat: 7g
Saturated Fat: 1g
Sodium: 295mg
Potassium: 143mg
Fiber: 1g
Calcium: 6mg
Iron: 1.3mg
7. The Best Vegan Mozzarella Cheese (Melts And Stretches)
Prep time: 12 minutes | Cook time: 5 minutes | Total time: 17 minutes | Servings: 8
This is the best vegan mozzarella cheese recipe. The mozzarella is chewy, stretchy, and melts just like the dairy version. Best of all, it's completely healthy, plant-based, and easy to make. Perfect for pizza, grilled cheese, or your favorite pasta bake.
Ingredients
Instructions
Boil the cashews for 5 minutes or soak them in hot water for 15-20 minutes.
Place all the ingredients into a high-speed blender and process until completely smooth.
Pour the mixture into a nonstick skillet or small saucepan and constantly stir over medium heat until it starts to thick and looks like melted mozzarella cheese.
Use immediately or store in an airtight container in the refrigerator.
Recipe Notes
If you don't have cashews, blanched almonds are a good sub. You will want to boil or soak them as well.
Place vegan mozzarella in a freezer-safe container and store it in the freezer for up to 1 month.
Store your delicious and stretchy vegan mozzarella cheese in the fridge in an airtight container for 1 week.
Use ONLY tapioca flour. You WILL NOT get the same stretchy and gooey texture with cornstarch or arrowroot starch.
Nutrition For ⅛ Of The Recipe
Calories: 54
Sugar: 0.6 g
Sodium: 148 mg
Fat: 4.1 g
Carbohydrates: 3.3 g
Fiber: 0.3 g
Protein: 1.8 g
Cholesterol: 0 mg
Conclusion
It was a lot of fun trying out all these recipes. I have always loved mozzarella cheese. I especially enjoyed fresh sliced tomatoes with slices of mozzarella and fresh basil. I am very excited to have found these vegan versions of mozzarella cheese. They are vegan, healthy, delicious and excellent for a vegan meal.
I trust you enjoyed this article about the 7 Best Vegan Mozzarella Cheese Recipes For Your Kids. Please stay tuned for more blog posts to come shortly. Take care!
JeannetteZ
Your Opinion Is Important To Me
Ideas? Thoughts? Questions? I would love to hear from you. Would you please leave me your questions, experience, and remarks about this article on the 7 Best Vegan Mozzarella Cheese Recipes For Your Kids in the comments section below? You can also reach me by email at Jeannette@LivingTheVeganLifestyle.org.
Disclosure
This post may contain affiliate links. I earn from qualifying purchases as an Amazon Associate and other affiliate programs. Read my full disclosure.
Here are links to some of my favourite articles:
23 Most Popular Vegan-Friendly Cities In The World
10 Healthy Vegan Recipes With Fresh Herbs
8 Popular Singaporean Vegan Recipes
9 Delicious Vegan Baked Fruit Recipes For Your Kids
9 Vegan Fruit Jam Recipes For Your Kids
11 Vegan Fruit Sorbet Recipes For Your Kids