7 Best Vegan Diwali Snacks Recipes For Your Kids
7 Best Vegan Diwali Snacks Recipes For Your Kids
Diwali, or the festival of lights, is a Hindu holiday on October 24. It is one of the most awaited and stunning vacations in India. It is a five-day, candle-lit Hindu celebration to honour Ganesha, the god of riches and remover of barriers, and Lakshmi, the goddess of wealth.
Many individuals celebrate by presenting gifts to loved ones and indulging in delectable Indian cuisine and sweets. While ghee, or clarified butter, is used in many Indian recipes, converting classic dishes to a plant-based diet is simple.
Here are this week's best goodies and munchies to help you celebrate Diwali in your home. Feel free to try them!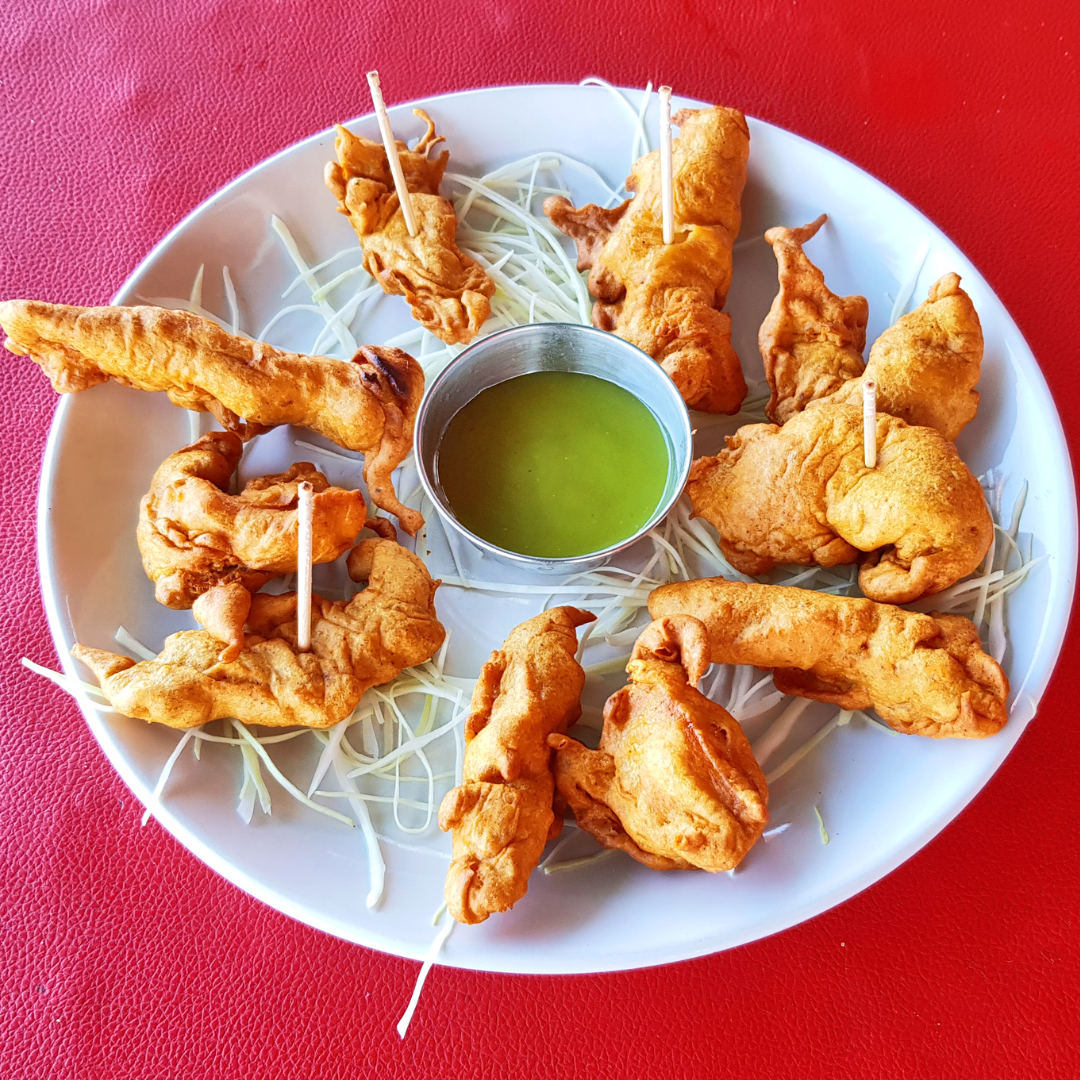 1. Onion Pakoras With Avocado Dipping Sauce
A vegetable that coats chickpea flour and is deep-fried till crispy makes pakora a gluten-free Indian meal. These onions pakoras are seasoned with curry powder, cumin, and garlic and come with a refreshing, hot, and creamy avocado dip. These would be ideal for any occasion as an appetizer or snack. You'll dazzle the visitors!
Prep time: 15 minutes | Cook time: 25 minutes | Total time: 40 minutes | Servings: 4
Ingredients For The Dipping Sauce
Avocado: 1 ripe
Lime Juice: 1
Cilantro leaves: ¼ cup
Sriracha: ½–1 teaspoon
Garlic: 1 clove
Coconut milk: ¼ cup
Water: ¼ cup
Salt and pepper to taste
Cumin: 1 pinch
Ingredients For The Pakoras
Brown onions: 2
Chickpea flour: 1½ cups
Baking powder: 1 teaspoon
Water: ¾ cup, more as needed
Mild curry powder: ½ teaspoon
Cumin: ½ teaspoon
Garlic powder: ½ teaspoon
Turmeric: ¼ teaspoon
Fresh cilantro: 1 tablespoon
Salt and pepper to taste
Vegetable oil for frying
Cayenne pepper: 1 pinch
Method
Blend on high until smooth after placing all ingredients in a blender. Add a tablespoon of water at a time if the sauce is too thick. Cover and store in the refrigerator.
Put sliced onions in a medium basin. Mix in baking soda, spices, and chickpea flour. Pour water into the dish while stirring. It is necessary to hold the onions together quite firmly.
In a cast-iron skillet, pour about 3 inches of vegetable oil—on medium heat. Add a little slice of onion to the pan. The oil is ready for frying if it sizzles.
Put rounded tablespoons of the mixture in the pan. Take out and place on a paper towel to absorb any leftover oil after allowing it to cook evenly on both sides.
With dipping sauce, serve hot.
2. Baked Vada
There isn't a South Indian party without vada, and you can now enjoy them baked rather than fried for a healthier alternative. These baked vadas are flavourful, crunchy, and crispy. Additionally, backing your vada simplifies cleanup and makes the dish more beneficial.
Prep time: 15 minutes | Cook time: 25 minutes | Total time: 40 minutes | Servings: 4
Ingredients
Black lentils or urad dal: 1 cup
Ginger: 1-inch piece
Green chillis: 4
Ice cubes: 5-7 large
Onions: ¾ cup, chopped
Curry leaves: 1 sprig
Baking powder: ½ teaspoon
Baking soda: ½ teaspoon
Oil for brushing
Salt to taste
Water to soak the dal
Fresh coriander: 1cup, chopped
Method
Immerse the dal in water and soak it for 30 minutes.
Remove most of the water from the pot, but leave about ⅛ cup for the dal.
Add salt, ginger, and green chillies to the dal.
Add a few ice cubes while you blend the mixture into a smooth paste. Repeat this process until the batter is thick and lump-free.
Add the minced onion, chopped cilantro, baking powder and soda.
Method To Bake The Vada
Bake at 450°F.
Brush plenty of oil into the doughnut pan. At the base, puddles are OK.
Put a spoonful of batter in the doughnut pan.
Spread the batter out evenly and add a little oil to the top. Ensure that oil is applied evenly to the top surface. 12 minutes of baking at 450°F.
Remove from the oven, turn the vadas in the pan, and bake for 10 more minutes.
After completing them, immediately set the vadas on a wire rack to cool before serving them with coconut chutney and sambar.
3. Mushroom Paniyaram – Indian Steamed Savory Cakes
Indian cuisine known as paniyaram, is prepared by steaming a lentil and rice batter in a pan with circular moulds. As a side dish for roti or rice, this paniyaram's mushroom masala is available.
In addition, you can substitute any of your preferred vegetables for the mushrooms. If you need a quick dinner to grab, this recipe is perfect for bringing for lunch.
Prep time: 15 minutes | Cook time: 25 minutes | Total time: 40 minutes | Servings: 4
Ingredients
Room temperature gluten-free idli/dosa batter: 2 cups
Brown Bella mushrooms: 5 oz
Chopped onion: ½ cup
Chopped cilantro: 1 tablespoon
Curry leaves: 5 to 7
Oil: 2 teaspoons
Mustard seeds: 1 teaspoon
Urad dal/black gram: 1 teaspoon
Chana dal/yellow split peas: 1 teaspoon
Garam masala: ½ teaspoon
Dagad Phool powder: ½ teaspoon
Salt: 1 teaspoon
Pepper powder: ½ teaspoon
Method
Clean, then finely cut the Bella mushrooms. Chop the cilantro and onion.
Add oil after preheating the pan.
Once the oil is hot, add the mustard seeds, urad dal, chana dal, and curry leaves.
Onions should be diced and cooked till transparent after the mustard seeds begin to sputter.
Add all the spice powders (garam masala, pepper powder, and Dagad Phool powder), salt, and chopped mushroom.
Prepare it thoroughly, cover it, and cook it for two minutes. Never include water.
Cook without the lid until the liquid has completely evaporated.
Mix well before including the chopped cilantro.
Allow this mixture to cool somewhat.
After incorporating the prepared mushroom masala, thoroughly combine the paniyaram batter.
When it is hot, pour the mushroom masala batter into the mould to the ¾ mark, and then wait a minute for it to cook.
Flip paniyarams using the paniyaram stick, then cook for 45-60  seconds.
Very carefully remove it from the pan. You may use the leftover batter to make paniyarams similarly.
4. Air Fryer Indian Potato Bread Rolls
A mouthwatering Indian snack, these bread rolls packed with a spicy potato filling are healthier due to baking (in the air fryer) rather than deep-frying. Having fun with these is guilt-free!
Prep time: 20 minutes | Cook time: 35 minutes | Total time: 45 minutes |Servings: 9
Ingredients
Yukon gold potatoes: 2 large
Cumin seeds: ½ teaspoon
Ginger garlic paste: ½ tablespoon
Chilli: 1, finely chopped
Frozen green peas: ½ cup
Turmeric powder: ¼ teaspoon
Red chilli powder or cayenne pepper: ¼ teaspoon
Cumin powder: ¼ teaspoon
Garam masala: ¼ teaspoon
Amchur powder: ½ teaspoon
Coriander powder: 1 teaspoon
Chopped onions: ½ cup
Chopped cilantro leaves: 2-3 tablespoons
Bread slices: 9
Oil: 1 tablespoon
Method For The Air Fryer
Cumin seeds are added to heated oil and allowed to crackle.
Combined with finely chopped green chillis, add ginger-garlic paste. When transparent, add the finely chopped onions. Green peas are added and sauteed for one minute over medium heat.
Add turmeric, coriander, cumin, and red chilli powder. On medium-low heat, sauté for an additional 30 seconds.
Add potatoes to the pan after coarsely mashing them. Additional suggested ingredients include salt, amchur powder, and garam masala. Add cilantro leaves and lemon juice, and turn off the heat.
Bring the stuffing to room temperature.
Make nine equal cylinder-shaped patties out of the potato mixture.
For three minutes, preheat the air fryer to 350°F. Take some water in a shallow dish, submerge the bread briefly, and then take it out immediately. If your bread slice is extremely soft, don't dip it in water because it will become soggy; instead, moisten your fingertips and use them to flatten the slice.
Pushing the bread slice between your palms, squeeze out every last bit of extra water.
Place one potato mixture patty in the center of the slice of bread.
Seal the rolls by gently pushing and squeezing by bringing the four corners toward the center. Make sure the bread slice completely encloses the potato stuffing. In the air fryer basket, put the rolls. The bread rolls should have 1 tablespoon of oil applied on all sides.
Bake for about 15 minutes or until golden brown on both sides.
Method For The Stovetop
In a wok, heat enough oil. Ensure the oil is really hot. Keep rotating the sides while you deep-fried the prepared buns. It should take one to two minutes to turn a golden brown colour. If the oil is not heated sufficiently, the bread rolls will absorb much oil. Test one roll to determine the ideal oil temperature for deep frying.
You can shallow fry these rolls as an alternative to deep frying; keep turning them until they are evenly golden brown.
5. Baked Chakuli – Indian Rice Fritters
Chakuli is a traditional deep-fried Indian snack made of rice, lentils, and other spices. They are a tasty snack that satisfies your want for something crunchy because this "quick" version uses rice flour and is baked rather than fried. They are delicious, crispy, spicy, and impossible to resist.
Prep time: 25 minutes | Cook time: 30 minutes | Total time: 55 minutes | Servings:30
Ingredients
Rice flour: 1 cup
Red chilli powder or cayenne pepper: 1 teaspoon
Cumin seeds: 1 teaspoon
Sesame seeds: 3 teaspoon
Turmeric: ¼ teaspoon
Vegetable shortening or oil: 1 teaspoon
Vegan yogurt: ¼ cup
Salt to taste
Pepper to taste
A pinch of asafoetida, garlic powder, or onion powder
Method
Set the oven's temperature to 350°F.
Mix rice flour, vegan yogurt, salt, pepper, asafoetida, turmeric, cumin seeds, and asafoetida in a bowl.
Once you have a semi-soft dough, gradually add warm water and knead it.
Beginning with the lubricated mixing sheet, spiralize the prepared dough using the chakli press. The dough can be formed into sticks by hand if you need a chakli in a bowl press to produce them.
Bake it for 25 to 30 minutes or until it is well cooked, turning it over once after 13 minutes.
Chakli is now prepared. In an airtight container, cool it before storing. For at least 15 days, this will stay fresh.
6. Indian Tofu Paratha Pocket Bites
With the chilled dairy-free raita, these spicy and tasty Indian tofu paratha pockets make a filling supper or snack. A paratha, an Indian whole wheat flatbread baked at home, is stuffed with crumbled tofu and mashed kidney beans and seasoned with Indian seasonings. It is excellent, warm, and spicy, yet not intrusive.
Prep time: 20 minutes | Cook time: 30 minutes | Total time: 50 minutes | Servings: 6
Ingredients For The Raita
Boondi: ¾ cup
Boiled water: 1 cup
Ice cold water: 1 cup
Vegan yogurt: 1 cup
Roasted cumin powder: ½ tablespoon
Chopped coriander leaves: 1 tablespoon
Sea salt to taste.
Ingredients For The Indian Tofu Stuffing
Oil: 2 tablespoons
Cumin seeds: 1 teaspoon
Garlic: 1 tablespoon, chopped
Ginger: 1 tablespoon, chopped
Kidney beans: 1 cup, cooked
Tofu: 1 cup, crumbled
Red chilli powder: 1½ teaspoons
Coriander powder: 2 teaspoons
Garam masala powder: ½ teaspoons
Chillis: 2, chopped
Coriander: ¼ cup, chopped
Onion: ¼ cup, chopped
Lemon juice: 1 tablespoon
Sea salt to taste.
Ingredients For The Paratha Dough
Whole wheat flour: 2 cups
Sea salt: 1 pinch
Water for kneading
Some extra wheat flour for dusting
Vegan butter or oil for roasting.
Method For The Raita
Boil the water, then let the boondi soak in it for two minutes. After 2 minutes of draining, repeat the soak in ice-cold water.
Add the bowl after draining the extra water.
Mix gently after adding yogurt, salt, coriander powder, and cumin powder. If necessary, add a little water.
thirty minutes in the refrigerator
Sprinkle some chilli powder on top and add chopped coriander leaves as garnish.
Method For The Indian Tofu Stuffing
In a pan, heat the oil. Cut the seeds for the cumin, ginger, and garlic.
Use the back of a spatula to cook and slightly mash. Include salt, coriander, chile, and garam masala powders.
Stir well, then simmer for two minutes.
Add the tofu and mix thoroughly. It takes three minutes to cook.
Add the chopped onions, coriander, and chillies.
Cook for one more minute after thoroughly mixing.
Blend thoroughly after adding lemon juice.
Immediately remove from the heat and let cool.
Create eight equal portions of the prepared stuffing and set them aside.
Method For The Paratha
Making a soft dough requires adding water, salt, and wheat flour. Make eight identically sized balls out of the dough.
Roll out the ball into a circle or square by spreading it thinly. To hold the stuffing nicely, try to roll it out as thinly as possible without making it paper-thin.
Fill the center with the Indian tofu filling.
To conceal the contents, fold the paratha now. To properly seal the edges, lightly press them.
Over moderate heat, preheat a pan. Place the packed pockets over medium heat and roast them on both sides.
Once both sides are lightly oil-coated, roast the food until both are golden brown.
Continue until the dough is the last ingredient.
Separate into parts. You may now enjoy some bite-sized Indian tofu parathas.
Serve with chilled raita.
7. Mint Chickpea Cornmeal Tart
Minty chickpeas are the main ingredient in this tart-style Indian meal. They resemble tiny tarts packed with curries and are light, crispy, sweet, sour, aromatic, and flavourful.
Because of the spices and mint in this filling, it is incredibly cooling and mouthwatering. Raita, which you add at the very end, is substituted with a dollop of herbed vegan yogurt. The entire dish is made more vibrant and delicious by this addition.
Prep time: 10 minutes | Cook time: 40 minutes | Total time: 50 minutes | Servings: 10
Ingredients For The Mint Chickpeas
Cooked chickpeas: 2 cups
Mint leaves: 1½ cups
Ginger, chopped: 1 tablespoon
Garlic: 4 cloves
Tomatoes: 2, diced
Green chillis: 2
Onions: 2, diced
Dried mango powder: 2 teaspoons
Chilli powder: 1½ teaspoons
Chana masala: 2 teaspoons
Garam masala powder: ½ teaspoon
Water: ⅛ cup
Sugar: 1 teaspoon
Tamarind purée: 1 tablespoon
Kasuri methi: 1 tablespoon
Sea salt to taste.
Ingredients For The Herbed Yogurt
Vegan Greek yogurt: ½ cup
Cilantro: 2 tablespoons, chopped
Green chilli: 1, chopped
Cumin powder: ½ teaspoon
Sea salt to taste.
Ingredients For The Cornmeal Tart
Cornmeal: 1½ cups
Salt to taste
Warm water for kneading the dough
Ingredients For Serving
Chopped red onions
Mint leaves
Method For The Mint Chickpea Tarts
In a food processor, combine mint leaves, ginger, garlic, tomato, green chillis, onion, dried mango powder, chilli powder, chana masala, salt to taste, and garam masala powder. Process all ingredients until they form a smooth mixture.
Over medium heat, preheat a nonstick pan. Add cooked chickpeas as well as mint paste. Mix thoroughly and cook for 15 minutes, stirring once or twice.
Add salt, sugar, Kasuri methi, and tamarind purée. Stir thoroughly and heat for 5 minutes. Remove from the heat and reserve.
Method For The Cornmeal Tart
Combine all ingredients in a small bowl and mix. Season to taste and adjust. Set the oven to 355°F.
Cornmeal should be salted and thoroughly combined. Create a medium-soft dough by mixing in warm water and thoroughly kneading. Make 10 to 12 balls the size of lemons out of the.
Flatten each ball before placing it into a tart pan and gently press it in. Process the crusts with a fork. Bake the balls in a 355°F preheated oven until they are lightly golden (25 to 30 minutes). Remove from the pan to let them cool.
Place a dollop of herbed yogurt on the chickpea curry before stuffing the shells. Place an onion and a mint leaf on top of each tart.
Conclusion
Diwali, the festival of lights, is ready to knock on our doors! That means it's time for loads of food, card games, home decorations, and, most importantly, indulging in every kind of mithai.
During Deepawali, we typically worry about gaining weight. To prevent that, here are some healthy recipes you can quickly prepare at home and share with your friends and family without gaining weight.
I trust you enjoyed this article about the 7 Best Vegan Diwali Snacks Recipes For Your Kids. Please stay tuned for more blog posts to come shortly. Take care!
JeannetteZ
Your Opinion Is Important To Me
Ideas? Thoughts? Questions? I would love to hear from you. Would you please leave me your questions, experience, and remarks about this article on the 7 Best Vegan Diwali Snacks Recipes For Your Kids in the comments section below? You can also reach me by email at Jeannette@LivingTheVeganLifestyle.org.
Disclosure
This post may contain affiliate links. I earn from qualifying purchases as an Amazon Associate and other affiliate programs. Please read my full disclosure.
Here are links to some of my favourite articles:
Reasons To Start Using Vegan Beauty Products
9 Best Vegan Strawberry Shortcake Recipes For Your Kids
7 Best Gumbo Recipes For Your Kids
8 Best Vegan Gyros Recipes For Your Kids
10 Best Vegan Doughnut Recipes For Your Kids
9 Best Vegan Liqueur-Infused Dessert Recipes For Your Kids