Best Vegan Food For Hair Growth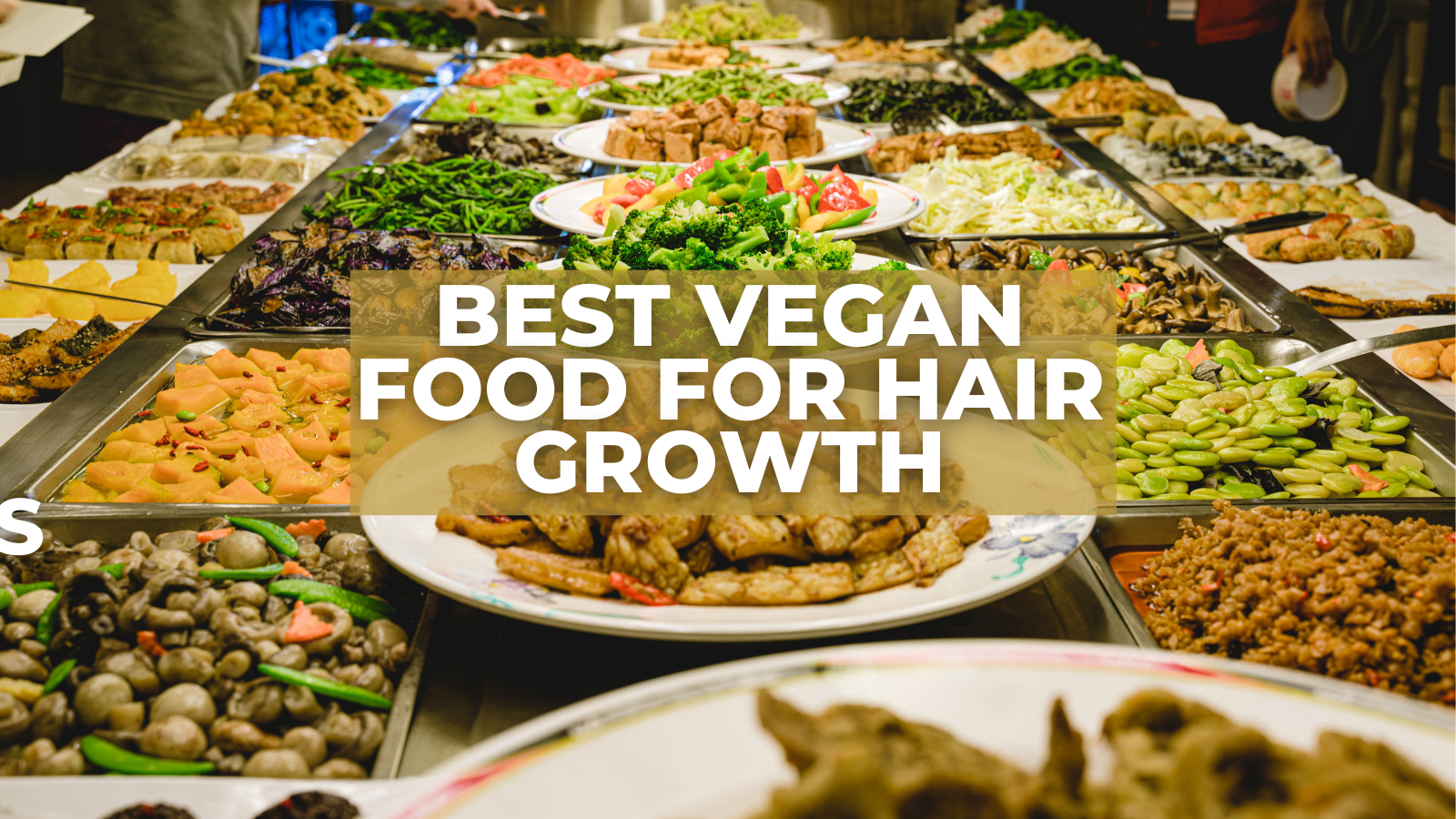 Best Vegan Food For Hair Growth
Every year, veganism becomes more and more popular. A plant-based diet is recommended because of a love for animals, a desire to protect the environment, and a need to improve one's health.
Whole food-based vegan diets that are well-planned are linked to several health advantages, such as improved cardio-metabolic markers, lower BMIs, and more stable blood sugar levels.
If you're considering switching to this or any other new diet, your doctor or a nutritionist can help ensure you're giving your body everything it needs. You can improve the health of your hair by including these ten vegan foods in your diet.
Does Eating A Vegan Or Vegetarian Diet Cause To Hair Loss?
If you've mentioned to others that you eat a vegetarian or vegan diet, you might have heard concerns about possible problems like hair loss.
It's important to realize that hair loss isn't directly related to a vegetarian or vegan diet, even though some vegetarians and vegans may experience it.
Male pattern baldness, the most common type of male hair loss that can result in a receding hairline or bald spot as you age, is rarely mentioned when people discuss plant-based diets and hair loss. They're talking about temporary hair loss that can occur if your diet is deficient in essential vitamins, minerals, and/or other nutrients.
Although not all vegetarians or vegans experience nutritional deficiencies, eating a plant-based diet, such as a vegetarian or vegan diet, may increase your risk of experiencing some nutritional deficiencies.
Causes Of Hair Loss
A person typically loses 50–100 hairs each day. This typically goes unnoticed because new hair is growing at the same time. Hair loss happens when the hair that has fallen out is not replaced by new hair.
Hair loss is typically brought on by one or more of the following factors:
1. Family History
The most frequent cause of hair loss is a hereditary condition that worsens with age. This condition is known as androgenic alopecia, male-pattern baldness, or female-pattern baldness. Men typically experience a receding hairline and bald spots, while women typically experience thinning hair at the top of the scalp. It typically happens gradually and in predictable patterns.
2. Omega-3 Deficiency
Essential fatty acids include omega-3 fatty acids. These nutrients support the health and proper operation of your body. Additionally, it lowers triglyceride and cholesterol levels. Many vegetarians and vegans may refrain from eating fatty fish, which is where omega 3s are typically found.
You might experience hair loss if you're a vegetarian or vegan and your diet is deficient in Omega 3. But relax, it's simple to fix! Flaxseed, chia seeds, hemp seeds, walnuts, and many other plant-based foods contain Omega 3s.
Because omega-three fatty acids are known to help strengthen your hair and follicles, they are essential for maintaining the health of your hair. Hair loss can happen when your body doesn't have enough Omega 3s. You risk having weak, dry, and brittle hair. It may also start to thin out or lose its roots.
3. Hormonal Changes
Numerous conditions, including hormonal changes brought on by pregnancy, childbirth, menopause, and thyroid problems, can lead to permanent or temporary hair loss. Medical conditions like ringworm infections of the scalp, the hair-pulling disorder trichotillomania (trik-o-til-o-may-nee-uh), and the immune system-related condition alopecia areata are among them.
4. Medications And Supplements
Hair loss can be a side effect of some medications, including cancer, arthritis, depression, heart problems, gout, and high blood pressure.
5. Zinc Deficiency
Another essential mineral that supports proper body function is zinc. It also promotes cell growth and healing. Additionally, it promotes the health of your nails, hair, and skin. In addition to dandruff, acne, and other skin conditions, a zinc deficiency can cause hair loss.
Foods low in zinc tend to be plants. Because you don't eat meat, vegetarians and vegans may be at risk for zinc deficiency. Red meat, poultry, and fish are the usual sources of zinc. Most plant-based foods containing zinc are seeds, nuts, and legumes.
You could lose hair if you're a vegetarian or vegan and your diet is deficient in zinc. Your hair follicles and scalp need zinc to grow strong and healthy.
6. Hairstyles And Treatments
Hair loss, known as traction alopecia, can be brought on by over-styling and tight-pulling hairstyles like cornrows and pigtails. Both hot oil treatments and permanent hair dye can make hair brittle and prone to falling out. Scarring may result in permanent hair loss.
7. Protein Deficiency
A macronutrient called protein is necessary for your body to function properly. It aids in constructing hair, skin, and muscle. Although it can be found in many plant-based foods, protein is typically found in meat and eggs. You might experience hair loss if you're a vegetarian or vegan and don't consume enough protein in your diet.
Hair loss is one of the most prevalent signs of protein deficiency. To maintain the integrity and health of your hair follicles and scalp, you must consume enough protein, so if you're a vegetarian or vegan, you should make sure to do so.
Best Vegan Food For Hair Growth
Sweet Potatoes
Even though everyone who eats this culinary masterpiece seems to believe that making it requires five-star culinary schools and tools beyond an oven and a piece of tin foil, baking sweet potatoes with a dab of mustard or dollop of plant-based butter has long been our favorite lazy dinner side.
We suspect we'll be eating this simple dish even more frequently from now on: "Sweet potatoes are one food in particular that satisfies. This root vegetable is adaptable, delicious, affordable, and offers a ton of health advantages," says Best. She says that sweet potatoes are a welcome, filling ingredient in any vegan stew and can be used as the base of any meal in traditional baked form or as a base for baked fries because of their versatility.
Algal Oil
This algae-derived omega-3 powerhouse oil is present in a number of vegan alternatives to fish and shellfish as well as supplements. It is a neutral cooking oil as well. Omega-3 promotes healthier hair follicles, longer, stronger hair growth, and reduced inflammation. Algal oil also includes essential nutrients like iodine, which supports thyroid health.
Beans And Lentils
Why do these nutrient-dense foods effectively promote hair growth? It's all about protein. "Eating too little protein may occasionally lead to slowed hair growth or even hair loss. A balanced diet that includes foods high in protein, such as beans and lentils, can promote the growth of healthy, strong hair, according to Desilicious RD Shahzadi Devje, MS, who also points out that protein is the main component of your hair follicles.
Not to mention, eating foods high in protein can help lessen damage and dryness. Remember that too much protein, also known as protein overload, can harm your hair just as much as not enough. Overconsumption of dietary protein can make your hair heavier, disrupt the moisture balance, and make it more brittle and breakable.
Leafy Green Vegetables
Every vegan should make leafy greens like kale, collard, mustard, and micro greens, as well as cabbage, broccoli, and swiss chard, a regular part of their diet. They are loaded with fiber, antioxidants, and nutrients. Iron, vitamin A, and vitamin C are a few essential vitamins that are beneficial to hair. Vitamin A contributes to sebum production, iron carries oxygen to the hair follicles, and vitamin C shields the hair from harmful free radicals.
Hemp Seeds
This advice from Bansari Acharya, MA, RD, couldn't have come at a better time as we've recently been on a bit of a hemp seed smoothie kick with hemp seeds.
"Hemp seeds are a very nutrient-rich food that can encourage hair growth. According to Acharya, they contain vital nutrients like omega-3 fatty acids, which have been shown to encourage hair growth by reducing inflammation in the hair follicle. Additionally, hemp seeds are one of the few vegan foods that contain all essential amino acids, making them a complete protein. Just two tablespoons of hemp seeds contain a whopping 10 grams of protein.
Acharya emphasizes how important getting enough protein is for hair growth, just as Devje did above.
Sprinkle hemp seeds over oatmeal or dairy-free yogurt, or add them to smoothies for a nutty flavour boost.
Nutritional Yeast
Known affectionately as "nooch" in the vegan community, nutritional yeast is a savoury seasoning rich in B vitamins that are otherwise hard to find in other foods and supplements. Because of its cheesy flavour, it is frequently used in sauces and savoury dishes (I like to sprinkle it on plain popcorn, along with a little sea salt). Stress, which is linked to hair loss, can be relieved by it.
Spinach
Who knew Popeye's favourite was so successful at promoting hair growth? "Spinach is a wholesome vegan food that promotes hair growth. Vitamin A, Vitamin C, Folate, and Iron are all abundant in it. The healthy way to consume all of the green's nutrients is by eating it raw in salads, smoothies, and other similar foods, says Acharya. "All of these nutrients, especially iron, are needed in the healthy growth of hair follicles.
Berries
Berries are a super healthy addition to your diet because they are packed with antioxidants. To combat free radicals, antioxidants are crucial. Free radicals can seriously harm cells if left unchecked, resulting in early aging and disease.
Berries are especially rich in vitamin C, an antioxidant linked to promoting hair growth. Kayla McDonell, a registered dietician, observes: "Free radical damage can obstruct growth and make your hair look older. Strong antioxidant vitamin C aids in preventing oxidative stress brought on by free radicals.
Berries can be eaten as a snack or added to smoothies, desserts, oatmeal, and other dishes.
So the right products help have robust and healthy hair. However, it's equally important to pay attention to what you're putting on your body. Eating a variety of whole, healthy plant-based foods may just help you give your hair flip a little more bounce.
Pumpkin
When craving sweets, pumpkin can be used for much more than just that pumpkin-chocolate marble cake. Due to its high vitamin A content, pumpkin is a blessing for promoting hair growth. Pumpkins, a rich source of vitamin A, can help prevent hair loss caused by vitamin A deficiency symptoms. Vitamin A is necessary for hair growth in addition to helping your skin glands produce sebum. This oily substance moisturizes your scalp and keeps your hair healthy, according to Devje.
While fresh pumpkins are still available, buy some to roast in the oven with spices like cinnamon, turmeric, and ground ginger for a filling side dish. We could eat canned pumpkin straight with a spoon. Alternately, chop some cooked pumpkin into cubes and add it to your preferred stir-fry recipe.
Plant-Based Milk
Vitamin D is one nutrient that has repeatedly been shown to help with hair loss. Alopecia areata (sudden hair loss) and early graying of the hair have been linked to low vitamin D levels, according to Jackie Elnahar RD, Esq., founder of TelaDietitian, a tele-nutrition platform that is now a part of Teladoc Health.
The growth of the hair follicle can be stimulated by vitamin D, though the precise mechanism is unknown. Under the supervision of a doctor, vitamin D supplementation has been shown to reduce hair loss and is a safe recommendation.
Elnahar advises including fortified almond or coconut milk in your diet or eating mushrooms like Portobello, maitake, morel, chanterelle, oyster, and shiitake all naturally contain levels of vitamin D that are activated when they are exposed to sunlight. Animal products make up the majority of naturally occurring sources of vitamin D.
Kale
What could kale possibly be bad for? So, if you need another excuse to eat more kale, consider doing it for your hair. In addition to being high in B vitamins and iron that your hair adores, kale is also an alkaline food that helps keep the body from becoming too acidic.
Your hair and nails will break down due to an acidic body. The incredible nutrient profile of kale guarantees you everything you need for healthy hair while promoting alkalinity. Make your batch of kale chips, add some kale to your next green smoothie, or eat a delicious kale salad for lunch.
Nuts
Protein and zinc in nuts help your body produce healthy, strong hair. The best nuts to include in your diet are almonds, which are high in magnesium and other nutrients that support healthy hair growth, and Brazil nuts, which are high in selenium and walnuts, which are packed with biotin and omega-3 fatty acids.
According to studies, almonds help your hair follicles produce stronger hair strands and cause less hair breakage or loss. The most recent research on hair growth supports a plant-based diet with lots of oils from nuts, so dive in.
Cucumbers
Silica, a mineral found in cucumbers, helps to maintain healthy hair, skin, and nails. Cucumbers are a great way to protect your hair from breakage and damage because they strengthen by enhancing collagen in the body.
Enjoy plenty of cucumbers in the spring and summer when hair is especially vulnerable to damage from longer days outside because they are also naturally cooling to the body. You need suggestions. Try one of these ten cucumber recipes to stay cool while also getting gorgeous hair!
Cacao
Cacao is a raw superfood popular for beauty products because it's full of essential nutrients that can support healthy hair growth. Iron, zinc, protein, magnesium, and a few B vitamins are all present in cacao. Additionally, cacao is incredibly high in sulphur, which enhances overall body beauty. A delicious way to get these nutrients is by consuming a small amount of raw cacao powder daily.
Acai Berries
Some people are unaware of the high omega 3 content of acai. In addition, it's a fantastic source of antioxidants, B vitamins, and protein. The antioxidants in acai can help improve your hair's overall appearance, and omega-3 fatty acids help keep your hair and skin moisturized to prevent breakage and dryness.
Acai can be used as a powder or purchased frozen in the freezer section of your local supermarket. Making an acai bowl is a more inventive way to enjoy acai, which is particularly fantastic in smoothies.
Orange Root Vegetables
Sweet potatoes, carrots, pumpkin, and winter squash are all orange vegetables rich in vitamin A, supporting skin, hair, and nails.
These foods are high in vitamin C, an antioxidant that, as previously mentioned, can help reduce stress, which weakens the body's collagen, elastin, and keratin6.
Always steam, bake, or cook in a slow cooker rather than fry orange vegetables because doing so helps to increase their antioxidant content.
Tahini
Sesame seed butter, also known as tahini, is a fantastic source of calcium, zinc, and iron. All these minerals support healthy, strong hair, gorgeous skin, and nails. Although tahini is frequently used in vegan salad dressings, it can be used anywhere nut butter is used. Get some tahini in your life by trying these Tahini Dill Carrot Noodles!
Conclusion
Which of these vegan foods do you prefer for gorgeous hair? Have a favorite food for hair that isn't on this list? Please let me know so I can partake as well!
I trust you enjoyed this article about the Best Vegan Food For Hair Growth. Please stay tuned for more blog posts to come shortly. Take care!
JeannetteZ
Your Opinion Is Important To Me
Ideas? Thoughts? Questions? I would love to hear from you. Would you please leave me your questions, experience, and remarks about this article on the Best Vegan Food For Hair Growth in the comments section below? You can also reach me by email at Jeannette@LivingTheVeganLifestyle.org.
Disclosure
This post may contain affiliate links. I earn from qualifying purchases as an Amazon Associate and other affiliate programs. Read my full disclosure.
Here are links to some of my favourite articles:
13 Best Vegan Side Dishes For Your Kids
7 Best Vegan Kiwi Recipes For Your Kids
6 Best Vegan Burger Recipes For Your Kids
10 Most Popular Vegan BBQ Recipes For Your Kids
5 Delicious Vegan Fish And Chips Recipes For Your Kids
6 Quick And Easy Vegan Fall Recipes For Your Kids