9 Tasty Vegan Snacks For Breastfeeding Moms
9 Tasty Vegan Snacks For Breastfeeding Moms
Breastfeeding is incredibly rewarding for both you and your baby, but it can also be difficult at times, particularly in the beginning. Whether you're breastfeeding or not, eating a healthy diet is a top responsibility for new moms. While there are items on the market that claim to miraculously enhance your milk supply, the best way to stay satiated, healthy, and energized is to consume more nutritional plant-based foods. In this article, I'm going to share some delicious snacks For Breastfeeding Moms.
1. Boobie Bites
Prep Time: 25 minutes
Total Time: 25 minutes
Yields: About 15 Bites
Ingredients
Old fashioned oats: 2 cups ground
Smooth peanut butter: 1½ cups
Brewer's yeast: 1 serving
Flax seeds: 1/8 cup ground
Soaked medjule dates: 7
Bone broth protein powder: 1 scoop
Dark chocolate chips: 1/8 cup
Maple syrup: 2 tablespoons
Ground sunflower seeds: 1/8 cup
Dash of salt
Instructions
If necessary, de-pit the soaked dates and pulse them in a food processor until a sticky dough-like clump forms.
In a mixing dish, combine all of the ingredients and stir well until everything is thoroughly combined and little balls may be formed.
Form your lactation balls into bite-sized balls and chill to set.
2. Pumpkin Lactation Muffins
Prep Time: 5 minutes
Total Time: 23 minutes
Yields: About 13 -18 Muffins
Ingredients
Whole wheat or oat flour: 1 cup
Brown sugar: ½ cup
Baking powder: 2 teaspoon
Baking soda: ¼ teaspoon
Vanilla extract: 1 teaspoon
Salt: ½ teaspoon
Ground golden flax seeds: ¼ cup
(Egg: 1 large) Vegan substitute: mix 1 tbsp of chia seeds with 3 tbsp of water and let sit for 5 minutes
Brewer's yeast: 2 tablespoons
Canned pumpkin puree: ¾ cup
Coconut milk: ¼ cup  (or any other plant-based milk)
Pumpkin pie spice: 2 teaspoons
Old fashioned oats: 1 cup
Raisins, chopped dates, or vegan chocolate chips (optional): ½ cup
Canola oil: ¼ cup
Instructions
Preheat the oven to 375 degrees Fahrenheit.
Add the dry ingredients to a large mixing basin. Ingredients: flour, baking powder, salt, pumpkin pie spice, baking soda, brewer's yeast, and powdered flaxseed
Combine the wet ingredients in a separate bowl. Oil, milk, pumpkin puree, vanilla, sugar, and egg are all used in this recipe.
Separate the ingredients and then blend them.
Finally, whisk in the raisins and oats to incorporate everything.
Fill muffin tins to the brim with batter, using a greased muffin pan or liners.
Before baking, sprinkle raw oats on top of each muffin.
15-18 minutes in the oven, or until a toothpick inserted in the center comes out clean.
3. No-Bake Pumpkin Lactation Treats
Prep Time: 15 minutes
Total Time: 15 minutes
Yields: 18 – 24 Treats
Ingredients
Old Fashioned Oats: 2 cups
Flax seeds: ¼ cup ground or milled
Pitted and ground Medjule Dates: 4 soaked
Pumpkin butter: 2 cups (almond or peanut butter)
Pumpkin seeds (Pepitas): ¼ cup
Pumpkin Pie Spice: ½ tablespoon
Maple Syrup: ¼ cup (or another sweetener of choice)
Salt to taste
Instructions
In a food processor, coarsely crush dates and pumpkin seeds.
In a large mixing basin or a stand mixer, combine all of the ingredients.
Allow for flavour melding by refrigerating for a few hours.
Using a melon baller, make equal-sized treats and roll them into balls.
Place the balls on a prepared baking sheet and freeze until firm.
Stack in an airtight container and keep refrigerated or frozen.
4. Strawberry Muffins
Prep Time: 15 minutes
Total Time: 35 minutes
Yields: 10 to 12 muffins
Ingredients
All-purpose flour: 1½ cups
Baking soda: 1 teaspoon
Baking powder: 1 teaspoon
Sugar: ½ cup
Salt: ¼ teaspoon
Unsweetened dairy-free milk beverage: ½ cup
Olive oil: ⅓ cup
Lemon juice- ¼ cup
Fresh or frozen and thawed strawberries: 1 cup, sliced
Vanilla extract: 1 teaspoon
Instructions
Preheat the oven to 375 degrees Fahrenheit (190 degrees Celsius) and grease 10 to 12 muffin tins, depending on how big you want them.
In a large mixing basin, combine the dry ingredients (flour through salt). Gently fold in the nondairy milk, lemon juice, oil, and vanilla extract, but don't overmix; a few lumps are OK!
Fold in the strawberries, then spoon the batter into the muffin tins, filling them about 34% of the way.
Place the packed muffin tins in the oven and bake for 15 to 20 minutes, or until a toothpick inserted in the center comes out clean.
Allow the muffins to cool in the pan for at least 10 minutes before removing them. I think Breastfeeding vegetarian moms will enjoy it.
5. Vegan Club Sandwich
Yields: 4 sandwiches
Ingredients
White bread for toasting: 12 slices
Pickles: 4
Tomatoes: 5
Mustard: 3 tablespoons
Vegan mayonnaise: 4 tablespoons
Romaine hearts: 2
Agave syrup: 1.½ tablespoons (or maple syrup)
Tofurky: 1 package
Aubergine bacon: 8 – 16 slices
Instructions
You can prepare all of the vegetables for the sandwich while the aubergine slices bake in the oven. Tomatoes should be sliced, romaine hearts should be prepared, and agave syrup and mustard should be combined in a bowl.
You may roast the white bread once the aubergine bacon is done and all other ingredients are ready. Top with romaine hearts, aubergine bacon, tomato slices and vegan mayonnaise.
Spread part of your agave-mustard mixture on another toasted slice of white bread, then top with romaine hearts, aubergine bacon (or Tofurky, if using), and more tomato slices.
Finish with the remaining roasted white bread slices and a pickle on top of your Club Sandwich.
6. Paleo Vegan Lemon Poppy Seed Scones
Prep Time: 15 minutes
Total Time: 37 minutes
Yields: 8 large scones
Ingredients
Ground flaxseeds: 2 tablespoons
Pure vanilla extract: 1 teaspoon
Algae Oil: ½ cup
Zested: 2 lemons
Lemon juice: 2 tablespoons
Pure maple syrup: ¾ cups
Superfine Almond flour: 4 cups
Water: 6 Tbsp
Poppy seeds: 2 tablespoons
Baking powder: 2 teaspoons
Sea salt: ½ teaspoon
Arrowroot or tapioca flour: 1 cup
Glaze
1/3 cup coconut butter, melted
Instructions
Preheat oven to 375 degrees Fahrenheit.
In a small bowl, combine the flaxseeds and water to make flax "eggs." Allow this mixture to thicken for 15 minutes. Stir once in a while. The consistency of the mixture should be similar to beaten eggs.
Combine the flax "eggs," algal oil, lemon zest, lemon juice, vanilla essence, and pure maple syrup in a mixing dish.
Combine the remaining dry ingredients in a separate mixing bowl. Stir the dry ingredients into the liquid ones in a mixing bowl until a sticky dough forms.
Form drop scones using the scone dough in a lightly oiled scone pan or on a baking sheet lined with parchment paper (you can make them any shape you would like).
Bake for 14 to 22 minutes (depending on scones size) on the center rack of the oven, until golden brown around the edges. Bake for 14 to 18 minutes if making drop scones. Bake for 20 to 22 minutes if using a scone pan.
Allow 15 minutes for scones to cool before removing them from the scone pan or baking sheet using a spatula.
If you're creating the glaze, melt the coconut butter in a ramekin in the microwave or in a heated oven. Serve scones with coconut butter drizzled on top.
7. Mango And Passion Fruit Cake
Prep Time: 15 minutes
Total Time: 50 minutes
Servings: 8
Ingredients For The Cake
Dairy-free spread: 225 g (8 oz)
Self-raising flour: 425 g (15 oz)
Coconut milk: 400 ml (14 oz) (at room temperature)
Finely grated zest only: 1 lime
Vanilla extract: 1 tablespoon
Caster sugar: 200 g
Bicarbonate of soda: 1 teaspoon
Baking powder: 2 teaspoons
Apple cider vinegar: 2 tablespoons
Ingredients For The Vegan Mango Curd
Large mango peeled and cubed: 1 piece
Coconut milk: 400 ml (14oz)
Agave syrup: 4 tablespoons
Arrowroot powder or cornflour: 3 tablespoons
Juice of 2 limes
Ingredients For The Icing And Decoration
Dairy-free spread: 225 g (8 oz)
Lime zest to decorate
Icing sugar: 450 g (16 oz), sifted
1 firm mango to decorate
Vanilla or coconut extract: 1 teaspoon
Strained passion fruit juice: 1 tablespoon
Ingredients For The Lime Syrup
Sugar: 120 g (4 oz)
Water
Juice of 2 limes
Instructions
To make the mango curd, blitz all of the ingredients until smooth in a high-powered blender. To taste, add extra agave syrup or lime juice as needed.
Using a fine strainer, strain the pulp into a saucepan and discard any particles.
Cook, stirring constantly with a balloon whisk, over low heat until the curd thickens. Before transferring to a jar, allow it to cool fully. Refrigerate the jar overnight after sealing it.
Preheat the oven to 180 degrees Celsius.
Line the bottoms of four 15 (6 in) cake tins with baking paper and spray with cake release (or grease with vegan spread).
Combine the coconut milk and vinegar in a mixing bowl and let aside for ten minutes. In a mixing bowl, sift together the flour, baking powder, and bicarbonate of soda.
In a food processor or blender, combine all of the ingredients and process until the mixture is perfectly smooth. To ensure that all of the ingredients are well incorporated, scrape the sides and bottom of the processor halfway through.
Bake for 30-35 minutes, or until the cakes are springy to the touch and coming away from the sides of the tins, after dividing the batter amongst the prepared tins. A skewer should come out clean when placed in the center.
Allow 10 minutes for the cakes to cool in the tins before carefully turning out onto a wire rack to cool.
In a measuring jug, combine the lime juice and enough water to form 120ml (1/2 cup) liquid. Add to a saucepan with the sugar and cook, stirring constantly, over low heat until the sugar melts and the mixture almost reaches a simmer.
Place in a jar to chill (leftovers can be stored in the fridge for up to a week).
Cover the cakes loosely with cling film after brushing a little syrup over them.
In the bowl of your stand mixer fitted with a paddle attachment, combine the vegan spread and icing sugar.
Mix on low to incorporate, then gradually raise the speed as the filtered passion fruit juice is added until the frosting is smooth.
Fill a piping bag halfway with frosting and a basic round tip. Snip a small hole at the tip of a piping bag and fill with mango curd.
Sandwich the cakes together with the frosting and mango curd, enclosing the curd with a ring of frosting around the perimeter of the cakes.
Using a side scraper, apply a thin layer of frosting to the top and sides of the cake and smooth it out. Preheat the oven to 350°F and place the cake in the freezer for 30 minutes.
Apply a second layer of frosting on the cold cake and smooth it out as before.
Using a potato peeler, remove ribbons from a ripe yet firm mango. Make a concentric circle out of the ribbons to mimic a budding rose.
Sprinkle the cake with lime zest and decorate with a few edible flowers.
7. Heart-Shaped Churros Coated With Strawberry Sugar
Prep Time: 40 minutes
Total Time: 55 minutes
Yields: 15 Churro Hearts
Ingredients For The hurros
Water: ½ cup
White sugar: 1 tablespoon  (make sure it's vegan!)
Salt: 1 pinch
Coconut oil: 1 tablespoon
All-purpose flour: 1 cup
Frying oil
Ingredients For The Sugar Coating And Chocolate Sauce
Strawberry powder: 1 tablespoon(ground freeze-dried strawberries)
Chocolate chips or baking chocolate: ¼ cup
Coconut oil: 1 teaspoon
White sugar: 2 tablespoons
Instructions
Heat the water, sugar, salt, and coconut oil together in a pot until the sugar has dissolved. Turn off the fire and stir in the flour. To blend, stir everything together. Allow it to cool until it is safe to touch.
Fill a pastry bag with churro dough and a star tip. On parchment paper, pipe 5″ ropes and assemble two ropes for each heart.
In a pot, heat just enough frying oil to allow the churros to swim; make sure there's enough room in the pot to prevent it from overflowing. Allow for 3-4 minutes of cooking time, or until golden and crispy.
In a deep plate, combine the sugar and powdered strawberries for the strawberry sugar coating. Using the strawberry sugar, coat the churros.
In a double boiler, melt the chocolate chips and coconut oil for the chocolate sauce. Serve alongside churros!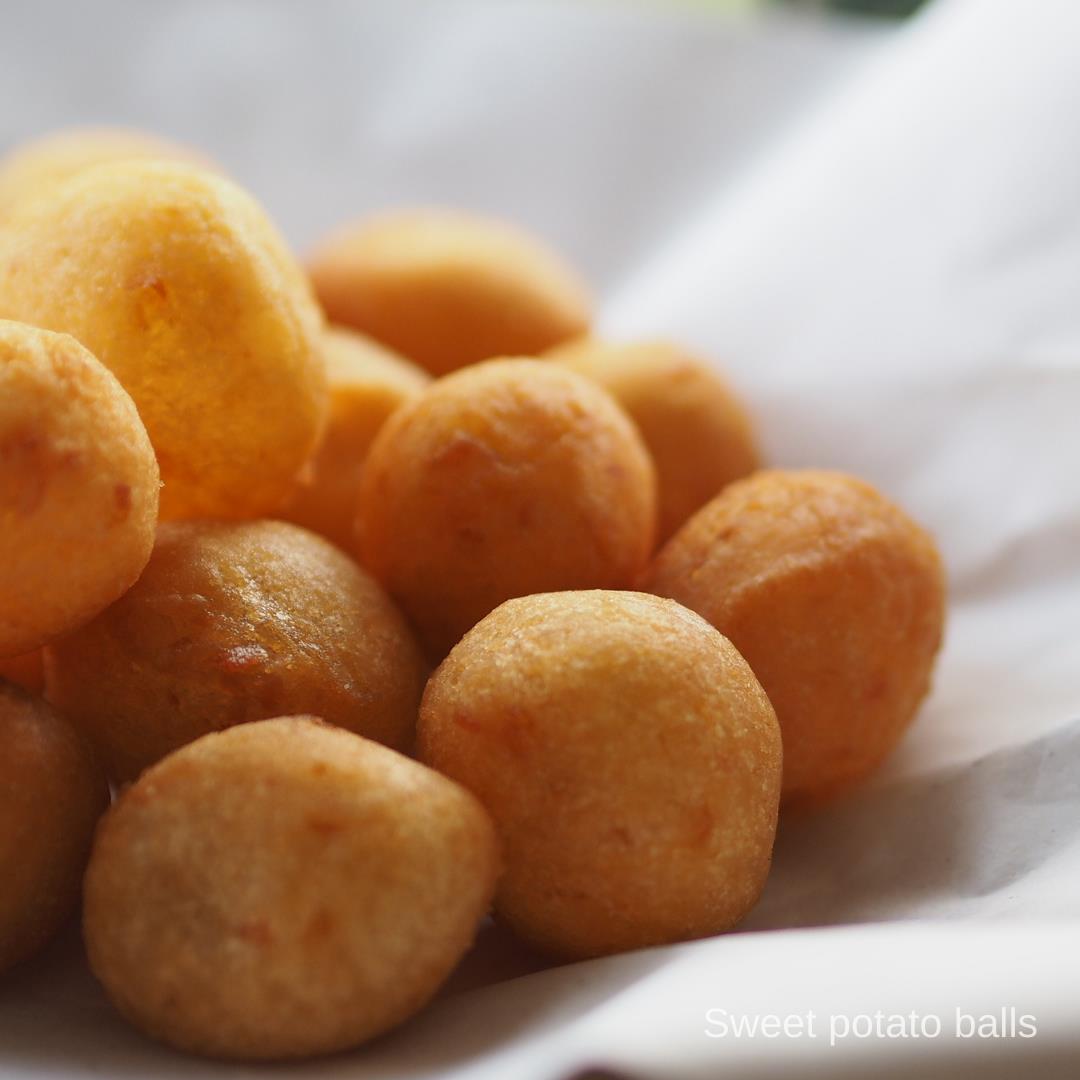 8. Balls Of Sweet Potato
Prep Time: 25 minutes

Total Time: 45 minutes
Yields: 24-25 balls
Ingredients
Sweet potato: 175 g  peeled and roughly chopped 

Caster sugar: 35 g

Tapioca starch: 125 g 

Vegetable oil
Instructions
Steam the sweet potato for 15-20 minutes in a steamer over medium heat, or until soft enough to cut with a cutlery knife. Using a potato masher or a fork, mash the sweet potato until smooth. Mix in the sugar, tapioca starch, and a bit of salt and pepper using your hands. Pour in 1-2 tablespoons of water at a time, mixing thoroughly until a malleable dough forms.

Roll each piece of dough into a long sausage shape with a diameter of 2 cm. Cut each length of dough into 2cm pieces and roll each piece into a ball in the palm of your hand. Don't worry if they collapse; just keep squishing them until they form a ball.

Fill a big, heavy-bottomed saucepan halfway with oil. Heat over medium heat until a cooking thermometer registers 120 degrees Celsius. Drop batches of the balls into the oil and fry for 2 minutes, or until they float. Reduce the heat slightly once they've risen to the surface. Turn the balls in the oil with a slotted spoon every minute or so until they grow in size, about 3-4 minutes. Increase the heat to high and deep-fry until golden brown.

Using a slotted spoon, transfer the balls on kitchen paper. Allow to drain and chill slightly before serving.
9. Strawberry Cheesecake
Prep Time: 10 minutes
Total Time: 1 hour
Yields: 8 – 10 slices
Ingredients For The Crust
Salt: ⅛ teaspoon
Almonds- 1 cup
Cinnamon: 1 teaspoon
Soft Medjool dates: 98 g
Ingredients For The White Cheesecake Filling
Coconut flour- 1 cup
Tapioca or cornstarch- 1 tablespoon
Light coconut milk- 1 can
Agave syrup or maple syrup- 3 tablespoons
Lemon juice – 2 tablespoons
Apple cider vinegar- 1 tablespoon
Vanilla extract or flavouring – 1 teaspoon
Ingredients For The Strawberry Jam On Top
Fresh strawberries- 16oz  or around 3 cups frozen
Agave syrup: 3 tablespoons of maple syrup
Vanilla extract: 1 teaspoon
Instructions
In a food processor, combine the crust ingredients (almonds, cinnamon, dates, and salt) and pulse until a sticky crumbly dough forms.
To make a crust, press the almond-date mixture into a baking dish or pan.
Preheat the oven to 350 degrees Fahrenheit.
To make the vegan cheesecake filling, whisk together the dry ingredients (coconut flour and tapioca starch or cornstarch). In a second bowl, whisk together the wet ingredients (coconut milk, agave, lemon juice, apple cider vinegar, and vanilla flavour). Combine gently, then transfer to the baking dish/pan and spread on top of the crust.
The mixture should be moist but not pourable; you'll have to transfer it with a spoon.
Preheat the oven to 350°F and bake the cheesecake for 55 minutes, or until the top begins to become golden brown. Allow an additional 10 minutes in the oven if the cheesecake is still too liquid.
Make the strawberry jam first. In a saucepan over low/medium heat, combine the strawberries, vanilla flavouring, and agave, and cook until the strawberries have released their juices and are soft. To speed up the process, press down on the strawberries with a fork. It takes about ten minutes.
Remove the cheesecake from the oven, cool, and then top with strawberry jam and extra sliced strawberries. Allow to set and cool in the fridge for a few hours before serving for the finest flavour. The cheesecake will be able to firm up even more as a result of this.
Conclusion
I trust you enjoyed this article on the 9 Tasty Vegan Snacks For Breastfeeding Moms. Please stay tuned for more blog posts to come shortly. Take care!
JeannetteZ
Your Opinion Is Important To Me
Ideas? Thoughts? Questions? Do you have any questions or ideas? I would love to hear from you. Would you please leave me your questions, experience, and remarks about this article on the 9 Tasty Vegan Snacks For Breastfeeding Moms, in the comments section below? You can also reach me by email at Jeannette@LivingTheVeganLifestyle.org.
Here are links to some of my favourite articles:
33 Best Vegan Restaurants In Geneve, Switzerland
37 Best Vegan Restaurants In Aarau, Switzerland
How A Vegan Pregnancy Meal Plan Can Ease Your Pain
Is Going Vegan Long-Term Good Or Bad?
41 Best Vegan Restaurants In Munich, Germany
20 Best Tips For Raising Vegan Kids