8 Best Vegan Milk Recipes For Your Kids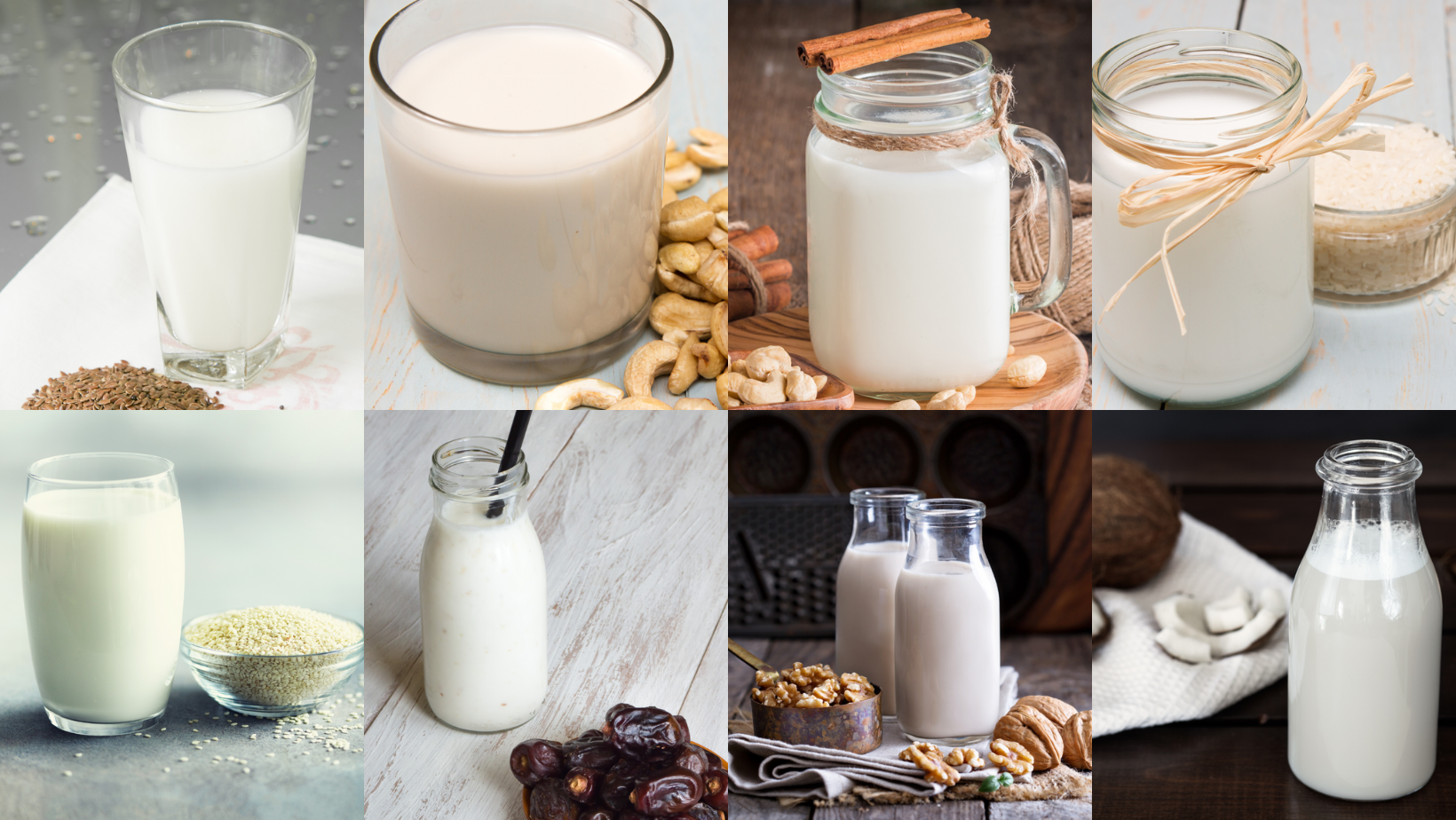 8 Best Vegan Milk Recipes For Your Kids
As more people choose non-dairy alternatives, plant-based milk sales are increasing globally. There is no need for additional animal suffering now that many healthy alternatives to animal milk are available. Let's try some healthy vegan milk recipes.
What Is Vegan Milk?
The well-known cow milk can be replaced with plant-based milk to avoid lactose. There are many benefits to choosing this plant-based alternative. Being lactose intolerant is the most pressing cause, which doctors can now quickly diagnose. The excellent flavour and low-fat content of most plant-based milk are additional factors. Plant-based milk is also an excellent option for those who follow a vegetarian or vegan diet.
Is Vegan Milk Healthy?
It depends on the type of food, its nutritional value, and how it fits into your overall eating strategy, just like any other food. In general, organic ingredients are preferable, and you should be able to identify every ingredient on the – as brief as possible – ingredient list.
Verify the ingredients in your plant milk before drinking it because high-quality substitutes for dairy milk don't need things like sweeteners and artificial flavours.
Although they are typically safe, vegetable oil or acidity regulators can produce a creamy consistency, especially in grain milk.
Numerous plants' beverages have added calcium and vitamins, particularly vitamin B12 or D.
The benefits of the specific raw material always determine how healthy the milk substitute will be. For example, soy milk has good nutritional values and typically fewer calories than cow's milk, while oat milk is a source of beta-glucan, iron, and biotin. While lupins have a high protein content and a variety of micronutrients, almonds have potassium and pea protein has a flexible amino acid profile.
Due to these nutritional factors, we based our new and improved Vegan Protein on pea protein. With the help of sunflower and chickpea protein, we enhanced the amino acid profile.
Vegan Milk Recipes
1. Homemade Golden Flax Seed Milk
Flaxseed milk is a delicious dairy-free alternative with just two ingredients and a long list of health advantages. The flaxseed benefits of this incredibly nutrient-dense plant-based milk are noteworthy.
Prep time: 10 minutes | Cook time: 8 hours | Total time: 8 hours 10 minutes | Servings: 4
Ingredients
Filtered water: 6 cups
Golden flax seeds: ¼ cup
Medjool dates: 4, pitted
Pure vanilla extract: 2 teaspoons
Cinnamon: ¼ teaspoon
Method
Combine water and flax seeds in a high-speed blender. Blend at a high setting for a minute.
You can strain flax milk in a colander or nut milk bag lined with folded cheesecloth. You can push the flax through the bag with tongs or your hands. (*Tip – If the nut milk bag gets too clogged and isn't straining, pour the leftover flax milk back into the blender, rinse the nut milk bag to unclog it, and drain the remaining milk through the bag again.)
After rinsing the flax seed remnants from the blender, re-add the strained flax milk, pitted dates, pure vanilla extract, and any cinnamon you use.
For one minute, blend on high. Remove the top layer of foam from the flax milk. Before serving, shake or swirl the contents of the refrigerator.
2. Vegan Coconut Milk
You can make luscious and creamy plant milk, known as coconut milk. It only needs 2 ingredients and can be made in 5 minutes.
Prep time: 5 minutes | Cook time: 50 minutes | Total time: 55 minutes | Servings: 4
Ingredients
Shredded coconut: 2 cups, unsweetened and dried
Boiling water: 4 cups (1 litre)
Method
A Blend on high for a minute or two to combine the ingredients and purée the coconut.
Allow the mixture to cool before transferring it to a cheesecloth, napkin, nut milk bag, or a fine-mesh strainer.
Squeeze the coconut to remove all the liquid. Squeeze until the maximum amount of milk has been extracted.
Serve warm or cool.
The extra pulp can make the coconut flour, a protein drink, a milkshake, doughnuts, or banana ice cream.
For 4 to 7 days in the refrigerator, store it in an airtight jar and shake before using.
3. Vegan Rice Milk
Making homemade rice milk is quick and simple with only two ingredients! Perfect for granola, smoothies, and more because it is naturally sweet and creamy!
Prep time: 2¼ hours | Cook time: 0 minutes | Total time: 2¼ hours | Servings: 8
Ingredients
Uncooked long grain white rice: ¾ cup
Water: 4 cups (use less water for thicker, creamier milk!)
Salt: 1 pinch
Medjool date: 1 whole, pitted
Vanilla extract: ½ teaspoon (optional)
Cocoa or cacao powder: 2 tablespoons for the "chocolate milk" (optional)
Fresh berries: ¼ cup for the "berry milk" (optional)
Method
In 2 cups of warm (but not boiling) water, soak the rice for two hours (amount as specified in the original recipe; modify if batch size changes). You should be able to easily break a piece of the rice in half with your fingertip if it is extremely raw and mushy. Add to a strong blender after draining.
Add the liquid, salt, and any additional ingredients (optional). Place a lid on top and cover with a towel to prevent splashing. Blend for about a minute until the mixture appears well incorporated, and the date particles are tiny. It doesn't have to be completely ground up.
Test the sweetness by taking a tiny amount with a spoon. Add additional dates if it isn't sweet enough.
Pour the mixture over a sizable mixing basin or pitcher that is lined with a thin cloth, a clean T-shirt, or a nut milk bag that is extremely tightly woven. It benefits from a double strain, in my opinion. Certain nut milk bags allow too much residue to pass through.
After cooling, put it in a sealed container. Has a shelf life of five days in the refrigerator (sometimes more). Excellent for use in smoothies, baked goods, cereals, and vegan cheese sauces, among other foods!
4. Vegan Turmeric Peppercorn Wellness Milk
This delectable beverage has health benefits and is a variation of the well-known "golden milk" and "golden latte." Juice that is high in vitamins and nourishing plant milk is combined. It lacks dairy and processed sugars and contains antioxidants, healthy nutrients, and immune-strengthening ingredients.
Prep time: 5 minutes | Cook time: 10 minutes | Total time: 15 minutes | Servings: 4
Ingredients
Raw pecans: 1 cup, soaked for about 6 hours (use more for creamier milk, less for thinner milk)
Filtered water: 3 cups
Carrots: 3 medium, peeled and chopped
Fresh ginger root: 1-inch piece, peeled
Fresh turmeric root: 1-inch piece, peeled
Cinnamon: 1-2 teaspoons
Soft Medjool dates: 3, pitted
A few black peppercorns
Extra ground turmeric and ginger (optional)
Method
Pour the mixture through a nut milk bag or fine mesh strainer after blending on high for one or two minutes.
If necessary, re-blend after tasting and adding spices to suit your preferences. Cardamom and nutmeg are occasionally additional ingredients I use.
Use within 1-2 days after placing in the refrigerator. Enjoy it chilled.
5. Vegan Sesame Seed Milk
Rich, creamy, and delicious sesame seed milk is available. For a variation, try adding it to your favorite smoothie!
Prep time: 5 minutes | Cook time: 35 minutes | Total time: 40 minutes | Servings: 4
Ingredients
Raw sesame seeds: 1 cup, soaked in filtered water overnight
Water: 3 cups
Dates: 2 (optional)
Vanilla: ½ tablespoon (optional)
Sea salt: 1 tiny pinch (optional)
Cinnamon: 1 pinch (optional)
Tiny pinch of salt, a pinch of cinnamon (optional)
Method
After soaking, the sesame seeds need to be drained and rinsed. The remaining ingredients should be combined in a blender, then processed on high for about a minute.
Use a nut milk bag, which is well worth the money, or a strainer with fine mesh to filter the milk. If you're using it in smoothies, you can decide to skip the straining step and use it right away.
After keeping it in the fridge in a container with a lid, use it within three days.
6. Vegan Cashew Milk
The cashews add a delicious flavour and become creamy. This is the real deal, so there's no need to continue spending a fortune on plant milk at the supermarket.
Prep time: 10 minutes | Cook time: 2 hours | Total time: 2 hours 10 minutes | Servings: 1
Ingredients
Dry unsalted cashews: 1 cup
Water: 1 cup (for soaking the cashews)
Water: 3½ to 4 cups (depending on what texture you'll prefer)
Cinnamon: ½ teaspoon
Small Medjool dates: 3, pitted
Sea salt: 1 pinch
Method
In the refrigerator, cover the cashew with water and let it soak for a couple of hours.
Pass through a sieve and immediately rinse.
Combine all the ingredients in a blender, including the cashews and the fresh water. Pulse for one to two minutes.
Filter the mixture using a fresh kitchen towel or a nut milk bag. I find that nut milk bags work better because they make it much easy to regulate the milk and clean up afterward.
Before serving, let the food cool for at least an hour in the refrigerator.
7. Vegan Creamsicle Cashew Milk
This handmade cashew milk is straightforward, sophisticated, and dangerously addicting. It has flavours of creamy vanilla, vibrant orange acidity, and the appropriate sweetness. It tastes like a creamsicle, so even one sip is guaranteed to make someone's day better.
Prep Time: 10 minutes | Soak time: 2 hours | Cook Time: 5 Minutes | Total time: 2¼ hours | Servings: 4
Ingredients
Roasted cashews: 1 cup, soaked in water for 2 hours
Water: 2 cups
Orange juice: 2 cups
Vanilla extract: 1½ teaspoons
A pinch of salt
Dates: 4 (omit the dates if you don't want the milk to be as sweet)
Method
Put the cashews in a powerful blender after draining the water from them.
Then, add the extra ingredients, and blend everything for about 2 minutes on the highest speed, or until it is completely smooth.
Put the milk in a lidded container after straining it through a nut milk bag.
Put this in a jar, put a lid on it, and put it in the refrigerator for at least two hours or until everything is completely cooled.
8. Date Sweetened Hemp Milk
In less than 10 minutes, you can make this simple homemade non-dairy milk. Even better, the hemp seeds don't even need to be soaked, and the milk is merely sweetened with dates! I prefer to make a batch of vanilla hemp milk for smoothies, oats, and fruit. My favorite way to have chocolate milk is by itself! The unsweetened chocolate milk is a million times inferior to this date-sweetened variation. Why? It's both deliciously sweet and nutritious.
Prep Time: 10 Minutes | Cook Time: 5 Minutes | Total time: 15 minutes | Servings: 3 cups
Ingredients For The Vanilla Hemp Milk
Raw hemp hearts: ¼ cup + 2 tablespoons
Water: 3 cups
Medjool dates: 1-2
Vanilla extract: ¼ teaspoon
Pinch of salt
Ingredients For The Chocolate Hemp Milk
Raw hemp hearts: ¼ cup + 2 tablespoons
Water: 3 cups
Medjool dates: 4 (more or less to taste)
Unsweetened cocoa powder: 1½ teaspoons
Ground coffee: 1 teaspoon (optional)
Pinch of salt
Method
Blend each ingredient until smooth in a high-speed blender (about 10 seconds).
The edges of the nut milk bag should dangle over the sides of the bowl or container when you place it inside. Use a bowl or other container with a wide aperture to avoid a mess.
On top of the container, pour the hemp mixture into the nut milk bag. Holding the bag firmly with one hand, raise it. Squeeze the liquid out of the bag with the opposite hand. There should be little date and hemp paste left in the bag. Enjoy your hemp milk after cleaning the bag.
Benefits Of Vegan Milk
1. Soy Milk
According to studies, soy milk is the most widely used alternative to cow's milk and has the most nutritionally balanced composition. The study compared plant-based milk to other comparable options and cow's milk; soy milk is the most similar to cow's milk. The milk type, made from soybeans, is suitable for lactose intolerant people.
Protein-rich soy milk can support a balanced diet.
Dietary sources of estrogen and progesterone, like those in soy milk, help women going through menopause maintain a healthy hormonal balance.
The plant-based milk is also free of cholesterol and rich in beneficial monounsaturated and polyunsaturated fatty acids, which aid in reducing cholesterol and fostering cardiovascular health.
2. Almond Milk
Almond milk, the second most popular vegan milk option, is made by soaking almonds in water, blending the mixture, and then straining the solids. It is suitable for a low-carb diet because unsweetened almond milk has few calories and carbohydrates.
According to research, children and adults with milk allergies or intolerances may find almond milk a helpful substitute. Almond milk naturally contains more vitamins and minerals than rice and soy milk, including copper, zinc, iron, magnesium, calcium, and potassium.
It contains many monounsaturated fatty acids (MUFA), which can help with weight management and loss.
Vitamin E, an antioxidant, is naturally present in this vegan milk.
Unsweetened almond milk is advantageous for people with diabetes because it doesn't cause blood sugar levels to rise.
3. Oat Milk
Oat milk is nourishing, contains soluble fiber, and is naturally sweet because of the oats. The milk has a low saturated fat content and is rich in vitamins and calcium. Compared to other plant-based milk, oat milk has the most calories and carbohydrates due to its soluble fibre, which also gives the milk a creamy texture. Choose only gluten-free oat milk.
People with celiac disease or gluten intolerance can benefit from it.
A soluble fibre found in abundance in oat milk, beta-glucans, aids in lowering blood cholesterol.
This vegan milk strengthens bones by being frequently fortified with calcium and vitamin D.
The soluble fiber in oat milk slows digestion and prolongs the feeling of fullness.
Your blood sugar levels are also stabilized by it.
4. Hemp Milk
Hemp milk is made from ground, soaked hemp seeds but doesn't contain the psychoactive ingredient found in Cannabis sativa. Hemp milk lacks carbohydrates by nature and is high in protein, omega-3, and omega-6 unsaturated fats. However, some brands contain added sugar made of cane sugar, brown rice syrup, or evaporated cane juice.
According to studies, unflavoured hemp milk may help reduce a person's total cholesterol.
Hemp milk may help lower the risk of heart disease and inflammation because it contains a lot of the omega-3 fatty acid alpha-linolenic acid (ALA).
Omega-3 and omega-6 fatty acid levels can support healthy skin.
5. Coconut Milk
White coconut flesh is used to make this kind of milk. Though less protein-rich than almond milk, coconut milk has a pleasant flavour. Coconut milk contains much less healthy medium-chain triglycerides that are good for one's overall health than other plant-based milk varieties.
The triglycerides in coconut milk boost one's energy levels.
One's immune system could be strengthened by it.
By raising levels of beneficial HDL (good) cholesterol and lowering levels of dangerous low-density lipoproteins (bad cholesterol), which are linked to cardiovascular diseases, medium-chain triglycerides (MCTs) may help a person's heart health.
6. Rice Milk
Rice milk has a sweet flavour and is available in various flavours. It is made by combining water and partially milled rice. Rice milk contains a lot of carbohydrates because it is made from grain. In addition to being the most hypoallergenic option among the alternatives, rice milk also contains the most manganese and selenium.
The antioxidants will strengthen your immune system in milk, which help ward off infections.
Because rice milk contains very little fat, it can be included in a diet plan.
People who have cholesterol problems can benefit from it.
Rice milk, a good source of B vitamins, can enhance one's metabolism, circulatory health, and nervous system performance.
It supports cardiovascular health, as evidenced by research.
Conclusion
Despite the advantages of dairy milk, numerous studies and reports have shown that plant-based milk has growing health advantages for adults. In contrast, vegan milk has fewer calories, and sugar doesn't release ICF-1 hormones (associated with acne and the growth of cancer cells) and is simple to digest.
I trust you enjoyed this article about the 8 Best Vegan Milk Recipes For Your Kids. Please stay tuned for more blog posts to come shortly. Take care!
JeannetteZ
Your Opinion Is Important To Me
Ideas? Thoughts? Questions? I would love to hear from you. Would you please leave me your questions, experience, and remarks about this article on the 8 Best Vegan Milk Recipes For Your Kids in the comments section below? You can also reach me by email at Jeannette@LivingTheVeganLifestyle.org.
Disclosure
This post may contain affiliate links. I earn from qualifying purchases as an Amazon Associate and other affiliate programs. Read my full disclosure.
Here are links to some of my favourite articles:
Best Vegan Chocolate Chip Recipes For Your Kids
6 Best Vegan Oyster Mushroom Recipes For Your Kids
8 Best Vegan Recipes Using Saffron For Your Kids
6 Best Vegan Okra Recipes For Your Kids
6 Best Black Bean Veggie Burger Recipes For Your Kids
8 Best Vegan Beer Battered Recipes