Best Vegan Restaurants In England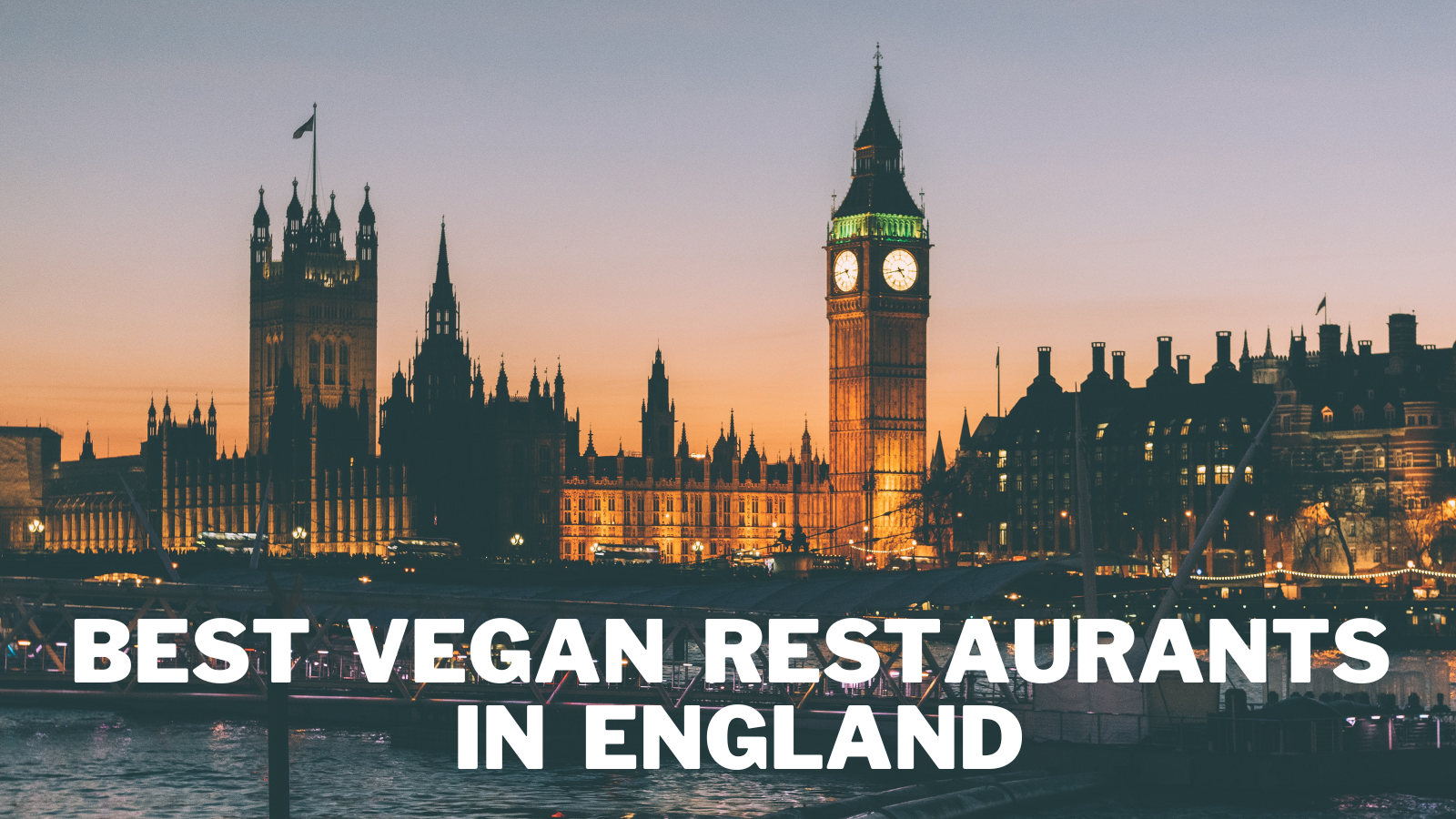 Best Vegan Restaurants In England
1. Farmacy In Notting Hill
Farmacy is a stunning vegan restaurant in Notting Hill that falls within the mid-to-high-end restaurant category. It offers a lovely environment ideal for a romantic evening or meeting up with old friends.
I've also seen business meetings held at the large table and in the booths near the entryway. They also serve various drinks with an open-concept bar in the centre of the dining area.
They provide delicious gourmet vegan food that is always cooked to perfection. I've gone there several times and have had the good fortune to try practically everything on the menu, and I honestly like it all.
The main course of buckwheat with beetroot dhaal is the show-stopper, with the mac and cheese serving as the perfect shared appetizer.
The chickpea omelet and waffles are delicious if you pass by during breakfast or lunch. Not only is the cuisine delicious, but the staff is also extremely informed and accommodating.
I especially enjoy their sophisticated vegan drinks and shots, which liven up any night. The service has always been excellent!
This restaurant is extremely pricey, probably owing to the excellent quality of the products utilized, but as a vegan cuisine enthusiast, I feel it is always worth it.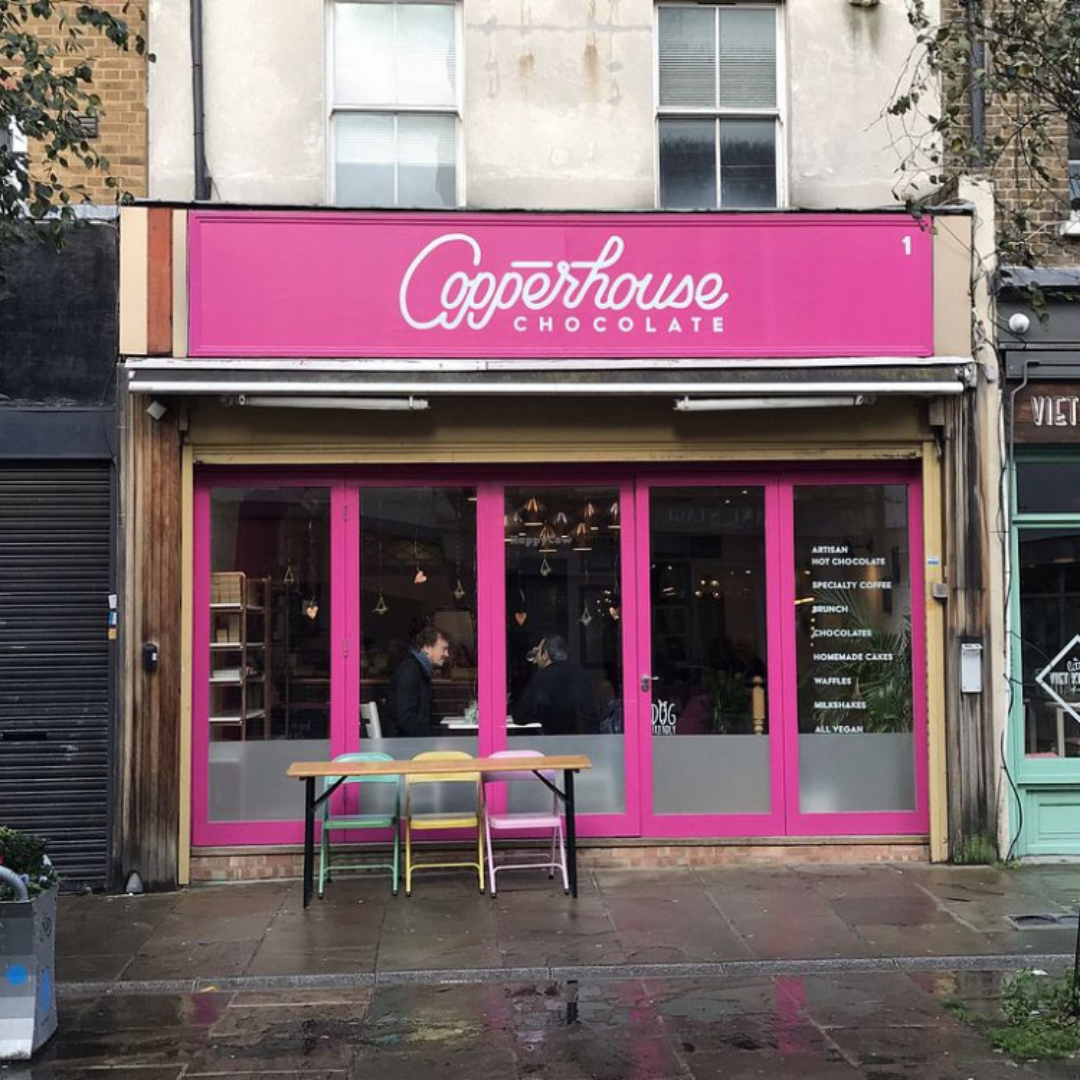 2. Islington's Copperhouse Chocolate Café
This London chocolate paradise offers delectable vegan chocolate-inspired cuisine. Everything on the menu, sweet and savoury alike, has chocolate in some form.
That implies that the recipes are extremely inventive and full of unique flavours and combinations you won't find anywhere else.
Copperhouse Chocolate Cafe's visit became an experience because of its originality and chocolate theme, devised by a skilled chocolatier.
Try the vegan chocolate fondue for a genuinely indulgent dessert that's excellent for sharing. Ours was delicious, with bananas, strawberries, chocolate brownies, and vegan marshmallows.
The café provides breakfast, lunch, and brunch and is located near the tube station in Islington, East London. You can also get chocolate beverages, bars, and boxes in their shop.
Copperhouse Chocolate Cafe is well-known for its hot chocolate beverages, which are prepared with plant-based milk and available in various flavours, including mint, chilli, and gingerbread.
The café has a nice, relaxing environment, with soothing music playing in the background and pleasant service. It features a charming interior and some outside seats for those warm summer days.
This is where you'll want to return to try more of the menu items, and I can't wait to go back there the next time I'm in London.
3. Redemption In Notting Hill
London has some wonderful dining options, and we are fortunate that there is a restaurant to fit everyone's preferences.
Vegan eateries have exploded in popularity in the last five years as more people realize the benefits of a plant-based diet.
My favourite is the Redemption Bar, a charming tiny cafe that will equally appeal to vegans and non-vegans.
The Redemption Bar is a 10-minute walk from Notting Hill Gate subway station on Chepstow Road in West London's famous Notting Hill neighbourhood.
Don't worry whether you live in Central or East London. In addition to Covent Garden and Shoreditch, Redemption features restaurants.
The atmosphere is artistic, the beverages are non-alcoholic, and the cuisine is healthy and, most of all, excellent.
The menu has a wide range of vegan, sugar-free, and wheat-free cuisine that is vibrant and flavourful. The avocado with hyper beets sauerkraut is my favourite — it's so colourful that you almost don't want to eat it!
The caramel crack shake is a decadent delicacy that can only be described as exquisite. Even if you don't plan to dine, this smoothie is incentive enough to stop by.
This may be one of the nicest milkshakes I've ever had, creamy, thick, and decadently sinful with tahini and coconut milk notes!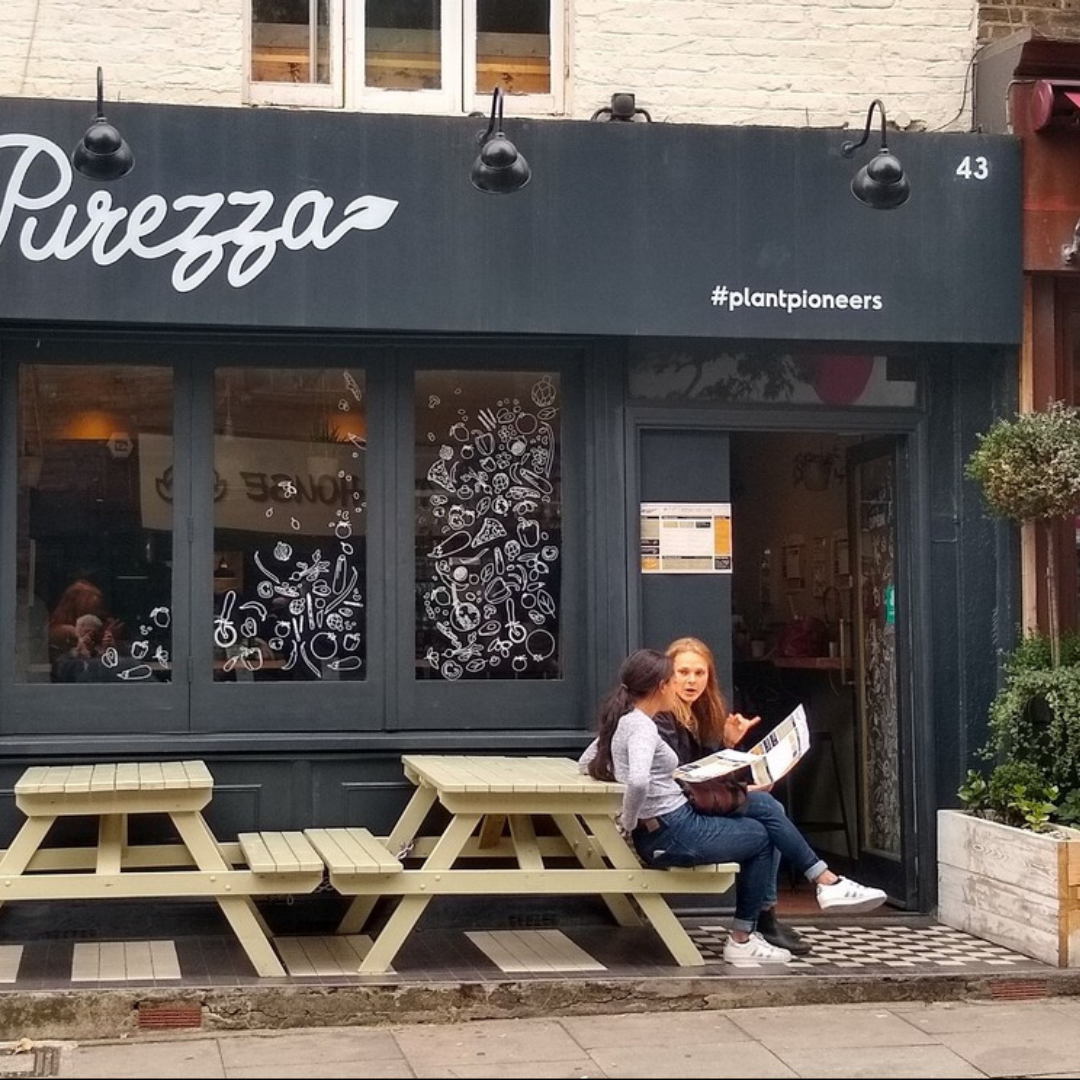 4. Camden's Purezza
I had high hopes for this pizza after hearing so many good things about it, and I was not disappointed in the least. Purezza was the first 100% vegan pizzeria in the UK when it opened in 2015.
Pizza-loving Italians manage it, and their excitement shines through in the result. As a vegan globetrotter, I've tried a lot of vegan cheese pizzas throughout the world (even in Italy), and none of them compare to this one.
A commercial vegan cheese brand, such as Violife, is used by most pizza places that provide a vegan alternative. Purezza, on the other hand, prepares its pizzas with its own mozzarella produced from Italian brown rice, which they perfected in a lab over two years.
It tastes just as good as, if not better than, mozzarella produced from cow's milk and has less than half the calories and fat!
Although you'd never believe it from the flavour, their pizza dough is whole grain and considerably healthier than ordinary pizza crust. There are also gluten-free choices.
Purezza began in Brighton and has expanded to include a second outlet in Camden. It's my favourite vegan restaurant in Camden, which says a lot since Camden is London's most vegan-friendly neighbourhood.
Their classic Margherita pizza is the finest option for your first visit, but I bet you'll return to try some of their more imaginative options next time.
5. Café Van Gogh In Brixton
Cafe Van Gogh, located in Brixton, is a hidden treasure of London. Cafe Van Gogh is a not-for-profit social venture that works with three organizations to give on-the-job training for persons with additional life issues.
It is 100 percent vegan, plastic-free, and attempts to be zero waste. They do excellent and aspire to do better, which is typically enough for me, but what I like about Cafe Van Gogh is their incredible seasonal menu.
With four different menus, it's no wonder that CVG was named the finest vegan roast in London and one of the top vegan restaurants in the UK by both the Metro and The Guardian!
A mouth-watering selection of foods is full of colour and flavour, farmed as locally as possible and cooked from scratch in the onsite facilities.
From appetizers to shared meals, from complete breakfasts to magnificent desserts, varied sizes and courses are available, and reservations can be made.
'Cashew chocolate fondant with mango curd & coconut crumble topping' is one of their menu items. If that isn't enough to whet your appetite, how about 'aubergine & red pepper shakshuka with marinated crispy tofu, tahini, zhoug & flatbread'? This menu is subject to change depending on the season.
Cafe Van Gogh is located at 88 Brixton Road, SW9 8BE, and is open every day except Monday. You may sit outside in the summer, but if the weather turns poor, sit upstairs and pretend you're in a Van Gogh painting!
6. The Vurger Co in Shoreditch
Since 2016, The Vurger Co has been providing vegan burgers intending to revolutionize fast food with plant-based choices.
Their first restaurant launched in Shoreditch in 2018, but they've since expanded to Canary Wharf and are planning a branch in Brighton.
The menu is straightforward: four vegan burgers, three salads, and various sides. Fries, mac and cheese, Kentucky bits, and milkshakes are among them.
If you're visiting the Vurger Co for the first time, you must get the burger, fries, and milkshake combination.
Although the quantity of these burgers may appear to be excessive, these three foods are very delicious!
The Auberger (an aubergine burger) is a surprisingly nice alternative, but the New York Melt is a better choice if you want something with a meaty texture.
This is cooked with a Beyond Meat patty, and it's hard to realize it's all plant-based.
If you can't decide between traditional and sweet potato fries, you'll be glad to learn that they provide 50/50 fries here, which is a brilliant concept!
There are seven unique milkshake flavours, including salted caramel popcorn! The traditional Oreo, on the other hand, is a must.
7. Covent Garden's Wild Food Café
The Wild Food Cafe is a renowned vegan restaurant in Covent Garden's colourful Neal's Yard neighbourhood.
It is located on the second floor of Neal's Yard Remedies, a natural health and medicine store. In Islington, North London, there is also a branch with a larger area and menu, which debuted in 2019.
Their menus fluctuate with the seasons since everything is produced locally. Although the menu at the Covent Garden restaurant is limited, the alternatives are magnificent.
The vegan salad bar and smoothies, particularly the Forgotten Ecstasy, are popular draws.
The cuisine of the Wild Food Cafe in Islington is more diverse, including pizzas, spaghetti, and burgers. For the little vegetarians, there's also a kids' menu.
The Wild Food Cafe intends to create a vegan mini-empire after becoming a pioneer in the sector. They provide vegan items, vitamins, and clothes in addition to food.
A culinary school is also dedicated to vegetarianism and well-being within the cafe. Everything is available on their website and a blog to read.
Wild: Plant-based Recipes To Nourish Your Wild Existence, a book related to the cafe, was released in 2009.
The book includes recipes for Mayan Salad and Raw Chocolate Tart, both of which have become renowned because of the cafe's gorgeous images.
The Wild Food Cafe sells autographed copies of the book on its website.
8. Wild Thyme In Norfolk
My brother is a carnivore, and the cuisine at Wild Thyme is intriguing and flavourful enough to entice and satisfy him. During our stay, he ordered the Korean BBQ Jackfruit bowl with a carrot, beet, cumin salad, organic brown rice, and spicy kimchi.
I chose the creamy leek, pumpkin, mushroom, and roasted garlic gnocchi with toasted walnuts and parmesan, which came with toasted walnuts and parmesan. Both vegan meals were a veritable disco for our taste senses, brimming with flavour.
Wild Thyme began the first hydroponic growing system in Norfolk to produce its own salad leaves, microgreens, and a variety of shoots to lessen their carbon impact.
Because of the emphasis on locally obtained seasonal ingredients, their menu is continuously revised, yet the worldwide inspiration behind their recipes may surprise you.
Wild Thyme's only drawback is its location. The concealed entrance is close north of the outdoor market that received the best big outdoor market award in 2019 and is right behind the Norwich Guild Hall. The restaurant is set on the far side of a cobblestone courtyard in a former fire station stables.
When making a reservation, request a table near one of the specified arched windows facing the courtyard so you may observe fellow guests' relief when they discover they've finally located the restaurant they've been looking for.
9. Café Shanti in Lincoln
The old city of Lincoln has plenty of unique restaurants and bars, but there is only one vegan option: Cafe Shanti. This family-run establishment is a local and guest favourite, delivering a variety of home-cooked British and Nepalese vegan meals with a contemporary twist.
The restaurant's décor has a pleasant, shabby-chic vibe to it, with old-school wooden seats, vivid tablecloths, and colourful flags adorning the walls. It's in the heart of the city, just a few minutes' walk from the iconic Stonebow archway. Stepping inside is like taking a breath of fresh air, and it's a great contrast to the High Street's combination of centuries-old buildings and chain stores.
But, most importantly, the cuisine is fantastic! Breakfasts, light nibbles, sandwiches, salads, curries, burgers, shared platters, desserts, and a variety of wonderful cakes are all on the menu. The Shanti burger, cooked with aubergine, courgette, sweetcorn, and pepper, is a house special that's excellent for a midday fix. The Nepalese-inspired curries are full of heat and flavour for supper; try the chickpea and spinach Kadala or the banana Korma if you're looking for something sweet.
Don't forget to taste a slice of homemade cake before you go. The menu changes every day, but you'll almost always find carrot cake among the options, and it's delicious! Alternatively, the vegan cheesecake (available in a variety of flavours) goes well with a cup of coffee in the morning.
10. Folkestone's Dr. Legumes
Folkestone may not be one of the world's or even the UK's most vegan-friendly places, but it is home to Dr Legumes, one of my favorite vegan eateries.
You can't get a more unique restaurant site than a shipping container adjacent to a disused railway track on the Harbour Arms. Dr Legumes, on the other hand, has a lot more to offer than its odd setting — it boasts a wonderfully creative, tasty, and totally vegan cuisine!
The menu is small and changes with the seasons, but it always features fresh veggies cooked in unique ways. On the menu, you won't find your typical vegetable burger. Instead, try a beetroot tarte Tatin with cultured cashew cheese and a baby new potato salad, or a mushroom carpaccio with marinated Portobello mushrooms, pistachio cheese, and pumpkin pesto.
Compared to other Folkestone restaurants, the pricing is a touch costly, but the cuisine is well worth it. Don't miss lunch at Dr Legumes, which offers an explosion of flavours and textures in every mouthful and is wonderfully presented.
And don't forget to order a brownie to finish your meal! Their brownies are prepared with beetroot and avocado, two unusual ingredients that nonetheless combine to create a fudgy brownie with a crackly top!
11. Southsea, Portsmouth's Simply Wholesome
Simply Wholesome is a vegan takeout in Portsmouth's Southsea neighbourhood. There's a little area where you may wait and eat, but it's primarily for picking up and taking back to work, the beach, or Southsea Common.
Simply Wholesome prepares all of its food in-house, employing waste-reduction practices. Everything they create is vegan, and there are alternatives for different types of healthy eating plans. Almost all of their components are both organic and environmentally beneficial.
From lunchtime soups to all-time bowls and in-between-meal sweets, Simply Wholesome offers something for everyone. They enjoy a sweet treat with their hot beverage, such as kombucha or herbal tea. I enjoy the falafel in this restaurant, whether in a wrap or just in a salad. It's delicious.
I enjoy eating here since I know they will have done all possible to reduce their environmental effect. Everything may be reused, recycled, or composted. In addition, everything I've tasted so far has been delectable. If you ever want to spend a day in Portsmouth, seek it along the shore in Southsea.
12. Liverpool's Frost Burgers
Frost Burgers, which was founded by Monami Frost, the magnificent Latvian goddess, is 100 percent vegan and 1000 percent delicious!
To be honest, I didn't have high expectations when we initially arrived. Vegan burgers are notoriously disappointing, but Frost Burgers blew my mind! Frost's, located in Liverpool's charming cobblestone Ropewalks neighbourhood, has a lot of flavours and is our favourite fast food business in the city.
The juicy, flavourful burgers are luscious and oozing with wonderful vegan cheez, as well as a variety of other tempting toppings.
You won't be disappointed if you eat here, whether it's scorpion hot, vegan bacon, chicken free, double trouble, or even their sophisticated, soft serve, no milkshakes.
If you're on a low-calorie diet, consider the doughnut burger instead of a burger bun. Yes, you'll get a vanilla glazed DONUT instead of a burger bun!
This is an out-of-this-world burger that you must taste at least once. It should come as no surprise that their doughnuts sell out quickly, so arrive early to secure yours.
Conclusion
I trust you enjoyed this article about the Best Vegan Restaurants In England. Please stay tuned for more blog posts to come shortly. Take care!
JeannetteZ
Your Opinion Is Important To Me
Ideas? Thoughts? Questions? I would love to hear from you. Please leave me your questions, experience, and remarks about this article on the Best Vegan Restaurants In England in the comments section below. You can also reach me by email at Jeannette@LivingTheVeganLifestyle.org.
Disclosure
This post may contain affiliate links. I earn from qualifying purchases as an Amazon Associate and other affiliate programs. Please read my full disclosure.
Here are links to some of my favourite articles:
Best Vegan Restaurants In Belgium
Best Vegan Restaurants In Denmark
9 Most Popular Australian Vegan Recipes
Popular 8 Italian Vegan Recipes